Read the latest reports of our students!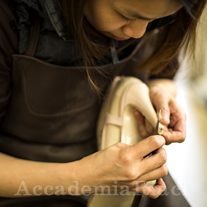 With medical background specializing in biomechanics of lower extremity, Yi-Chen Chou is interested in producing bespoke shoes for both general population and people with special needs. By taking the entry level of shoe making course last year at Florence, she has now equipped with the fundamental skills of shoemaking, and would like to learn more advanced shoemaking techniques as well as to integrate the gained knowledge onto prospective orthopedic shoes using customized lasts through her second year.
Sep. 30, 2014 | Posted in Reports, Student Reports, Shoe Making & Shoe Design, Shoemaking | Tags: Shoemaking| Mario:



Reporter: Yi-Chen Chou | Course: Shoe Making Course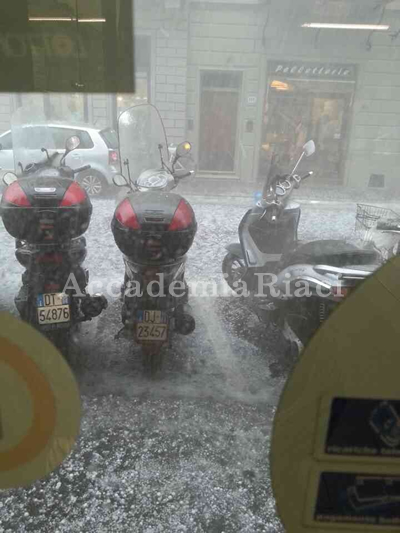 1) Last friday we had experienced a big hailstorm that even Florentines had never seen before. Every single hail is as big as an ice cube.
上週五我們經歷了一場大冰雹的洗禮,每個冰雹都像冰塊一樣大,連當地佛羅倫斯人都說他們沒見過這樣的天氣。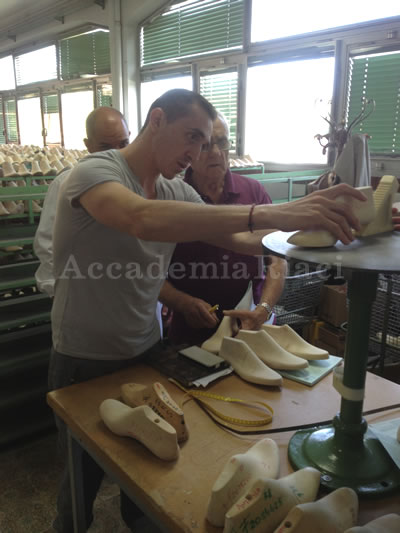 2) This week the whole class went to the last factory to get some new toys for ourselves. Luca, a lovely Maltese, was making a difficult decision on which last he prefers the most.
本週全班去了趟鞋楦工廠,這是來自馬爾他的Luca,他正處於天人交戰中因為每雙鞋楦他都很喜歡。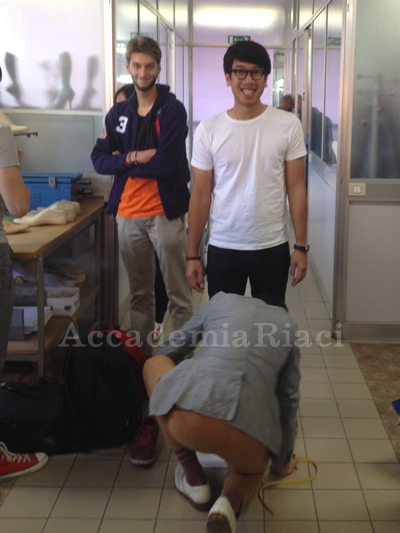 3) This is Josh from Singapore. The class assistant, Francis, was taking the foot measurement on him in order to purchase the right last.
這是來自新加坡的Josh,助教Francis正在幫他量腳好讓他買到正確的楦頭。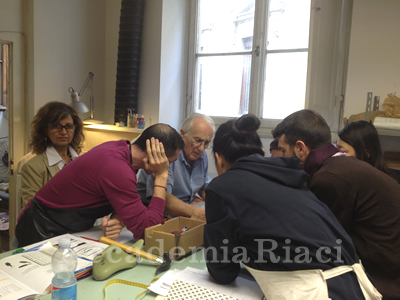 4) New students have been moving forward to their next model "Chanel" this week.
本週新生們已經進入了下一個鞋型:後空涼鞋(Chanel)。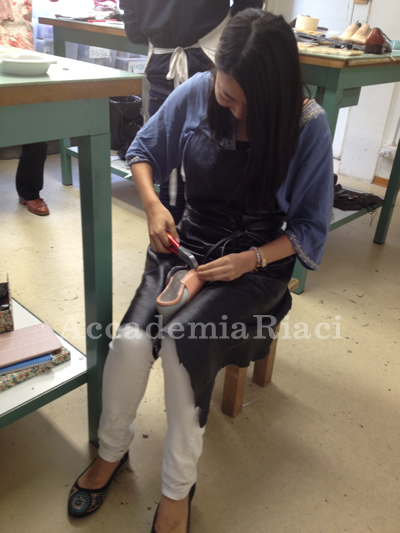 5) Natsumi, an adorable Japanese girl, has even finished the shoe by the end of this week!
可愛的日本女孩Natsumi甚至在本週已經完成了她的第一只鞋子!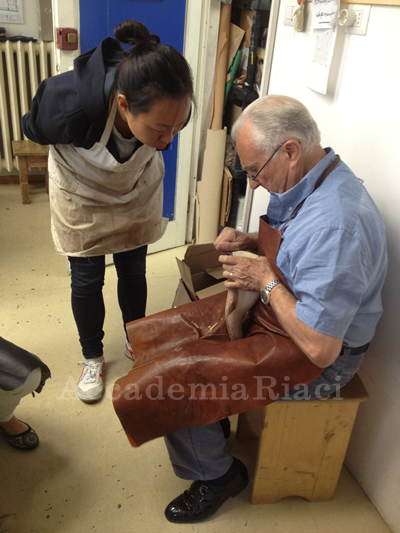 6) At the meantime, our continuous student, Jill from China, is learning how to prepare the midsole for the Norwegian bottom construction.
同時間,來自中國的Jill正在學習如何替挪威式工法的鞋型準備中底。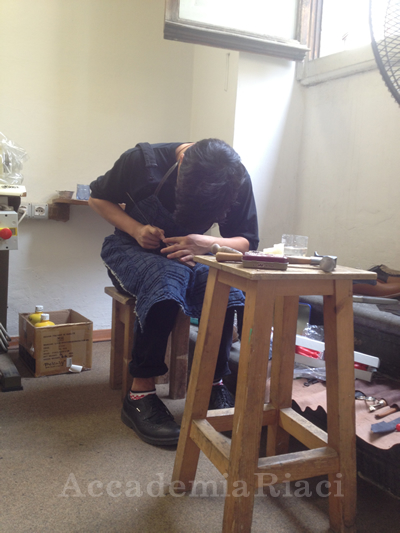 7) Another continuous student, Yuichi from Japan, was cutting the channels for his second hand stitching on his shoes.
另一個來自日本的Yuichi正在幫他的鞋底開溝準備第二道手縫。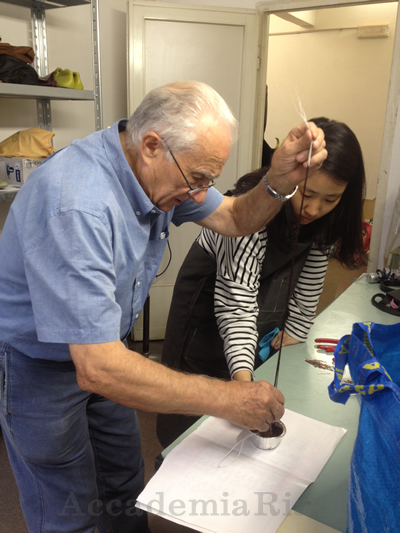 8) And my besty, Hyunjin from South Korea, was learning how to dye the threads which will be applied on the uppers on her moccasin for her dad. She was also the course reporter last year.
我的好友Hyunjin正在學習如何幫手縫線上色,她要把它縫在送給爸爸的莫卡辛鞋子上。她同時也是我們去年的課程記錄員喔!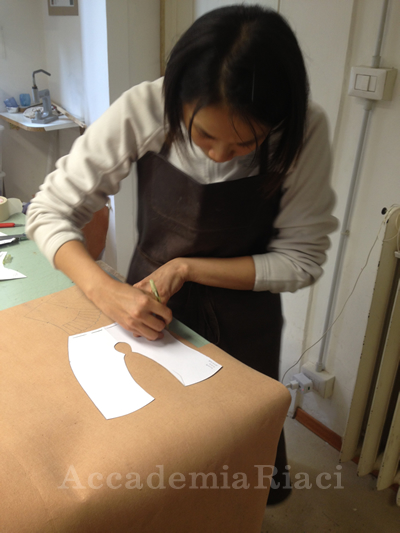 9) I am working on the pattern trial of my next shoes: a loafer with fringe.
而我正在幫我的下一雙鞋試版,它會是一雙樂福鞋上面裝飾有流蘇。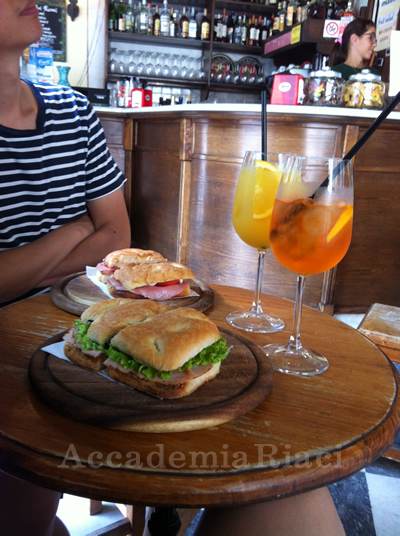 10) This is a sandwich shop nearby the school. Usually, Amy, Hyunjin, and I are enjoying our lunches here after class. I love the panino and the cocktails in Italy badly.
這是學校街角的三明治店,我、Amy和Hyunjin通常課後中午都來這裡午餐,我愛死義大利的三明治跟調酒了。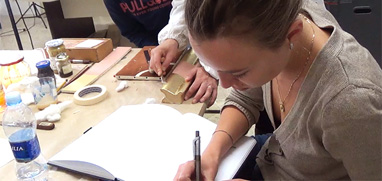 At Accademia Riaci, we are recruiting Course Reporters from our students. The students who are chosen to become Course Reporters are given 10 % of the tuition as their scholarship fee.
The Reporters who have submitted excellent reports will have his or her profile posted on our school website for the next 5 years as an alumnae and will be able to connect with their business chancesafter their graduation.