Read the latest reports of our students!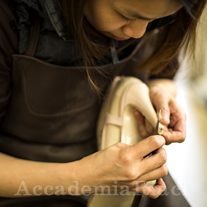 With medical background specializing in biomechanics of lower extremity, Yi-Chen Chou is interested in producing bespoke shoes for both general population and people with special needs. By taking the entry level of shoe making course last year at Florence, she has now equipped with the fundamental skills of shoemaking, and would like to learn more advanced shoemaking techniques as well as to integrate the gained knowledge onto prospective orthopedic shoes using customized lasts through her second year.
Sep. 17, 2014 | Posted in Reports, Student Reports, Shoe Making & Shoe Design, Shoemaking | Tags: Shoemaking| Mario:



Reporter: Yi-Chen Chou | Course: Shoe Making Course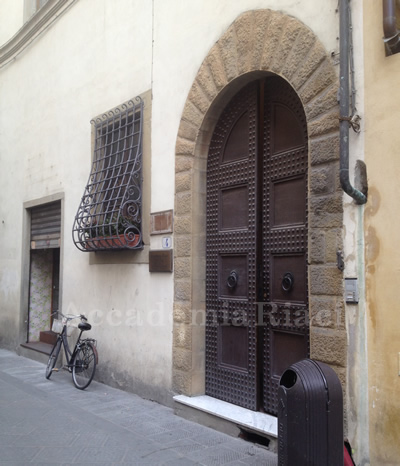 1.Hello everyone, this is your course reporter from shoe making class. After a long relaxing summer break, I am pleased to announce that we're all back to school for another fantastic year!
大家好,我是製鞋課的課程記錄員,經過一個輕鬆愉快的長暑假,學生們這週都已經回到學校準備迎接歡樂的一年!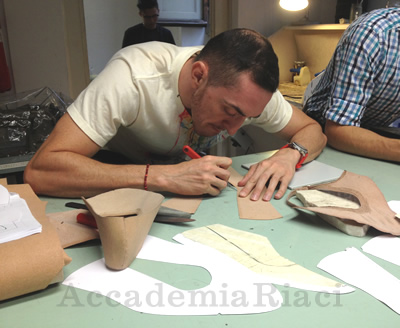 2.As being a continuous student, I am glad to see that this year the class is composed of students from all over the world with 9 nationalities.
身為一個舊生,我很高興見到本學年的班上的學生組成相當國際化,總共有九個國籍。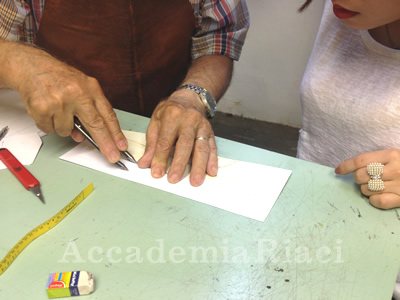 3.New students are learning the basic techniques of shoe making starting from the most basic and simplest model: dècolletè.
新生們第一週的課題是透過最簡單的鞋型「經典女鞋(dècolletè)」來學習製鞋的基本技法。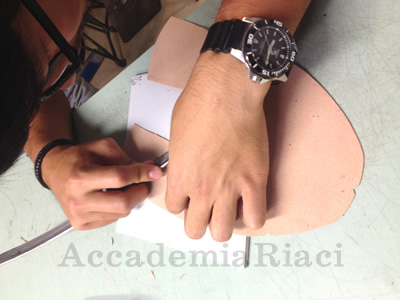 4.After patterning, here comes the patter trial through which we verify the patterns to see if they work properly.
取版後的下一步是試版,透過試版我們可以瞭解紙版取的正確與否。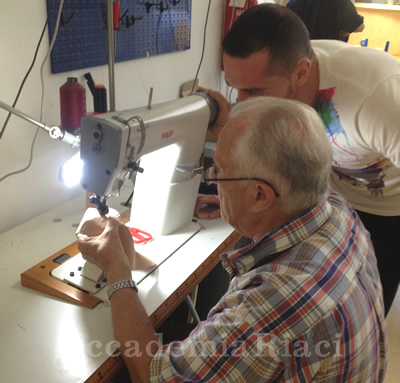 5.The shoemaking master is demonstrating how to operate the stitching machine, which generally takes a while to get use to its crazy speed as being a beginner.
老師正在示範如何踩針車機,新手一般而言需要一點時間才能適應及調節它的速度。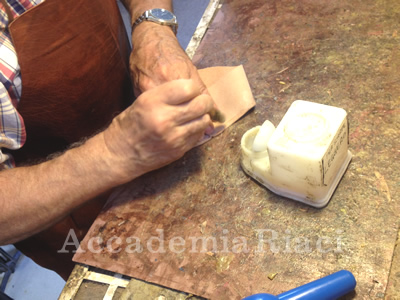 6.Folding the edge along the topline to make sure the overall look is nice and clean, next week they are going to learn the lasting process which is also a very fundamental technique.
沿著上緣將材料摺邊確保其外觀乾淨平順,下週新生們將準學習基本的入楦技巧。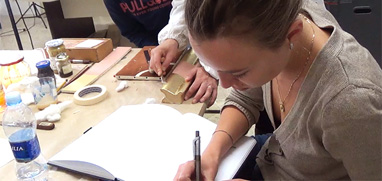 At Accademia Riaci, we are recruiting Course Reporters from our students. The students who are chosen to become Course Reporters are given 10 % of the tuition as their scholarship fee.
The Reporters who have submitted excellent reports will have his or her profile posted on our school website for the next 5 years as an alumnae and will be able to connect with their business chancesafter their graduation.