Read the latest reports of our students!
Jul. 23, 2014 | Posted in Reports, Student Reports, Shoe Making & Shoe Design, Shoemaking | Tags: Shoemaking, Morita| Mario:


Reporter: Morita | Course: Shoe Making Course
外羽接着製法、グッドイヤー製法4 20.2.2014
・Students check the height of the heel, made of piled up pieces of leather(photo on the left)
・
For Goodyear-style, before sewing the "Guardolo"(welt), it is necessary to wet the leather to make it softer (central photo)
・In this stitching technique, it is essential to check the process after the blind stitch(photo on the right)
・使用する革を使い、積み上げる踵の高さを確認します。(左)
・グッドイヤー製法ではグアルドロを縫い付ける前に水に浸して革を柔らかくします。(中)
・グッドイヤー製法で掬い縫い以降の手順の確認は非常に重要です。(右)
・Students determine the size of the heel in the adhesion process. As reference, the heel corresponds to 1/4 of the whole outsole surface;(photo on the left)
・Students exchange opinions and comments on the procedure to follow (photo on the right)
・接着製法での踵の大きさを決めます。踵は靴底の全長の四分の一が目安となります。(左)
・生徒さん同士で手順を確認したり意見の交換を行います。(右)
・In order to create a high-quality final product, it's important to refer constantly to the professor about all design details and make first a provisional shoe sample (photo on the left)
・The instructor shows how to perform the blind stitch: he's a real talent, indeed!
・仮靴を作りデザインの細かい部分を再度先生と話し合ってより良い作品を作ります。(左)
・掬い縫いの手本を先生が見せますが、流石に上手いです。(中)
・Students check the right position for cutting out the sole
・The attaching process of the facings (open-laced style) is completed

・Students apply the cork on the first half of the shoe, and in the back half apply the shank. Then, they cover the shank with leather and adjust the surface. Finally, they apply the outsole.
・グッドイヤー製法で本底を切り出す位置を革の上で確認します。
・外羽の接着製法の完成です。
・グッドイヤー製法では靴の前半分にコルク、後ろ半分はシャンクを貼り付けその上に革を貼り付け底面を整え、本底を貼り付けます。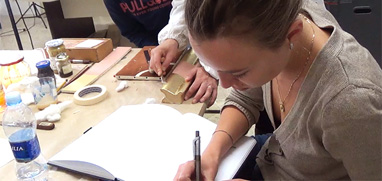 At Accademia Riaci, we are recruiting Course Reporters from our students. The students who are chosen to become Course Reporters are given 10 % of the tuition as their scholarship fee.
The Reporters who have submitted excellent reports will have his or her profile posted on our school website for the next 5 years as an alumnae and will be able to connect with their business chancesafter their graduation.