NEWS and Blog
Jun. 20, 2014 | Posted in Reports, Shoemaking | Tags: Shoemaking, Morita


Staff Blog≫

Shoemaking: Creation of shoe exercise sample and shoe cutting procedure
仮靴製作・本番靴革裁断
・previous report, we place the paper pattern on the cloth for exercise and we cut each part.
・Let's thin out the parts where the wings and quartets overlap and let's make sure that they don't affect the surface of the shoe.
・Each part will be attached with rubber cement and sewn with the sewing machine
(the finishing is beautiful, but the machine has a high degree of difficulty.)
・前回の続きより、型紙を仮靴用の布生地上に置いて各パーツを切り出します。
・羽やウイングなどのパーツでお互いが重なり合う部分は薄く漉いて重なりが表側に影響しない様にします。
・各パーツをゴム糊を使い貼りあわせ、ミシンで縫っていきます。
(ミシンがけは際で縫い合わせをすると綺麗に仕上がりますが、難易度は高いです。)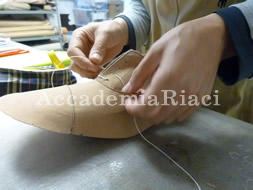 ・stitched together, we punch the holes for the shoelaces and we prepare for the shoe lasting process.
・各パーツを縫い合わせたら靴紐を通す穴を開けて紐を通して吊り込みの準備をします。
・We align the temporary sample with the shoe tree we are going to use
・Let's align it slightly higher than the standard position for heels , then fix it with a nail.
・We last the shoe starting from the toe part
(This is the basics for any type of lasting method)
・ Once the teacher shows the starting point, the student proceeds with the lasting.
・使用する木型に仮靴を合わせます。
・踵位置を設定位置よりも少し高めに合わせて釘で固定します。
・次につま先から順に吊り込みを行っていきます。
(基本的な吊り込み方法は全て共通です。)
・一度先生が吊り込みのポイントを説明し、次に生徒が行います。
・The picture on the left shows the shoe sample completed.
・After completing the shoe lasting, each student has to check whether the shape corresponds to the original design or not
(there are different types of shoe samples: the wearable one, where we can actually try it out and see if it's comfortable; the one only made for checking the design. This time we used the latter and we check the lines and the size)
・We make sure that at first glance, there is no problem or protrusion.
・布生地による仮靴の完成です。
・吊り込みが終わったら自分のデザインと同じものが出来ているかを確認します。
(仮靴には実際に履いて履き心地等をみるものとデザインを見るものとがあります。今回はデザインを見るための仮靴なので、各部分の寸法やラインを確認します。)
・一見すると問題無さそうなものでも各部分で浮きなどが無いかを十分に確認します。
・When we are sure that the shoe sample is ok, we proceed with the creation of the real shoe.
・We place the paper pattern on the leather and check the cutting position.
(We have to perform the cutting taking into account that the leather will eventually stretch and its direction, as from our decision depends the final result)
・仮靴で特に問題が無い様であればいよいよ本番の革を裁断します。
・使用する革の上に型紙を置いて裁断位置を確認します。
(後々、型崩れの原因ともなるので革の伸び方向を考えて裁断を行います。)
・After the cut, as before, we thin out the overlapping parts.
(Unlike cloth-like fabric, leather has many fibers that make the task more difficult)
・Both the internal and external part of the leather will be cut.
(For men shoes the thickness is 1.2~1.7mm and for women shoes is 1.0~1.3mm).
・裁断が終了したら仮靴の時と同じように重なる部分を薄く漉きます。
(布生地と違い革には繊維があるので漉きの作業は難しいです。)
・本番の靴では外側の革と内側の革を裁断します。
(外側の革は男性もので1.2~1.7mm、女性のもで1.0~1.3mm程度が目安となります。)