NEWS and Blog
Jun. 19, 2014 | Posted in Reports, Shoemaking | Tags: Shoemaking, Morita


Staff Blog≫

Shoemaking: CLOSED LACING type of shoe (1 part)
うち羽 (接着)1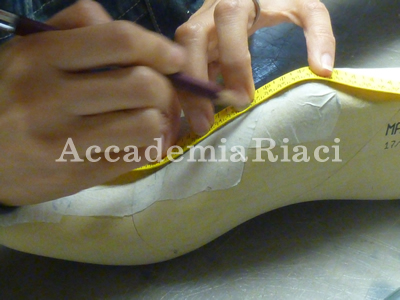 ・I attached the tape on the external part of the shoe tree, drew a line following the central line of the shoe tree and then cut the tape.
・木型の外側にデザインテープを貼り、木型の中心線に合わせてをラインを引きテープを切断します。
・Let's connect with a vertical line the internal part of the shoe tree with the external part that comes out the most.
(The internal part corresponds more or less to the bas of the thumb and the external part to the base of the little finger)
・Now, I measure the central point (A) of the line drawn on the tape.
・I check the height of the heel (B) of the shoe tree.
・I connect point (B) and point (A) with a straight line, and draw the reference line (C).
・Line (C) becomes the standard height for the wearing opening, while the vertical line drawn on the tape is the reference for the quarters, etc.
・It's important to draw the shoe design always following the reference line.
・木型の内側、外側の一番出ている点を結び、線で結びます。
(内側はおよそ親指の付け根、外側は小指の付け根辺り)
・外側のデザインテープ上に引かれた線の中心点(A)を測ります。
・使用する木型の踵高さを確認します(B)。
・踵の高さ位置(B)とデザインテープ上に引いた線の中心点(A)を直線で結び、基準線(C)を書きます。
・基準線(C)は履き口の高さの基準となり、デザインテープ上に引いた線は羽位置などのデザインの基準となります。
・基準線から大きく外れない様に注意してデザインを描きます。