NEWS and Blog
May. 19, 2014 | Posted in Reports, Shoemaking | Tags: Shoemaking, Morita


Staff Blog≫

Shoemaking: HOW TO ATTACH THE SHOE SOLE AND HEEL
パンプス底付け、ヒール付け
Today, I explain how to attach the sole and the heel of the Chanel-type shoe. In order to apply easily the sole leather, it is important to smooth down the toe box, as well as internal/external leather, and to select carefully a type of heel that can match the wooden shoetree.
シャネルに引き続きパンプスの底付けおよびヒール付け。
ポイントは底の革を貼り付け易くする為、吊り込みをした外側の革、内側の革、先芯を薄くう削る事、木型に合わせたヒールを適切に選ぶこと。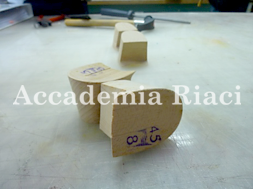 ・So, first of all let's choose a heel that can match the shoetree.
・It's common to use heels made by plastic, but sometimes they can be also wooden made.
・まずは使用している木型に合った適切なヒールを選びます。
・ポイントとして、つま先にの浮きが鉛筆一本入るくらいの物を選ぶを良い。
・ヒール材はプラスティクほ主流ですが、木で出来た物もあります。

・Once selected the appropriate heel, we thinly skive the leather of the lasting, in order to be able to attach it to the sole.
・Around and behind the plantar we use 6mm nails, while for the part around the heel we use 8mm nails. It's important to be careful not to scrape
 too much the toe part, since no nails are used and so it could easily come off.
・After smoothing down the sole surface, we reproduce the sole size on a piece of paper, and based on that we cut out the leather.
・使用するヒールが決まったら底を貼り付けられる様に吊り込みをした革を薄く削ります。
・土踏まず辺りから後ろは6mmの釘で、ヒール周辺は8mmの釘を使い革の吊り込みを行なっているので、釘を使用していないつま先周辺は
 あまり薄く削りすぎると剥がれやすくなるので注意が必要です。
・底面の革を薄く削った後、まずは底の大きさを紙に写し、それを基にして底の革を切り出します。

・After cutting the leather, we clean the sole, put 2 coats of rubber cement and then we wait for about 20 minutes until it gets dried.
・While waiting, we fold the leather around the heel.
・We cut the leather according to the heel design and then skive slightly the peripheral part.
・The sole has to be attached correctly and then hammered to assure the adhesion.
・底に貼り付ける革を切り出したら底面の汚れを落としゴムのりを2回塗り、およそ20分ほど放置して乾くのを待ちます。
・のりの乾きを待っている間にヒール周辺に革を巻きます。
・ヒールのデザインに合わせて革を切り出し、周囲を薄く漉きます。
・貼り付けの位置を十分に注意しながら底を貼り付け、ハンマーで十分に叩き密着させます。

・Once the sole is firmly attached, we carefully cut the leather in excess, and adjust the size.
・Next, we remove the shoetree.
・Then, we hammer a nail into the inner part of the shoe, to fix firmly the heel.
・底の貼り付けを終えたらはみ出している革を慎重に切り、サイズを調整します。
・周囲のサイズ修正が終わったら木型を抜き取ります。
・木型を抜き取った後、ヒールを十分に固定させる為に内側かた釘を打ち込みます。

・We insert the insole and polish the whole shoe. Now it's completed!
・中敷を入れ、全体をきれいにして完成です。