NEWS and Blog

1. Measuring the right thickness of the silverplate for the grief.

2. Checking the plate is straight and marking where to saw it.

3. First I made a basic bezel and then hammered it conical with a bottoniera.

4. The bezel after filing it straight and cleaning the surface with an emerypaper.

5. The stone has to sit perfectly on the bezel. The stone is cubic zirconia.

6. Dividing the bezel for making the right crown like shape.

7. Marking the U shapes before cutting them.

8. After cutting the U shapes roughly with a saw, the next thing to do is to file the edges and cut little divisions also on the downside.

9. The grief ready to be soldered on the ring.

10. After making a normal ring from a thick silverwire without closing it by soldering, I hammered the open end flat on a tassello with a heavy iron hammer.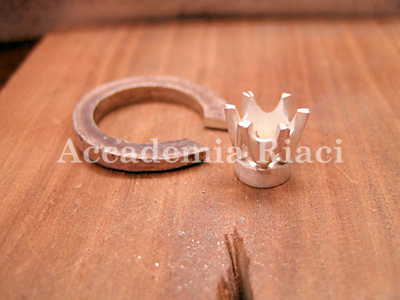 11. The ring and the grief before soldering them togheter.