Read the latest reports of our students!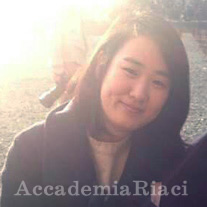 After studying Oriental painting in South Korea, she came to Italy to study shoes in which she was interested in since her childhood.
Sh first studied shoe design at Polimoda, and then decided to join Accademia Riaci to focus on the techniques of shoe making.
She is now studying under skilled artisan in Florence, and she decided to extend her shoe making corse for another year to deepen the knowledge and achieve higher level of shoe making techniques, to follow her future dream of opening her own atelier.
Apr. 03, 2014 | Posted in Reports, Student Reports, Shoe Making & Shoe Design, Shoemaking | Tags: Shoemaking, Hyunjin Kim| Mario:



Reporter: Hyunjin KIM | Course: Shoe Making Course
1.Prima di realizzare le scarpe in pelle, proviamo a farle con un altro materiale.
가죽으로 신발을 만들기 전에 다른 재료를 사용해서 먼저 만들어 본다.
2.La prova quindi si realizza con un materiale chiamato "salpa".
신발끈을 넣는 신발 양 옆면에 모양을 유지시켜주기위해 살파(가죽찌거기와 다른 재료를 넣어만든것)을 붙여준다.
3.Prima di cucire passiamo il mastice per fissare tra di loro i pezzi di cuoio.
박음질 하기전에 풀로 고정시켜준다.
4.Cuciamo la tomaia e la fodera.
어퍼(upper)랑 라이닝(lining)을 놓고 박음질을 해준다.
5.Ricaviamo dei fori per i lacci.
신발끈 넣는 구멍을 뚫어준다.
6.Applichiamo il cuoio per la suola.
바닥에 밑창에 쓰이는 가죽으로 붙여준다.
7.Realizziamo il tacco in cuoio.
밑창으로 사용했던 가죽으로 굽모양으로 자른다음 붙여준다.
8.Per attaccare il tacco utilizziamo dei chiodini e successivamente applichiamo la gomma.
마지막 굽을 붙이고 못으로 고정시켜준다음 고무바닥을 붙여준다.
9.Il modello Francesina da donna è pronto.
여성용구두 프란체지나 완성된 모습이다.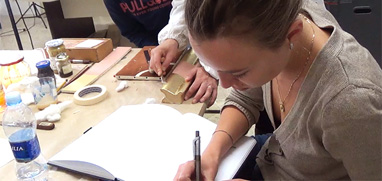 At Accademia Riaci, we are recruiting Course Reporters from our students. The students who are chosen to become Course Reporters are given 10 % of the tuition as their scholarship fee.
The Reporters who have submitted excellent reports will have his or her profile posted on our school website for the next 5 years as an alumnae and will be able to connect with their business chancesafter their graduation.