Up-to-date report from one of our students!
Jul. 21, 2014 | Posted in CourseShoe, Blog, LessonReport, Shoemaking | Tags: Shoe Making, Morita | Language:


Reporter: Morita | Course: Shoe Making Course
外羽接着製法、グッドイヤー製法3 19.2.2014
・Once the outsole is completed, we put the sole groove back in place
・グッドイヤー製法で出し縫いが終わったら縫いのために開けた溝を元に戻します。
・The student discuss again her original design idea, together with the instructor (photo on the left)
・It's important to select the right type of leather, as it can affect the lasting of the edges (some leather types are easy to be ripped off) (photo on the right)
・自分の描いたデザインを再度、先生と一緒に考えていきます。(左)
・使用する革によっては吊り込みの際にちぎれやすいので革選びも重要です。(右)
・In the Goodyear stitching, we sew together the inner sole, upper and "Guardolo" (i.e. welt).
・グッドイヤー製法ではアッパー、グアルドロ、中底を一緒に縫い合わせます。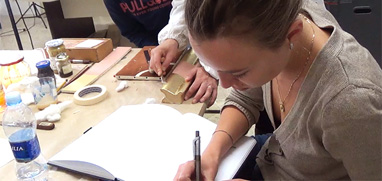 At Accademia Riaci, we are recruiting Course Reporters from our students. The students who are chosen to become Course Reporters are given 10 % of the tuition as their scholarship fee.
The Reporters who have submitted excellent reports will have his or her profile posted on our school website for the next 5 years as an alumnae and will be able to connect with their business chancesafter their graduation.