Accademia Riaci
Lesson Report
Up-to-date report from one of our students!
Reporter
Morita
Nationality: Japan
Course: Shoe Making
Assistant
Jan. 08, 2015 | Posted in Blog, Shoemaking , Lesson Reporter | Tags:Morita, Shoemaking | Language:


Reporter: Morita | Course: Shoemaking
サマーコース 外羽・内羽接着製法 24.7.2014
・Overlapping parts of ostrich leather are thinly skived just as for cowhide. (Picture left)
・Students pile up a few 4mm-thick leathers to build a heel, then nail it to the outsole. (Pictures center & right)
・オーストリッチの場合でも牛革同様に重なり合う部分は薄く漉きます。(左)
・厚さ4mm程度の革を数枚積んで踵を作り、釘で全体を固定します。(中、右)
・A provisional shoe made by felt is used to check the lines and the balance of the shoe. (Picture left)
・It is very important to cut the leather in the exact same size as the pattern paper. (Picture center)
・The blind stitch in the Goodyear welt ends at where it meet the heel part. (Picture right)
・フェルト生地を使い仮靴でのラインなど、全体のバランスを確認します。(左)
・革の裁断は型紙と同じ大きさに裁断することが非常に大切です。(中)
・グッドイヤーウエルト製法での掬い縫いは踵部分で終了します。(右)
・This student is sewing the outsole and the welt together by outsole stitching. (Picture left)
・This welt is put on by adhesive method. The shoe is done after being polished on the side. (Picture center)
・Where parts are sewn together, a skinny stay tape is adhered on the back. Students then hammer it to flatten. (Picture right)
・本底とウエルトの外側を縫い合わせる出し縫い。(左)
・接着で取り付けたウエルト。最後は靴のサイドを磨いて完成です。(中)
・パーツを縫い合わせた部分には細い伸び止めテープを貼り付け叩いて平にします。(右)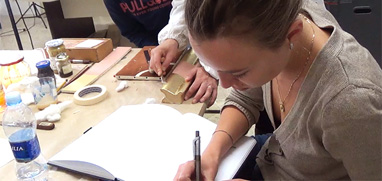 At Accademia Riaci, we are recruiting Course Reporters from our students. The students who are chosen to become Course Reporters are given 10 % of the tuition as their scholarship fee.
The Reporters who have submitted excellent reports will have his or her profile posted on our school website for the next 5 years as an alumnae and will be able to connect with their business chancesafter their graduation.