Accademia Riaci
Lesson Reports
Read all class reports from our students!
Reporter
Morita
Nationality: Japan
Course: Shoe Making
Assistant
Dec. 26, 2014 | Posted in Reports, Shoemaking , Lesson Reporter | Tags:Morita, ShoemakingReporter: Morita | Course: Shoemaking
サマーコース 内羽・外羽接着製法 23.7.2014
・For adhesive method, intermediate soles which are normally sold in the neighborhood stores are used. (Picture left)
・When performing shoe lasting, students sprinkle baby powders on a shoetree so its surface slides well. (Picture center)
・Shoetree is removed in a different manner depending on the shoe type, so students make sure of the shoe type before removing it. (Picture right)
・接着製法での中底は市販されているものを使用します。(左)
・吊り込みを行う際は木型にベビーパウダーを振り掛けて滑りを良くします。(中)
・木型を抜く際はその種類によって抜き方が異なるので良く確認してから作業します。(右)
・After removing a shoetree, students cut off the lining around the shoe opening and insert an insole to finish. (Pictures left & center)
・This student will be making his next product using ostrich leather.(Picture right)
 Ostrich leather, unlike cowhide, usually has a very limited space for cutting; therefore it's usually used only for a part of a shoe.
 This student will be using the ostrich for every part of his shoe.
・木型を抜いたら履き口周囲の内革を切り取り、中敷を入れて完成です。(左・中)
・次回の作品はオーストリッチを使用して制作するとの事。(右)
 オーストリッチは牛革と異なり裁断する場所がかなり限られ、靴で使用する場合は部分使いが一般的ですが、今回は全てのパーツで使用するとの事。
・This student is making a balmoral belted shoe. (Picture bottom left)
・Making a paper pattern is a bit different for this type of shoe, therefore students must understand it firmly. (Pictures center and right)
・ベルトタイプの靴を制作する生徒さん。このモデルは外羽に分類されます。(左)
・型紙の取り方は通常と少し異なるのでしっかりと理解することが大切です。(中・右)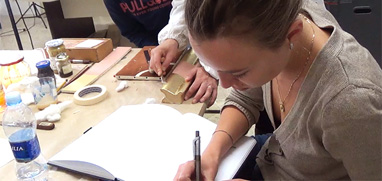 At Accademia Riaci, we are recruiting Course Reporters from our students. The students who are chosen to become Course Reporters are given 10 % of the tuition as their scholarship fee.
The Reporters who have submitted excellent reports will have his or her profile posted on our school website for the next 5 years as an alumnae and will be able to connect with their business chancesafter their graduation.