Accademia Riaci
Students' Voice
Read all class reports from our students!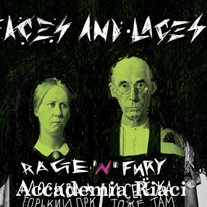 Reporter
Zarina Kurashova
Course: Graphic design and Illustration
Period:Sept 10,2015-Oct.24,2015
Jan. 29, 2016 | Posted in Reports, Graphic Design , Student Voice | Tags:Zarina Kurashova, Graphic DesignReporter: Zarina Kurashova | Course: Graphic Design
① How many works did you make/design during the lesson? Please describe what you have made, and techniques you used, and please provide photos.
I've made 6 posters for summer festival FACES AND LACES. I used 3 different techniques to make each type of the posters to look unique and interesting.
First type is based on the combination of 2 different photos and freehand lettering. In this part I combined photos in unusual way, when these 2 parts can make the whole new picture. Second type is kind of traditional illustration, combined with freehand again. I tried to use traditional technique, but in a brand new composition. Graffiti and street art was the main point of this type.
The third part is based on portraits. It shows the real faces of this festival. This type is about everyone, who feels interested in FACES AND LACES.
② Did the teacher help you learn what you wanted to learn? Was the way of teaching effective?
Yes, Veronica Roberti was extremely helpful, she always was so inspirational and tried to help in every way and in every step of My illustrations, from sketching to the finals. We decided to try brand new style for Me, and we've got the goal.
Thisway of teaching, when the professor's becoming Your mentor, is supereffective, because You always can ask the questions and don't feel Yourself under the pressure.
③ Did your skills/knowledge improve compared with before studying at Accademia Riaci? Will you use what you have learned at Accademia Riaci in future?
My skills improved in the way I wanted to improve it. I tried something new, and it helped Me to find kinda new part of My style. And yes, I'm going to use these new skills (probably, I'm using this style right now, at My home uni!)
④ Did you ask for some assistance to the secretary staff during your stay? Was the Secretary staff helpful?
The assistance was really polite and helpful. Remember, when You DO need help (from, for example, asking for scissors and glue to REALLY SERIOUS question), You shouldn't be hesitate to ask for it.
⑤ What did you do outside the classroom? How did you spend time to enjoy Florence?
Outside the classroom I was exploring Florence, escaping from touristic centre (cos it's not My first time here, in Florence, so I was looking for something new). I visited really interesting exhibitions, like SYNCHRONICITY (but, actually, it was in Prato, which is really near from Florence, it only took about 20 min), BELEZZA DIVINA TRA VAN GOGH, CHAGALL E FONTANA and, moreover, X FLORENCE BIENNALE at Fortezza de Basso. I also travelled to Rome to stroll through the streets. And, for real, I was doing the same thing in Florence, reopening this amazing city for Myself.
⑥ How was the overall stay in Florence, and study at Accademia Riaci?
It was such a great experience, because it helped Me to understand some things outside home, including university.
⑦ If you have any other comments on the school, lessons, teacher, etc. please write:
Just stay this way, because You can help students to decide, what they can really do with theirs skills and knowledges.
⑧ Can we publish this questionnaire on our Web Site and use it in the Secretary Office? Please choose from a, b, or c.
a. Name and content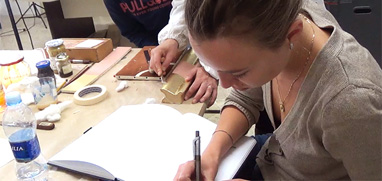 At Accademia Riaci, we are recruiting Course Reporters from our students. The students who are chosen to become Course Reporters are given 10 % of the tuition as their scholarship fee.
The Reporters who have submitted excellent reports will have his or her profile posted on our school website for the next 5 years as an alumnae and will be able to connect with their business chancesafter their graduation.