Accademia Riaci
Student Reports
Read all class reports from our students!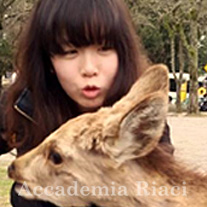 Reporter
Li SHIAU-TING
Nationality: Taiwan
Course: Shoe Making
Program: Atelier Course
Period: Sep. 4, 2017 – Apr. 27, 2018
Shiau-Ting, Li. Shoes designer from Taiwan.
After working in Taiwanese footwear industry for three and a half years, she came to Firenze to study shoes making course, the city which is famous for leather art and shoes.
Although she already has basic aesthetics and sketching technique background from university (B.A.), yet she hopes to extend her shoe-making skills here in Riaci. She believes designer can deliver their thoughts through their works, hoping to keep motivate people with her designs.

李曉婷,來自台灣的鞋類設計師。
在台灣鞋產業工作三年半之後,她決定到皮革之都-佛羅倫斯,學習製鞋技術。
大學主修產品工藝,擁有美學背景、好的品味及繪畫基礎。即便如此,仍期望到莉雅琪延伸自己在實作上的經驗。她相信,設計師能夠透過設計表達想法,希望能持續用創作感動身邊的人。

台湾の靴業界で靴デザイナーとして3年半経験を積んだ後、さらに学びを深めようと革工芸と靴で有名なここフィレンツェへやって来ました。
基本的な審美眼とスケッチ技術は大学(文学士号取得)で学んでいましたが、さらに靴制作の技術を磨くためにリアチ入学を決めました。「デザイナーの想いは、デザインを通して人々に届く」ことを信じ、自分のデザインで人々の心を動かしたいと願っています。
Feb. 05, 2018 | Posted in Reports, Shoemaking , Student Reporter | Tags:Li Shiau-Ting, ShoemakingReporter: Li SHIAU-TING | Course: Shoemaking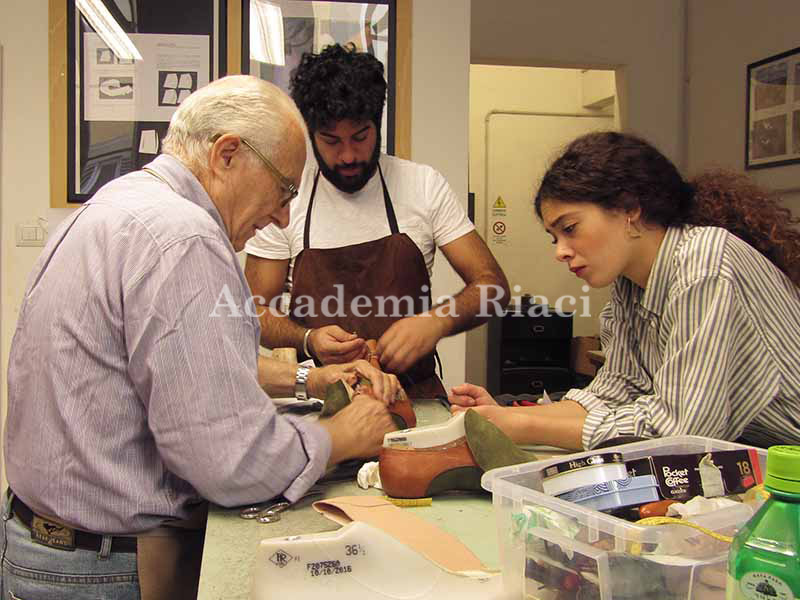 這禮拜可說是十分精彩又忙碌的一個禮拜。在結束提羅雷克後,緊接著製作樂服試版及朋友訂製的固特異德比鞋。班上的同學也正在替自己的作品努力,圖片裡Caterina正在學習如何攀幫她的雙色德比鞋,這會是一雙挪威縫與德比鞋的搭配,真是期待!

It's another busy and hard working week. After completing a pair of Tirolese shoes, I started with a new pattern as well as making Goodyear derby for a friend. My classmates were working hard with their works as well. In the picture, Caterina was learning how to lasting her two-tone derby shoes with Norwegian construction.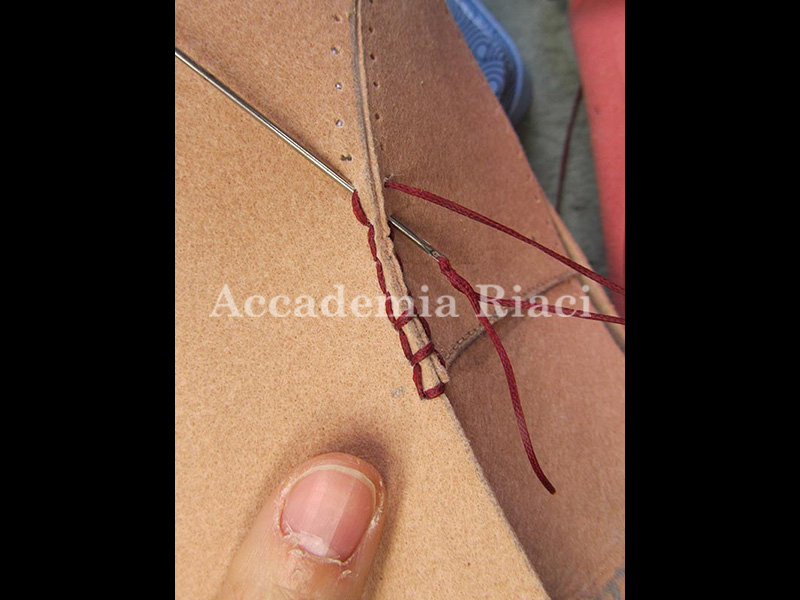 我在練習我的莫卡辛手縫,但裡面有好多細節,我要好好記得才行!

I'm practicing moccasin hand stitching process. There are many details to remember, not easy!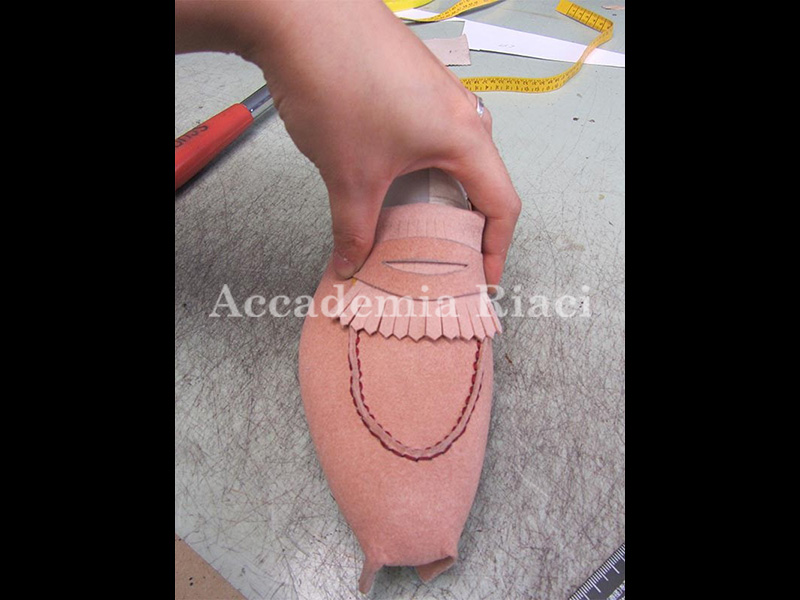 我的樂福鞋大致上的樣子。目前的線條還不是很滿意,決定再給自己一段時間好好思考一下。

This pair will probably look like this, though I am still not satisfying the line. I decided to give myself a while to think about it…

圖片裡老師正在教Yushih開大底溝槽。要切出漂亮的溝除了要有好的刀工,還要配合正確的角度下刀,真的很不容易。

Photo shot when Prof. Angelo was teaching Yushih cutting a groove in her shoes. To make a professional channel needs not only a great technique for using knife but, also needs an exact angle to cut.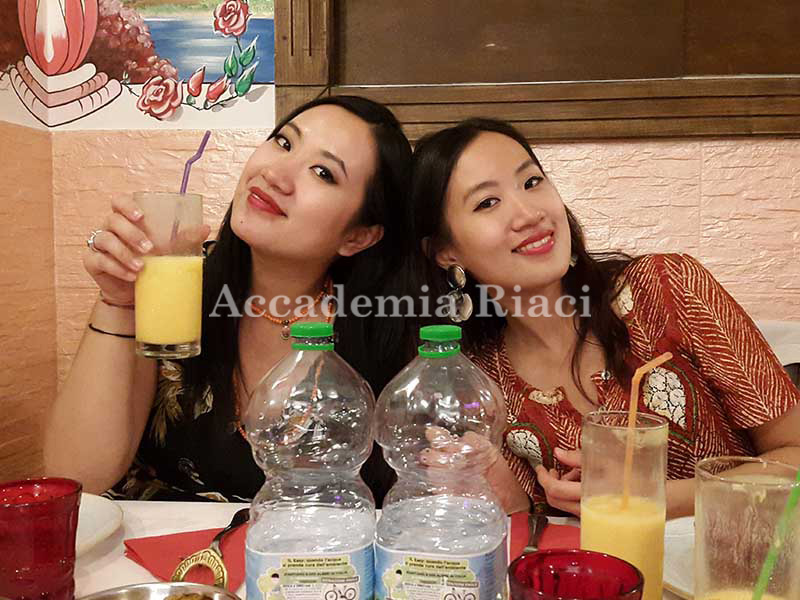 今年認識的好朋友,她們是同樣也來自台灣的立德立群姊妹。星期三是他們的生日,我們在一家印度餐廳幫他們慶生,非常愉快的夜晚。

New friends in this year! They are also come from my country – Taiwan. On Wednesday, we celebrated their birthday in a very nice Indian restaurant. Very pleasant night.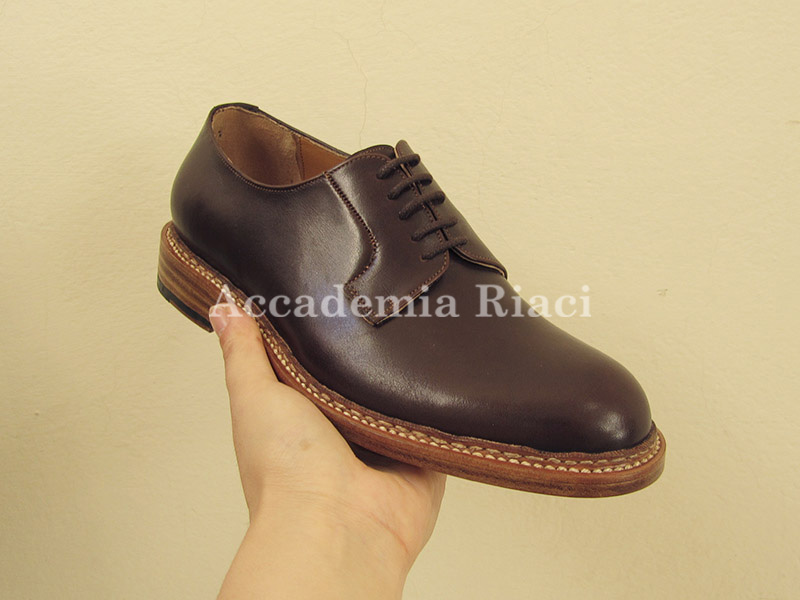 給你們看一下提羅雷克縫的樣子。這個古老的縫製法讓鞋子有防水的特色,有如城牆般的沿條讓整雙鞋子分量感十足呢!

Let you take a look of my Tirolese derby after I finished it. This traditional method of construction was design for high mountain, which has water proof function. Look at the welt, it looks like a wall around the shoes, making shoes more concrete and solid.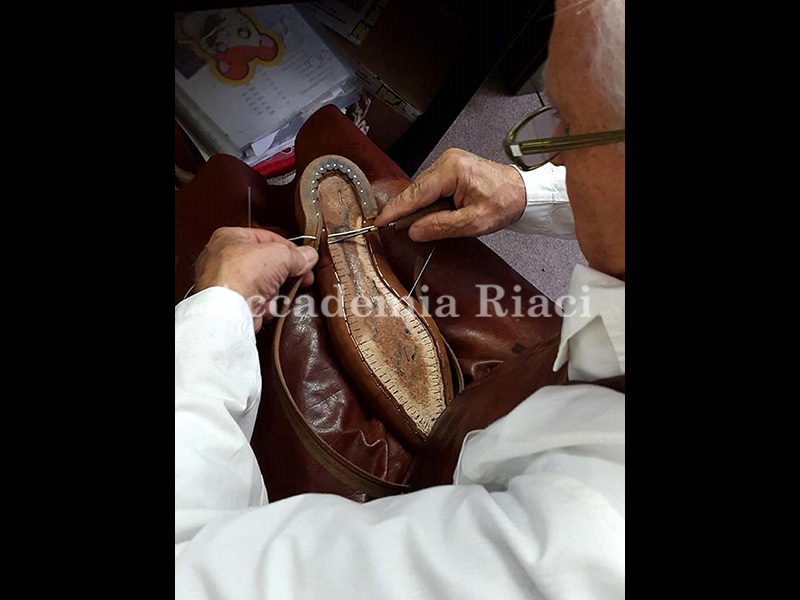 很高興跟你們分享,開始有朋友跟我訂製鞋子了(笑),這也代表著,努力有被看見、設計有人喜歡,太棒了! 我會加倍努力的。

I'm super happy to share you this news that, some friends asking for my shoes (smile), which means, people like my works and what I made an effort with was being seen by people. ☺ I'm so grateful for all in here.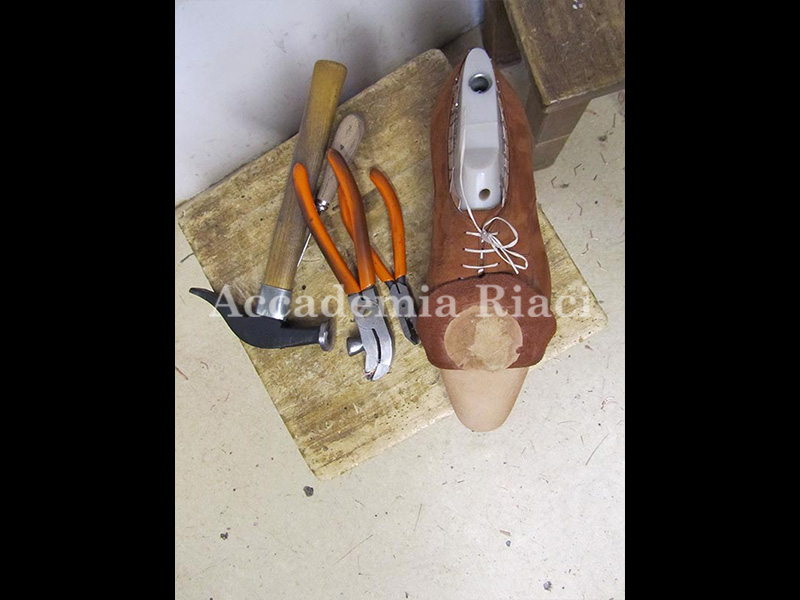 第二次製作感覺上手許多,邊練習邊訓練自己的記憶力,好在沒有忘記太多。

It was the second time I made Goodyear construction, tried to test my memory at the same time. Thankfully, I did not forget much.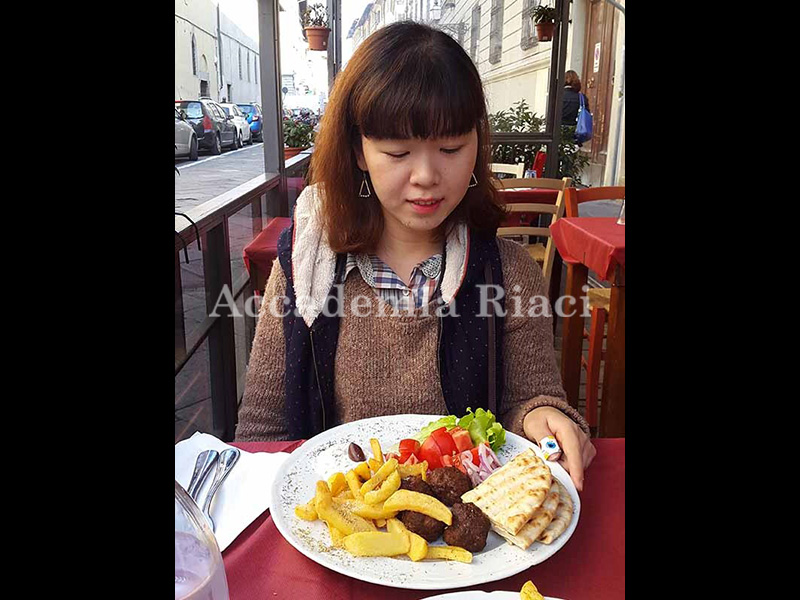 連續幾個禮拜的疲勞轟炸,需要慰勞自己一下,也讓腦袋休息休息。星期五的早晨我們前往一家希臘餐廳,稍微忙裡偷閒了一下。

It's time to relax a bit for these intense weeks. On Friday morning, we headed to a Greek restaurant to enjoy Greek morning.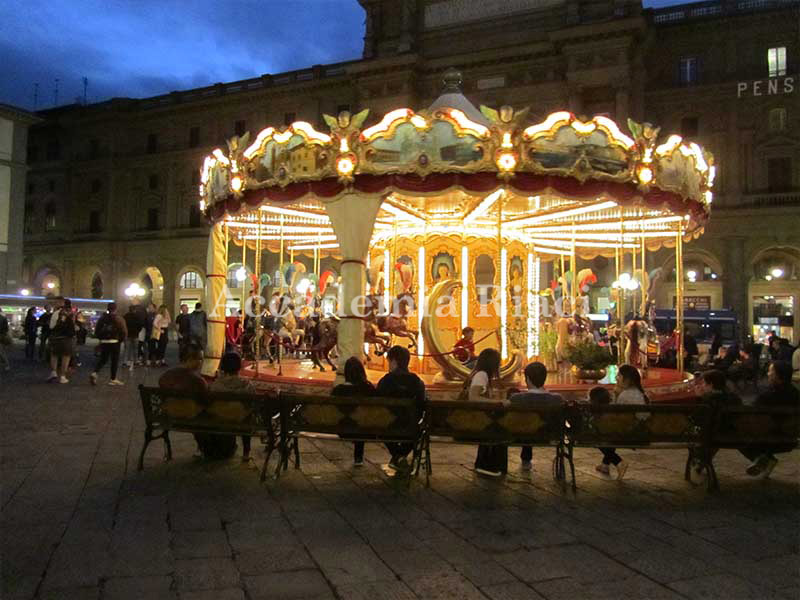 一個禮拜就這樣過去了,最近開始覺得生活總是在學校與家裡的兩端,好像需要讓自己沉澱一下。星期五的傍晚,看著在自由廣場上的旋轉木馬,並拍下了這張照片。"好像從來沒在晚上好好欣賞旋轉木馬,突然覺得這燈光格外浪漫…"-我心裡想著。

One week has passed quickly… Recently, I started to think about that maybe I should slow down my step and relax my brain. When I throw back my memory, I felt my life in here only between school and accommodation. Friday night, I standing behind the carousel and took this photo, at the same time, the carousel was rolling around with beautiful light. "So romantic, why I never noticed?"-I wondering…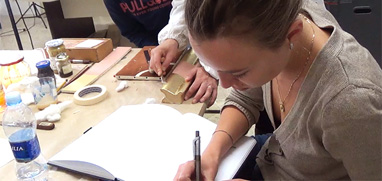 At Accademia Riaci, we are recruiting Course Reporters from our students. The students who are chosen to become Course Reporters are given 10 % of the tuition as their scholarship fee.
The Reporters who have submitted excellent reports will have his or her profile posted on our school website for the next 5 years as an alumnae and will be able to connect with their business chancesafter their graduation.