Accademia Riaci
Student Reports
Read all class reports from our students!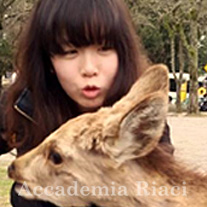 Reporter
Li SHIAU-TING
Nationality: Taiwan
Course: Shoe Making
Program: Atelier Course
Period: Sep. 4, 2017 – Apr. 27, 2018
Shiau-Ting, Li. Shoes designer from Taiwan.
After working in Taiwanese footwear industry for three and a half years, she came to Firenze to study shoes making course, the city which is famous for leather art and shoes.
Although she already has basic aesthetics and sketching technique background from university (B.A.), yet she hopes to extend her shoe-making skills here in Riaci. She believes designer can deliver their thoughts through their works, hoping to keep motivate people with her designs.

李曉婷,來自台灣的鞋類設計師。
在台灣鞋產業工作三年半之後,她決定到皮革之都-佛羅倫斯,學習製鞋技術。
大學主修產品工藝,擁有美學背景、好的品味及繪畫基礎。即便如此,仍期望到莉雅琪延伸自己在實作上的經驗。她相信,設計師能夠透過設計表達想法,希望能持續用創作感動身邊的人。

台湾の靴業界で靴デザイナーとして3年半経験を積んだ後、さらに学びを深めようと革工芸と靴で有名なここフィレンツェへやって来ました。
基本的な審美眼とスケッチ技術は大学(文学士号取得)で学んでいましたが、さらに靴制作の技術を磨くためにリアチ入学を決めました。「デザイナーの想いは、デザインを通して人々に届く」ことを信じ、自分のデザインで人々の心を動かしたいと願っています。
Sep. 29, 2016 | Posted in Reports, Shoemaking , Student Reporter | Tags:Li Shiau-Ting, ShoemakingReporter: Li SHIAU-TING | Course: Shoemaking
哈囉大家。前兩週學習了素面女鞋之後,這禮拜我們開始學習經典的Chanel鞋款,這個設計的特點在於在腳踝的地方有條細細的裁條包覆,紙板的步驟大致跟先前的pump相同只有在細節處需做變化,是一十分性感的鞋款。
After learning simple upper Decollete and Decollete Rovesciato (reversed folding), Third week, we start from more technical pattern Aperto Dietro (Chanel). This is a type of shoes with strap around the back of ankle. The mechanical principle was similar with Decollete in first and second week, but the designs are little different.

仍然從貼紙膠開始,然後標記出幾個重要的輪廓線。

We taped the last as before and start our Aperto Dietro pattern.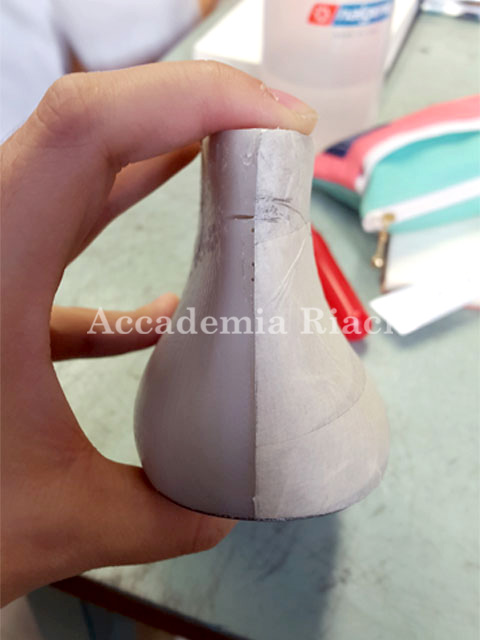 Chanel後面沒有完整包覆的面,因此後帶的設計需要向上提一些些。

This time, stander part should be higher.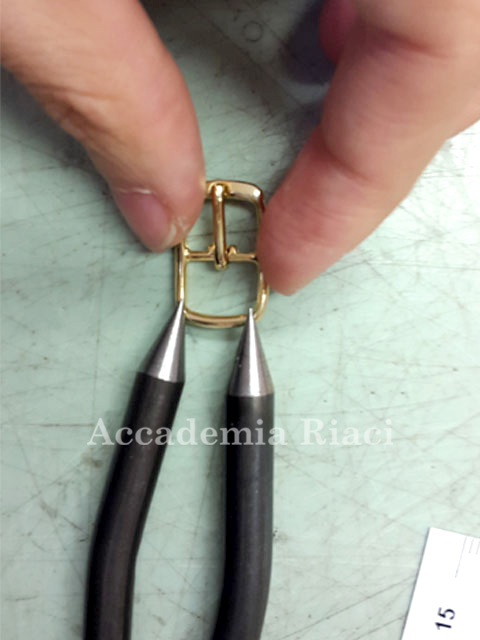 金屬釦在這款設計裡扮演重要的腳色,其目的在於固定細細的帶子。

The unique of this design is buckle, which plays an important role in Aperto Dietro. It is designed to fasten strap.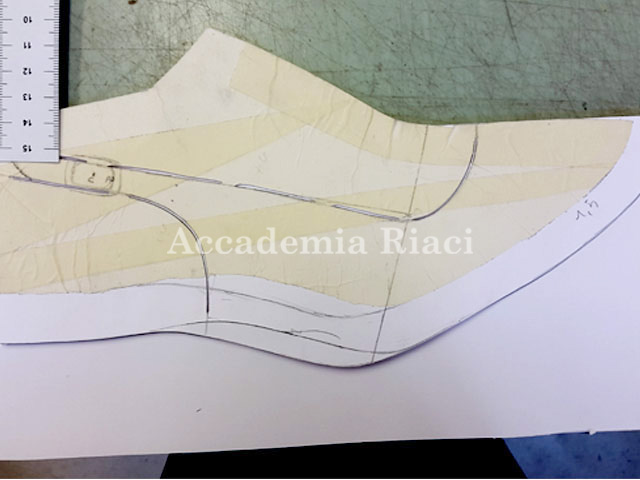 這是我的半面版,我在帶子的尾端設計了一點角度,希望它看起來更優雅。

In my designs, I sketched an angle in my strap to make it looks elegant.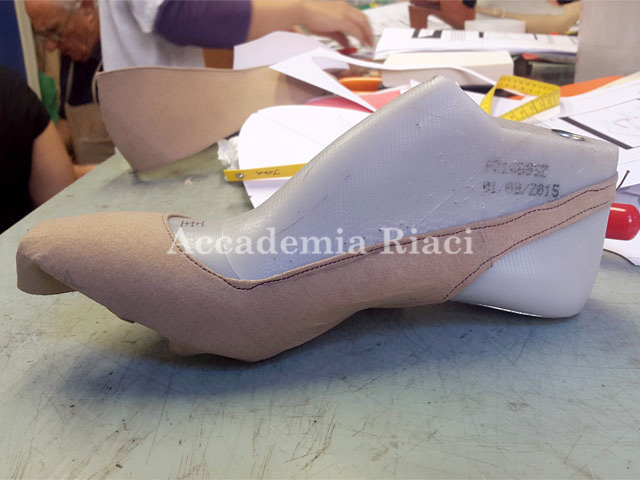 在使用皮革之前,我們一樣用布料來確認鞋子的原型。

Before working with leather, we use fabric prototype, make sure our pattern was accurate.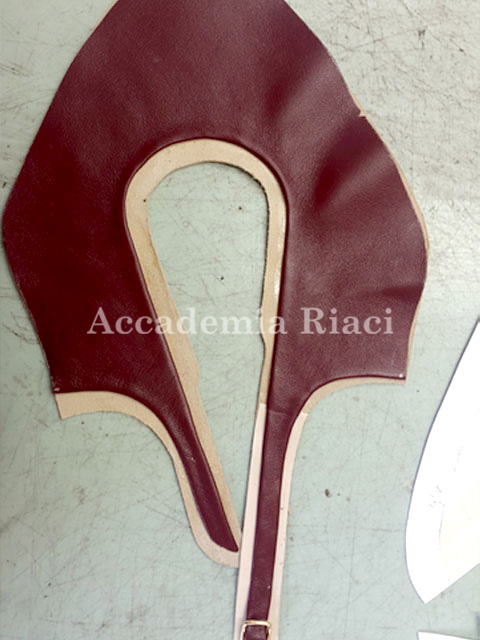 我選了紅色的皮料搭配米色的內裡,現在我把所有的零件都準備好了,下個步驟可以開始車縫囉。

I choose red leather for upper and light lining in my Aperto Dietro. After combined all elements together, I could stitching them together.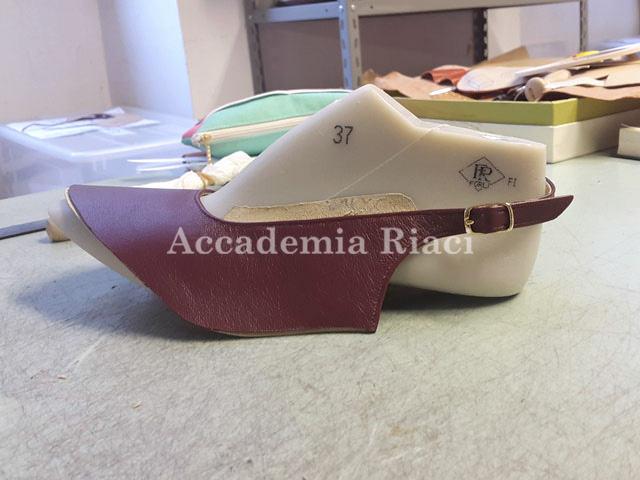 我很高興我沒有在車縫的時候搞砸,對於一個初次接觸縫紉機的我,後帶的距離真的很考驗技術。

The back strap along ankle was really difficult for stitching, but I'm happy I to see my outcome, I stitched well!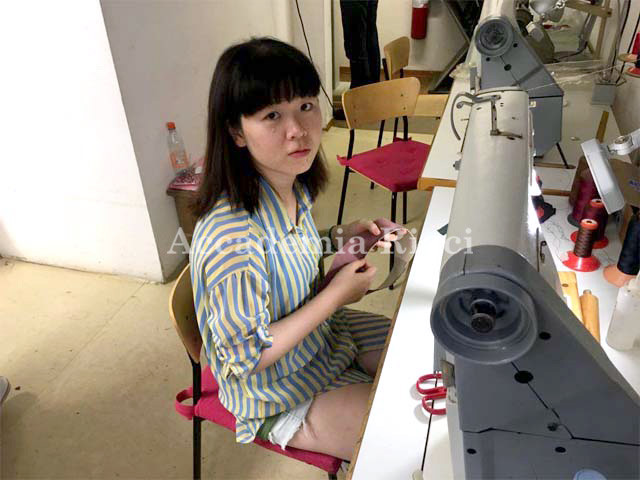 製鞋課程通常在下午一點結束,利用下午的時間我繼續製作我Decollete的另一隻腳。

Our class ends at 1:00pm, we have whole afternoon for independent study. Keep working with my left-foot of Decollete.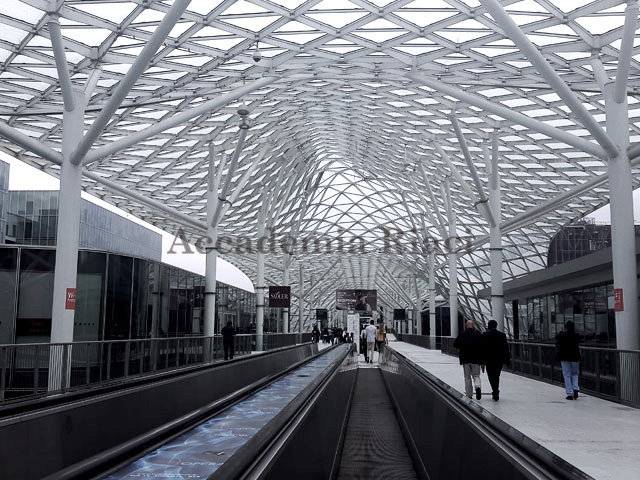 這個禮拜三,我們前往米蘭皮革展。

On Wednesday, we went to leather exhibition in Milan.

我的同學Lara跟Joe正在討論展示的鞋款。這個展覽除了皮革之外,也展出相關的工具、材料。

My classmate Lara and Joe are discussing the design of shoes. Exhibition had many leather, tools, soles, everything here was so amazing.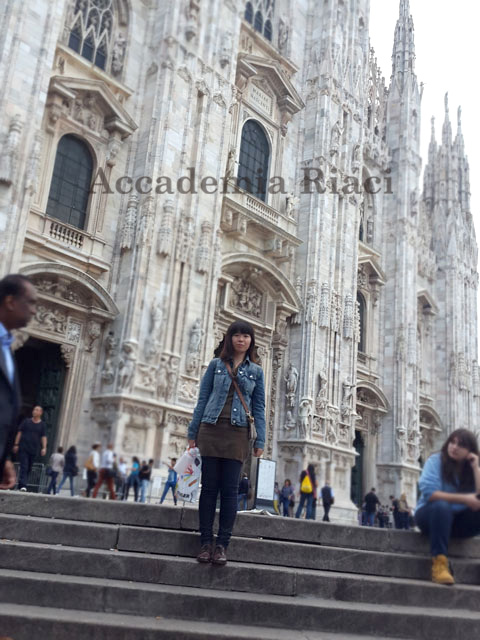 離開前,我們到有名的米蘭教堂一探哥德式建築的雄偉,希望下次有機會能再來玩。這禮拜的報告到這邊囉,下週見!

After leaving the exhibition, we went to Duomo, which was spectacular! Hope I could came back and enjoy the time in Milan again…
This is weekly reports, see you next week!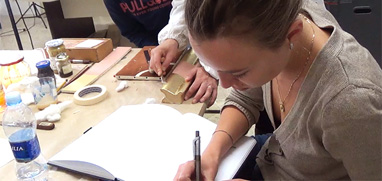 At Accademia Riaci, we are recruiting Course Reporters from our students. The students who are chosen to become Course Reporters are given 10 % of the tuition as their scholarship fee.
The Reporters who have submitted excellent reports will have his or her profile posted on our school website for the next 5 years as an alumnae and will be able to connect with their business chancesafter their graduation.