Accademia Riaci
Student Reports
Read all class reports from our students!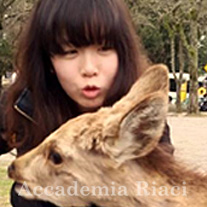 Reporter
Li SHIAU-TING
Nationality: Taiwan
Course: Shoe Making
Program: Atelier Course
Period: Sep. 4, 2017 – Apr. 27, 2018
Shiau-Ting, Li. Shoes designer from Taiwan.
After working in Taiwanese footwear industry for three and a half years, she came to Firenze to study shoes making course, the city which is famous for leather art and shoes.
Although she already has basic aesthetics and sketching technique background from university (B.A.), yet she hopes to extend her shoe-making skills here in Riaci. She believes designer can deliver their thoughts through their works, hoping to keep motivate people with her designs.

李曉婷,來自台灣的鞋類設計師。
在台灣鞋產業工作三年半之後,她決定到皮革之都-佛羅倫斯,學習製鞋技術。
大學主修產品工藝,擁有美學背景、好的品味及繪畫基礎。即便如此,仍期望到莉雅琪延伸自己在實作上的經驗。她相信,設計師能夠透過設計表達想法,希望能持續用創作感動身邊的人。

台湾の靴業界で靴デザイナーとして3年半経験を積んだ後、さらに学びを深めようと革工芸と靴で有名なここフィレンツェへやって来ました。
基本的な審美眼とスケッチ技術は大学(文学士号取得)で学んでいましたが、さらに靴制作の技術を磨くためにリアチ入学を決めました。「デザイナーの想いは、デザインを通して人々に届く」ことを信じ、自分のデザインで人々の心を動かしたいと願っています。
Dec. 21, 2017 | Posted in Reports, Shoemaking , Student Reporter | Tags:Li Shiau-Ting, ShoemakingReporter: Li SHIAU-TING | Course: Shoemaking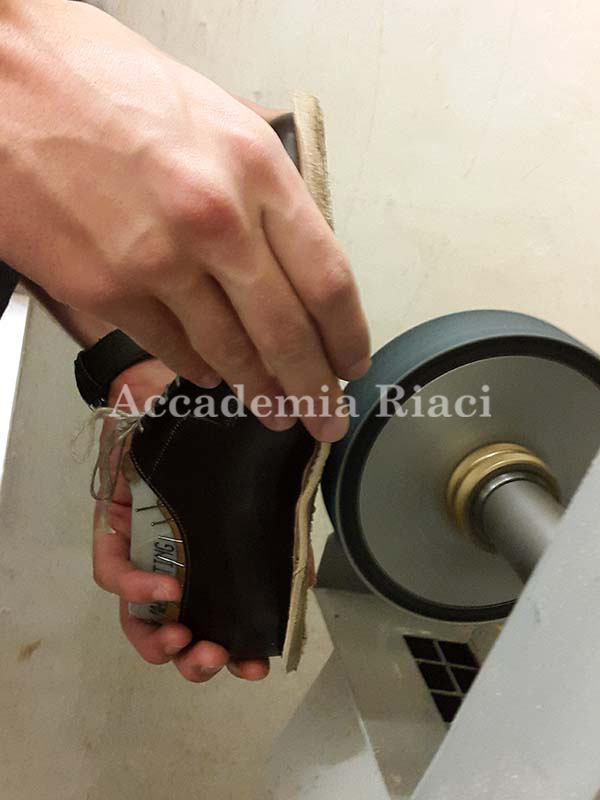 這個禮拜在砂輪機的聲響中開始一天的製鞋日常。在縫完Tirolese的沿條之後,我們在中底的地方填上一層軟木,並用機器將多餘的料去除。

A day was start from the sound of grinding machine this week. After I finished stitching Tirolese welt, I put a layer of cork inside the insole, then, using grinder to remove some imperfections.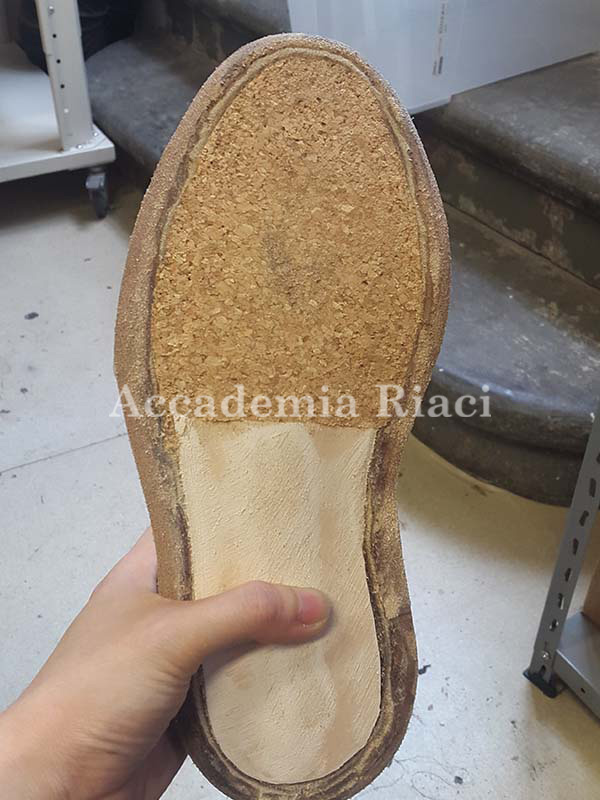 填上軟木的好處是能夠讓鞋子舒適好穿,軟木能吸收腳的濕氣且會越穿越柔軟。呼…終於打磨好了!

The advantage to fill the cork inside is comfort. Cork can absorb moisture and as long you are wearing it, it becomes softer and fit your foot. Phew! I finished.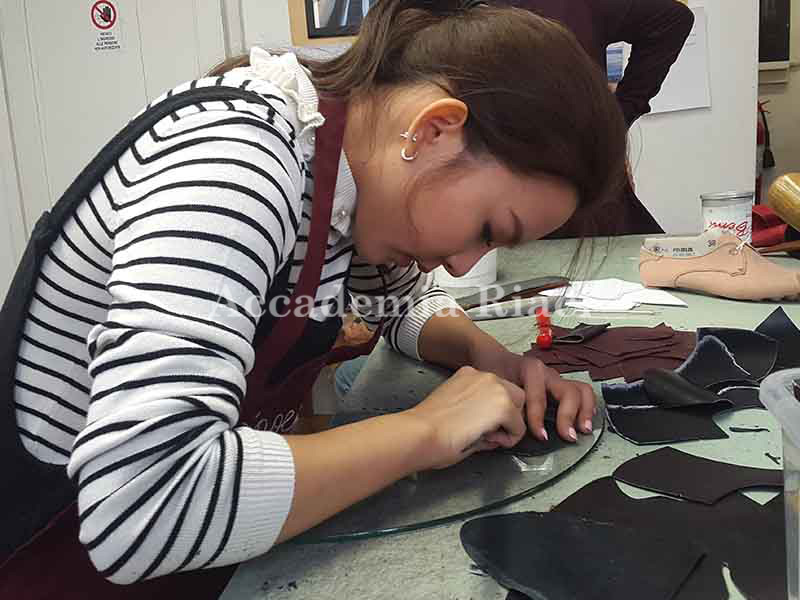 這禮拜Mai回來學校了,她正在努力削薄難纏的厚皮。

Mai came back this week, now we are all together again. Photo shot when she was skiving this thick and naughty leather.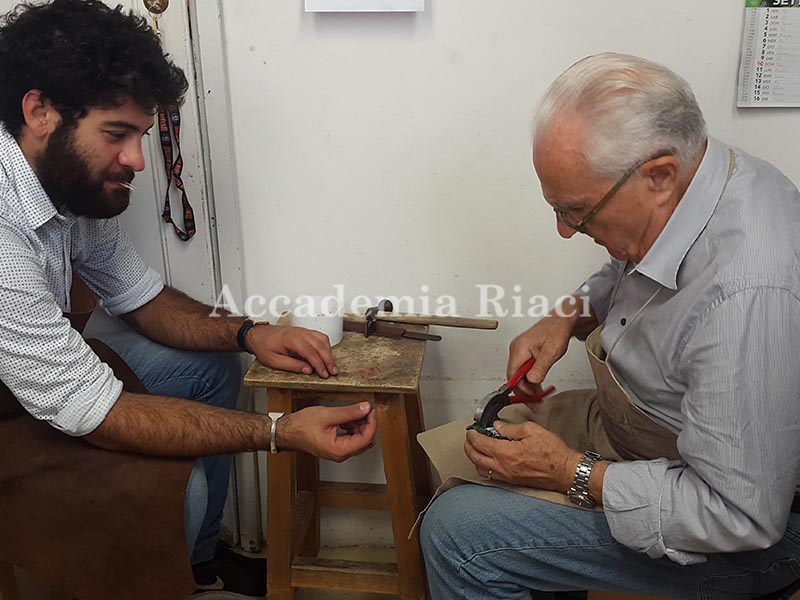 教授Angelo正在示範如何攀幫這雙綠色的靴子,一樣用讓人屏息的速度,一下子就攀好兩支鞋面。

Prof. Angelo was demonstrating how to last this green boot. Like usual, he quickly lasting a pair in a very short time, which is always breath-taking.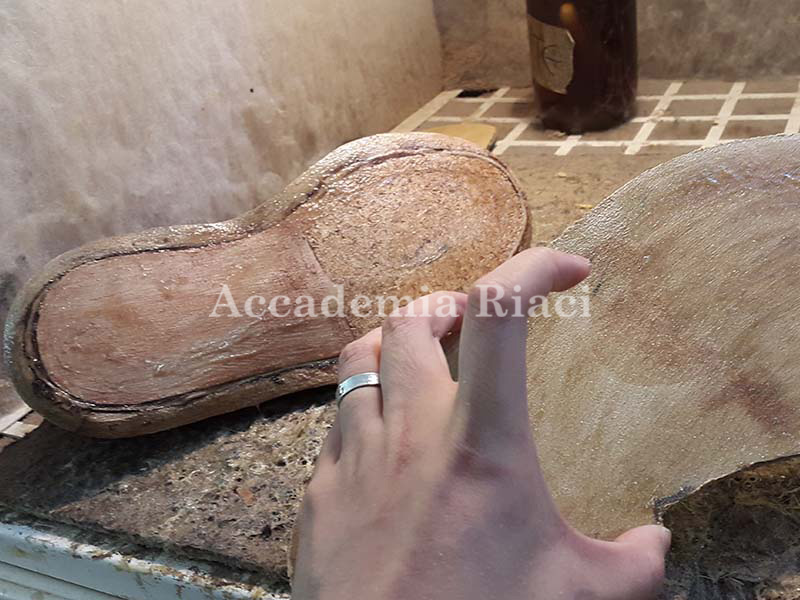 有了去年的經驗,現在能夠更快速上手了! 很高興自己漸漸有自己的步調。將準備好的大底上膠,接著要進行第二道手縫啦

With experience from last year, now, I really feel that I can catch the step more quickly! Also, I'm glad I have my own pace. Prepared my outsole, let's start second hand stitching.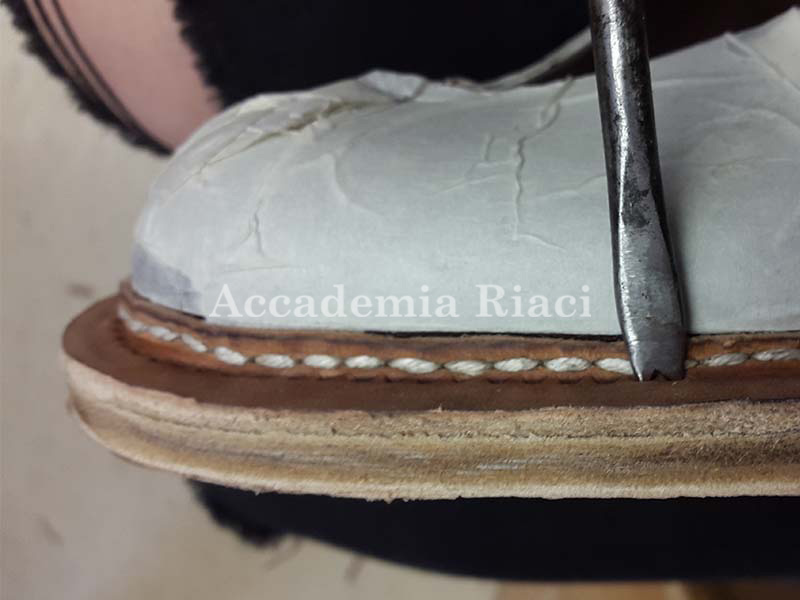 Tirolese的結構最早是設計給登山鞋,沿條呈現的L狀是為了阻擋雨水或者雪水的進入,由於是全皮革製作,還能同時保有皮革柔軟透氣的特性。驚訝著隨著科技進步,卻仍有人保留古老的製鞋方式,我想這正是手工魅力的所在吧!

The original Tirolese construction was design to use in high-mountain. The "L" shape welt was to protect rain and snow. Though it was made by full leather, it still can protect water as well as keep your feet comfortable. I am surprised that although technology is getting better, still, there is someone making shoes in this old way. That's why, handmade shoes are adorable.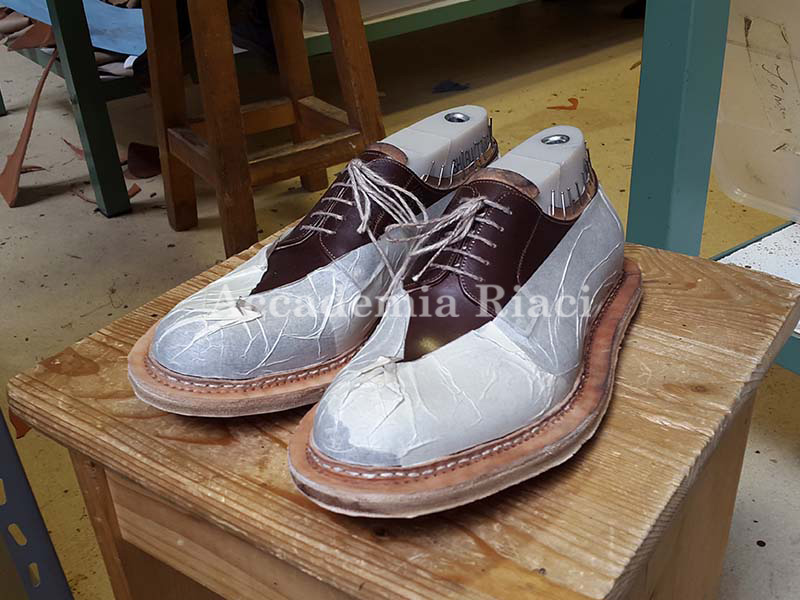 讓你們看一下我裝上大底的樣子,感覺會是一雙休閒、有份量的皮鞋。讓我們拭目以待吧

Let you take a look of my shoes, it is how it look when I put on the sole. I think it will be a dress-shoe with smart casual style. Can't wait!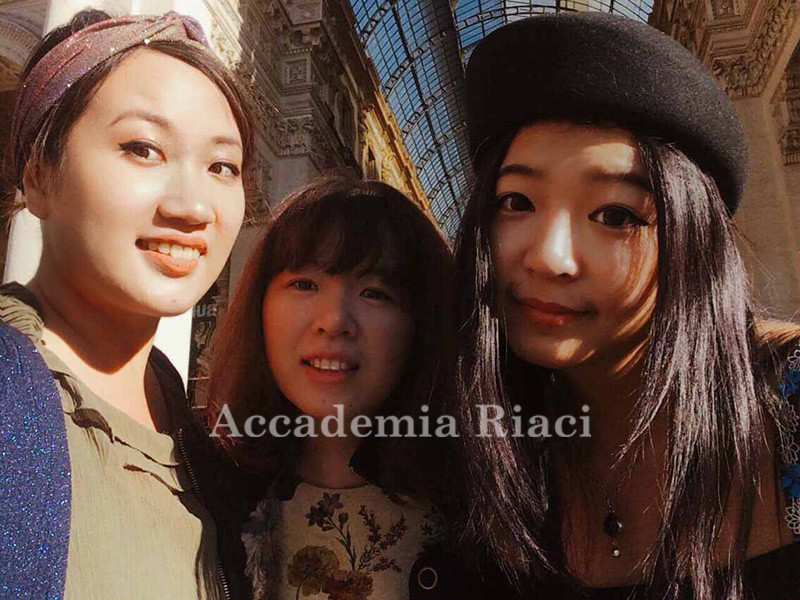 星期三我們去了一趟米蘭,很高興在這趟旅程認識了同樣來自台灣的朋友。

We went to Milano on Wednesday, I'm happy to meet this new friend also from Taiwan.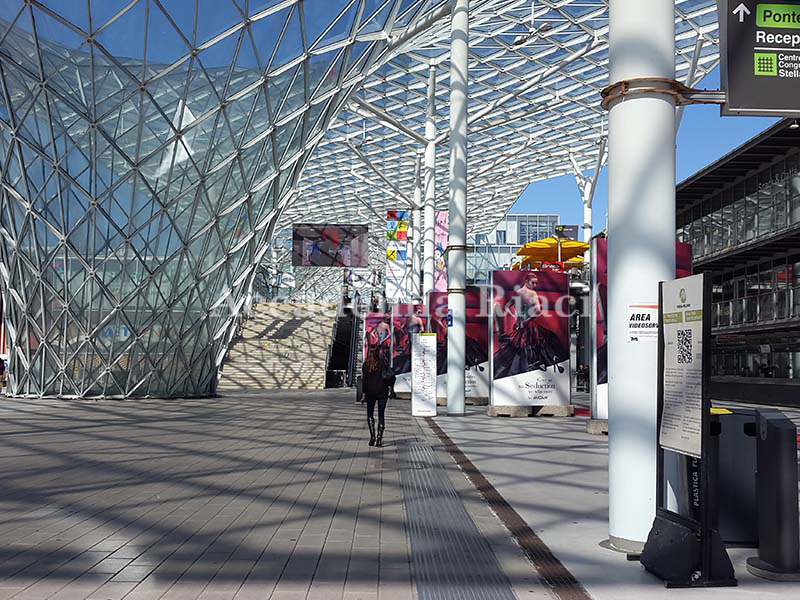 來到熟悉的展覽會場,參訪義大利最大的鞋展-The MICAM

We have visiting the biggest shoe exhibition in Italy- The MICAM.

對了!有一個好消息要告訴大家。我開始把我的故事放到Instagram囉。如果喜歡我的作品或是旅程故事,歡迎追蹤我的頁面。那麼這禮拜就先到這裡,我們下週見~

Awww, I have some great news for you. I start putting my stories in my Instagram page. If you like my works or my stories, welcome to follow my page. Okay, this is the end of weekly report, see you next week~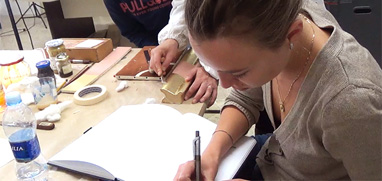 At Accademia Riaci, we are recruiting Course Reporters from our students. The students who are chosen to become Course Reporters are given 10 % of the tuition as their scholarship fee.
The Reporters who have submitted excellent reports will have his or her profile posted on our school website for the next 5 years as an alumnae and will be able to connect with their business chancesafter their graduation.