Accademia Riaci
Student Reports
Read all class reports from our students!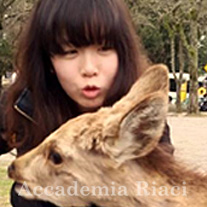 Reporter
Li SHIAU-TING
Nationality: Taiwan
Course: Shoe Making
Program: Atelier Course
Period: Sep. 4, 2017 – Apr. 27, 2018
Shiau-Ting, Li. Shoes designer from Taiwan.
After working in Taiwanese footwear industry for three and a half years, she came to Firenze to study shoes making course, the city which is famous for leather art and shoes.
Although she already has basic aesthetics and sketching technique background from university (B.A.), yet she hopes to extend her shoe-making skills here in Riaci. She believes designer can deliver their thoughts through their works, hoping to keep motivate people with her designs.

李曉婷,來自台灣的鞋類設計師。
在台灣鞋產業工作三年半之後,她決定到皮革之都-佛羅倫斯,學習製鞋技術。
大學主修產品工藝,擁有美學背景、好的品味及繪畫基礎。即便如此,仍期望到莉雅琪延伸自己在實作上的經驗。她相信,設計師能夠透過設計表達想法,希望能持續用創作感動身邊的人。

台湾の靴業界で靴デザイナーとして3年半経験を積んだ後、さらに学びを深めようと革工芸と靴で有名なここフィレンツェへやって来ました。
基本的な審美眼とスケッチ技術は大学(文学士号取得)で学んでいましたが、さらに靴制作の技術を磨くためにリアチ入学を決めました。「デザイナーの想いは、デザインを通して人々に届く」ことを信じ、自分のデザインで人々の心を動かしたいと願っています。
Jun. 02, 2017 | Posted in Reports, Shoemaking , Student Reporter | Tags:Li Shiau-Ting, ShoemakingReporter: Li SHIAU-TING | Course: Shoemaking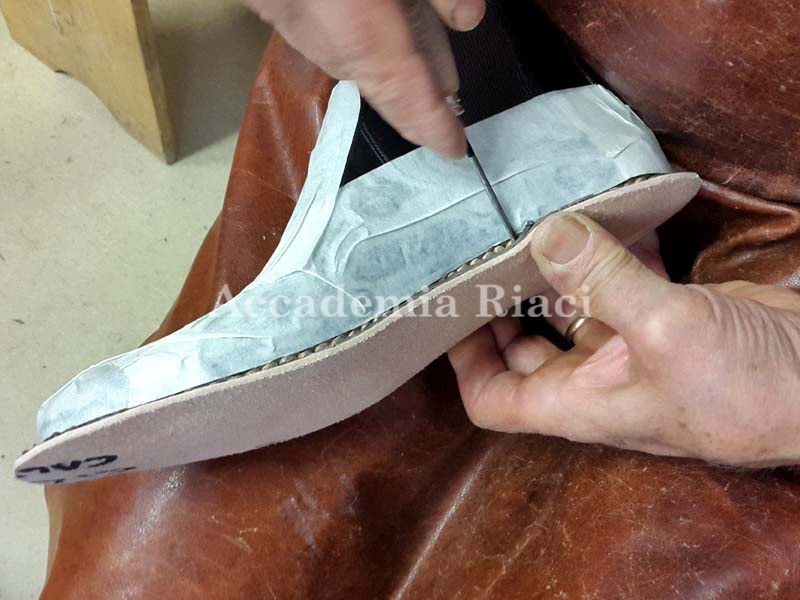 這禮拜正式進入挪威縫的第二道手縫,也就是將鞋面與middle-sole縫起。教授Angelo正在示範戳洞的過程。

This week, I start from second hand stitching for Norwegian construction, which was stitching upper with middle-sole. The picture shows the process of hole-measuring by Prof. Angelo.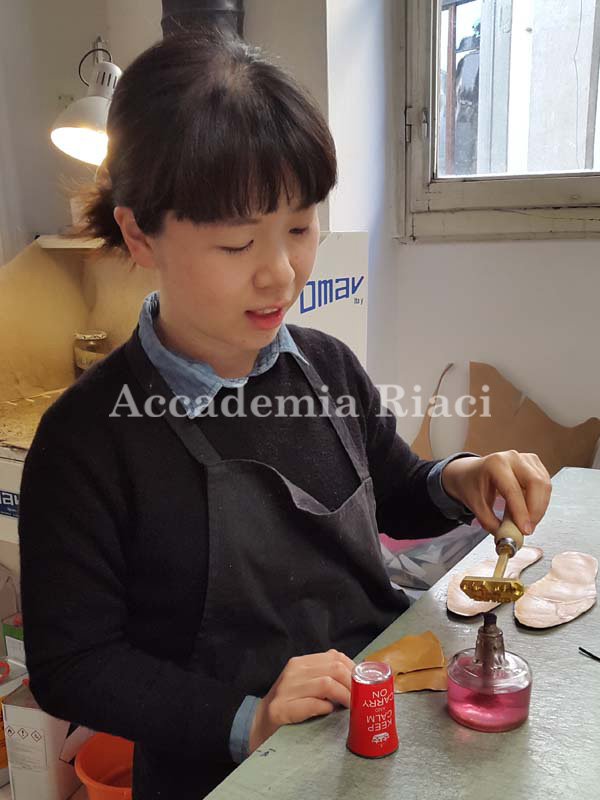 製鞋生涯中的一大里程碑-將自己的記號放在作品上。之後每一雙我親自製作與設計的鞋子上,都能夠看到屬於我的記號了,超興奮!我正在加熱烙印章,準備燙在鞋墊上。

A big step for me – customized a shoe stamp for myself! From now, every shoe I make could see this mark, how exciting! Photo shot when I heating up my stamp, ready for stamping.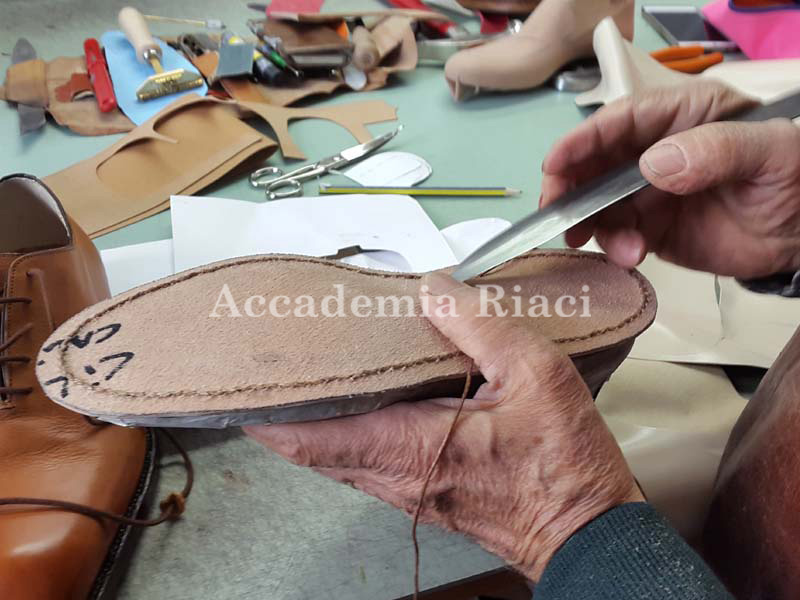 完成第二道挪威縫! 這是教授Angelo示範收線時的紀錄。

Photo shot when finishing second hand-stitching. Now, Prof. Angelo was demonstrating how to tie a knot.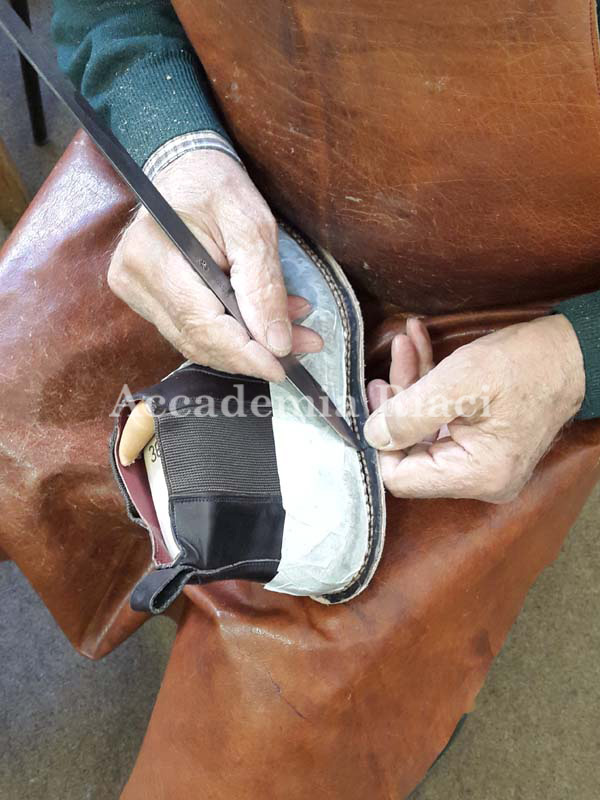 之後必須沿著手縫線切除多餘的皮料。這個步驟考驗著製鞋師的刀工與縫線的工整度。

After tying a knot, the leather should be cut off along the edge which was unnecessary. This is step that tested a shoe maker's skills for using knife properly.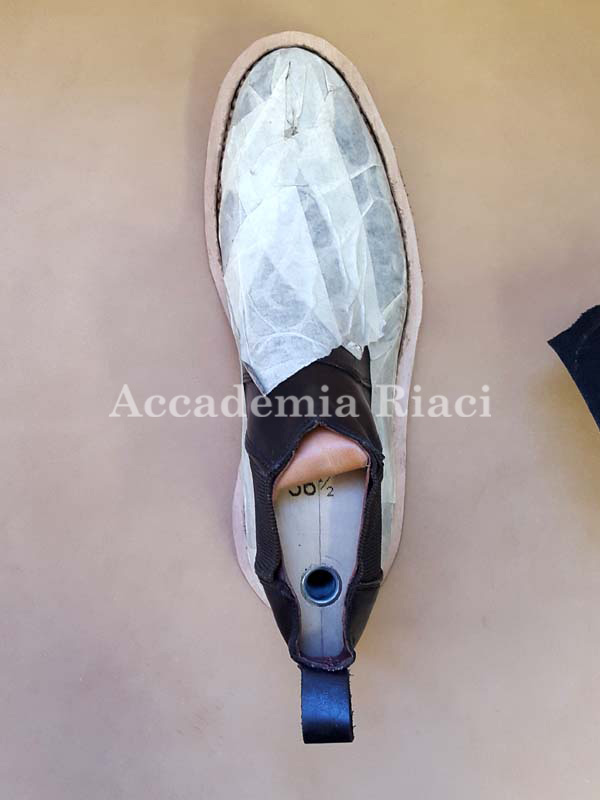 量測輪廓,準備製作大底材料!

Measuring outline that preparing for outsole.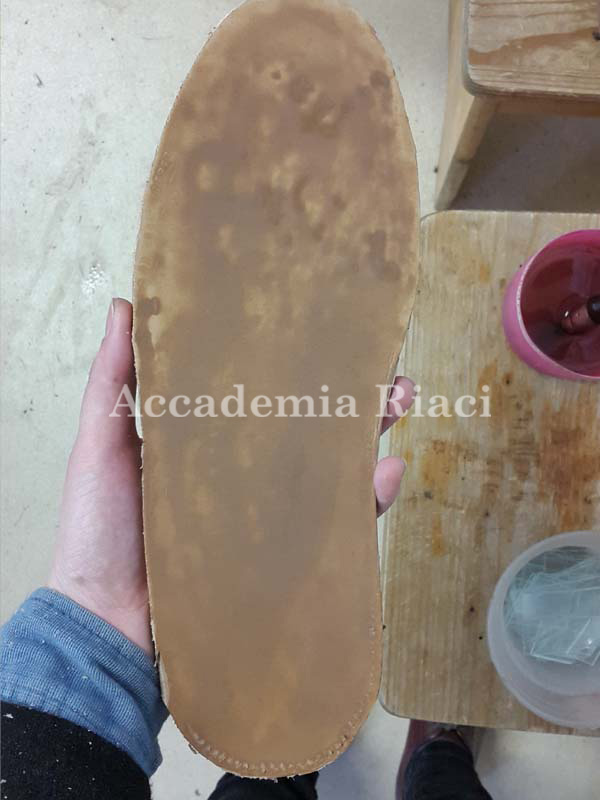 切下來的大底皮需用水浸溼,接著上膠與middle-sole膠合。

The leather should be wet before gluing middle-sole with outsole.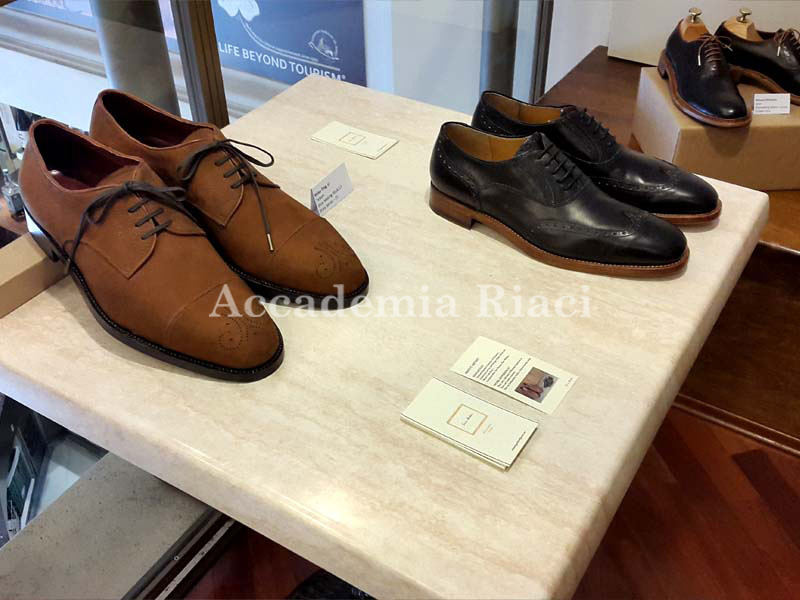 四月十九、二十日是我們的畢業展覽會。很高興在這個時刻,大家能齊聚一堂,分享自己的作品。同時我也覺得,這是一個很好的機會讓大家知道Riaci有好的水準與精采的作品。圖片是我這次展示的手工鞋,一雙Blake牛津鞋與一雙Goodyear德比鞋。

On 19th to 20th of April was our graduation exhibition. I'm glad that in this moment, we can get together sharing our works. Meanwhile, I really think it's a great opportunity to let people know Riaci have great work with high quality and students! Photo shot with my handmade shoes during exhibition! One Blake Oxford shoe and one Goodyear Derby shoe.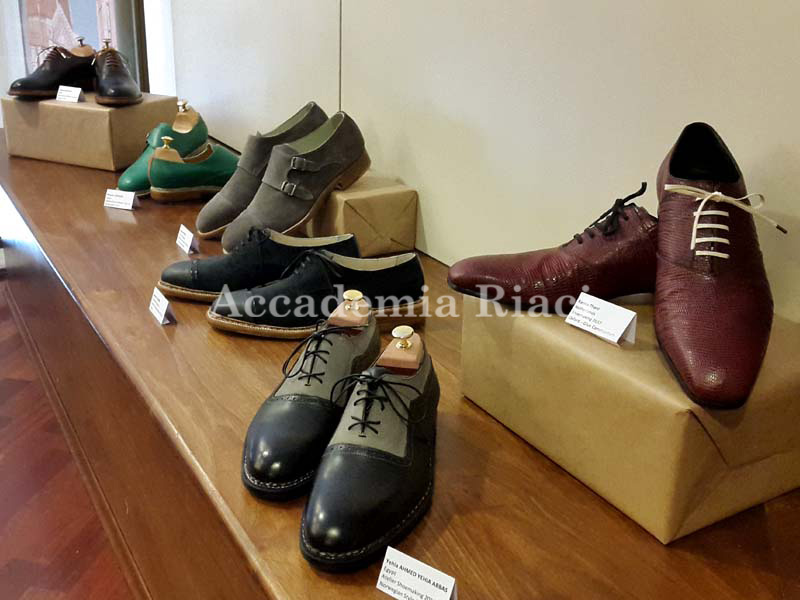 同學們的作品紀錄。看起來就像是鞋店陳列呢! 我們驕傲的說著。

There were classmate's works inside the picture. It looked like a shoe shop! We said proudly. 🙂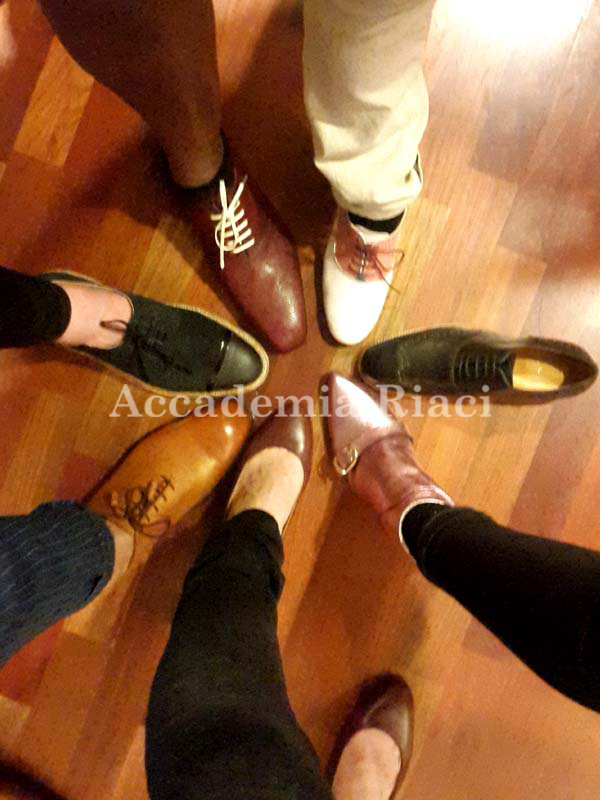 展覽後台紀錄。我們興奮的穿上我們製作的鞋子,並圍成一個小圈圈。成為製鞋師,我想,除了能夠因別人穿上自己的作品而感到滿足,能夠穿上自己親手製作的鞋子,也是一件十分幸福的事了。

Behind the scenes, we wore our shoes with excitement. I think, to become a shoe maker, will not only feel fulfilling that someone wears their works, but also feel happy for wearing their own handmade shoes.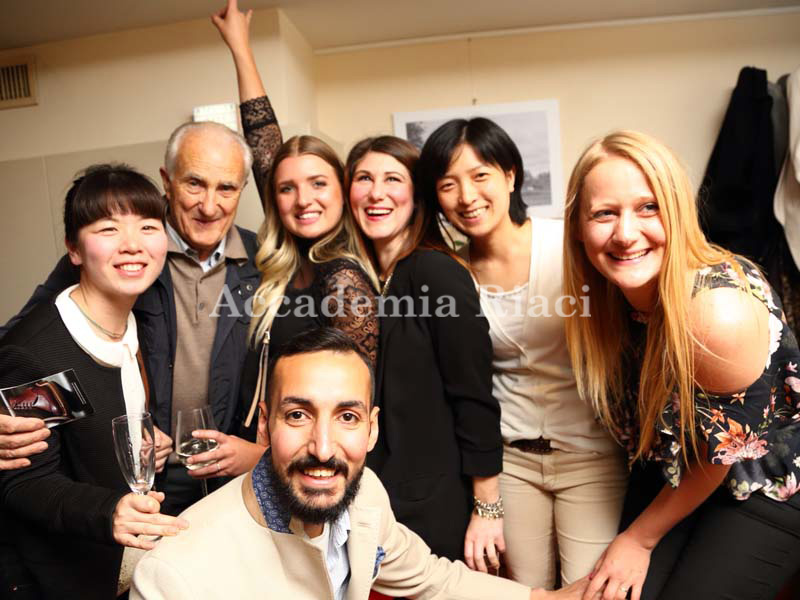 哈囉,來張大合照吧! 攝影師Emi說著。我想我會永遠記得這一刻,很高興能認識這群勇於追夢的朋友們。

Hello, let's take a group photo! – photograph Emi said. I think I will always remember this moment. I'm glad to meet these crazy friends, who are brave to chase their dreams.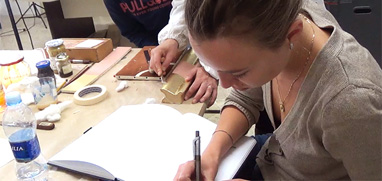 At Accademia Riaci, we are recruiting Course Reporters from our students. The students who are chosen to become Course Reporters are given 10 % of the tuition as their scholarship fee.
The Reporters who have submitted excellent reports will have his or her profile posted on our school website for the next 5 years as an alumnae and will be able to connect with their business chancesafter their graduation.