Accademia Riaci
Student Reports
Read all class reports from our students!
Reporter
Lara Blevi
Nationality: South-African
Course: Shoe Making
Program: One-Year Atelier Course
Period: Sept 5, 2016-April 25, 2017
After Studying a BA degree in Fashion Design in South Africa, Lara decided that she would love to study further and focus on a specific direction in the fashion industry. During her studies, she followed an internship at a company where she was taught how to make and design handbags out of leather and exotic leather skins.

She knew instantly that she would love to study further and learn more about shoes and decided to come to Firenze, Italy, the most famous city to learn more of leather art and shoes! She found Accademia Riaci and knew that the shoe making course that they had to offer was exactly was she was looking for.

Here she wishes to learn the highest level of shoe making techniques and to be able to follow her dream to become a designer with the knowledge of not only fashion, but also the art of shoe and handbag design.

南アフリカでファッションデザインの文学士号を取得後、ファッション業界で目指す方向を定めるためにもっと学びを深めたいと思いました。企業インターンを経験した際には、外国製の皮革を使用したカバン制作とデザインを学びました。

すぐに靴制作を学びたいと思うようになり、靴制作や革工芸を学べる世界で最も有名な都市・フィレンツェ行きを決意。検討の結果、自分が探し求めていた内容の靴制作コースを提供するアカデミアリアチへの入学を決めました。

ここで最高レベルの靴制作技術を身につけ、ファッションのみならず靴やカバンの知識も兼ね備えたデザイナーになることが夢です。
Apr. 14, 2017 | Posted in Reports, Shoemaking , Student Reporter | Tags:Lara Blevi, ShoemakingReporter: Lara Blevi | Course: Shoemaking
There is officially a month left before the end of the course. I cannot believe how quickly the time passed this year. I really hope to do at least one more pair of shoes for my mother before the end of the course. Last week I finished my brother's shoes and also bought laces for them. I am very happy with how they turned out.

コースの終了まで、残り1ヶ月となりました。今年は信じられないくらい早く時が過ぎていきました。コース終了前に、少なくとももう一足、母のための靴を作りたいと思っています。先週、私は兄の靴を作り終え、ひもも買いました。 出来栄えにとても満足しています

I decided to keep the sole of the shoe a natural color. I wanted to keep it as informal as possible and the natural sole gives it that effect.

靴底は、もとの色を生かすことに決めました。
できるだけフォーマルすぎないようにしたいと持っていましたが、もとの色を生かすことで思っていたようになりました。

After the paint has dried, the bottom of the shoe is skived smooth with the very fine skiving paper, and then polished with a special product to protect the leather on the bottom of the shoe.

塗料が乾燥した後、非常に目の細かい紙やすりで靴底を滑らかにし、特殊な製品で磨いて靴底の革を保護します。

For my dad's boots I finished the upper completely including the lining. I also finished preparing the insole for the Tyrolese stitching and will hopefully start mounting the boots on Monday.

父のために作っているブーツは、ライニングを含めてアッパーが完全に仕上がりました。また、チロルのステッチのためのインソールの準備を完了しています。できれば、月曜日からブーツに取り付け始めたいです。

On Thursday morning Jo, Joe and I went for a run. We are all training for the half marathon if we manage to make it!

木曜日の朝、JoとJoeと一緒にランニングに行きました。ハーフマラソンに参加したくて、トレーニングをしています!

My very first Gelato this year. Can't believe it took me this long. The weather is finally warm enough to justify having a gelato every single day.

今年初のジェラート。これほど長い間、食べていなかったなんて信じられません。毎日ジェラートを食べたいと思えるくらい、暖かくなってきました。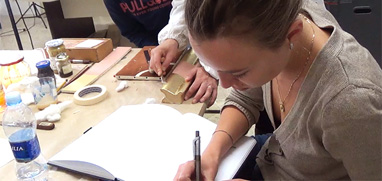 At Accademia Riaci, we are recruiting Course Reporters from our students. The students who are chosen to become Course Reporters are given 10 % of the tuition as their scholarship fee.
The Reporters who have submitted excellent reports will have his or her profile posted on our school website for the next 5 years as an alumnae and will be able to connect with their business chancesafter their graduation.