Accademia Riaci
Student Reports
Read all class reports from our students!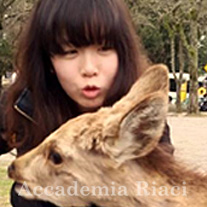 Reporter
Li SHIAU-TING
Nationality: Taiwan
Course: Shoe Making
Program: Atelier Course
Period: Sep. 4, 2017 – Apr. 27, 2018
Shiau-Ting, Li. Shoes designer from Taiwan.
After working in Taiwanese footwear industry for three and a half years, she came to Firenze to study shoes making course, the city which is famous for leather art and shoes.
Although she already has basic aesthetics and sketching technique background from university (B.A.), yet she hopes to extend her shoe-making skills here in Riaci. She believes designer can deliver their thoughts through their works, hoping to keep motivate people with her designs.

李曉婷,來自台灣的鞋類設計師。
在台灣鞋產業工作三年半之後,她決定到皮革之都-佛羅倫斯,學習製鞋技術。
大學主修產品工藝,擁有美學背景、好的品味及繪畫基礎。即便如此,仍期望到莉雅琪延伸自己在實作上的經驗。她相信,設計師能夠透過設計表達想法,希望能持續用創作感動身邊的人。

台湾の靴業界で靴デザイナーとして3年半経験を積んだ後、さらに学びを深めようと革工芸と靴で有名なここフィレンツェへやって来ました。
基本的な審美眼とスケッチ技術は大学(文学士号取得)で学んでいましたが、さらに靴制作の技術を磨くためにリアチ入学を決めました。「デザイナーの想いは、デザインを通して人々に届く」ことを信じ、自分のデザインで人々の心を動かしたいと願っています。
Apr. 12, 2017 | Posted in Reports, Shoemaking , Student Reporter | Tags:Li Shiau-Ting, ShoemakingReporter: Li SHIAU-TING | Course: Shoemaking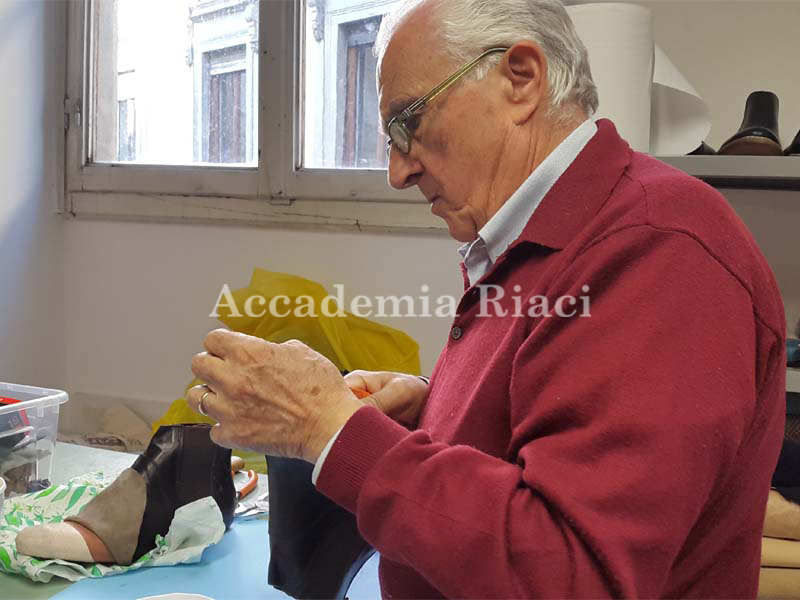 時光匆匆的流逝,眼看著剩下一個月我們就要畢業了,快樂的時刻總過得特別快。這禮拜,我完成了靴子的攀幫,並開始為挪威縫製做準備、完成了擱置一段時間的小藍、參加了一場派對、參觀了想了很久卻一直沒機會去的Museo delle cappelle medicee。嗯,又是充實的一週!
教授Angelo正在示範攀幫挪威縫的技巧。

Time flies quickly, around one month left that we are going to graduate. Some people said that happy time always run quickly, yes, it is. In this week, I finished lasting process and start preparing thread for Norwegian. Also, I finished my "little blue" which is for my sister. Joined one party and then visited Museo delle cappelle medicee on Sunday. Yeah, another fantastic busy week!

時が経つのは早いもので、私達が卒業するまであと1ヶ月ほどになりました。楽しい時が過ぎるのは早いと言う人がいますが、その通りです。
今週は、つりこみのプロセスが終わり、ノルベジェーゼのための縫い糸を準備し始めました。また、"リトルブルー"という妹のために作っている靴も仕上がりました。
他にもパーティーに参加したり、日曜日にはメディチ家礼拝堂美術館を訪問するという、忙しくも素晴らしい一週間となりました。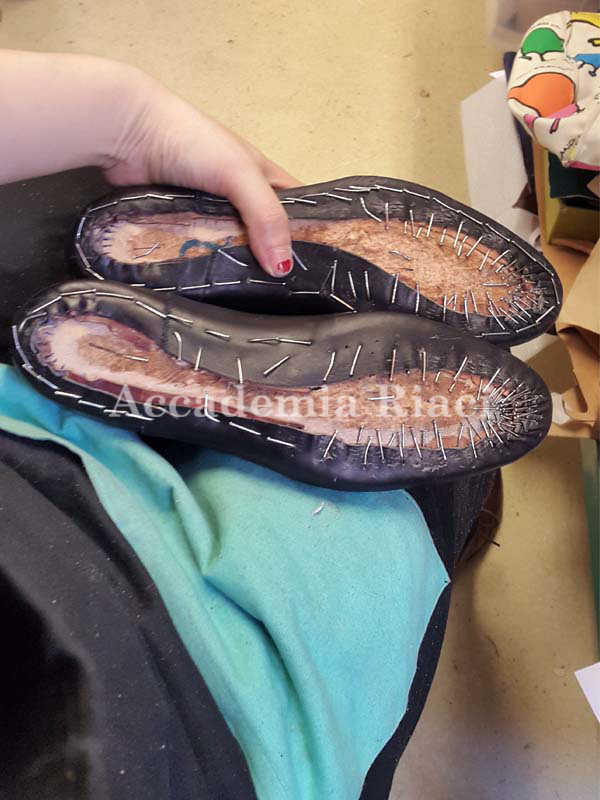 挪威縫的攀幫方式跟固特異工法十分的相似,在攀幫時需要將內裏跟鞋面的皮盡量釘在Crown裡面,之後再沿著Crown釘入釘子固定,釘的方式如圖片鞋跟處,用槌子把釘子躺平固定住。

The lasting process for Goodyear and Norwegian construction is very similar. When lasting the shoe, upper and lining should be nailed inside the Crown. After that, put another layer of nails around the crown.

グッドイヤーとノルベジェーゼのつりこみのプロセスはとても似ています。つりこみの工程でアッパーとライニングが壁の内側になるように釘を打つ必要があります。その後、もう1層釘を壁の付近に打ち込みます。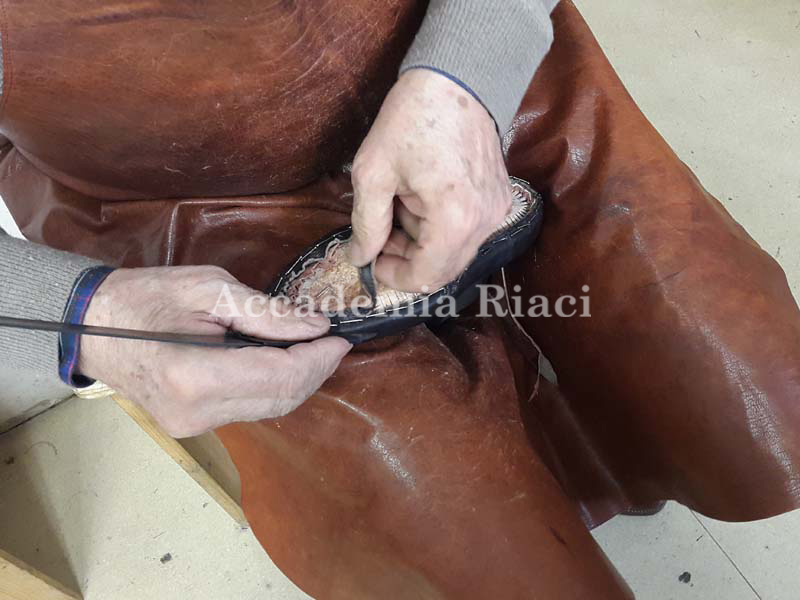 固定好Crown後,就能夠拔除內層的釘子了!接著再將內層的皮料割除至看到洞即可。

When the leather was locked, the inner nails could be taken out. The next step was to cut the leather inside the Crown.

革が固定されたら、内側の釘は外すことができます。次のステップでは、壁の内側の革をカットします。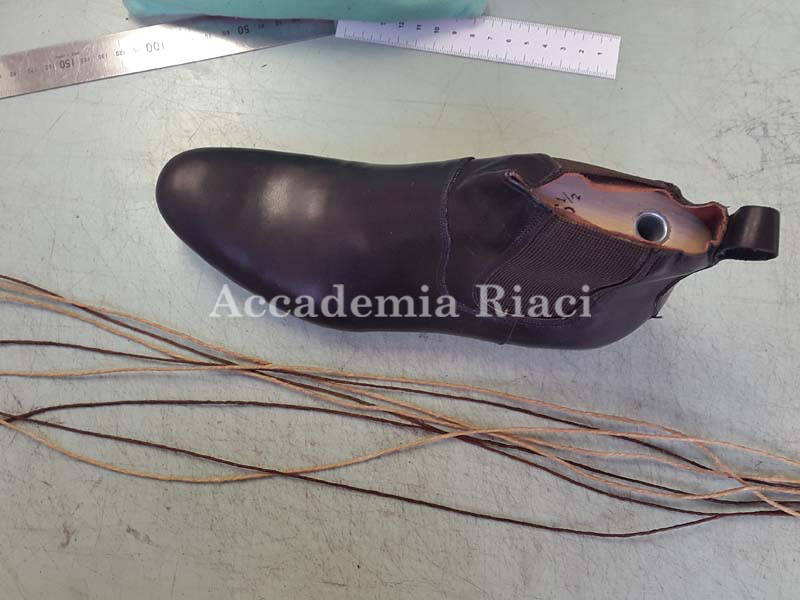 剛才的步驟結束後就可以開是準備縫製要用的線了。裝飾用的線是用9條結合而成,而另一條則是由6條細線結合而成。

This step was to prepare for the thread. The brown one was combined with 9 lines and the white one was combined with 6.

このステップは、糸を準備するところです。茶色の方は9本の糸を撚り合わせていて、白い方は6本の糸を撚り合わせています。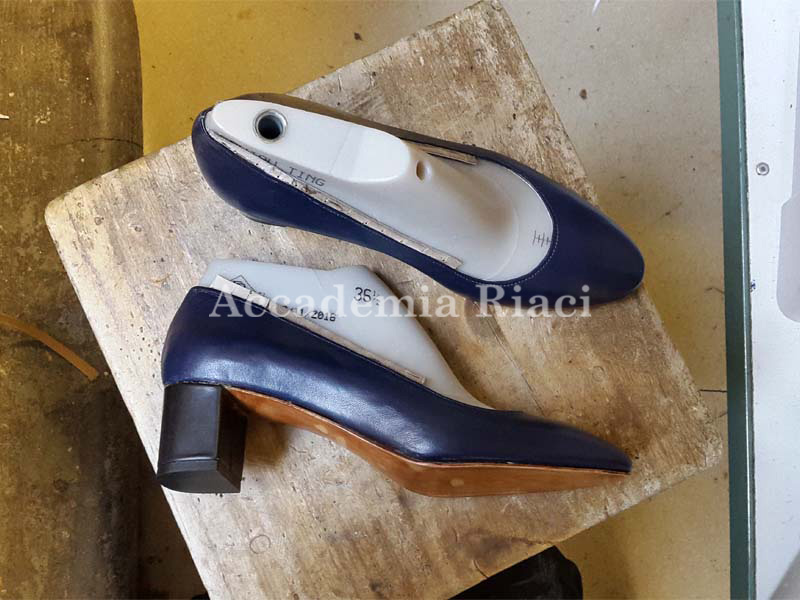 利用課間我終於完成了我的小藍! 這雙鞋是要送給我妹的驚喜!

Photo shot when I finishing my "little blue", a surprise for my young sister!

完成した"リトルブルー"の写真です。妹へのサプライズです!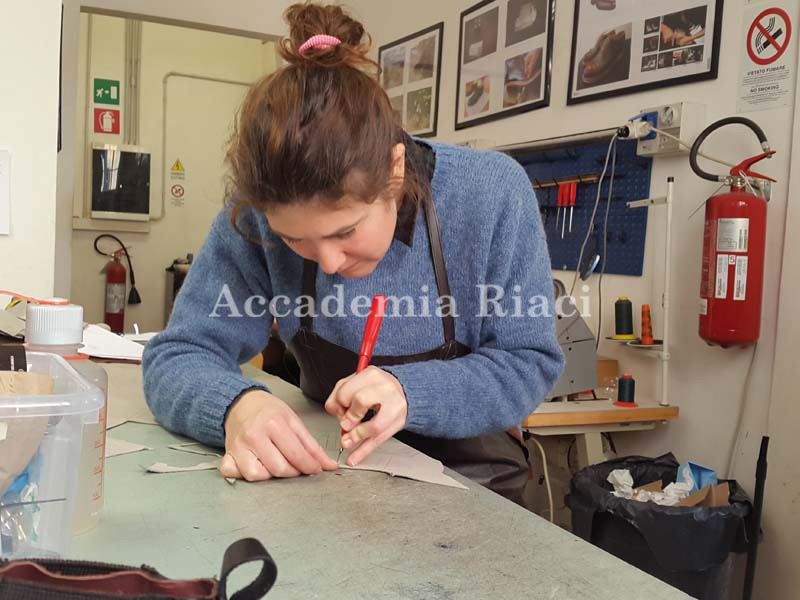 Amy正在準備她的新系列。Amy加工廠又來了,我們開玩笑的說著(笑

Amy was doing her new collection.
Amy factory has come again, we said. : )

Amyが新しいコレクションの作業をしています。Amy工場がまた始動したね、と言っていました(笑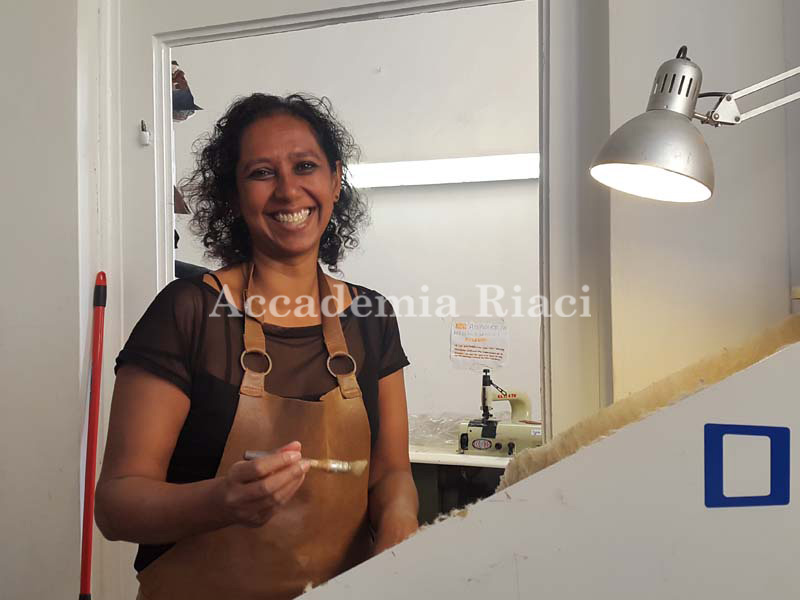 我想記錄大家的樣子,我說著。鏡頭朝向正在黏膠的Kamla,她笑得好燦爛,我好喜歡。

I want to record everybody, I said. I moved my camera toward Kamla, she was gluing something with beautiful smile like a sunshine.

みんなの写真を撮りたいと言いながら、Kamlaにカメラを向けました。彼女は太陽のような笑顔で何かを糊付けしています。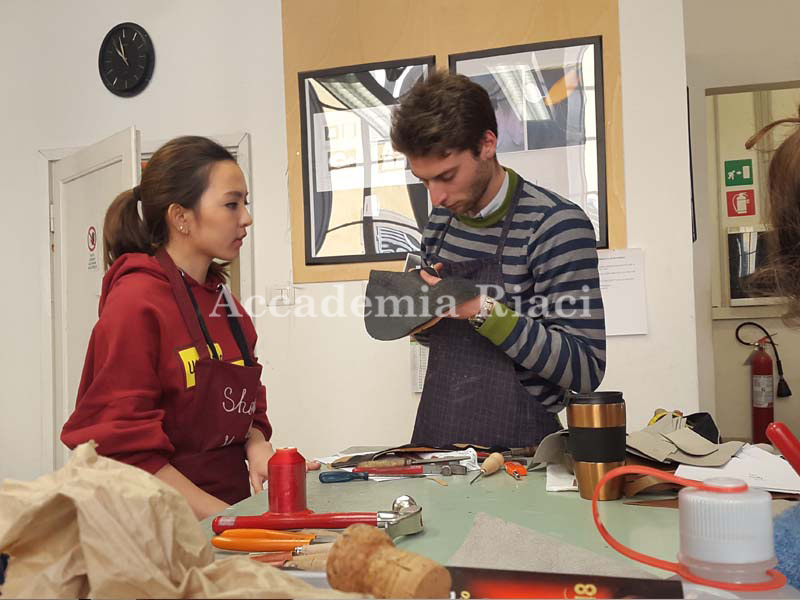 這時候助教Bernardo在幫Mai檢查製作好的鞋面。仔細觀察Mai的鞋面,會發現,她使用皮革的反面來製作,大家都好有創意。

At the same time, assistance Bernardo was helping Mai with her Derby shoe. If you see closer, you will find that she used reversed side of leather to make upper, so cool!

アシスタントのBernardoがMaiが外羽靴を作る手伝いをしています。よく見ると、彼女はアッパーを作るのに革の内側を使っています。かっこいい!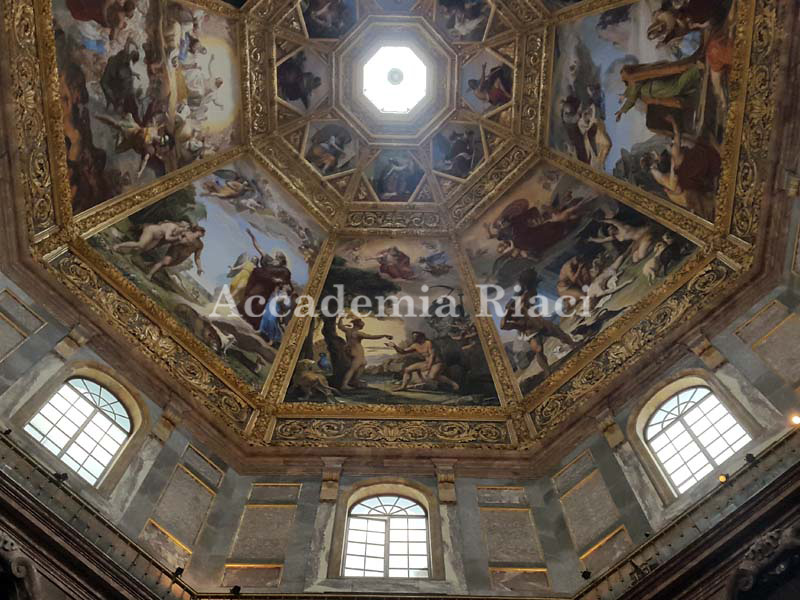 又到了一月一次的免費博物館日。進入Museo delle cappelle medicee,大理石畫作及米開朗基羅壁畫,再次讓我驚豔佛羅倫斯的文藝復興之美…

Here came again the monthly free museum day. I visited Museo delle cappelle medicee. This time and once again astonished by the Renaissance art in Florence.

月に一度の美術館が無料の日がまたやってきました。私はメディチ家礼拝堂美術館に行きました。今回もまたフィレンツェのルネサンスアートに驚きました。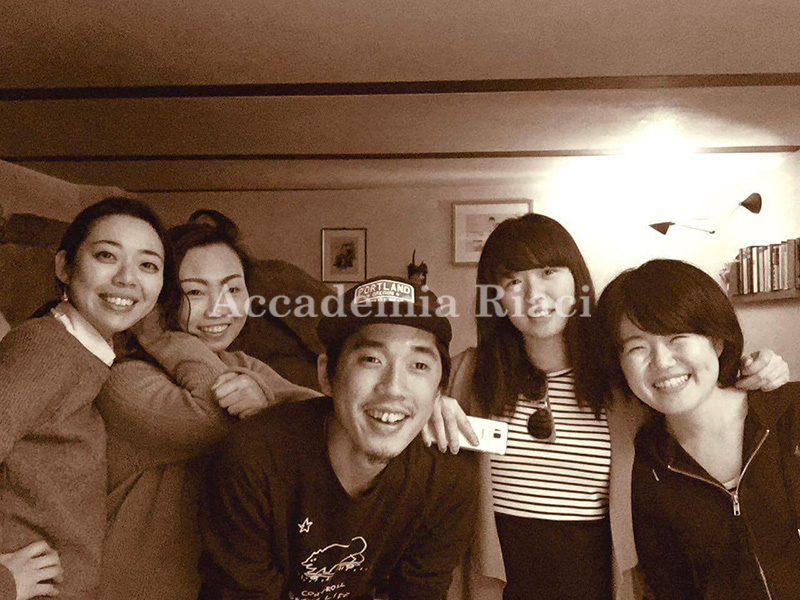 很高興在這裡遇見許多啟發人心的朋友們,雖然只是短暫的相遇,卻已在人生的旅程中產生漣漪。我們要更珍惜接下來的日子! 攝於Jay新居派對。

I'm so happy that I met many friends who really inspired me. Although the time we share was little, it has influenced me a lot! I will cherish more for the time we still get together. Photo shot at Jay's house warming party.

刺激を与えてくれるたくさんの友達に出会えたことが本当に嬉しく思います。共有できた時間は短かったですが、大きな影響を受けました。共に過ごせる時間をもっと楽しみたいと思います。この写真は、Jayのホームパーティーで撮りました。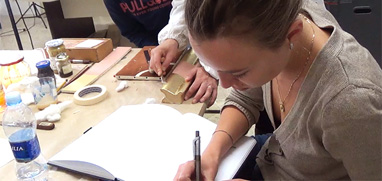 At Accademia Riaci, we are recruiting Course Reporters from our students. The students who are chosen to become Course Reporters are given 10 % of the tuition as their scholarship fee.
The Reporters who have submitted excellent reports will have his or her profile posted on our school website for the next 5 years as an alumnae and will be able to connect with their business chancesafter their graduation.