Accademia Riaci
Student Reports
Read all class reports from our students!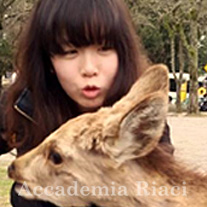 Reporter
Li SHIAU-TING
Nationality: Taiwan
Course: Shoe Making
Program: Atelier Course
Period: Sep. 4, 2017 – Apr. 27, 2018
Shiau-Ting, Li. Shoes designer from Taiwan.
After working in Taiwanese footwear industry for three and a half years, she came to Firenze to study shoes making course, the city which is famous for leather art and shoes.
Although she already has basic aesthetics and sketching technique background from university (B.A.), yet she hopes to extend her shoe-making skills here in Riaci. She believes designer can deliver their thoughts through their works, hoping to keep motivate people with her designs.

李曉婷,來自台灣的鞋類設計師。
在台灣鞋產業工作三年半之後,她決定到皮革之都-佛羅倫斯,學習製鞋技術。
大學主修產品工藝,擁有美學背景、好的品味及繪畫基礎。即便如此,仍期望到莉雅琪延伸自己在實作上的經驗。她相信,設計師能夠透過設計表達想法,希望能持續用創作感動身邊的人。

台湾の靴業界で靴デザイナーとして3年半経験を積んだ後、さらに学びを深めようと革工芸と靴で有名なここフィレンツェへやって来ました。
基本的な審美眼とスケッチ技術は大学(文学士号取得)で学んでいましたが、さらに靴制作の技術を磨くためにリアチ入学を決めました。「デザイナーの想いは、デザインを通して人々に届く」ことを信じ、自分のデザインで人々の心を動かしたいと願っています。
Mar. 24, 2017 | Posted in Reports, Shoemaking , Student Reporter | Tags:Li Shiau-Ting, ShoemakingReporter: Li SHIAU-TING | Course: Shoemaking
這個禮拜花了很多時間在準備碩士的合作案。春假期間我們再次拜訪Mr. Rossi,學習客製化鞋墊製作,接著,在開學這一周,製作下星期與Ducal會議要討論的紙版與初版打樣。

In this week, I worked very hard for preparing my master project. During spring break, we once again met with Mr. Rossi that learning the process of making customized insole. After spring break, I spent more times focusing on the project with Ducal. I have made pattern and prototype for the Ducal company.

今週はマスターコースのプロジェクトの準備を頑張りました。春休み中に再びロッシ先生に会い、オーダーメイドの中底の作り方を学びました。春休みが明けてからはデュカル社のプロジェクトに集中し、型紙と試作品を作りました。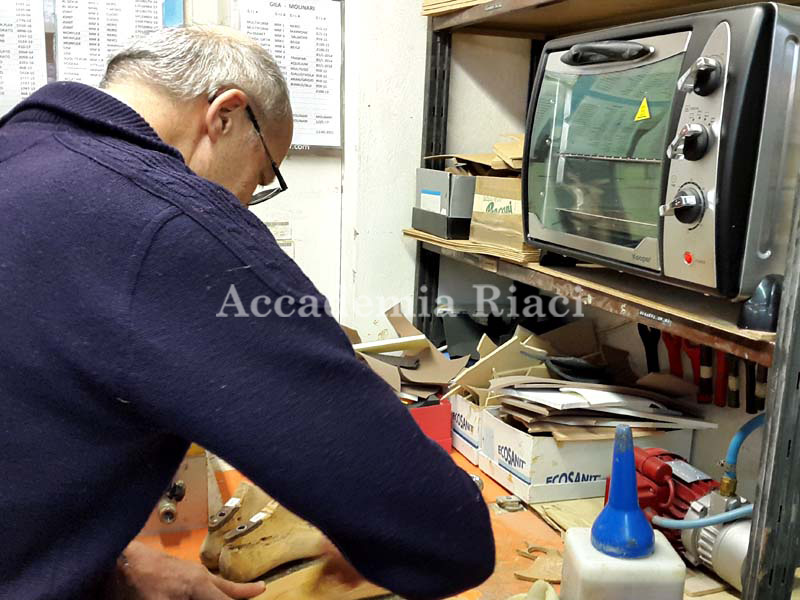 Mr. Rossi 正在用烤箱加熱鞋墊,塗上強的皮革膠,準備黏製。

Mr. Rossi was using oven to heat it up the insoles. When the material was soft, he put strong glue to glue it with last.

オーブンを使って中底を温めるロッシ先生。柔らかくなった材料を強力な接着剤で木型に付けます。

加熱後材料會變軟,趁徐冷變硬前快速貼在楦頭上定型。

The insole will become soft after heating it. It should be shaped before it was cool down and became hard.

温めて柔らかくなった中底。冷えてまた固くなる前に成形しなければなりません。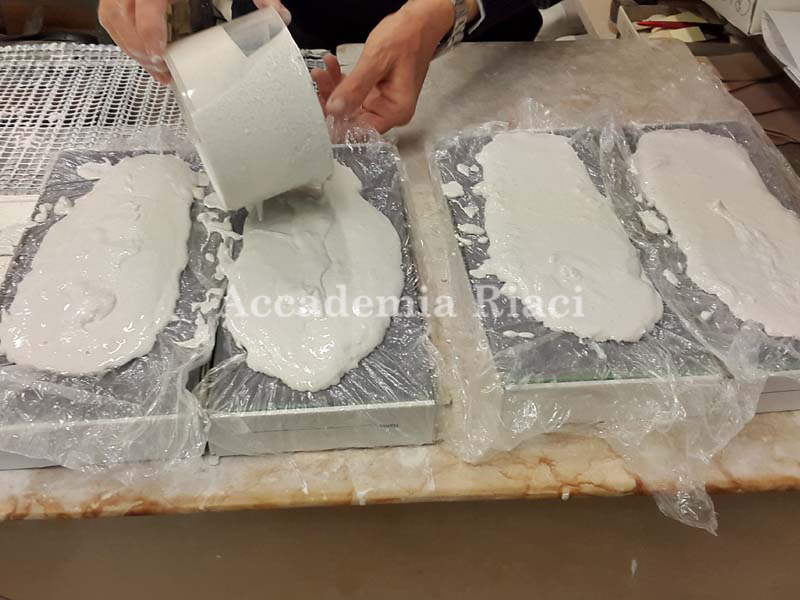 倒入石膏在模型裡,等石膏乾了之後就會塑型成腳底的樣子,讓鞋墊符合腳的形狀,增加舒適感。

We poured the liquid plaster into module. When plaster was dried, it was shaped.

型に液体石膏を流し込みます。固まったら成形します。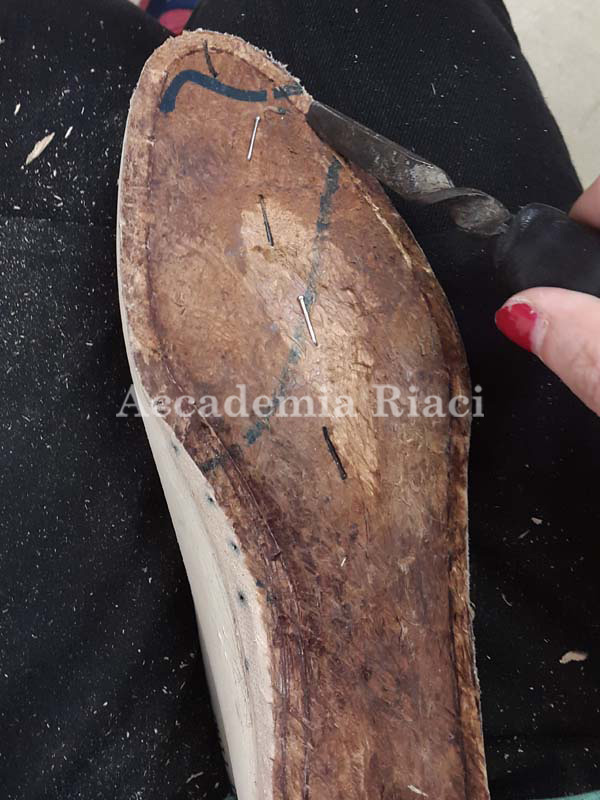 上回的雀爾喜靴設計,我決定搭配挪威縫的工法,我正在準備要縫製用的中底。

I decided to use Norway-stitching with my Chelsea boot design. Picture shot when I preparing my insole.

チェルシーブーツはノルベジェーゼ製法で作ることにしました。写真は中底をノルベジェーゼ製法用に準備しているところ。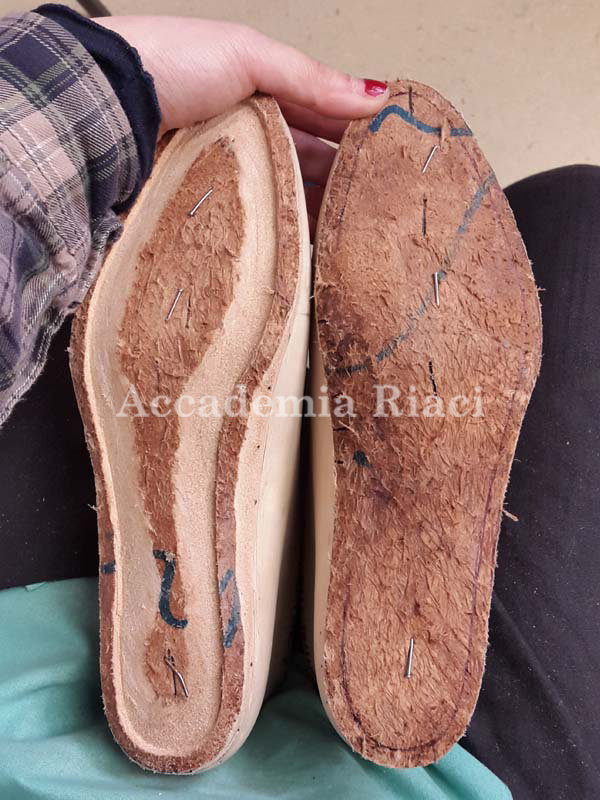 與固特異不同的是,挪威縫的Crown更加外圈,同時有兩種縫製的選擇。你可以選擇裝飾線到鞋跟的位置,或者,整圈的裝飾線。我決定挑戰整圈的作法。

The different between Goodyear and Norway hand stitching is that, the Crown for Norway stitching is more outside and, this hand stitching has two way could choose. First choice was that, with decoration without heels, or, with decoration whole around the shoe.

グッドイヤー製法とノルベジェーゼ製法は両方手縫いですが、ノルベジェーゼ製法のクラウンの方が外側寄りで、2通りの縫い方があります。ヒール以外にデコレーションを施す縫い方と、靴の周り全体にデコレーションを施す縫い方です。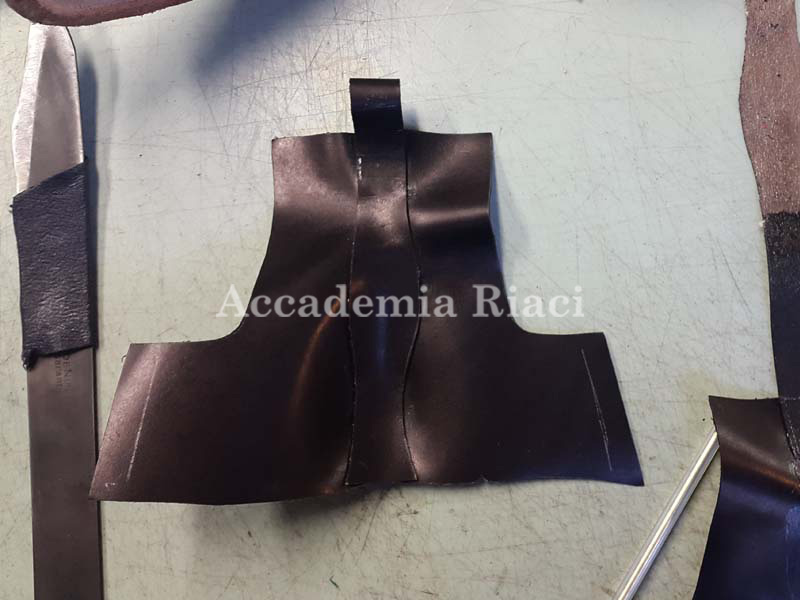 切好鞋面的裁片後,開始進行車縫的步驟。這是後面拉環的樣子。

Picture shot when I about to stitch my upper. I hope this boot will have a loop at the back.

縫う直前のアッパーの写真。このブーツは後ろ側にループを付けたいと思っています。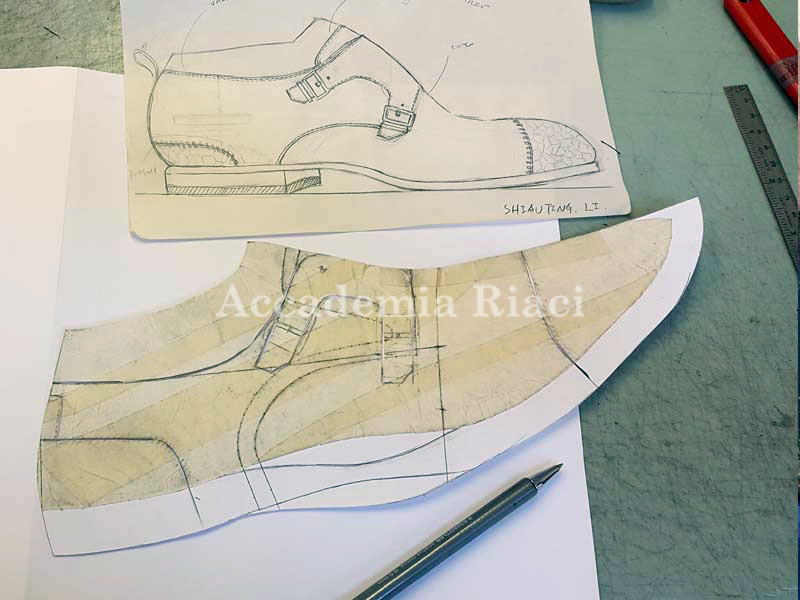 與Ducal公司的合作,很高興地,他們選上了我的兩款設計。這禮拜我花了很多的時間在準備兩款設計地紙版,這對我是全新的挑戰呢! 這款是雙扣孟克的設計,之後我將在局部用皮革條手縫的方式加強這款鞋的特色。

The project that we cooperate with Ducal, I am happy that they pick both of my designs. This week I worked so hard for preparing this project. For me, it is a good chance to challenge myself. This one is double monk design, I will use leather strings to have "a spot light" in this shoe.

デュカル社とのプロジェクトでは、私が描いたデザインが2つとも選んでもらえて嬉しかったです。今週はこのプロジェクトの準備にとても時間を掛けたので。自分自身に挑戦する良い機会を与えてもらえたと思っています。写真はダブルモンクストラップ靴のデザイン画です。細い革紐をポイントデザインとして使う予定です。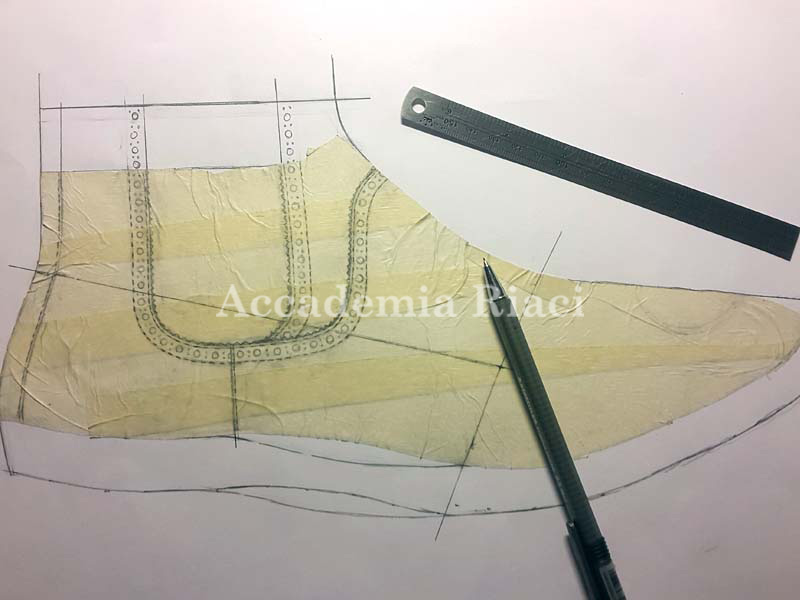 我的另外一款設計,採用較為經典的敲花作法,以別於以往雀爾喜靴多半是素面的設計。同時在線條上,設計不同的變化,希望表現柔和的曲線與敲花搭配。

Another shoe design for Ducal, I use more classic way of decoration in Chelsea boots. Usually, the design for Chelsea boots is much more simples, for example, no decorations. I hope this design has more smooth line and decoration inside.

デュカル社のために描いたもう1枚のデザイン画。このチェルシーブーツにはクラシカルなデコレーションを施しました。通常のチェルシーブーツはもっとシンプルでデコレーションの無いものが多いのですが、私はチェルシーブーツのデザインももっと美しいラインでデコレーションがあるものにしたいです。

教授Angelo正在說明孟克鞋的結構,在金屬釦的下方會切開一個孔洞,讓固定金屬釦的皮革條能夠藏在裡面。

Prof. Angelo was demonstrating the concept of Monk shoes. There will be a cut underneath the buckle. The reason for this is to put the loop in and fasten the metal buckle.

アンジェロ先生によるモンクシューズの仮履制作のデモンストレーション。バックルの下に切り込みを入れ、バックルを締めやすくします。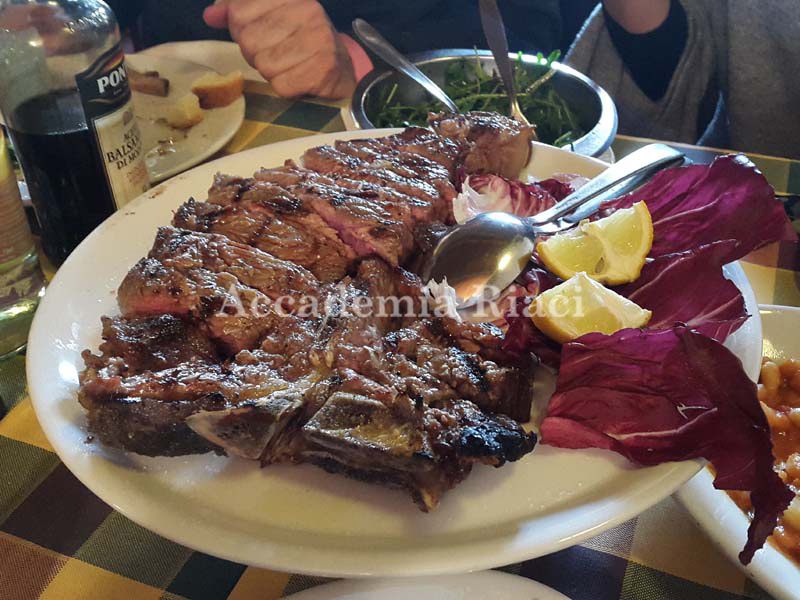 有幸能在放假時享受道地美食與陽光。希望下禮拜天氣也都能好好的!

What a lovely weekend with delicious Toscana foods and good sunshine. Hope next week the weather will be awesome as this week.

美味しいトスカーナ料理にいいお天気!最高の週末でした。来週も今週と同じくらい素晴らしい天気に恵まれますように。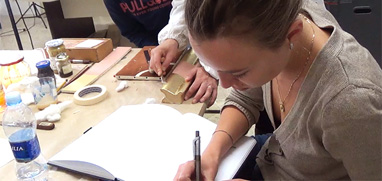 At Accademia Riaci, we are recruiting Course Reporters from our students. The students who are chosen to become Course Reporters are given 10 % of the tuition as their scholarship fee.
The Reporters who have submitted excellent reports will have his or her profile posted on our school website for the next 5 years as an alumnae and will be able to connect with their business chancesafter their graduation.