Accademia Riaci
Student Reports
Read all class reports from our students!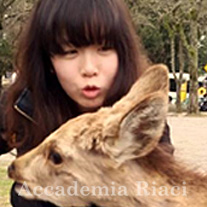 Reporter
Li SHIAU-TING
Nationality: Taiwan
Course: Shoe Making
Program: Atelier Course
Period: Sep. 4, 2017 – Apr. 27, 2018
Shiau-Ting, Li. Shoes designer from Taiwan.
After working in Taiwanese footwear industry for three and a half years, she came to Firenze to study shoes making course, the city which is famous for leather art and shoes.
Although she already has basic aesthetics and sketching technique background from university (B.A.), yet she hopes to extend her shoe-making skills here in Riaci. She believes designer can deliver their thoughts through their works, hoping to keep motivate people with her designs.

李曉婷,來自台灣的鞋類設計師。
在台灣鞋產業工作三年半之後,她決定到皮革之都-佛羅倫斯,學習製鞋技術。
大學主修產品工藝,擁有美學背景、好的品味及繪畫基礎。即便如此,仍期望到莉雅琪延伸自己在實作上的經驗。她相信,設計師能夠透過設計表達想法,希望能持續用創作感動身邊的人。

台湾の靴業界で靴デザイナーとして3年半経験を積んだ後、さらに学びを深めようと革工芸と靴で有名なここフィレンツェへやって来ました。
基本的な審美眼とスケッチ技術は大学(文学士号取得)で学んでいましたが、さらに靴制作の技術を磨くためにリアチ入学を決めました。「デザイナーの想いは、デザインを通して人々に届く」ことを信じ、自分のデザインで人々の心を動かしたいと願っています。
Mar. 09, 2017 | Posted in Reports, Shoemaking , Student Reporter | Tags:Li Shiau-Ting, ShoemakingReporter: Li SHIAU-TING | Course: Shoemaking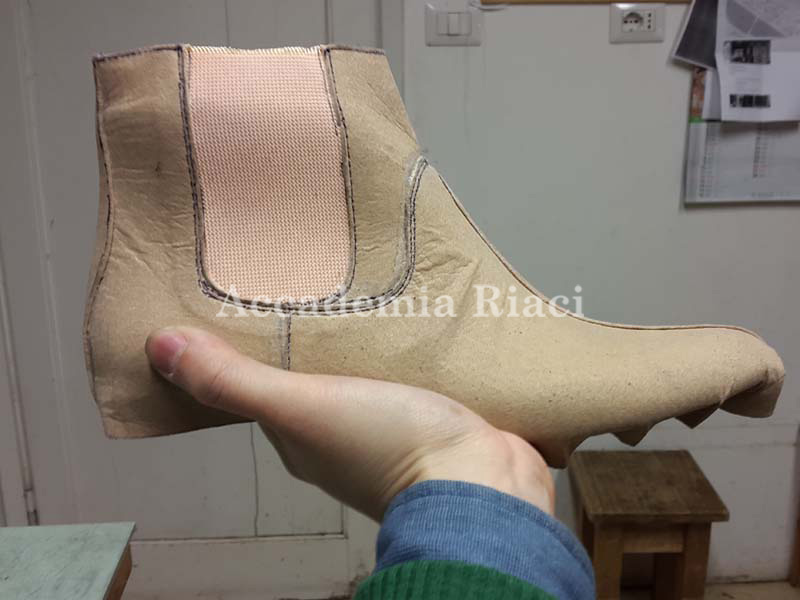 這是十分密集的一週,大家快馬加鞭的趕進度,希望能為接下來的一週假期做準備-完成在學校的階段工作,並把鞋子帶回家繼續加工。這禮拜我完成了靴子的兩次試版(包含一次C12測試版及一次皮料試版),完成內裏版型並開始準備鞋面。同時間,準備下一款鞋子的鞋面版。圖片是我靴子測試版C12完成的樣子。

This was quite an intensive week. Everybody speed-up their working progress, hoping that could get ready for class after spring break. In this week, I finished my two prototypes for my boot. (Including one C12 test and one leather test) Also, I start preparing lining for boot and another pattern for whole-cut derby shoe. Photo shot of C12 prototype.

今週はとても忙しい週でした。春休み前に作業をひと段落させようと、みんな作業スピードを上げました。私はブーツの試作品を2種類(C12を使用した仮靴と、革の仮靴)作り終えました。加えて、ブーツのライニングと新しいホールカットのダービー靴の型紙を作り始めました。写真はC12で制作した仮靴。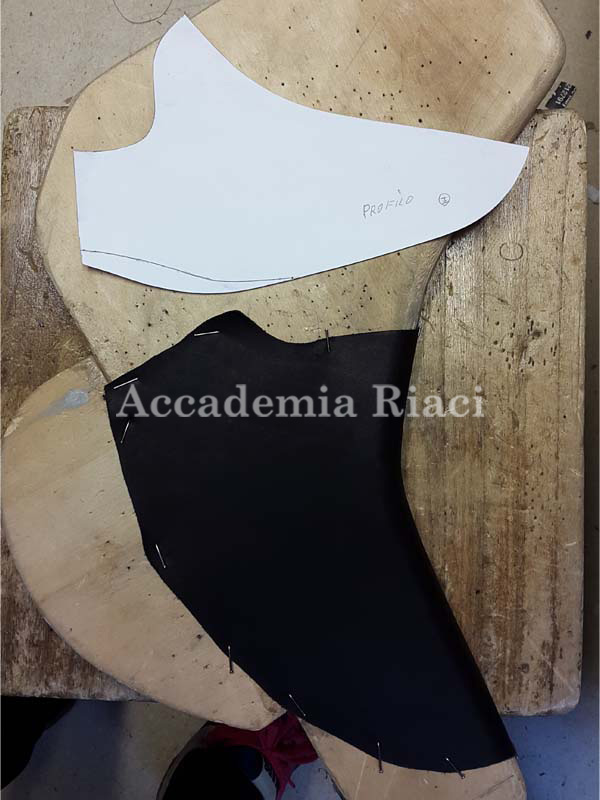 為了讓皮料能夠浮貼楦頭,在組合鞋面裁片前需先用熱水軟化皮料,後用木板延伸皮料直到符合曲度。

The purpose for this step was to extend leather, in order to fit the last. The leather should absorbed hot water, after that, use nail to shape it gradually.

木型に合わせて革を伸ばしている写真。革を熱湯に浸してから木型にかぶせ、釘で留めて徐々に伸ばします。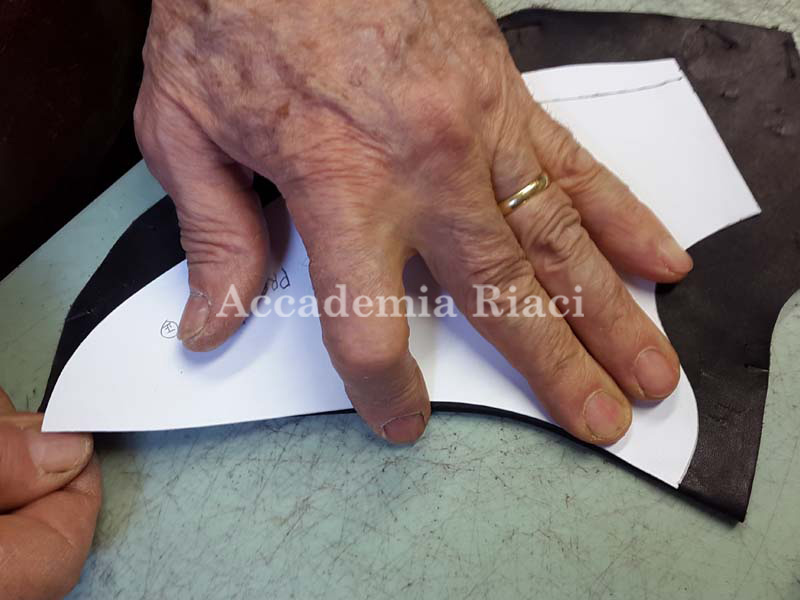 一開始有預留多餘的皮料寬度,在延展定型後,就可再次切割出正確的大小了。

After modeling leather into specific shape, we could cut the actual line with pattern.

革を意図する形に成形したら、型紙を使って実際の形に切り出します。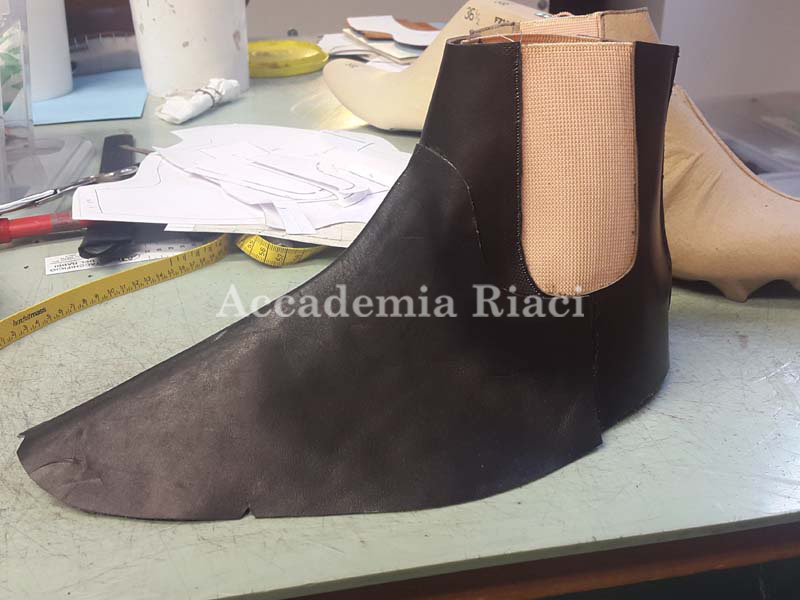 很高興我選的這塊皮料恰恰好適合做這款靴子,延展性好也十分浮貼我要的曲度。現在可以組合鞋面,準備攀幫了。

I'm happy to choose this proper leather for making this boot, which was flexible enough to fit the last. Now, I could start combining pieces together and then, lasting.

この革は柔軟性が高く木型に合わせやすかったので、ブーツ用に選んだのは正解でした。これからアッパーのパーツを合体させたら、吊り込み作業に入ります。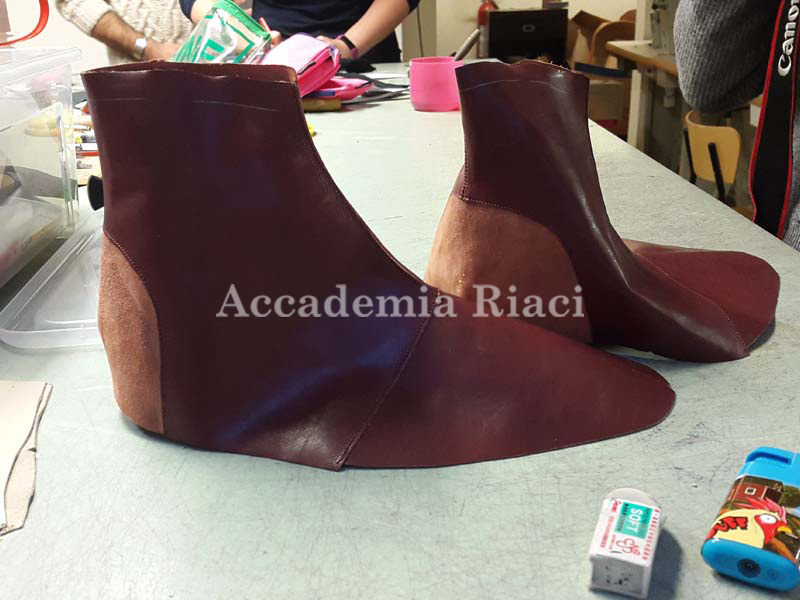 再次選上這塊紅色的小牛內裏皮,但它真的很柔軟舒適啊!是說靴子的內裏組合起來好像一雙襪子。

Once again, I pick this red lining for my shoes. I have to say, this one is very soft and comfortable. Photo shot when I finished stitching my lining, it looked like a pair of shock, I said it jokingly.

ライニングは再びこの赤い革にしました。とても柔らかく履きやすいからです。写真は縫い終えた後のライニング。「まるで靴下みたい!」って、もちろん冗談ですが(笑)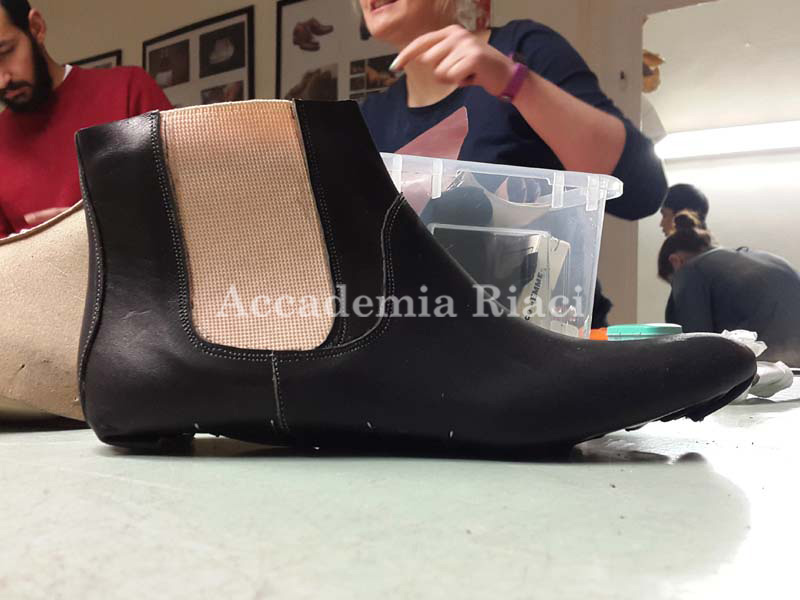 皮料試版非常成功,意外的貼合楦頭。可以正式進入鞋面製作了,太棒了。

The leather test was very successfully and fit my last smoothly. Now, I could start my real upper, fantastic!

革で作った仮靴は木型にもすんなりフィットし、大成功でした。これで本番のアッパー制作に入れます。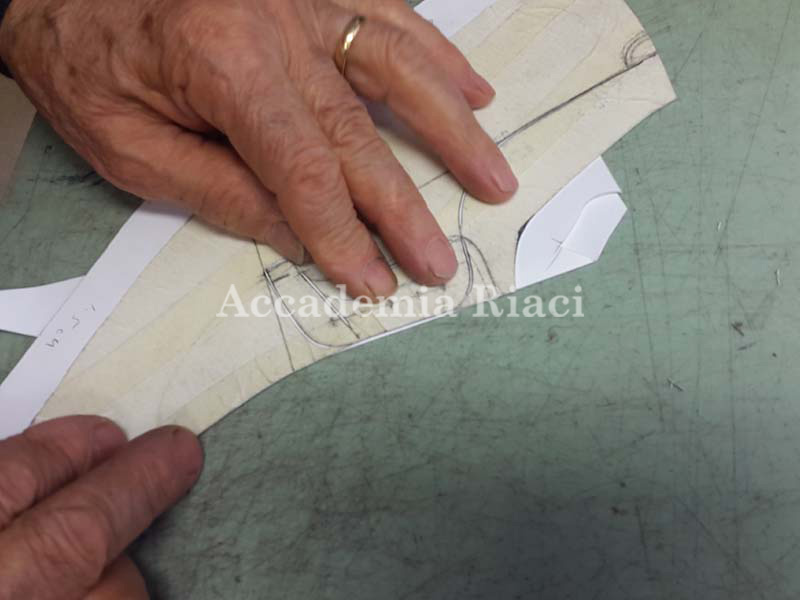 下一款鞋子,我決定挑戰全片式的德比鞋。德比鞋的鞋面看似簡單,開版的時候因為要轉腳背因此有一定的難度。很好奇這樣的設計在開版時會有什麼樣的變化。

Next project, I decided to challenge whole-cut derby. Although derby shoe looked simple, but actually the pattern for this kind of shoes was not as simple as we seen. I would love to tried different method and pattern, hoping that I could learn more method for making shoes.

次の課題はホールカットのダービー靴に決めました。ダービー靴はシンプルに見えますが、実際の型紙はその見かけほど単純ではありません。これからも色々なタイプの靴や型紙に挑戦して、靴制作の種類の幅を広げていきたいと思います。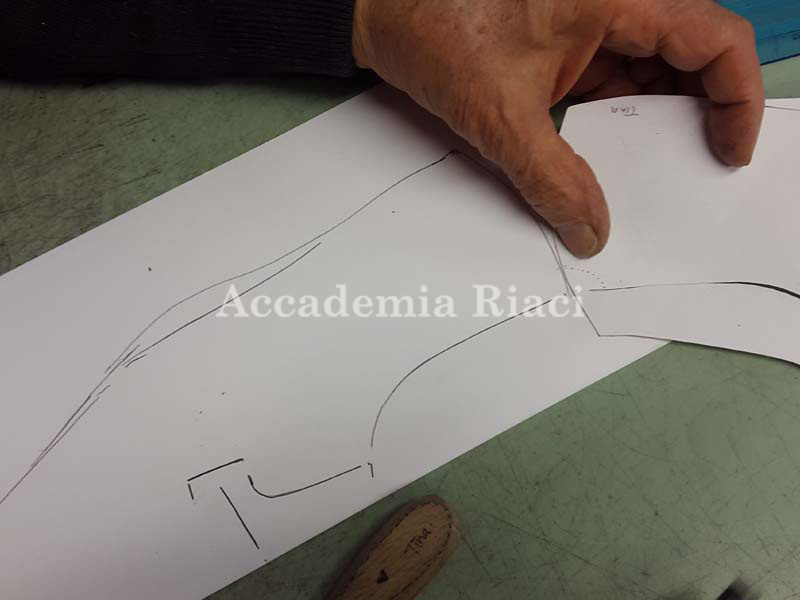 這次我也嘗試全然不同的收尾方式,採用狗尾式收尾法。原先設計使用venatula,在與老師討論後改採一般folding。

The design for whole-cut derby I have tried totally brand new way for the back part. This time, I used "dog tail", a method without any string combine on the back. Also, after discussing with Prof. Angelo, I changed venatura to simple folding.

ホールカットダービー靴の型紙作り。後ろ部分の型紙を全く新しい方法で作りました。別の革を使わず、ドッグテイルという方式で後ろを合体させます。アンジェロ先生と相談して、使う革を木目調からシンプルな革に変更しました。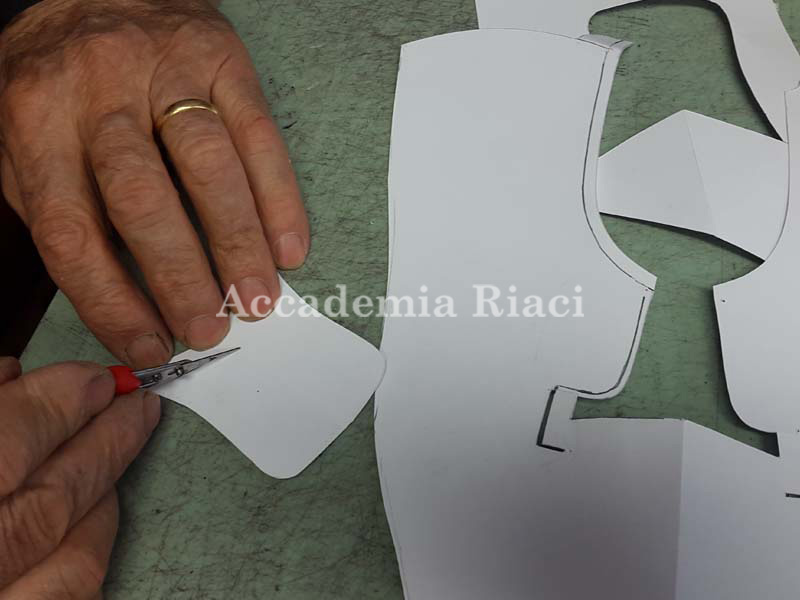 鞋舌是分開的裁片,剛好分離了皮料最難貼合楦頭的腳背區域,因此開版時的腳背旋轉也簡化了。

In this pattern, the piece for tongue is separated, which means, it divided the pattern where need to be rotated. Therefore, the step for rotate the pattern become less complicated.

今回の型紙はベロ革の部分が一体化していないため、通常行う型紙を回転させる作業が簡単になります。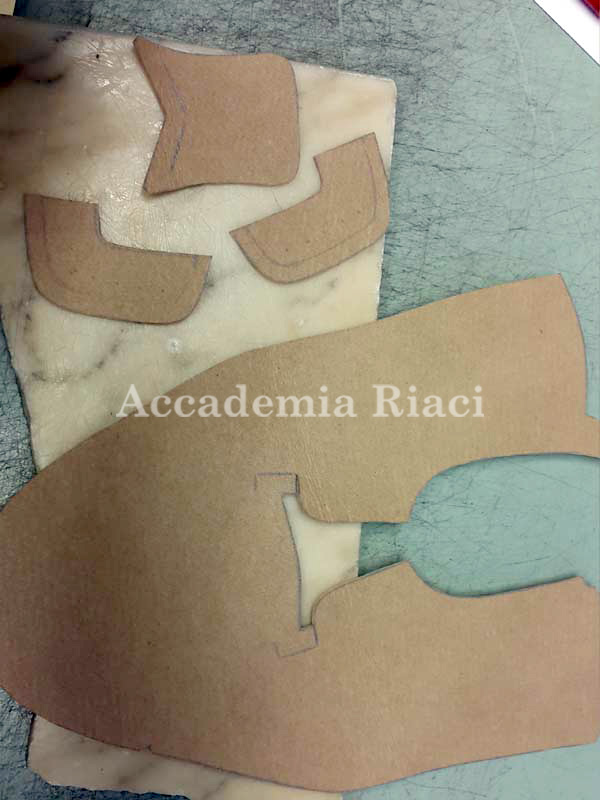 切割好C12的裁片,準備製作測試版。

Preparing "C12", test pieces for making prototype.

C12で作った仮靴用のパーツ。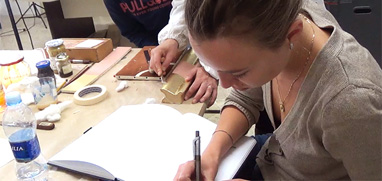 At Accademia Riaci, we are recruiting Course Reporters from our students. The students who are chosen to become Course Reporters are given 10 % of the tuition as their scholarship fee.
The Reporters who have submitted excellent reports will have his or her profile posted on our school website for the next 5 years as an alumnae and will be able to connect with their business chancesafter their graduation.