Accademia Riaci
Student Reports
Read all class reports from our students!
Reporter
Lara Blevi
Nationality: South-African
Course: Shoe Making
Program: One-Year Atelier Course
Period: Sept 5, 2016-April 25, 2017
After Studying a BA degree in Fashion Design in South Africa, Lara decided that she would love to study further and focus on a specific direction in the fashion industry. During her studies, she followed an internship at a company where she was taught how to make and design handbags out of leather and exotic leather skins.

She knew instantly that she would love to study further and learn more about shoes and decided to come to Firenze, Italy, the most famous city to learn more of leather art and shoes! She found Accademia Riaci and knew that the shoe making course that they had to offer was exactly was she was looking for.

Here she wishes to learn the highest level of shoe making techniques and to be able to follow her dream to become a designer with the knowledge of not only fashion, but also the art of shoe and handbag design.

南アフリカでファッションデザインの文学士号を取得後、ファッション業界で目指す方向を定めるためにもっと学びを深めたいと思いました。企業インターンを経験した際には、外国製の皮革を使用したカバン制作とデザインを学びました。

すぐに靴制作を学びたいと思うようになり、靴制作や革工芸を学べる世界で最も有名な都市・フィレンツェ行きを決意。検討の結果、自分が探し求めていた内容の靴制作コースを提供するアカデミアリアチへの入学を決めました。

ここで最高レベルの靴制作技術を身につけ、ファッションのみならず靴やカバンの知識も兼ね備えたデザイナーになることが夢です。
Mar. 03, 2017 | Posted in Reports, Shoemaking | Tags:Lara Blevi, ShoemakingReporter: Lara Blevi | Course: Shoemaking
This week was so great. I finally finished my boots, continued to work on the shoe for my brother and the lasts for my father's boots arrived! I also started the pattern for the boots and am so excited to start making them.

今週は素晴らしい週でした。私のブーツが完成、弟のための靴制作が順調に進む間に父のブーツ制作のための木型が届きました。父のブーツ用の型紙も作り始めたので、制作作業がとても楽しみです。

Here you can see my boots with the under sole attached and the heel covered and ready to be attached to. But before I can add the heel I still had to paint the edge of my sole black.

本底がついたブーツ。ヒールは革でカバーされ、後は本底と合体させるだけです。でもその前に、本底の横部分を黒く染めなければなりません。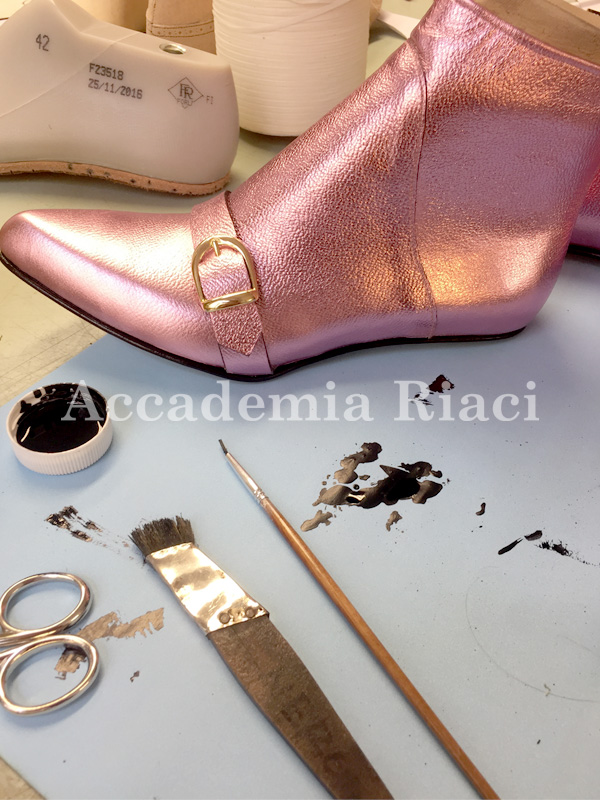 Painting the edges of the sole can be quite tricky, as you need to make sure not to get any paint on the leather and no paint on the bottom of the shoe as well. Once they were finished it looked so amazing and professional and it came out exactly as I imagined.

アッパーの革や本底の裏を汚さないように本底の横部分だけを染めるのはとても難しい作業です。何とかやり終えると、想像通りの完璧で美しい仕上がりに感動しました。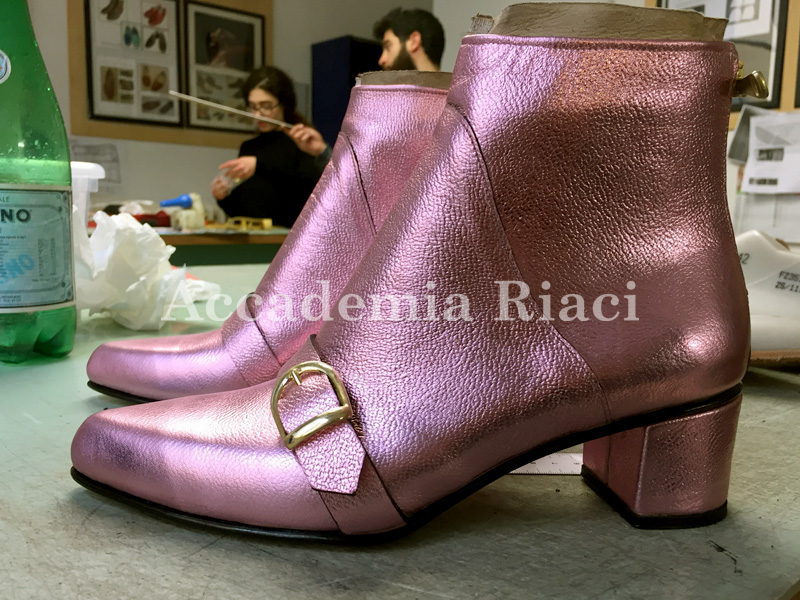 Once the sole was painted I was able to attach the heels. This has to be glued on and then afterwards have nails screwed in from the top to secure the heel properly.

本底の横を染めたので、ヒールを付けます。まず接着剤で付けたら、靴の内側からネジで締めてしっかりと留めます。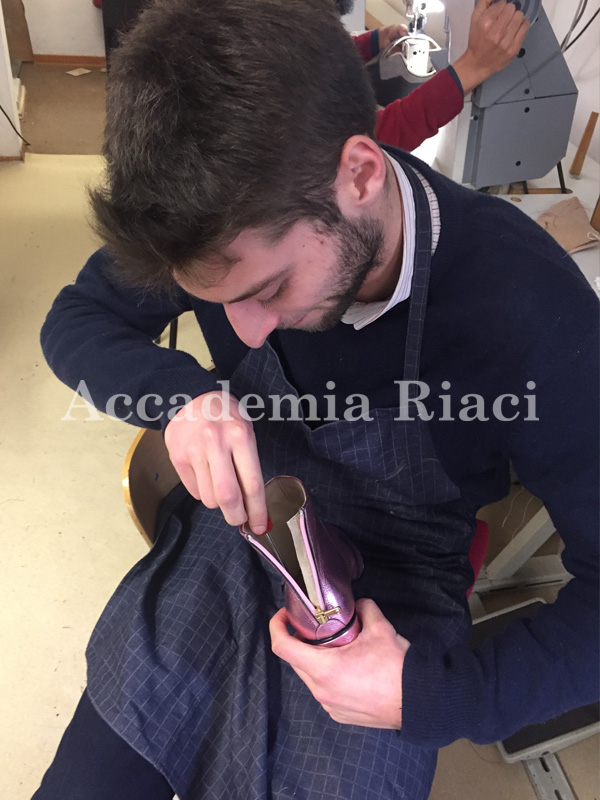 Here you can see how Bernardo is securing the heel with a screwdriver.

スクリュードライバーを使ってヒールをネジで留めているベルナルド。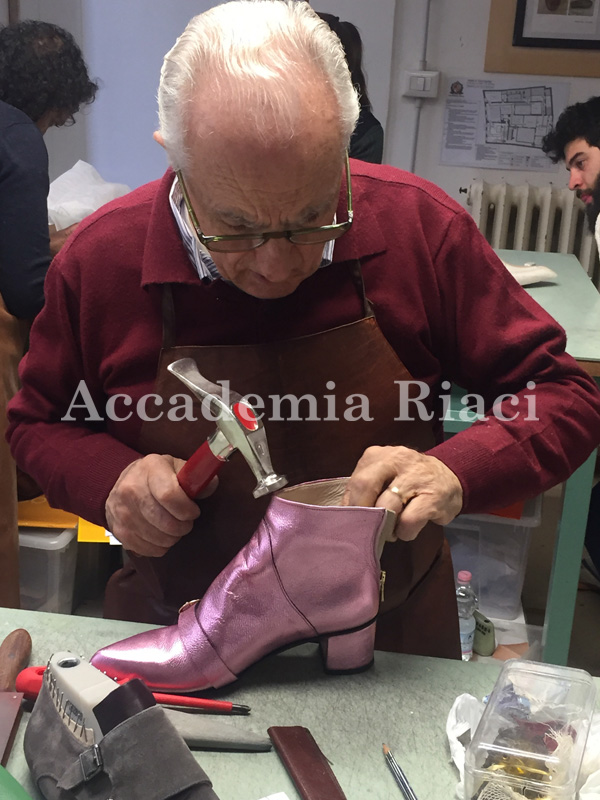 After the nails are screwed in it gets a final hammer down and the heel it perfectly secure.

ネジを締めた後から更にハンマーで叩けば、ヒールが完全に接着されます。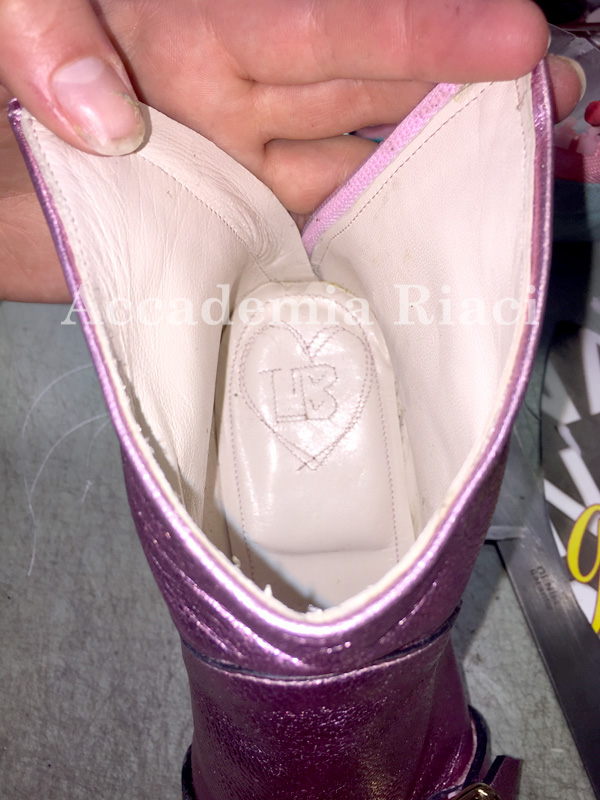 I added a cute detail by putting my initials on the sock of the shoe. I draw a small design on the leather and stitched over it with pink thread.

インソール部分に自分のイニシャルを入れて可愛くしました。革に小さなロゴデザインを描いて、ピンク色の糸で刺繍したものです。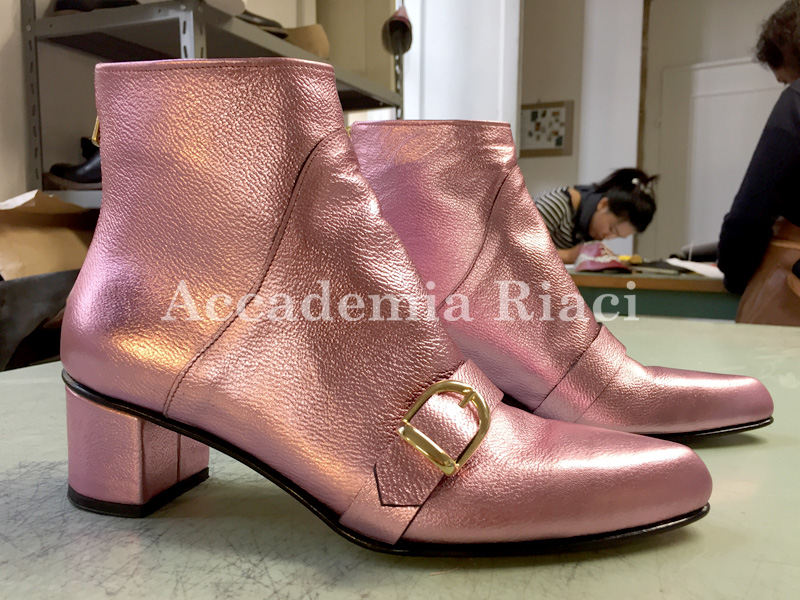 And finally they are done! I couldn't be happier with the outcome and they also fit me perfectly. I cannot wait to start wearing them.

やっと出来上がった私のブーツです。大満足の仕上がりに加えて私の足に完璧にフィットします。外に履いていくのが本当に待ち遠しいです。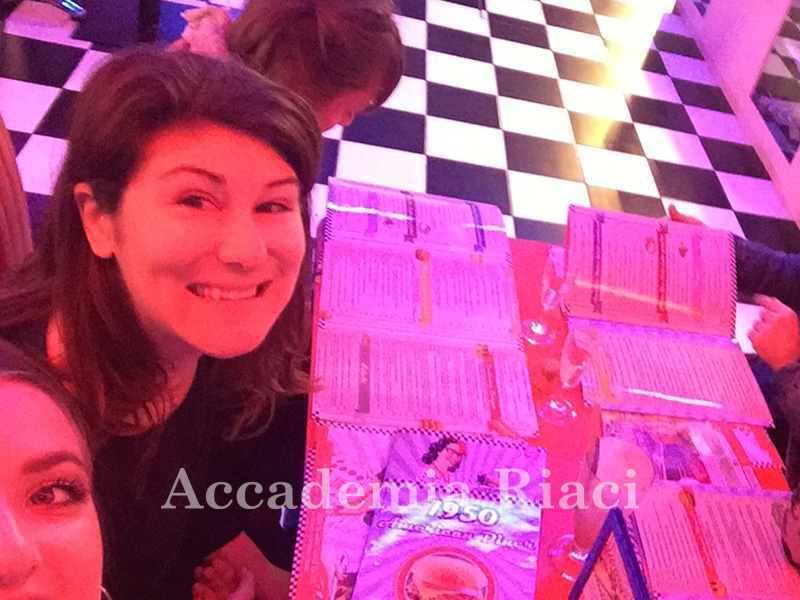 Over the weekend we all went for burgers at the American diner and had such a fun night.

週末はみんなでアメリカンダイナーへ行き、ハンバーガーを食べました。とても楽しい夜でした。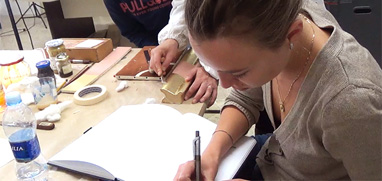 At Accademia Riaci, we are recruiting Course Reporters from our students. The students who are chosen to become Course Reporters are given 10 % of the tuition as their scholarship fee.
The Reporters who have submitted excellent reports will have his or her profile posted on our school website for the next 5 years as an alumnae and will be able to connect with their business chancesafter their graduation.