Accademia Riaci
Students' Blog
Up-to-date report from one of our students!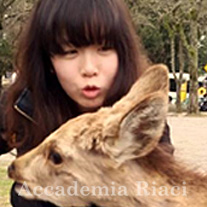 Reporter
Li SHIAU-TING
Nationality: Taiwan
Course: Shoe Making
Program: Atelier Course
Period: Sep. 4, 2017 – Apr. 27, 2018
Shiau-Ting, Li. Shoes designer from Taiwan.
After working in Taiwanese footwear industry for three and a half years, she came to Firenze to study shoes making course, the city which is famous for leather art and shoes.
Although she already has basic aesthetics and sketching technique background from university (B.A.), yet she hopes to extend her shoe-making skills here in Riaci. She believes designer can deliver their thoughts through their works, hoping to keep motivate people with her designs.

李曉婷,來自台灣的鞋類設計師。
在台灣鞋產業工作三年半之後,她決定到皮革之都-佛羅倫斯,學習製鞋技術。
大學主修產品工藝,擁有美學背景、好的品味及繪畫基礎。即便如此,仍期望到莉雅琪延伸自己在實作上的經驗。她相信,設計師能夠透過設計表達想法,希望能持續用創作感動身邊的人。

台湾の靴業界で靴デザイナーとして3年半経験を積んだ後、さらに学びを深めようと革工芸と靴で有名なここフィレンツェへやって来ました。
基本的な審美眼とスケッチ技術は大学(文学士号取得)で学んでいましたが、さらに靴制作の技術を磨くためにリアチ入学を決めました。「デザイナーの想いは、デザインを通して人々に届く」ことを信じ、自分のデザインで人々の心を動かしたいと願っています。
Oct. 11, 2018 | Posted in Blog, Shoemaking , Student Reporter | Tags:Li Shiau-Ting, Shoemaking | Language:



Reporter: Li SHIAU-TING | Course: Shoemaking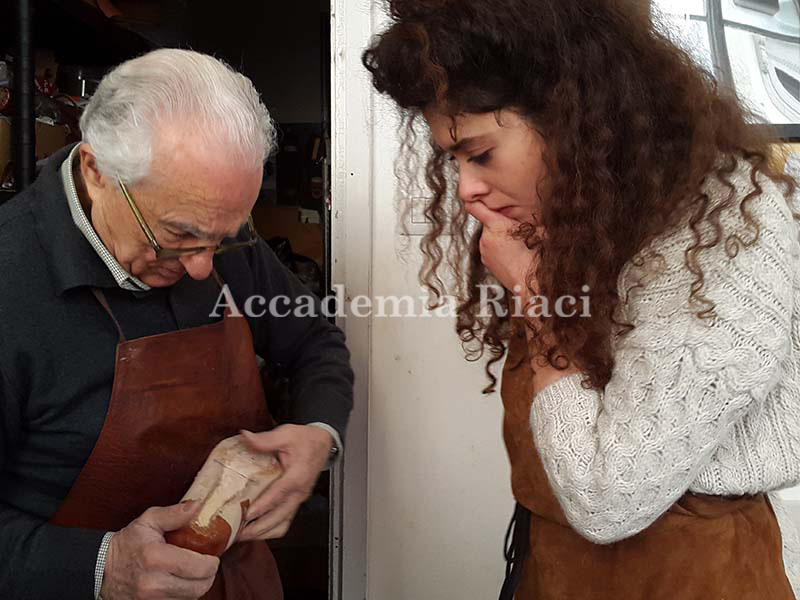 這禮拜感覺做了很多事,繼完成給我男友的雀爾喜靴攀幫後,繼續趕下一雙給朋友的鞋面。假日約了同學Emma到處晃晃、還旁觀Art Stage的製作過程,一切覺得很充實。這個禮拜的第一張照片分享,就從紀錄同學開始吧!嗯!最近Caterina做了一雙漂亮的拉鍊筒靴,教授Angelo正在跟她研究著大底貼合和鞋跟定型。

It's been a busy week for me! In this week, I finished the lasting part in my boyfriend's Chelsea boots, furthermore, I had cut the upper for next pair. On the weekend, I hanged out with classmate Emma and watching how Art Stage went this week, what a vivid life in Firenze! First photo to share in a week, it started at the moment when Prof. Angelo and Caterina were discussing for setting the outsole and heels. Looking forward this elegant boots to be done.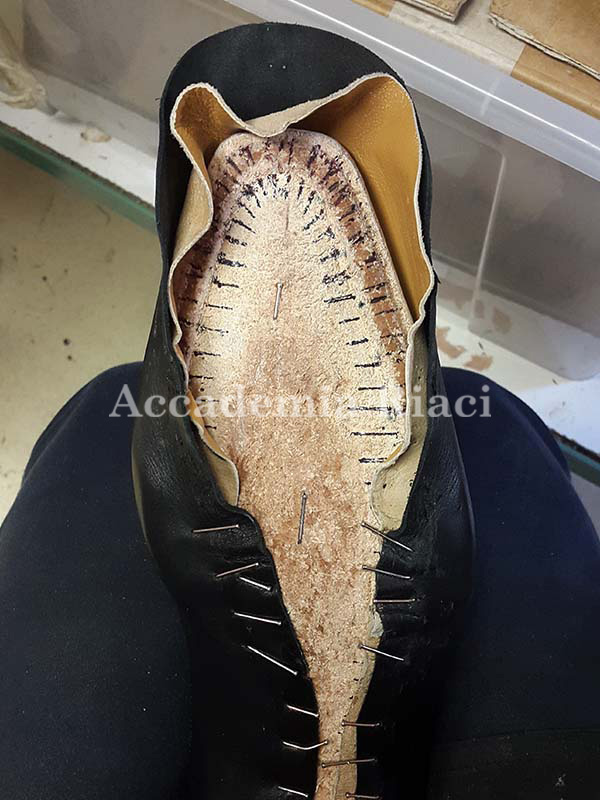 我拔去了pre-lasting的釘子,翻開內裏和鞋面,準備鞋頭攀幫。呼! 雖然做了這麼多雙,在攀幫前還是會有點小緊張…

I took off pre-lasting nails, open the upper and lining, continue lasting my lining. Phew! Though I practiced lasting process many times, every times when come to this process, I still felt a bit nervous…that's why some people said, it's the most important but not easy part in shoemaking.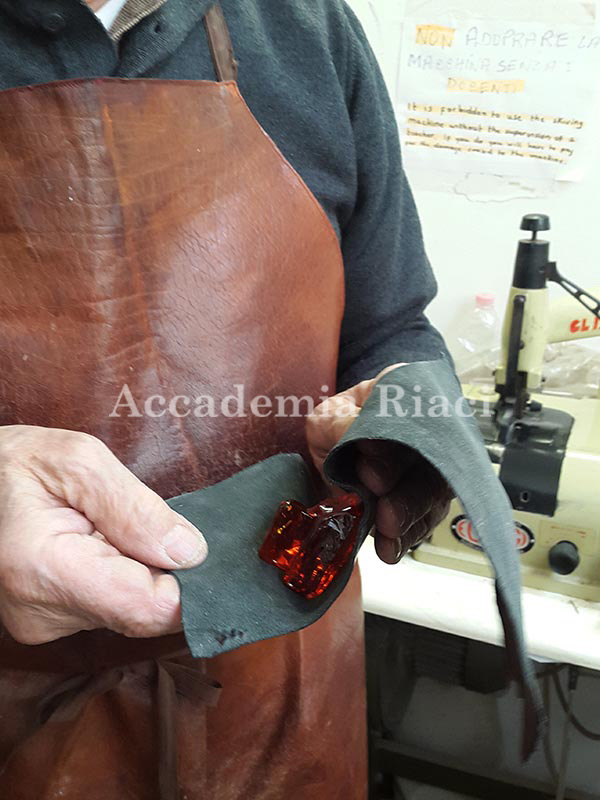 照片裡Angelo正在幫Emma準備捻線用的蠟。乍看之下還真像一顆琥珀呢,我們驚嘆著。

Insight the photo, Angelo was melting the wax for making the thread. The wax just looked so gorgeous with amber orange.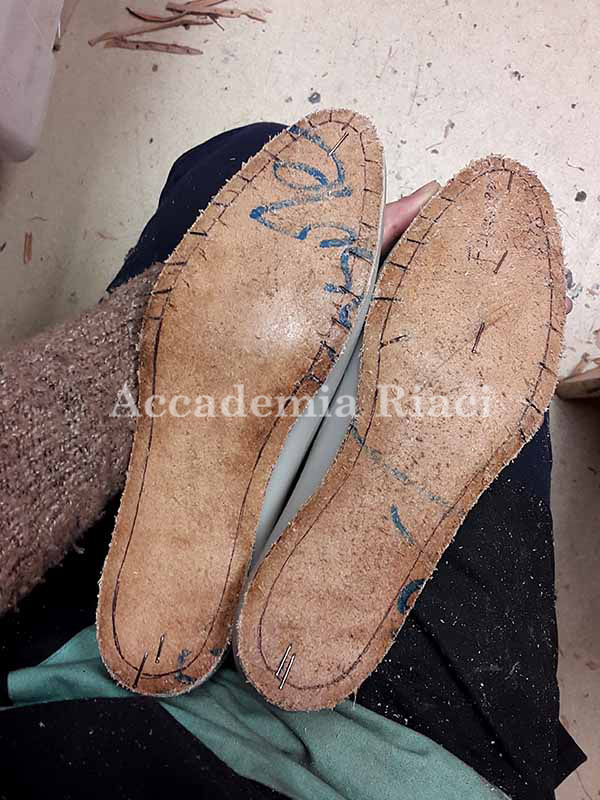 下一雙靴子將會二次挑戰挪威縫工法!希望第二次縫製能夠更加上手,也能夠改善第一次縫製時不滿意的小細節…描繪好要挖溝的輪廓,準備雕塑中底。

It will be my second time to challenge Norwegian construction! I am sure this time I will make it better, I want to make it better and better, especially some details I am not very satisfied for my first Norwegian boots…Took a record when I drawing the line for the cutting.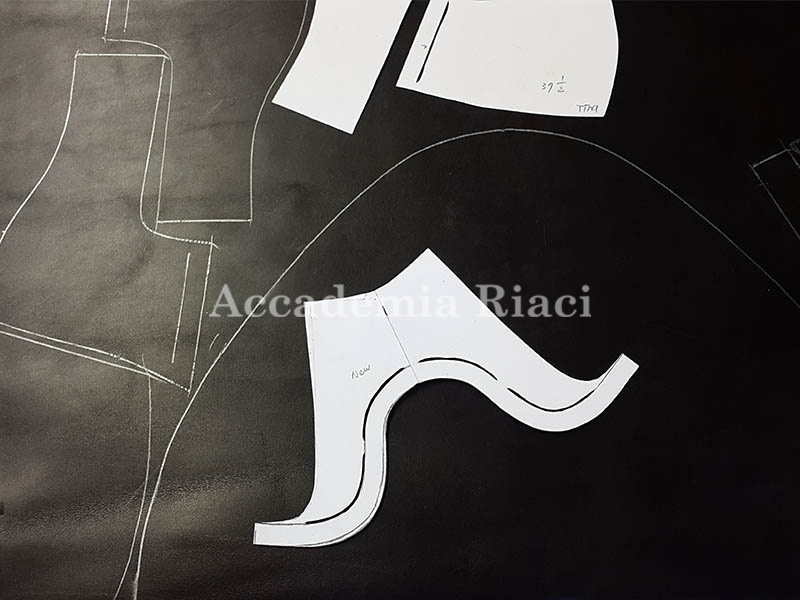 這次鞋面在鞋口寬度的部分做了二次調整,在教授的指導下,增加了幾毫米的寬度,讓版型更加服貼楦頭。裁皮的時候,也特別注意了皮革延展的方向。

Under Angelo's suggestion, I adjusted the pattern a bit, in order to make it fit the last. We add some mm in width, so the ankle part became wider.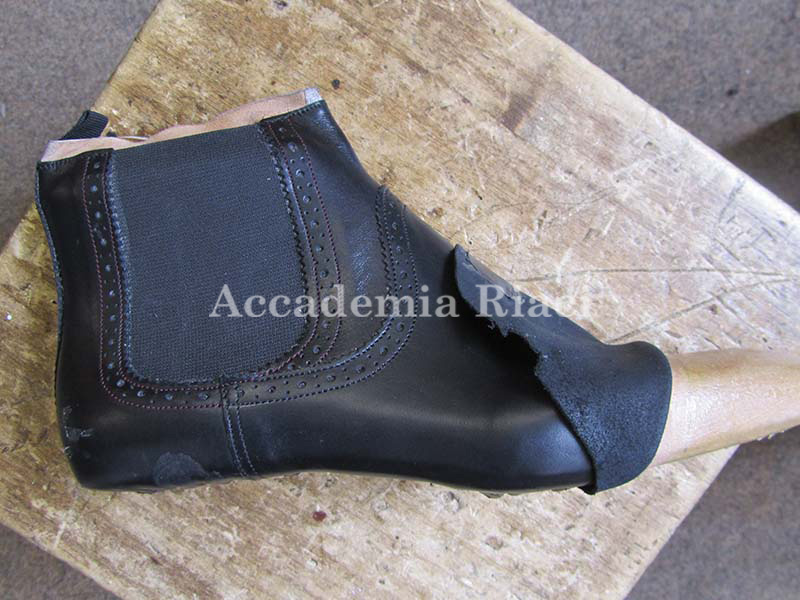 好想趕緊把這雙靴子完成,不知道男友收到後會不會喜歡。可以想像他穿起來肯定好看!

So desired to get finished this pair of boot! I hope my boyfriend will like it. I could imagine how he looks like when he wears on this boots, must be handsome.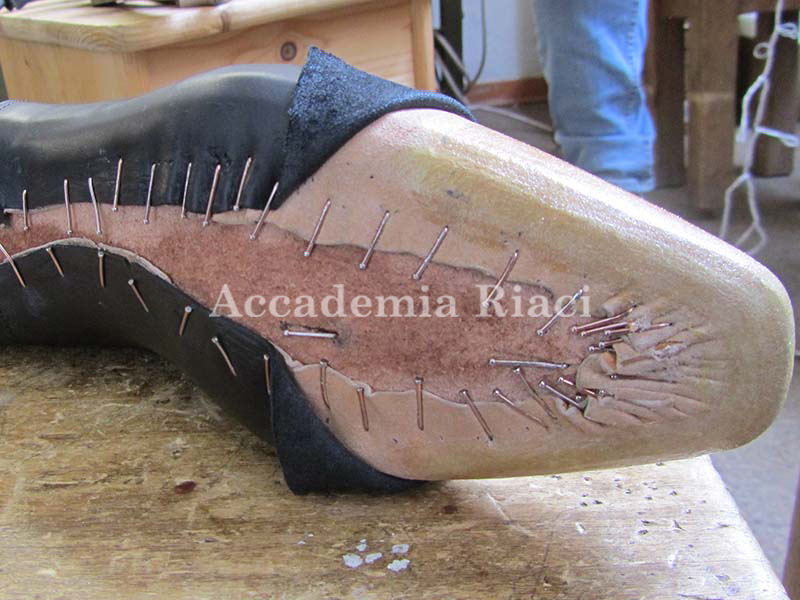 拉緊內裏並用釘子釘起來。

Lasting lining with long nails, try to lasting more inside.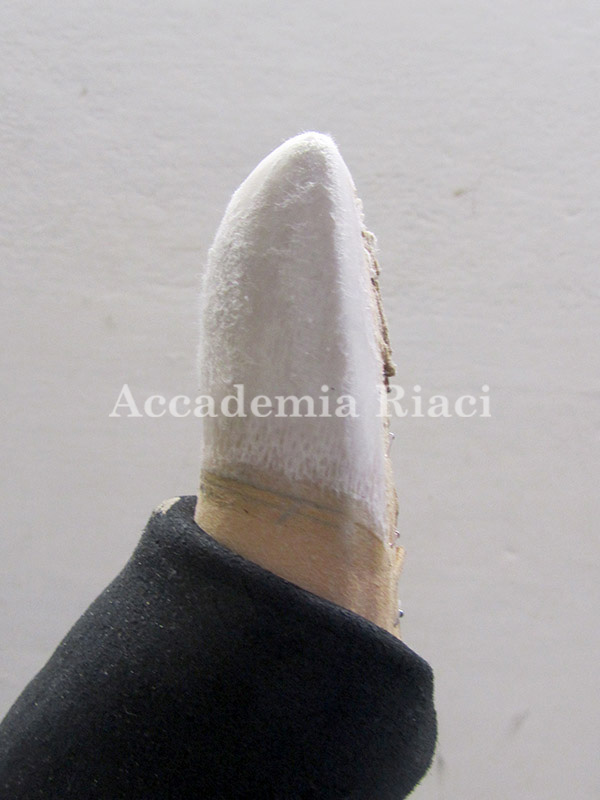 上次練習皮革港寶,這次回來練習塑膠的。

This time, I back to practice the plastic toe-cap.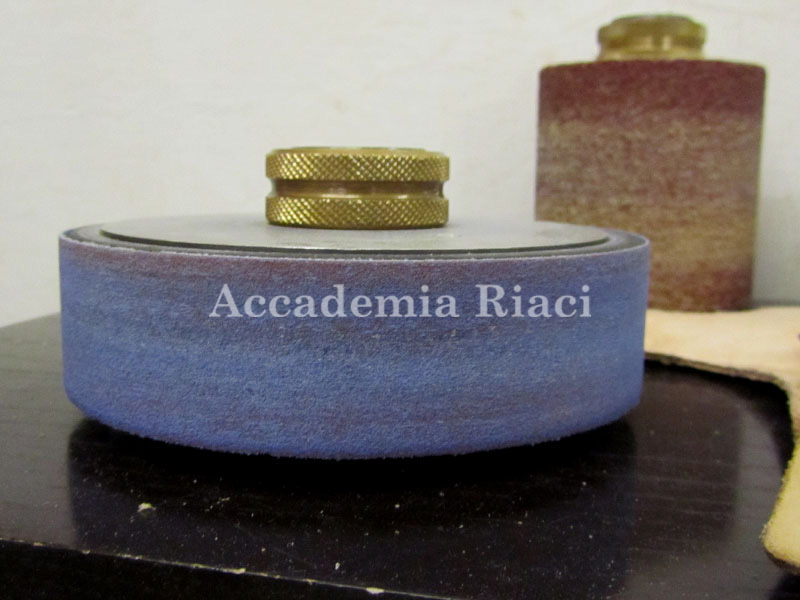 磨鞋子用的砂輪盤,也不知道是磨了什麼變成了這靛藍色。好愛這個帶有點憂鬱又浪漫的顏色,實在很難把目光從上面移開…

A rough paper tool from grinding machine, I really love the color of this purple blue, just couldn't stop looking at it!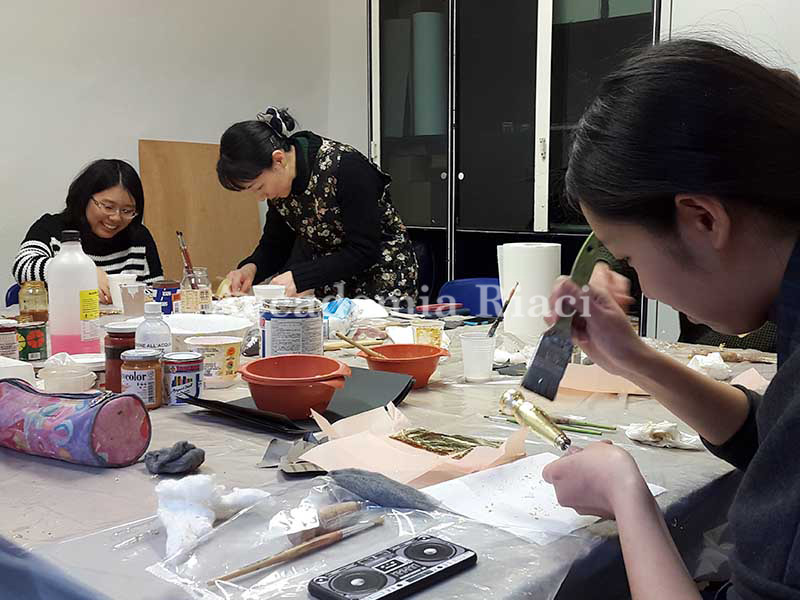 星期六開心的Art Stage時光-木工塗上金箔的工藝課程。大家開心的把自己準備的木製品塗滿金色。

Art Stage on Saturday with happily hours. The project for this week is gold leafing, a tradition craft on how to paint the golden paper on the wood.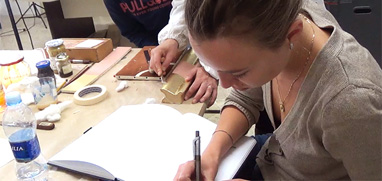 At Accademia Riaci, we are recruiting Course Reporters from our students. The students who are chosen to become Course Reporters are given 10 % of the tuition as their scholarship fee.
The Reporters who have submitted excellent reports will have his or her profile posted on our school website for the next 5 years as an alumnae and will be able to connect with their business chancesafter their graduation.