Accademia Riaci
Student Reports
Read all class reports from our students!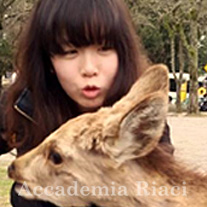 Reporter
Li SHIAU-TING
Nationality: Taiwan
Course: Shoe Making
Program: Atelier Course
Period: Sep. 4, 2017 – Apr. 27, 2018
Shiau-Ting, Li. Shoes designer from Taiwan.
After working in Taiwanese footwear industry for three and a half years, she came to Firenze to study shoes making course, the city which is famous for leather art and shoes.
Although she already has basic aesthetics and sketching technique background from university (B.A.), yet she hopes to extend her shoe-making skills here in Riaci. She believes designer can deliver their thoughts through their works, hoping to keep motivate people with her designs.

李曉婷,來自台灣的鞋類設計師。
在台灣鞋產業工作三年半之後,她決定到皮革之都-佛羅倫斯,學習製鞋技術。
大學主修產品工藝,擁有美學背景、好的品味及繪畫基礎。即便如此,仍期望到莉雅琪延伸自己在實作上的經驗。她相信,設計師能夠透過設計表達想法,希望能持續用創作感動身邊的人。

台湾の靴業界で靴デザイナーとして3年半経験を積んだ後、さらに学びを深めようと革工芸と靴で有名なここフィレンツェへやって来ました。
基本的な審美眼とスケッチ技術は大学(文学士号取得)で学んでいましたが、さらに靴制作の技術を磨くためにリアチ入学を決めました。「デザイナーの想いは、デザインを通して人々に届く」ことを信じ、自分のデザインで人々の心を動かしたいと願っています。
Nov. 24, 2017 | Posted in Reports, Shoemaking , Student Reporter | Tags:Li Shiau-Ting, ShoemakingReporter: Li SHIAU-TING | Course: Shoemaking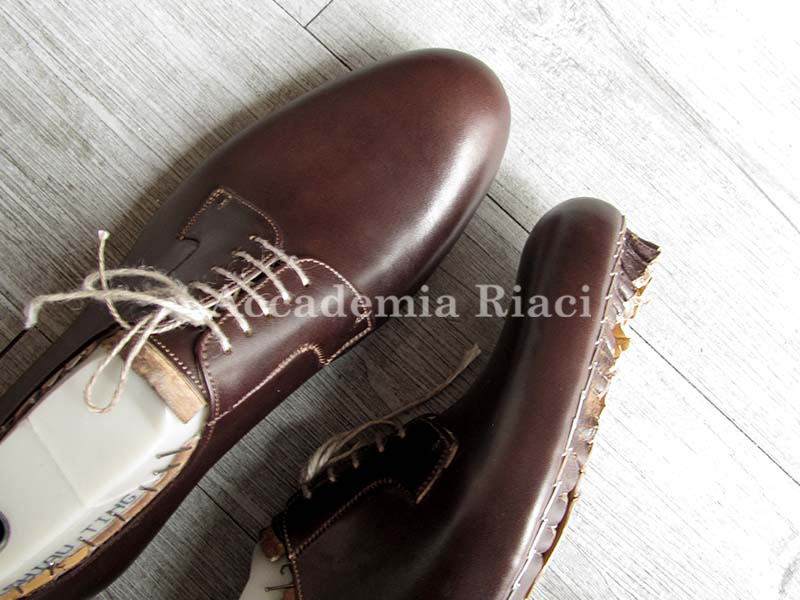 星期一的早晨,把攀幫好的寶貝鞋裝袋,這禮拜要準備開始縫製Tirolese了 !

Carried my shoe with my bag, it's time to stitch my Tirolese shoe this week!

バッグと一緒に私の靴も持って行きます。ついに今週、私のチロリアン・シューズを縫うときがやってきました。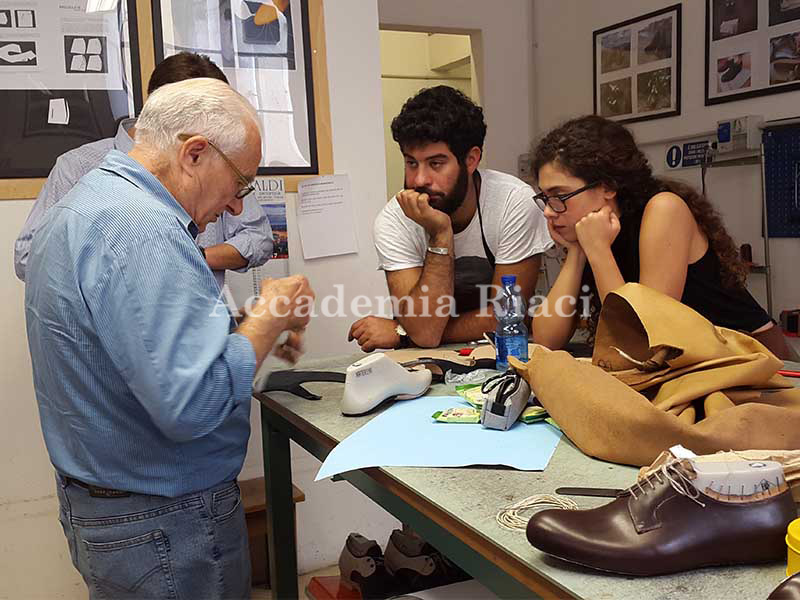 這禮拜教授Angelo回來了,感覺又回到了一年前的忙碌製鞋生活。Caterina和Giulio正在專心地聆聽老師的示範教學。

Our Prof. was back this week. Once again, we were back to the busy life just likes before. Caterina and Giulio were focus on listening Angelo's demonstration.

私達の先生が今週戻ってきました。また前のように忙しい生活に戻ります。CaterinaとGiulioはアンジェロ先生の説明を聞くことに集中しています。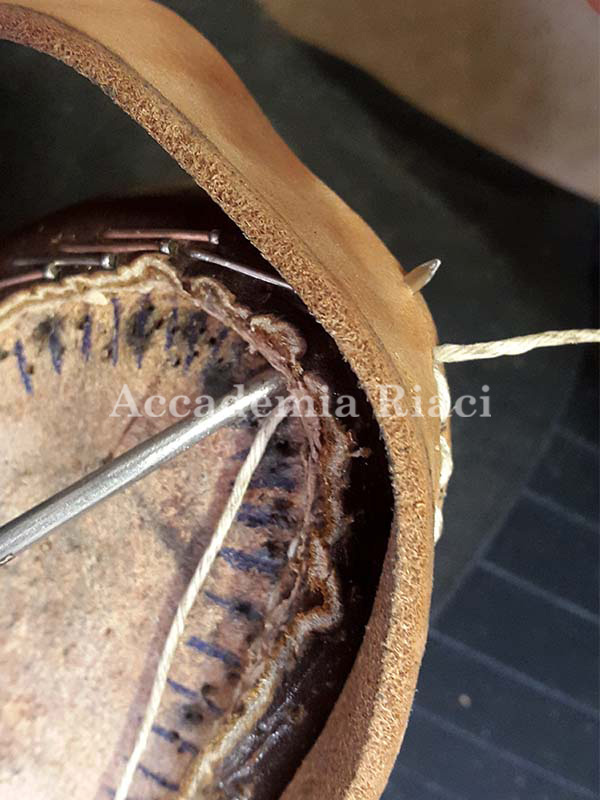 我正在為我的第一道手縫奮鬥;找了一個安靜有足夠空間伸展手臂的角落。好在過了幾個月的休息時間,自己沒有生疏太多。

In the meantime, I was stitching my first Tirolese stitching; In a quiet corner with enough space for me to open my arms. Fortunately, after few months break, I did not forgot much.

その間、私は腕を広げるのに十分な広さの隅の方で、はじめて作るチロリアン・シューズを縫っていました。幸い数ヶ月間のお休みの後でも手順を忘れていませんでした。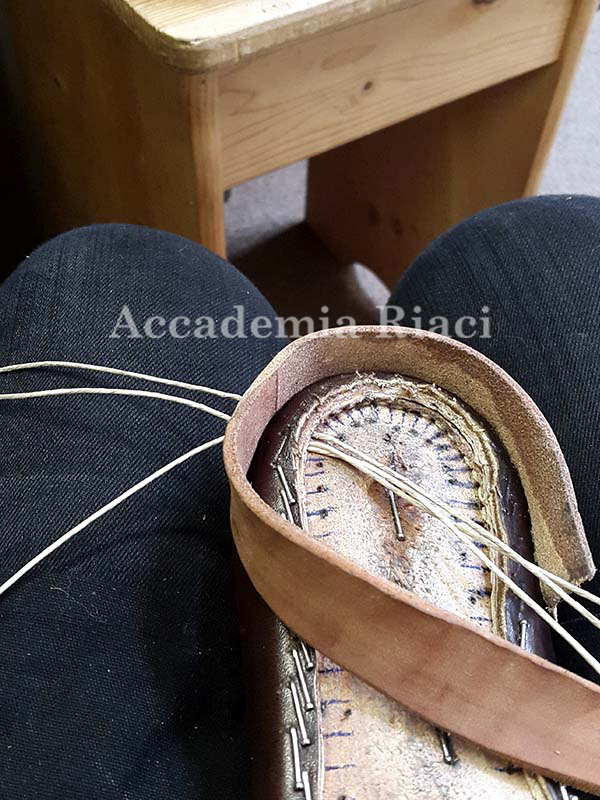 Tirolese的縫製方法跟Norwegian十分相似,只是Tirolese多了沿條的擋牆設計,也因此,在縫製的時候更考驗製鞋師的眼力了。要如何在穿過一層皮料後還能對在漂亮的位置,著實不容易。

The way for hand-stitching Tirolese and Norwegian construction is quite similar, but, Tirolese construction has welt, that's why, this construction needs a better eyes and better technique. How to stitch through a layer of leather but still in the right angle? Not easy.

チロリアンとノルウェージャンの手縫いの方法はだいたい似ていますが、チロリアンには細革がついているので、より技術と注意深さが必要です。どうやって正しい角を維持しながら革の層を縫う?簡単ではありません。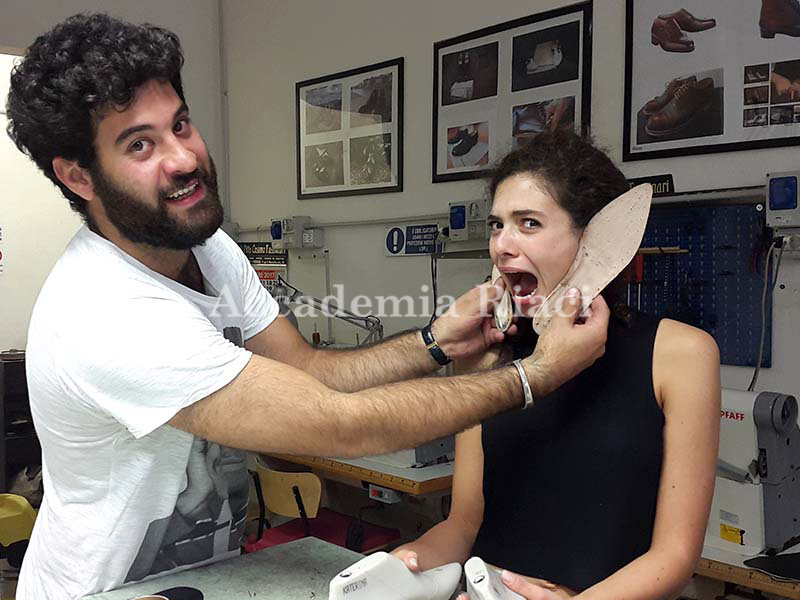 很高興第二年還能有一群熟悉的同學陪伴,一段時間過去,你們還是一樣的可愛。

I'm so lucky that my second year in here still have these people accompany with. You are still adorable even we didn't see each other for a while.

2年目にも彼らと一緒に居れるなんてラッキーです。しばらく会ってなかったのに、相変わらずかわいい人たちです。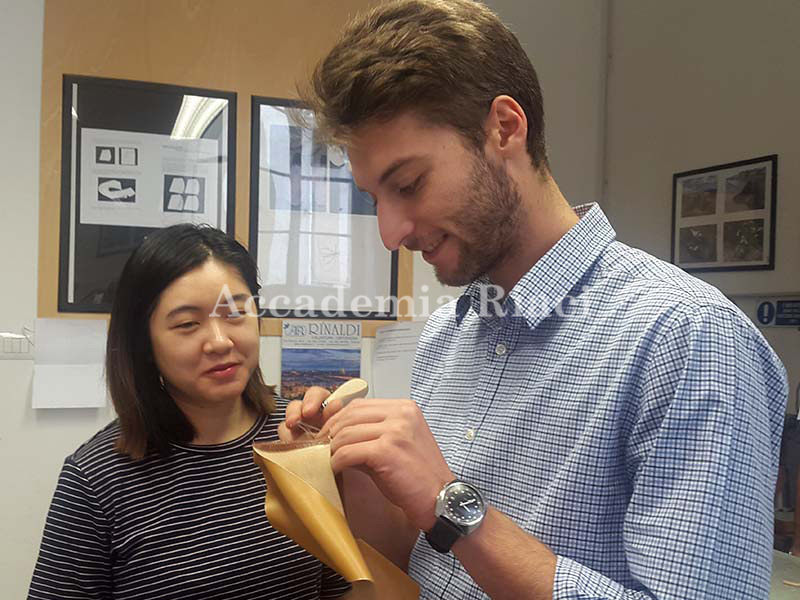 當然還有熟悉的助教啦!照片裡Bernardo正在教Monica如何處理屁股的縫線。 當知道我要拍攝報告照片,馬上露出靦腆的pose照,你們也太配合了吧! (笑)

Also, the assistant we are familiar with! Picture shot when Bernardo was teaching Monica how to deal with the back stitching. They gave me a cute pose when I said I am going to take a picture for them, so cooperative (haha).

アシスタントとも仲良しです!これはBernardoがMonicaにどのように返し縫いをすれば良いか教えてるところです。2人の写真を撮るよーと言ったら可愛いポーズをしてくれました。すごく協力的(笑)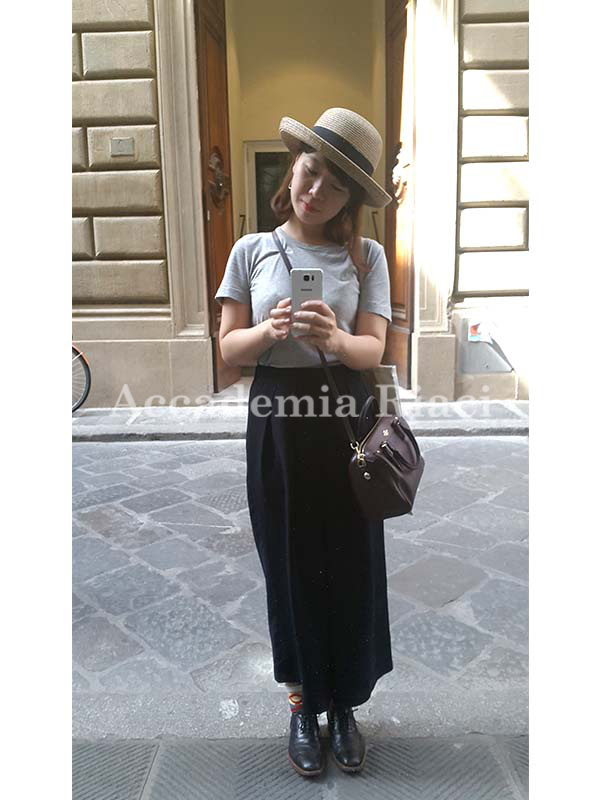 想了很久的夏日帽,終於被我買到了。今天的裝扮好像很適合渡假呢。

A summer hat I always wanted to buy, finally, I found it. Let's go for a vacation.

ずっと欲しかったサマーハット、やっと見つけました。バカンスに行こう!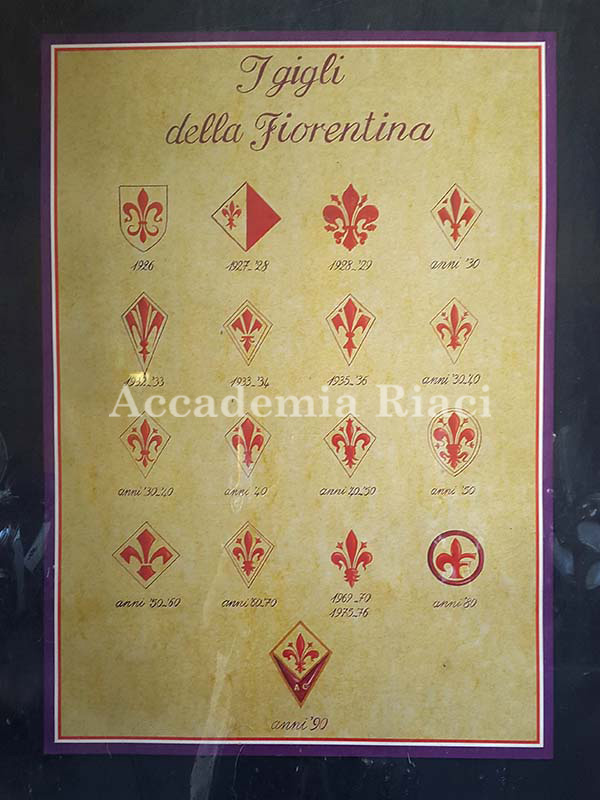 Via dell' Oriuolo路上看到的小海報,海報裡面描繪了各個時期的Firenze市徽,因為太有趣就忍不住拍下來了。

An interesting post I saw when I on my way to Via dell' Oriuolo, it reports the different time of Firenze crest.

Via dell'Oriuloに行く途中に面白いポスターを見つけました。歴代のフィレンツェの紋章が一覧になっています。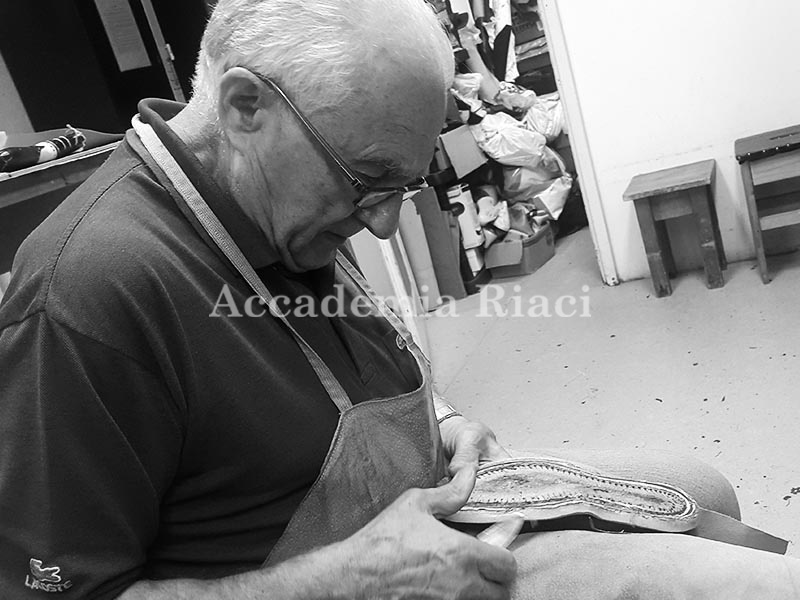 教授Angelo正在教我如何處理Tirolese接下來的步驟。縫完後需要將upper分開,並將多餘的皮料切除。

Prof. Angelo was teaching me how to do the next Tirolese process. After finishing first stitching, upper need to be separated and then cut off extra leather.

アンジェロ先生がどのようにチロリアンを進めていけば良いか教えてくれています。最初の縫いが終わったら、アッパー部分を分割して余分な革を切り取ります。

縫完沿條後這雙鞋子感覺有個雛型了,我已經可以想像它最後完成的樣子,好興奮呢! 我們期待下禮拜的進度吧~

This is how it looks after first stitch. I could imagine how good it will be when it is finished. How exciting!! Let's see how it will be.

これが、最初の縫いが終わった後です。完成した時にどんな素敵なものができるか想像できます。凄くエキサイティング!!どうなるのか見てみましょう。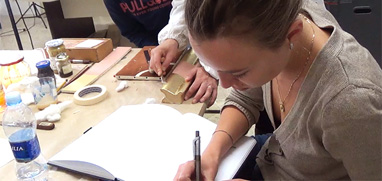 At Accademia Riaci, we are recruiting Course Reporters from our students. The students who are chosen to become Course Reporters are given 10 % of the tuition as their scholarship fee.
The Reporters who have submitted excellent reports will have his or her profile posted on our school website for the next 5 years as an alumnae and will be able to connect with their business chancesafter their graduation.