Accademia Riaci
Student Reports
Read all class reports from our students!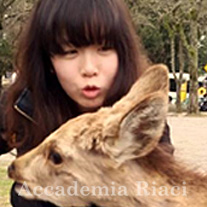 Reporter
Li SHIAU-TING
Nationality: Taiwan
Course: Shoe Making
Program: Atelier Course
Period: Sep. 4, 2017 – Apr. 27, 2018
Shiau-Ting, Li. Shoes designer from Taiwan.
After working in Taiwanese footwear industry for three and a half years, she came to Firenze to study shoes making course, the city which is famous for leather art and shoes.
Although she already has basic aesthetics and sketching technique background from university (B.A.), yet she hopes to extend her shoe-making skills here in Riaci. She believes designer can deliver their thoughts through their works, hoping to keep motivate people with her designs.

李曉婷,來自台灣的鞋類設計師。
在台灣鞋產業工作三年半之後,她決定到皮革之都-佛羅倫斯,學習製鞋技術。
大學主修產品工藝,擁有美學背景、好的品味及繪畫基礎。即便如此,仍期望到莉雅琪延伸自己在實作上的經驗。她相信,設計師能夠透過設計表達想法,希望能持續用創作感動身邊的人。

台湾の靴業界で靴デザイナーとして3年半経験を積んだ後、さらに学びを深めようと革工芸と靴で有名なここフィレンツェへやって来ました。
基本的な審美眼とスケッチ技術は大学(文学士号取得)で学んでいましたが、さらに靴制作の技術を磨くためにリアチ入学を決めました。「デザイナーの想いは、デザインを通して人々に届く」ことを信じ、自分のデザインで人々の心を動かしたいと願っています。
Feb. 16, 2017 | Posted in Reports, Shoemaking , Student Reporter | Tags:Li Shiau-Ting, ShoemakingReporter: Li SHIAU-TING | Course: Shoemaking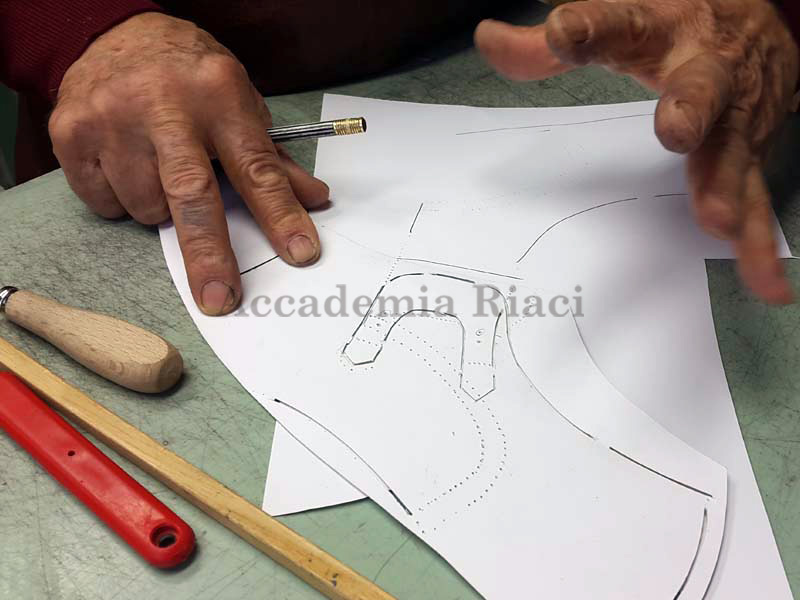 大家在完成德比鞋後,這個禮拜開始,同學們各自展開不一樣的鞋款製作。Masami及Joanne選擇挑戰孟克鞋,是一種有金屬釦裝飾、不需解鞋帶的鞋款。Lara選擇製作靴子,Joe繼續完成他的第二款固特異鞋,而我則選擇繼續完成布雷克牛津鞋。圖片老師正在講解孟克鞋的開版方式。

After finishing derby shoe, this week, we started from different design. Masami and Joanne started making Monk-shoes, a pattern with buckles but no laces. Lara started making boots. Joe wanted to keep going his second Goodyear shoes. For me, I decided to keep going my Oxford shoe of Blake construction. Picture when Angelo talking about how to make Monk pattern.

ダービー靴を完成させた私たちは、今週から新しいデザインに取り掛かりました。マサミとジョアンは紐でなくストラップで留めるモンクシューズの型紙を制作中です。ララはブーツを作り始めました。ジョーは2足目のグッドイヤー靴の作業が続きます。私はブレーク式のオックスフォード靴制作が残っています。写真はモンクシューズの型紙の作り方を説明しているアンジェロ先生。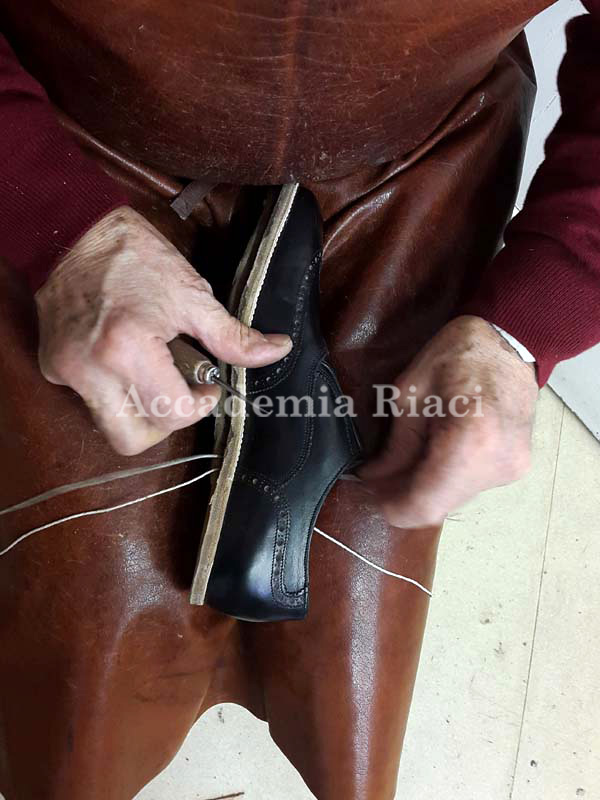 這是我的布雷克牛津鞋,老師正在示範如何手縫大底。布雷克結構與固特異不同,這個作法只需將大底與中底縫起,因此在穿著上也比較輕便。

This is my Oxford shoe of Blake construction. Now, Prof. Angelo was demonstrating how to hand stitch outsole with insole. For Blake construction, there are only one hand stitching, so, the weight for this shoes will be lighter.

私のブレーク式オックスフォード靴の写真。アンジェロ先生が本底と中底を手で縫い合わせる見本を見せてくださいました。ブレーク式の場合、この縫い方をすることによって靴を軽くできます。

這時候Lara正在研究靴子的版型,她選擇了一塊亮粉紅的皮料,十分大膽且前衛的設計。

Now, Lara was making her pattern for her boots. She picked up a bright pink leather, which is very modern.

ブーツの型紙を制作しているララ。とても今風の明るいピンク色の革で作るそうです。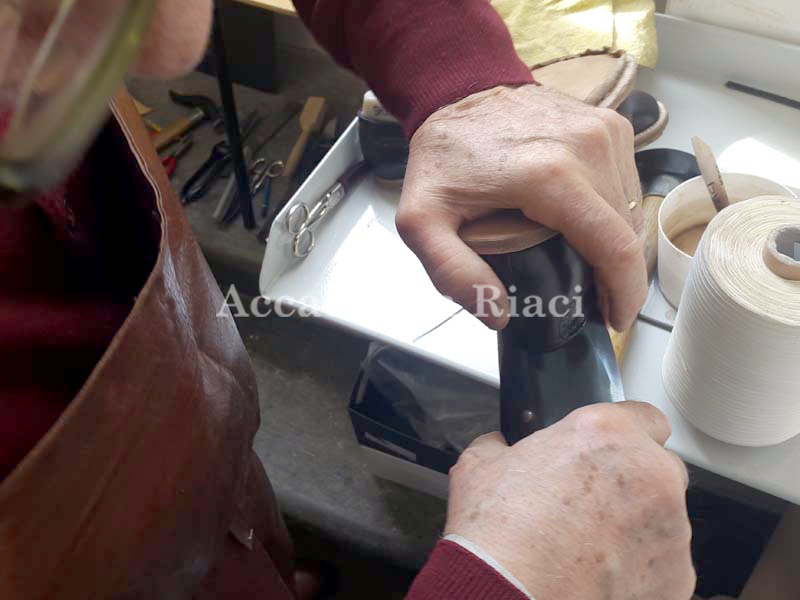 布雷克結構因為縫法的關係,在縫製時需要將楦頭拔起,等到縫完後再入楦,目的是為了讓鞋子重新定型,準備定跟。

Blake construction is different from Goodyear construction. When hand stitching, the last should be took off. After finishing hand stitching, we put it back.

ブレーク製法はグッドイヤー製法とは違い、手縫いをする時に木型から靴を外します。縫い終わったらまた木型に戻します。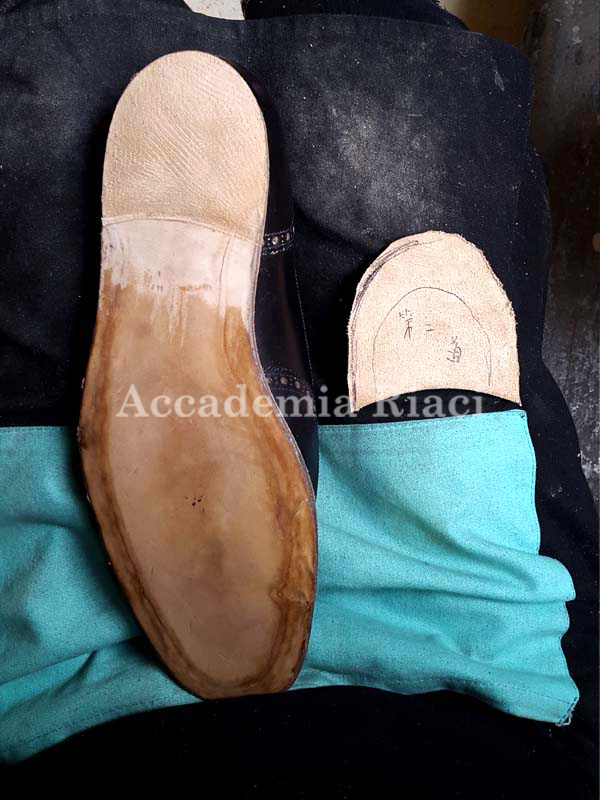 跟的製作與固特異作法雷同,在量測出跟的位置後,用刀子及砂輪機切削出後跟的平面。前掌的大底則是在填入strong glue之後用槌子合起來。

For making heel part, the step is usually the same- measuring the length and shape for the heel, then, use knife and machine to make a platform for the heel. On the other hand, outsole should be closed with strong glue and hammer.

ヒール制作はいつも変わりません。採寸したらナイフや機械を使って1枚ずつ切り出します。本底は強力な接着剤で溝を閉じ、ハンマーで叩きます。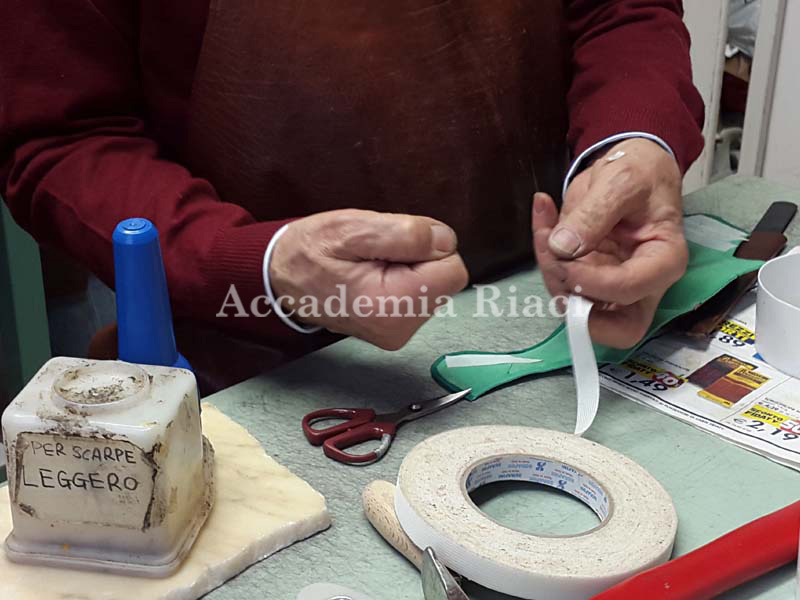 在這張照片裡,老師在講解孟克鞋貼補強帶的重要性。孟克鞋沒有鞋帶,走路時在腳背的地方會產生很多的拉扯,因此需要貼上許多寬版的補強帶來保護皮料。

In this picture, Prof. Angelo was talking about the importance of reinforcement. Because Monk-shoes doesn't have shoelace, in this case, leather needed to be protected. Otherwise, lots of pressure in there will contribute to shape changing.

補強の重要性についてレクチャーをしているアンジェロ先生。モンクシューズは紐でフィットさせないので革を補強する必要があります。そうしないと靴に圧力が掛かって変形してしまうそうです。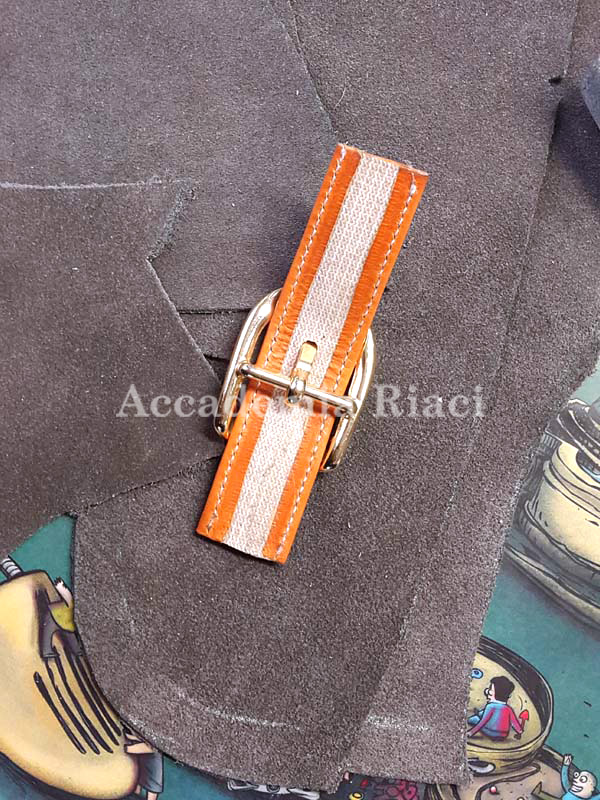 孟克鞋的飾帶,用來固定金屬釦環,讓內側腳背的裁片能夠固定在腳背上。

A strip for Monk-shoes, the purpose for this strip is to fasten buckle. Later, we used this buckle to tie up our shoes.

モンクシューズのパーツ。この部分でバックルを締めます。

圖片是我製作好第一層鞋跟的樣子,刷上strong glue準備等膠乾。這次我上了兩層,目的是為了讓鞋跟能夠黏得更加牢固。

When cutting the first layer for the heel, both side of gluing part should use strong glue to combine. This time I glued it twice, in order to make it stronger.

ヒールの最初の1枚を付ける時、強力な接着剤を使います。今回は2回接着剤を付けてさらに強力に合体させました。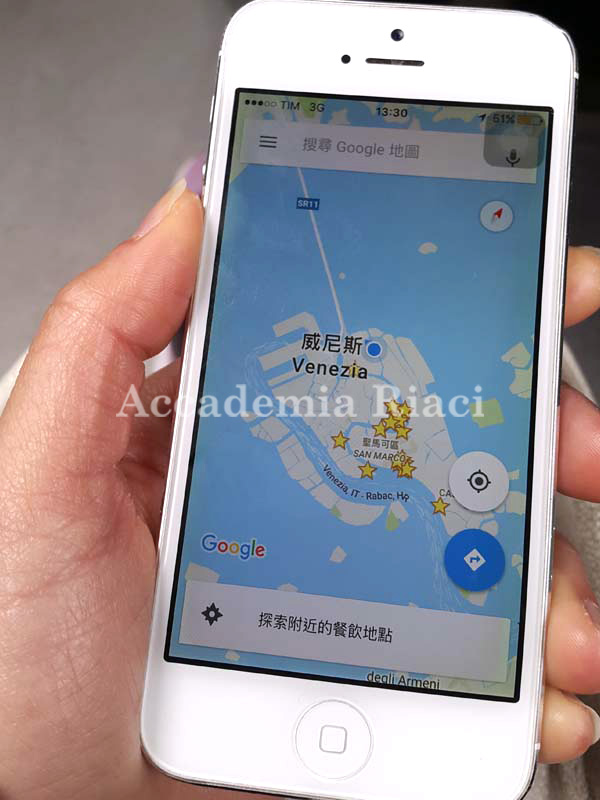 今年的二月十一號開始,是一年一度的威尼斯嘉年華,我安排了兩天一夜的行程,到威尼斯共襄盛舉。

From 11th February, 2017 this year, was annual festival of Carnevale Di Vnezia. I made a plan to go visiting Venezia this weekend.

2月11日からヴェネツィア・カーニバルが開かれるので、週末はヴェネツィアに行く予定です。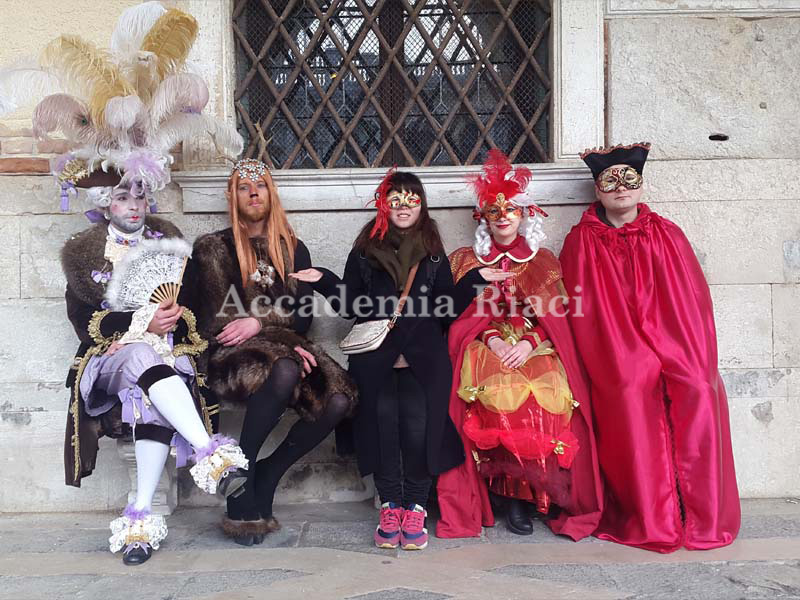 嘉年華的威尼斯好熱鬧,大家紛紛換上華麗的服裝、戴上面具在街上遊蕩。兩天一夜的威尼斯旅程好開心,下次我還要再來!

Venezia was so busy at the weekend. Everybody dancing on the street, dressed up. I was really happy. I will come back next time.

ヴェネツィアはとても賑わっていました。みんな着飾って街なかで踊っていました。とても楽しかったので、次回もまた来ようと思います。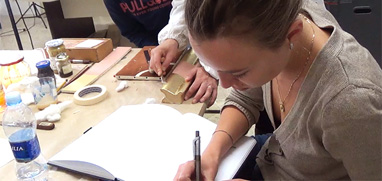 At Accademia Riaci, we are recruiting Course Reporters from our students. The students who are chosen to become Course Reporters are given 10 % of the tuition as their scholarship fee.
The Reporters who have submitted excellent reports will have his or her profile posted on our school website for the next 5 years as an alumnae and will be able to connect with their business chancesafter their graduation.