Accademia Riaci
Student Reports
Read all class reports from our students!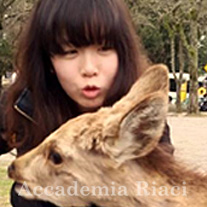 Reporter
Li SHIAU-TING
Nationality: Taiwan
Course: Shoe Making
Program: Atelier Course
Period: Sep. 4, 2017 – Apr. 27, 2018
Shiau-Ting, Li. Shoes designer from Taiwan.
After working in Taiwanese footwear industry for three and a half years, she came to Firenze to study shoes making course, the city which is famous for leather art and shoes.
Although she already has basic aesthetics and sketching technique background from university (B.A.), yet she hopes to extend her shoe-making skills here in Riaci. She believes designer can deliver their thoughts through their works, hoping to keep motivate people with her designs.

李曉婷,來自台灣的鞋類設計師。
在台灣鞋產業工作三年半之後,她決定到皮革之都-佛羅倫斯,學習製鞋技術。
大學主修產品工藝,擁有美學背景、好的品味及繪畫基礎。即便如此,仍期望到莉雅琪延伸自己在實作上的經驗。她相信,設計師能夠透過設計表達想法,希望能持續用創作感動身邊的人。

台湾の靴業界で靴デザイナーとして3年半経験を積んだ後、さらに学びを深めようと革工芸と靴で有名なここフィレンツェへやって来ました。
基本的な審美眼とスケッチ技術は大学(文学士号取得)で学んでいましたが、さらに靴制作の技術を磨くためにリアチ入学を決めました。「デザイナーの想いは、デザインを通して人々に届く」ことを信じ、自分のデザインで人々の心を動かしたいと願っています。
Feb. 10, 2017 | Posted in Reports, Shoemaking , Student Reporter | Tags:Li Shiau-Ting, ShoemakingReporter: Li SHIAU-TING | Course: Shoemaking

固特異鞋製作在完成第二道手縫後,是開始釘跟的步驟。老師Angelo告訴我們,跟的形狀及橡膠片的形狀可以有不同的設計,藝術家會根據自己的喜好設計喜歡的圖案。書本上有許多不同的製作方式,讓我們參考。

After finishing second hand stitching, we started from making heels. Angelo told us, the shape for heels and rubbers depend on your designs. In this book, there were different ways of decoration for you to think about.

2度目の手縫いを終え、ヒールの作成に入りました。アンジェロ先生は、ヒールの形とゴムはデザインによって変わると言います。本には色々な飾りつけ方法について書かれていました。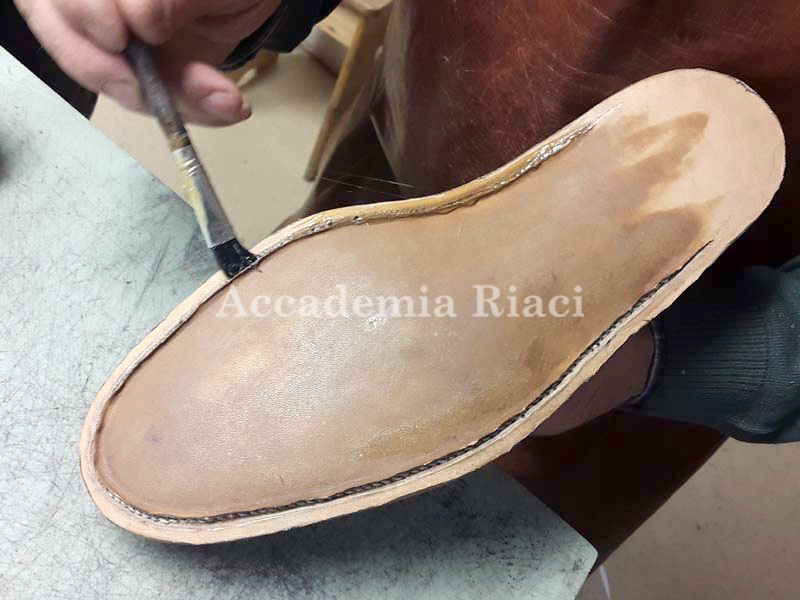 縫好之後的線需先上膠,並在皮料的內側加水潤濕,待等乾一段時間後,就可以將溝槽合起來。

Before closing the groove, the outsole should be wet again to make it soft. Meanwhile, glue the groove with strong glue. Waited it dried and then close it with hammer.

溝を閉じる前に、本底を濡らして革を柔らかくしなければなりません。そして強力な接着剤を使って溝を閉じます。乾いたらハンマーで叩いて完全に接着します。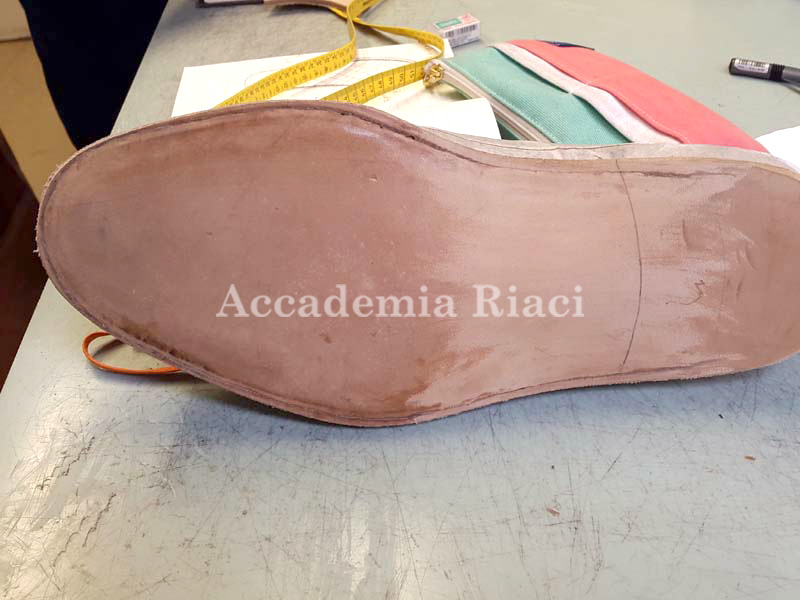 這是合起來之後的樣子,切開的皮料會完整貼合。接著量測出後跟的位置,製作跟。

This is the step after closing the groove. Now, you could see the outsole was still wet. It had to be waited until it dried. At the same time, we measured the line for the heel.

溝を閉じた後の工程です。本底がまだ濡れているので、乾くまで待たなければなりません。この間にヒールの採寸をします。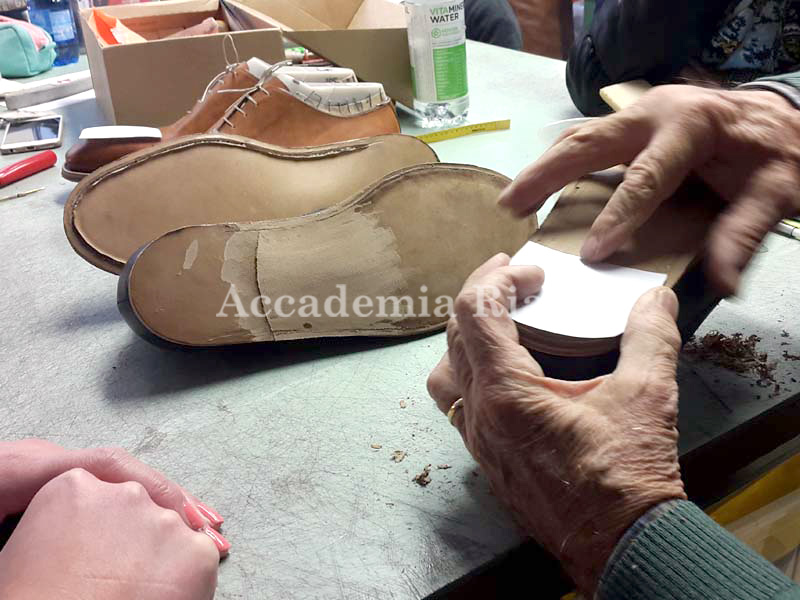 在製作鞋跟時,讓鞋跟平穩是很重要的! 我們要將後方多餘的皮料切平,才能將跟黏上。

When making heels, it is important to make heel stable. Angelo showing us how to skive a little bit on the button. After that, we put the heel on.

ヒールを積む作業は、ヒールを動かさないようにするのが大切です。アンジェロ先生が革の漉き方を見せてくださいました。その後、ヒールを乗せます。

我選擇了黑色的橡膠,期待這雙鞋能有紳士的樣子,大底我也將全部漆成深咖啡色。圖片是我黏好跟後正在釘入固定的釘子。

I chose black rubber, imagine that it will have a gentlemen look. I also plan to dye my outsole and heels in all dark brown. Picture shot when I about to put the nail into heels.

紳士的な印象にしたくて、ゴムは黒にしました。本底とヒールは濃茶色に染める予定です。これはヒールに釘を打ち込む直前の写真。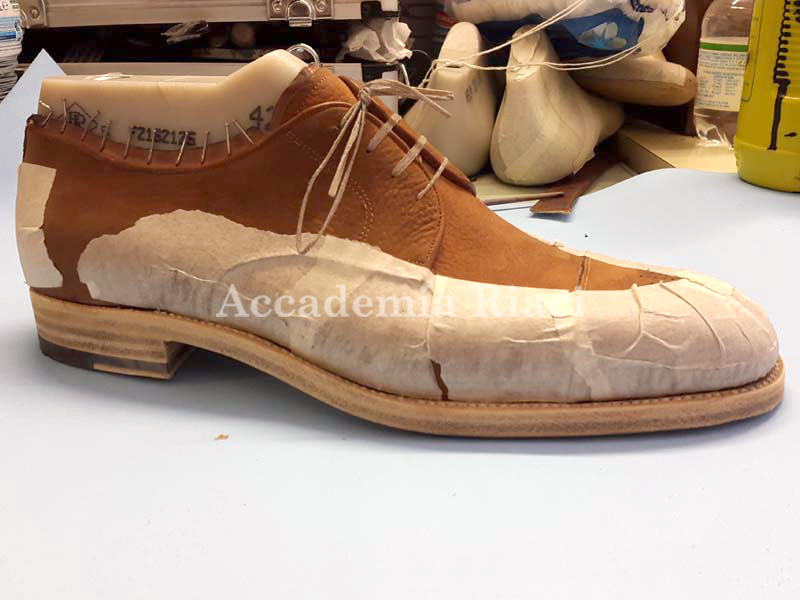 鞋面我挑選的是容易吸入顏色的牛巴戈皮,每個步驟都要當心皮料不會髒掉或染色。在大底上色前,我鞋面貼了一圈開版用的紙膠帶,避免顏色跑進去。

The material of upper is "Nubuck", a kind of leather easily get dirt. Every step has to carefully take care of. Before dying outsole, I wrap my shoe with type incase colors go into the upper.

ヌバック革のアッパーは汚れやすいので、すべての工程で汚さないよう注意が必要です。本底を染める時はアッパーに染料が付かないようにテープでカバーしました。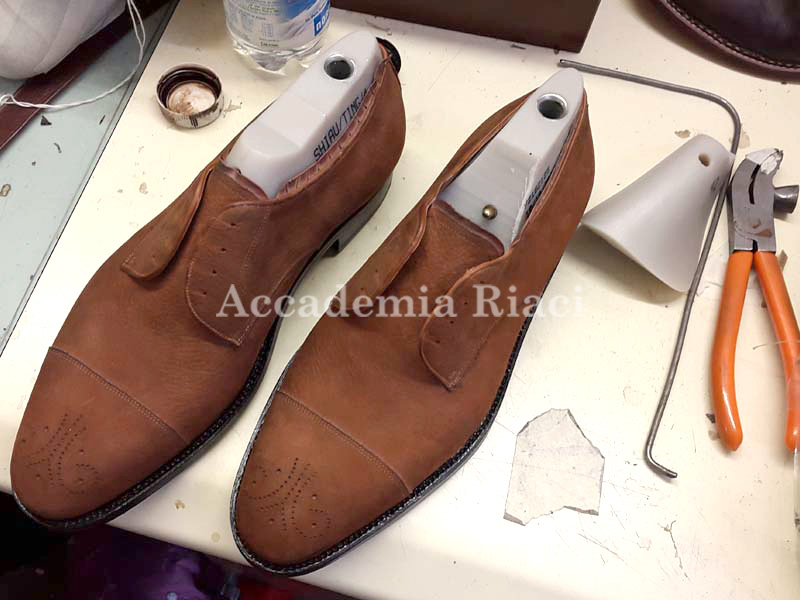 現有的咖啡色我不是很喜歡,在跟助教討論後,我調和了三種顏色,終於找到我要的深咖啡色。可以準備脫楦頭了!好開心。

Although we already have color brown for dying outsole, I didn't like it. I discussing with our assistant Bernardo, and then, I mix three colors together. I like the outcome, I said. This is my color – vintage and elegant. Now, it's time to let go the last!

本底を染める茶色の染料は、どれも色が好みではありませんでした。そこでアシスタントのベルナルドと相談し、3色の染料を混ぜることにしました。結果はご覧の通り、思い描いた通りのヴィンテージ感と上品さを出すことができました。さて、あとは仕上げるだけです。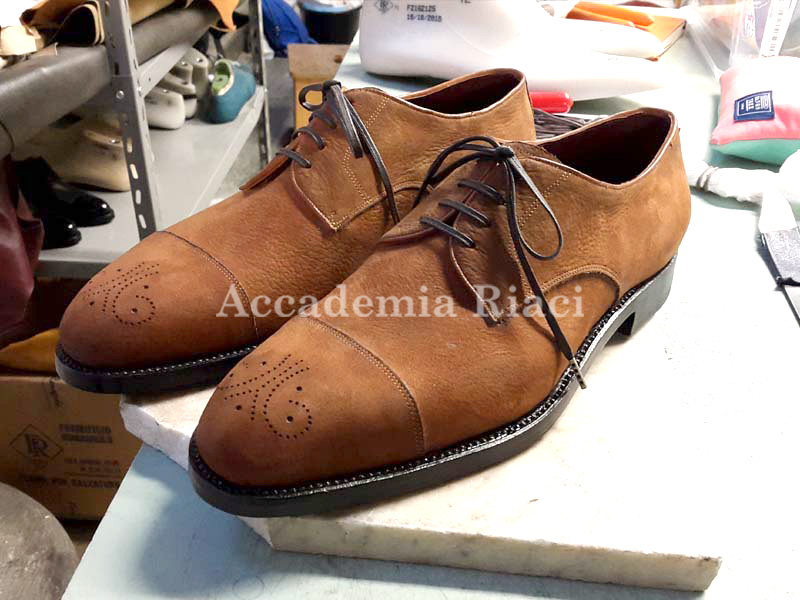 終於大功告成了! 耗時近兩個月,完成時說不出的感動。助教MASA還幫我換上扁鞋帶,看起來更加分了。

Finally I finished my derby shoe with Goodyear construction. For almost two months making this shoe, I was super happy when I done. It looked gorgeous after MASA helping me with the lace, even better.

ようやくグッドイヤー製法のダービー靴が完成しました。ほぼ2ヶ月かかったので、とても嬉しかったです。マサが靴紐を通すのを手伝ってくれて、素晴らしい仕上がりになりました。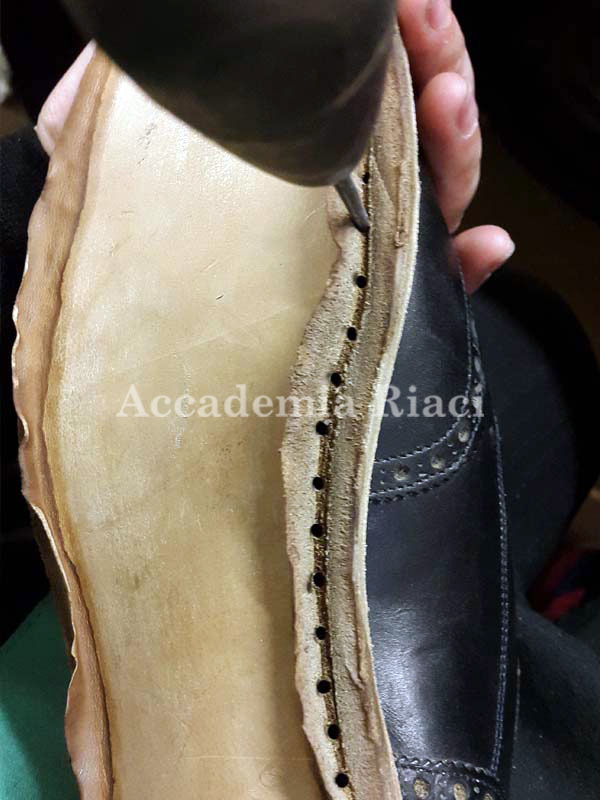 我的工作沒有因完成德比鞋而鬆懈下來,上課時接著製作Blake牛津鞋,累積更多的作品。圖片我正在用錐子穿洞。

My works did not suspend though I finished my derby shoe. I keep going my Oxford shoe with Blake construction. In short term scheme, I wish to have more works as I could. This picture showing that I was making hole for outsole.

ダービー靴が完成しても、他の作業が残っています。ブレイク(マッケイ)製法のオックスフォード靴の制作は続きます。可能な限り多くの作品を作りたいと思います。写真は本底の穴を開けているところです。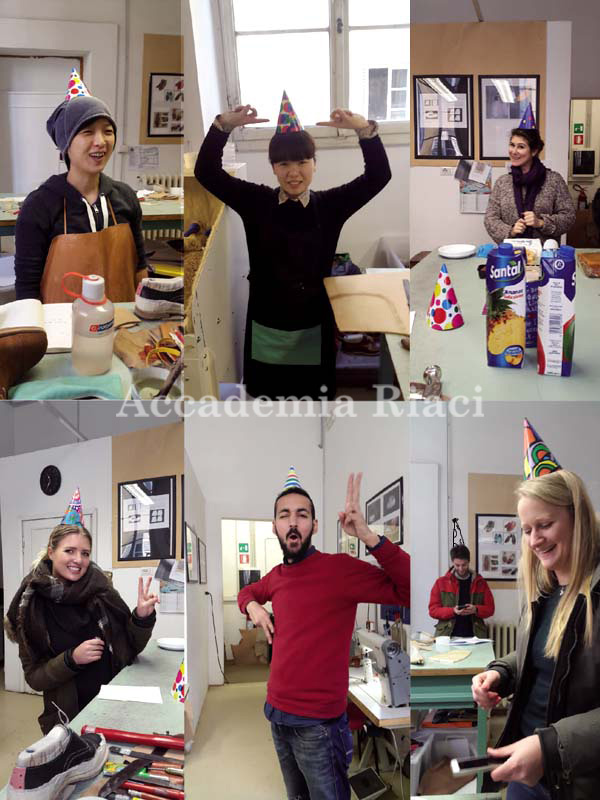 用快樂的生日派對作為這周報告的結束吧,生日快樂joanne!大家戴上生日帽的樣子真可愛,哈哈。

Photo shot for Joanne's birthday party as a happy ending for this week's report. How cute we are with birthday hat, haha. Happy birthday Joanne.

ジョアンのバースデーパーティーの楽しい写真で今週のレポートを締めくくります。みんな帽子をかぶって何て可愛いんでしょう(笑)お誕生日おめでとう、ジョアン!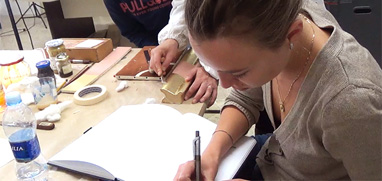 At Accademia Riaci, we are recruiting Course Reporters from our students. The students who are chosen to become Course Reporters are given 10 % of the tuition as their scholarship fee.
The Reporters who have submitted excellent reports will have his or her profile posted on our school website for the next 5 years as an alumnae and will be able to connect with their business chancesafter their graduation.