Accademia Riaci
Student Reports
Read all class reports from our students!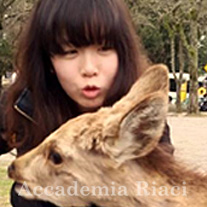 Reporter
Li SHIAU-TING
Nationality: Taiwan
Course: Shoe Making
Program: Atelier Course
Period: Sep. 4, 2017 – Apr. 27, 2018
Shiau-Ting, Li. Shoes designer from Taiwan.
After working in Taiwanese footwear industry for three and a half years, she came to Firenze to study shoes making course, the city which is famous for leather art and shoes.
Although she already has basic aesthetics and sketching technique background from university (B.A.), yet she hopes to extend her shoe-making skills here in Riaci. She believes designer can deliver their thoughts through their works, hoping to keep motivate people with her designs.

李曉婷,來自台灣的鞋類設計師。
在台灣鞋產業工作三年半之後,她決定到皮革之都-佛羅倫斯,學習製鞋技術。
大學主修產品工藝,擁有美學背景、好的品味及繪畫基礎。即便如此,仍期望到莉雅琪延伸自己在實作上的經驗。她相信,設計師能夠透過設計表達想法,希望能持續用創作感動身邊的人。

台湾の靴業界で靴デザイナーとして3年半経験を積んだ後、さらに学びを深めようと革工芸と靴で有名なここフィレンツェへやって来ました。
基本的な審美眼とスケッチ技術は大学(文学士号取得)で学んでいましたが、さらに靴制作の技術を磨くためにリアチ入学を決めました。「デザイナーの想いは、デザインを通して人々に届く」ことを信じ、自分のデザインで人々の心を動かしたいと願っています。
Aug. 25, 2018 | Posted in Reports, Shoemaking , Student Reporter | Tags:Li Shiau-Ting, ShoemakingReporter: Li SHIAU-TING | Course: Shoemaking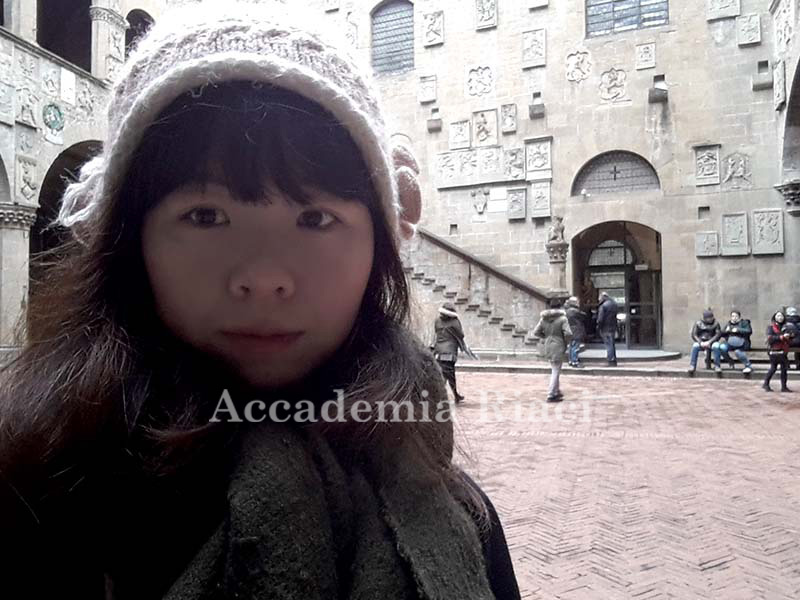 這個禮拜趁著假日參觀想了很久的巴杰羅美術館。還記得以前歷史課本裡總會介紹這個地方,有生之日能夠親自來一趟,連自己都覺得不可思議。

I visited Museo Nazionale del Bargello this week. It's a museum that history book always talk about and I am really glad I had visit here, saw all the beautiful painting and sculpture.

巴杰羅美術館又稱人民宮,館內典藏多為立體雕塑類作品,其中有不少是米開朗基羅的創作。

Museo Nazionale del Bargello also called Palazzo del Popolo, inside the museum stored a lot of creations from Michelangelo.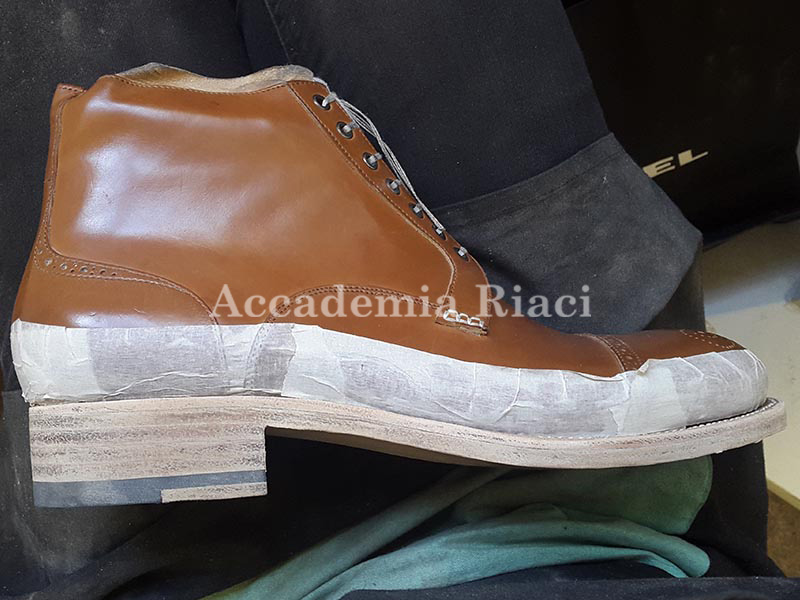 週一課堂上的工事,是繼續打磨鞋跟,嘗試了新的方法,看著鞋跟從粗糙到滑順的表面,十分有成就感

On Monday, I kept sanding the heel, this time I tried different way for sanding the heel. Now, it looks better! Get ready for the color dye.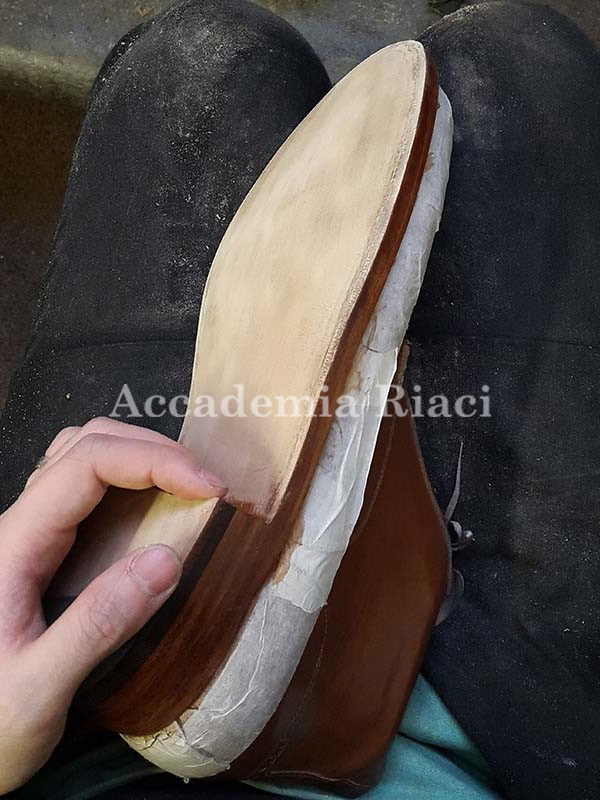 搭配淺咖啡色的皮面,我這次決定染上同色系但不同色階的咖啡色

In order to have a good combination for the colors, I decided to dye nature brown for the outsole.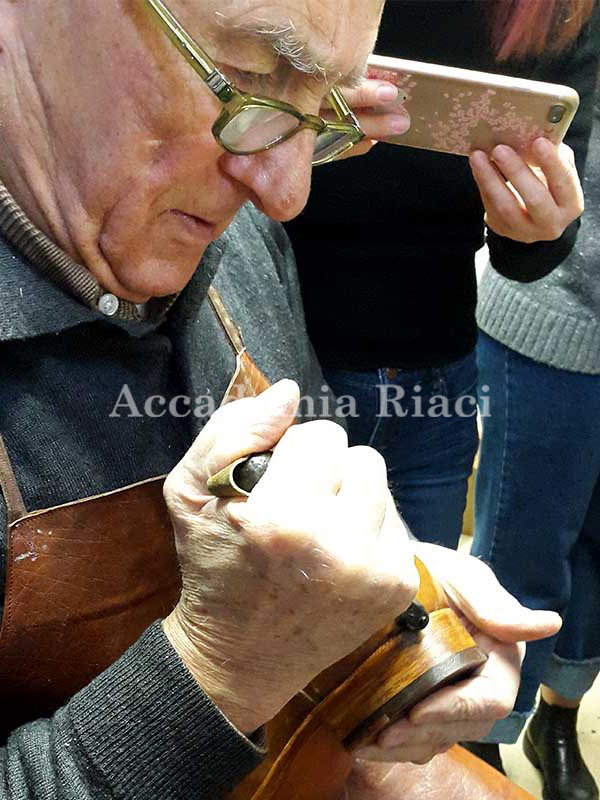 Angelo幫我在後跟滾上裝飾性的咬花,整雙鞋看起來更完整了

Prof. Angelo helped me put the decoration for the heel, it looks more completed right now!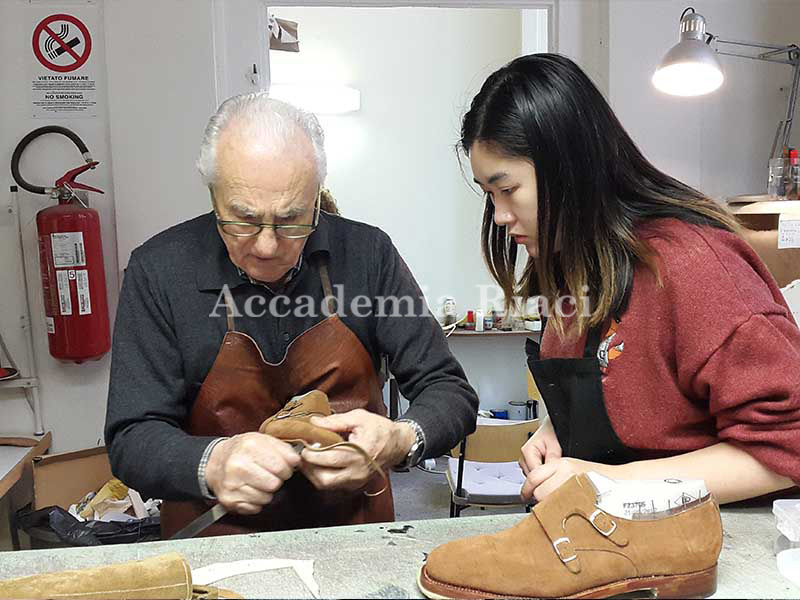 Monica的孟克鞋在Angelo的幫忙割去多餘的橡膠片。增加大底橡膠片的設計,讓鞋子增加止滑的效果

Prof. Angelo was cutting extra rubber in Monica's shoes. She added a layer of rubber sole to stop sliding.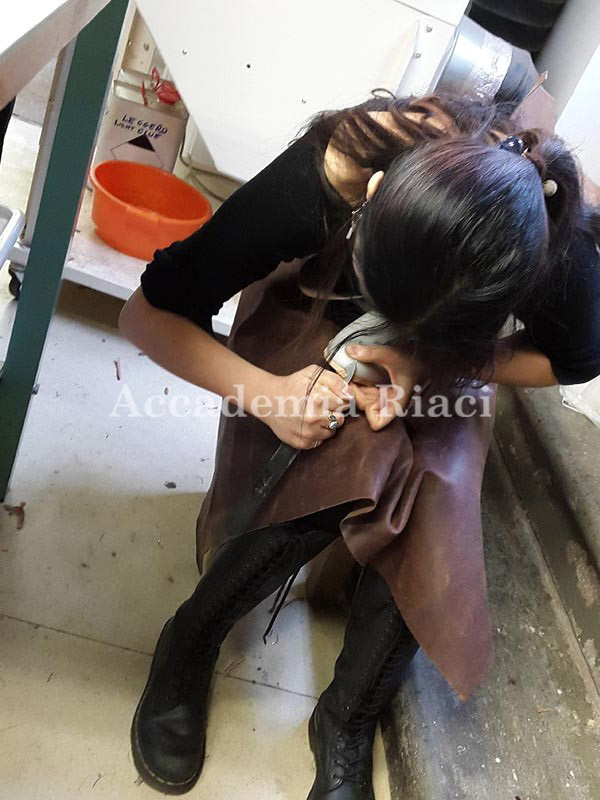 Yushih則在準備下一雙鞋子要使用到的中底

At the same time, Yushih was preparing the insole for next shoes.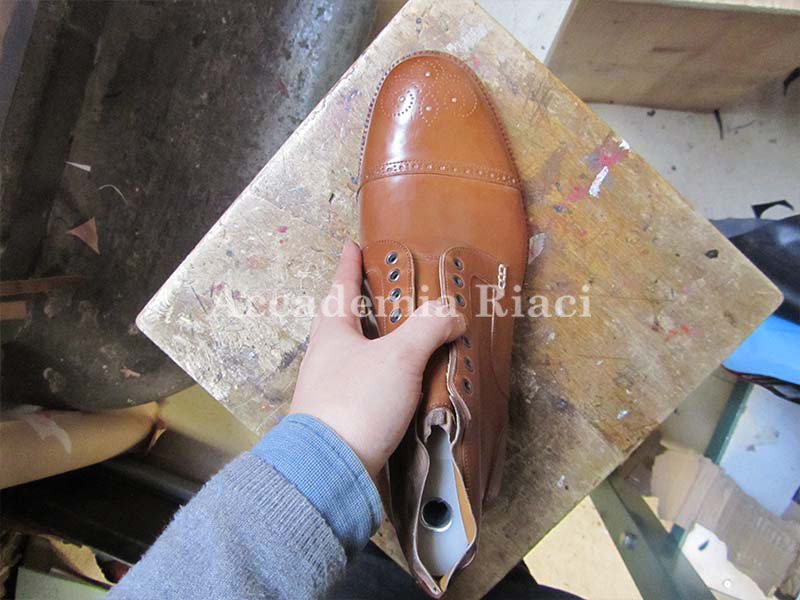 一雙固特異工法德比靴,採用帶有蠟質的牛皮,由於鞋子的主人喜愛復古的顏色,在脫掉楦頭後,接著來幫鞋子上妝

A pair of Goodyear hand-welted Derby boot. This pair was wax leather calf with vintage color brown. Taking off the last, then, I could do some makeup for this shoe.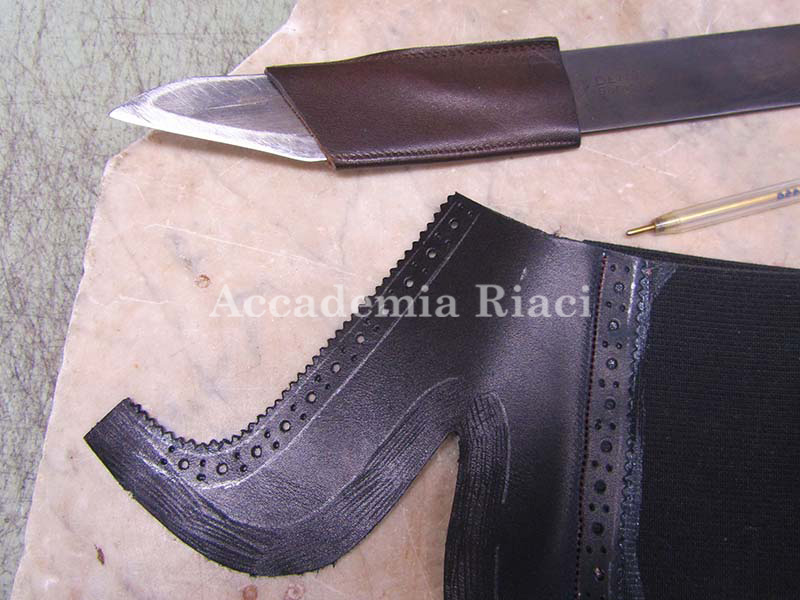 這雙已經完成的靴子是給妳男朋友的嗎?教授Angelo問到。這是給男朋友的朋友的,我說。什麼時候要做男朋友的靴子? 教授開玩笑地問著。有在做有在做,下一雙!我說著…。(偷笑)

The pair you just finished is for your boyfriend? Prof. Angelo was asking. This pair is for a friend of my boyfriend, I said. Then, when will you make one for your boyfriend? Angelo asked me jokingly. Next one! I was making, I said…(laugh together)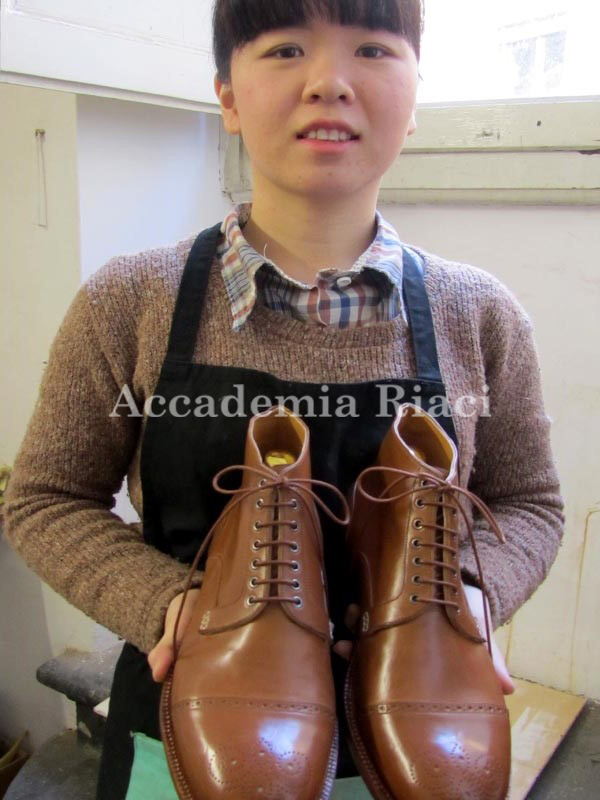 又一雙完成!雖然很開心,但想到還有很多等待的鞋子要完成,就無法鬆懈下來…好,繼續前進下一雙,我們下週見!

Another pair was done! Though It's happy, but, when thinking about there are still lots of pair waiting for me to finish, I couldn't relax myself…Okay, cheer up, keep fighting for next pair! See you next week.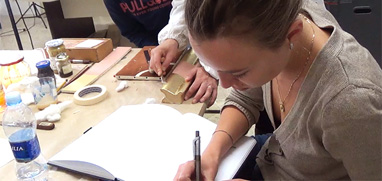 At Accademia Riaci, we are recruiting Course Reporters from our students. The students who are chosen to become Course Reporters are given 10 % of the tuition as their scholarship fee.
The Reporters who have submitted excellent reports will have his or her profile posted on our school website for the next 5 years as an alumnae and will be able to connect with their business chancesafter their graduation.