Accademia Riaci
Student Reports
Read all class reports from our students!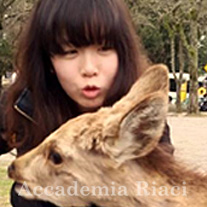 Reporter
Li SHIAU-TING
Nationality: Taiwan
Course: Shoe Making
Program: Atelier Course
Period: Sep. 4, 2017 – Apr. 27, 2018
Shiau-Ting, Li. Shoes designer from Taiwan.
After working in Taiwanese footwear industry for three and a half years, she came to Firenze to study shoes making course, the city which is famous for leather art and shoes.
Although she already has basic aesthetics and sketching technique background from university (B.A.), yet she hopes to extend her shoe-making skills here in Riaci. She believes designer can deliver their thoughts through their works, hoping to keep motivate people with her designs.

李曉婷,來自台灣的鞋類設計師。
在台灣鞋產業工作三年半之後,她決定到皮革之都-佛羅倫斯,學習製鞋技術。
大學主修產品工藝,擁有美學背景、好的品味及繪畫基礎。即便如此,仍期望到莉雅琪延伸自己在實作上的經驗。她相信,設計師能夠透過設計表達想法,希望能持續用創作感動身邊的人。

台湾の靴業界で靴デザイナーとして3年半経験を積んだ後、さらに学びを深めようと革工芸と靴で有名なここフィレンツェへやって来ました。
基本的な審美眼とスケッチ技術は大学(文学士号取得)で学んでいましたが、さらに靴制作の技術を磨くためにリアチ入学を決めました。「デザイナーの想いは、デザインを通して人々に届く」ことを信じ、自分のデザインで人々の心を動かしたいと願っています。
Feb. 03, 2017 | Posted in Reports, Shoemaking , Student Reporter | Tags:Li Shiau-Ting, ShoemakingReporter: Li SHIAU-TING | Course: Shoemaking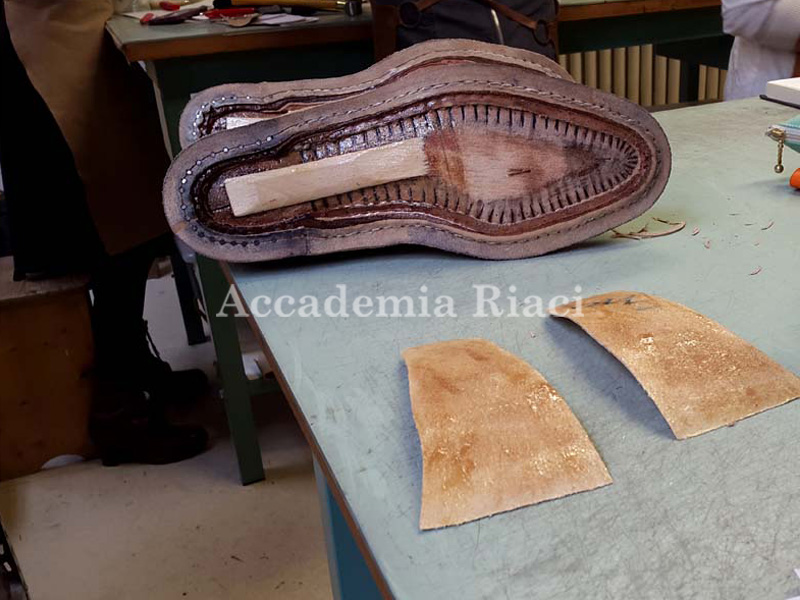 上個禮拜完成固特異的第一道手縫後,我繼續完成放置支撐片、填入軟木塞等作業。同時碩士的專案課程也從這禮拜開始了,看來這學期將會有忙碌而充實學習的日子!圖片是我完成內縫線準備貼覆蓋片的樣子。

After finished first Goodyear shoe hand stitching, I moved on to shank putting and cork filling. At the same time, master course project starting from this week. We will have a busy and fulfilling semester-I thought in my mind. Photo shot when I was doing my leather cover for shank.

グッドイヤー靴の底の手縫いが終わったので、シャンクを入れてコルクを詰める作業を始めました。それと同時にマスターコースのプロジェクトも今週から始まりました。今学期も多忙で充実した学期になりそうです。写真は底に入れたシャンクに革をかぶせるところ。

固特異的另外一個重點:軟木片。許多文獻指出,固特異鞋因為填入軟木片,有吸收濕氣以及越穿越合腳的特性。這雙鞋的神奇之處,就在這個步驟了吧!

Another main point for Goodyear shoes is cork, a material to increase fitness and absorb moisture. This is why Goodyear shoes very attractive.

グッドイヤー靴の特徴の1つであるコルク。履き心地をより快適にし、湿気を吸ってくれます。これがグッドイヤー靴の大きな魅力です。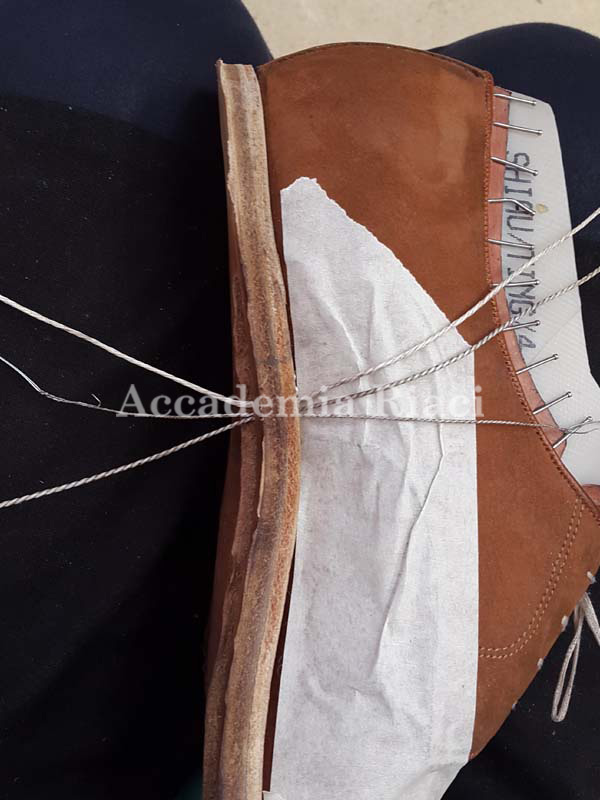 黏上軟木片之後,我用槌子均勻的敲打軟木片,目的是為了讓軟木片完整填入前方腳掌的空間,接下來再用銼刀銼平,就可以黏上大底,開始縫外線了。

I hammered the cork around the front part, the process to fill the space fully. After that, the cork should be filed smooth. Now, we could start stitching second line.

底の前側にコルクをハンマーで叩きこみ、隙間なくコルクを詰めます。その後、コルクを削ってなめらかに整えれば、次の縫い作業を開始できます。

教授Angelo正在拯救我的鞋子,因為溝不小心割太深了。他說,一開始縫還沒辦法掌握力道,擔心我一個不小心用力過度會拉破大底。真是貼心的教授呢

Prof. Angelo was helping me with my second hand stitching because the groove was a bit deep. It's not easy to control strength at the first time, he said. He worried that I might break my outsole. It was very thoughtful of him.

溝が少し深すぎたようで、アンジェロ先生が手伝ってくださいました。慣れないうちは針をまっすぐに通すのが難しいそうで、私が本底を壊してしまわないか心配してくださいました。とても優しい先生です。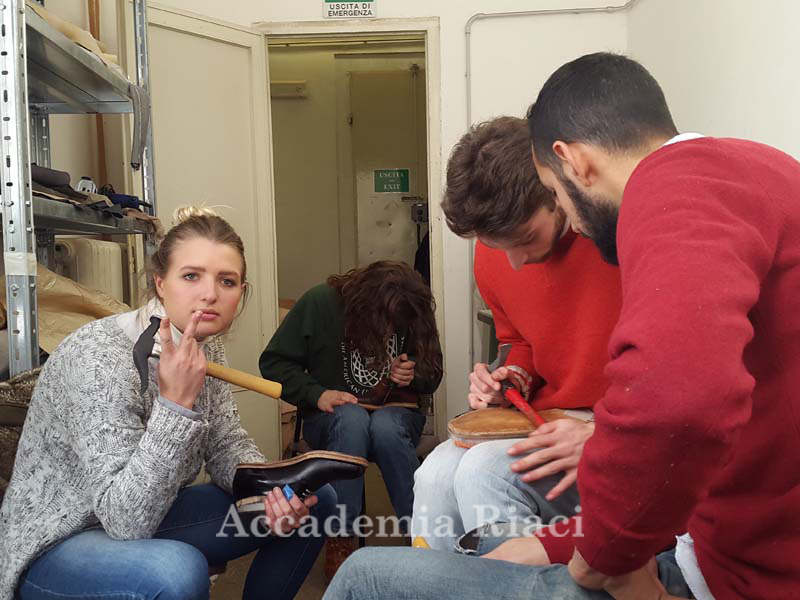 前面的教室新生們正在學習,於是這天,我們一群老鳥擠在後面的小房間縫大底。看到大家擠成一團的樣子覺得又溫暖又好笑。歡迎加入ROCK派對!我們說著。

Today, we all crowed in the back room hand stitching our shoe-sole. When seeing the scene that everybody so close to each other, working so hard, a feeling of happiness warm my heart. Yeah! We all get together doing what we enjoyed, it was something really matters. Welcome to Rock party! We said.

今日は全員で奥のスペースにこもって底の手縫いをしました。みんなで体を寄せ合って作業している姿を見たら、何だかとても幸せな気分で心が温かくなりました。みんな一緒に大好きな作業をしている、それが一番大事なんだって思いました。とっても楽しい!

星期四,我跟同學MASAMI一同前往專案課程的上課地點-RINALDI。這是一間特殊訂製矯正鞋店。

On Thursday, me and MASAMI went to RINALDI, the place for our master project. This is a store for bespoke medical shoes.

木曜日はマサミと一緒にマスターコースのプロジェクトの舞台、リナルディに行きました。オーダーメイドのメディカルシューズ専門店です。

這是老闆ROSSI先生,他正在跟我們介紹他們製作的各種矯正鞋。

This is Mr. ROSSI, owner of RINALDI. He was introducing their shoes for different medical treatment.

オーナーのロッシ先生。色々な足の問題に合わせた靴の説明をしてくださいました。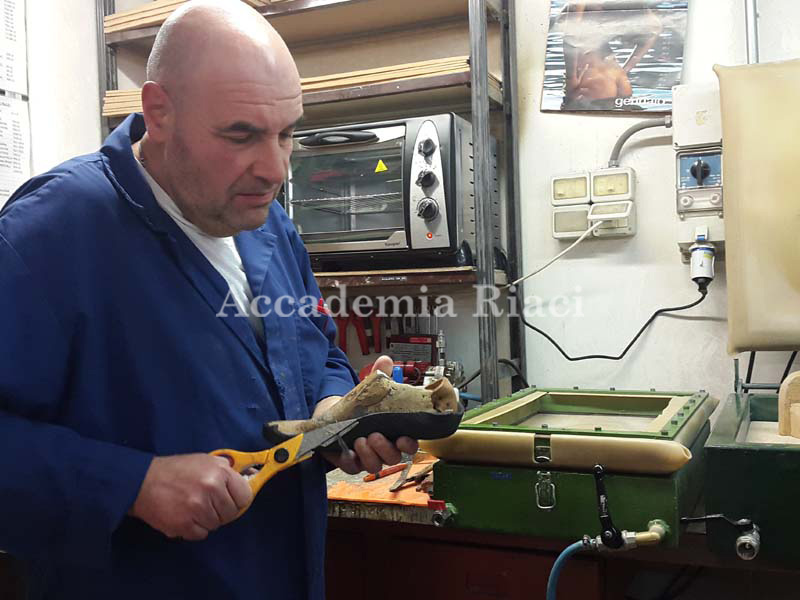 過了一會,他帶我們參觀他裡面的工廠,小小的店門,沒想到裡面隱藏著工廠,我跟MASAMI都驚呼這家店的厲害。圖片裡師傅正在製作特殊的鞋墊。

Inside the store, there was a little factory for making shoes and insole. photo shot when artisan was making insole.

店内に小さな靴工房がありました。写真は中底を作っている職人。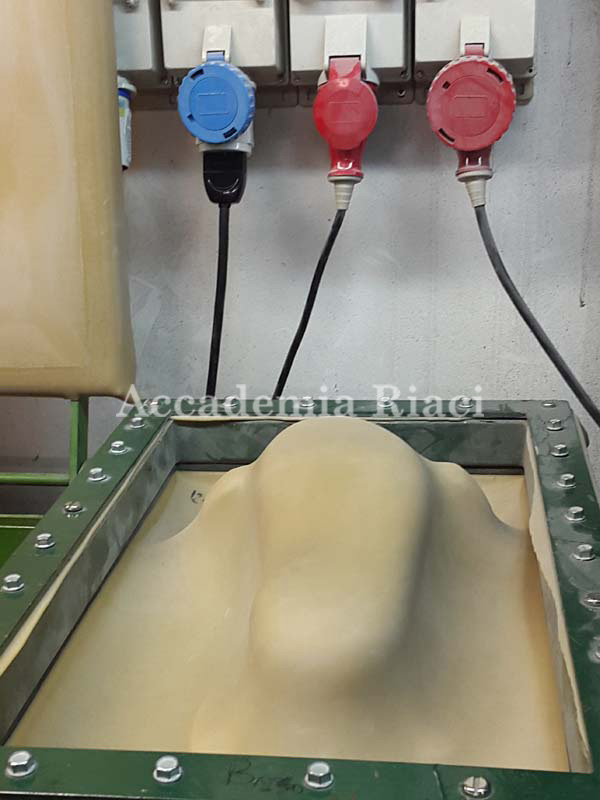 製作矯正鞋墊用的真空機。只要用烤箱將中底料烤軟,再將模型及鞋墊放入這台機器,就能製作出客製鞋墊,太神奇了!

There was a vaccum machine for making insole. The step for making customize insole was really amazing, with only oven and vaccum machine they could help someone who have medical problem.

中底制作用の真空成型機でオーダーメイドの中底が作られる過程が見事でした。オーブンとこの機械だけで人々の靴の悩みが解決できるなんて素晴らしい!

掃描足底壓力的特殊機器。用這台機器我們就能知道客人腳踩在地上時的輪廓,老闆說著。期待能從老闆身上學習到更多的知識。這個禮拜的報告到此結束,我們下週見囉!

There was a special machine for scanning foot pressure. With this machine, we can know the outline of your foot. We learned a lot only one day, next class will in February. This is weekly report, see you next week!

足裏の圧力分布をスキャンできる機械です。これで足裏の輪郭が取れます。たった1日で多くのことを学べました。次回は2月になります。
今日のレポートはここまで、また来週!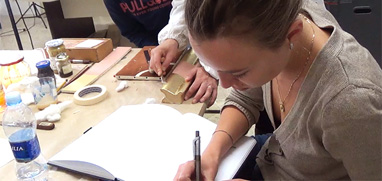 At Accademia Riaci, we are recruiting Course Reporters from our students. The students who are chosen to become Course Reporters are given 10 % of the tuition as their scholarship fee.
The Reporters who have submitted excellent reports will have his or her profile posted on our school website for the next 5 years as an alumnae and will be able to connect with their business chancesafter their graduation.