Accademia Riaci
Student Reports
Read all class reports from our students!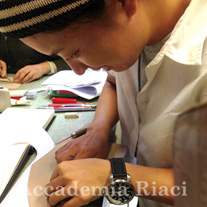 Reporter
Masami ISHIZUKA
Nationality: Japan
Course: Shoe Making
Program: Master Course
Period: Sept. 5,2016-Apr. 28,2017
日本では10年間ほど靴づくりとは関係のないお仕事をしていましたが、趣味としてずっと好きで続けていたのが革細工でした。休日には財布など小物をコツコツ作る毎日でした。そしてそこから派生して、この2年間は神戸にある靴学校に毎週通いました。自分が考えたものが形になっていくことが面白くて、休日は疲れていても靴作りが楽しくて仕方がありませんでした。とても時間がかかる作業ですが、出来上がりだけでなく、出来上がっていく様子がなんとも言えません。
一年ほど前から、思い切ってお仕事を辞め、本場イタリア・フィレンツェに革靴づくりを学びに行くことを決めました。今年の5月より4ヶ月間、語学学校でお世話になりイタリア語で何とか授業を受け始めました。まだまだ分からない事だらけですが、楽しみながら頑張りたいと思っています。

I worked in Japan for about 10 years but my former job had nothing to do with shoe making. I simply liked leather working as a hobby. I used to make small items such as leather wallets on my days off. For this past 2 years, I studied every week at a shoe making school in Kobe, Japan. I totally enjoyed the process of how my idea became actual shoes, so I kept making shoes on weekends even though I was tired from my weekday's work. It takes a long time to make 1 pair of shoes, but I just love the shoe making process itself.
I quit my job 1 year ago and decided to come to Florence to study shoe making. I took Italian lessons for 4 months from this May, and I am now taking shoe making lessons in Italian. There is so much I need to learn now, but I hope to enjoy this learning experience.
Jan. 24, 2017 | Posted in Reports, Shoemaking , Student Reporter | Tags:Masami Ishizuka, ShoemakingReporter: Masami ISHIZUKA | Course: Shoemaking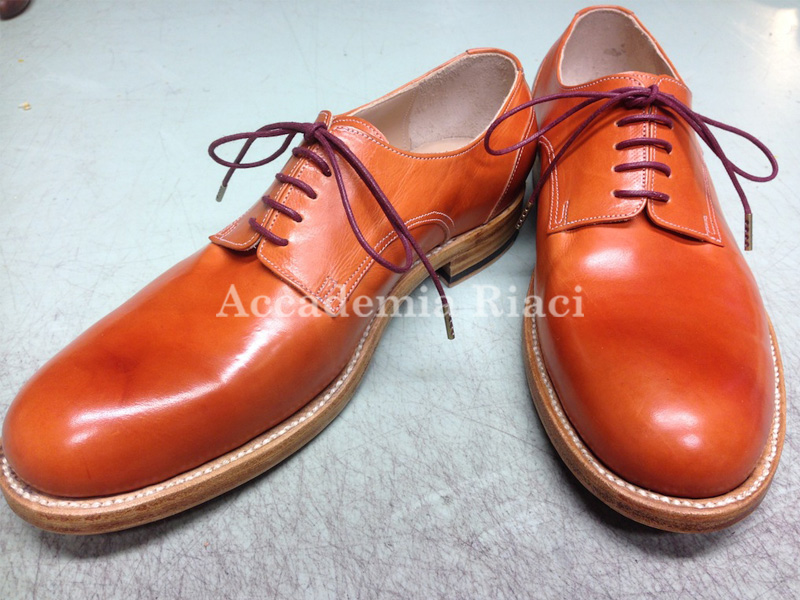 2ヶ月かかってようやく出来上がりました!!グッドイヤー製法の靴の完成です。細かなキズはまだまだ気になりますが、やはり仕上がりを見ると感動です。

After 2 months of working on them, my Goodyear shoes are finally done! I don't like little scratches here and there, but I'm really impressed to see the finished shoes!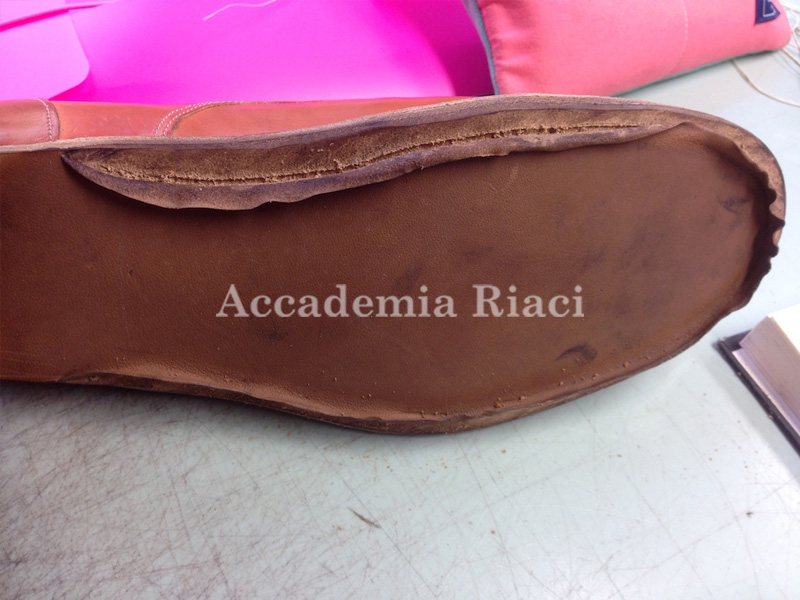 仕上げの最後として、靴の周りを縫います。その時に縫い目が見えなくなる様に、このように本底に切れ目を入れて縫います。

To complete my work, I had to sew around the shoes. We cut a break on the back of shoe soles so these stiches become invisible.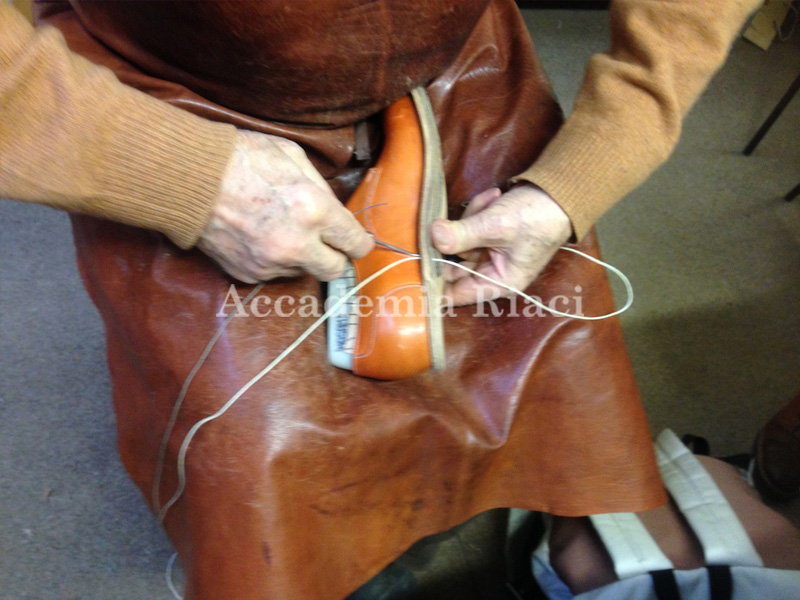 アンジェロ先生にお手本で縫ってもらいます。ここは見える縫い目になるため、見た目にもよく注意が必要です。

Prof. Angelo showing us his stitching. Stitches here will remain visible, so they need to look beautiful.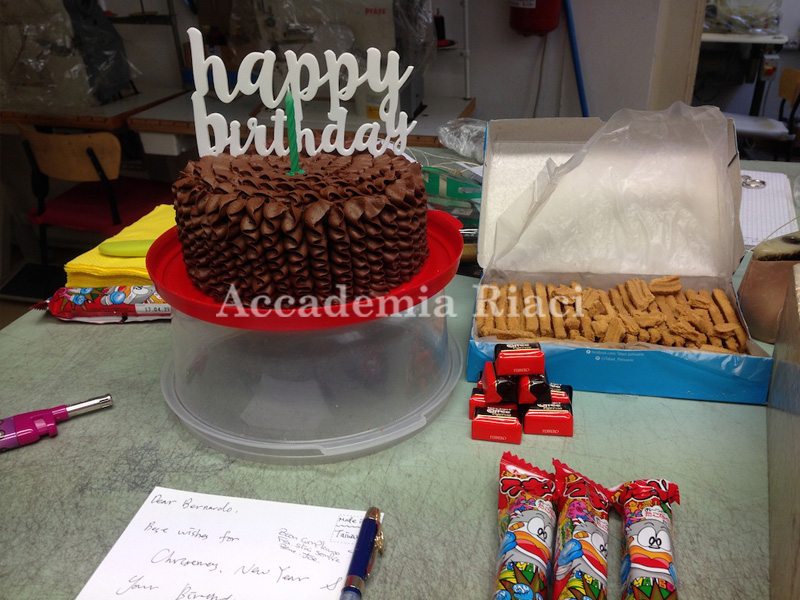 アシスタントのイタリア人男性が誕生日ということで、みんな持ち寄ったお土産やケーキでお祝いしました。やはり靴コースのパテシエ、Joさんのケーキは絶品です。

We celebrated the Shoe class assistant's birthday with a potluck party. Our patissier, Jo, made the best cake again!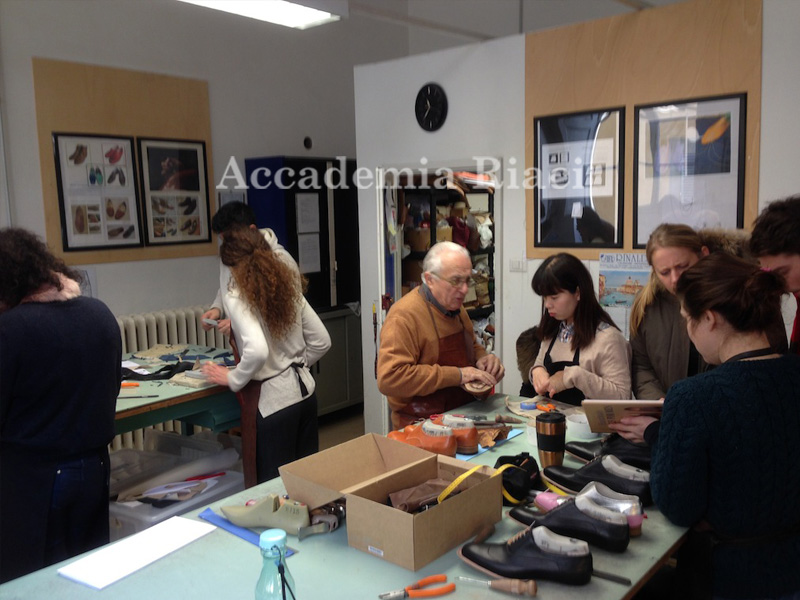 1月から新しい生徒の皆さんも加わり、一層にぎやかになりました!!みんな聞きたい事だらけなので、アンジェロ先生は大忙しです。

The class now has new students just started this month, so it is very hectic and lively. Everyone has loads of questions, so Prof. Angelo is super busy!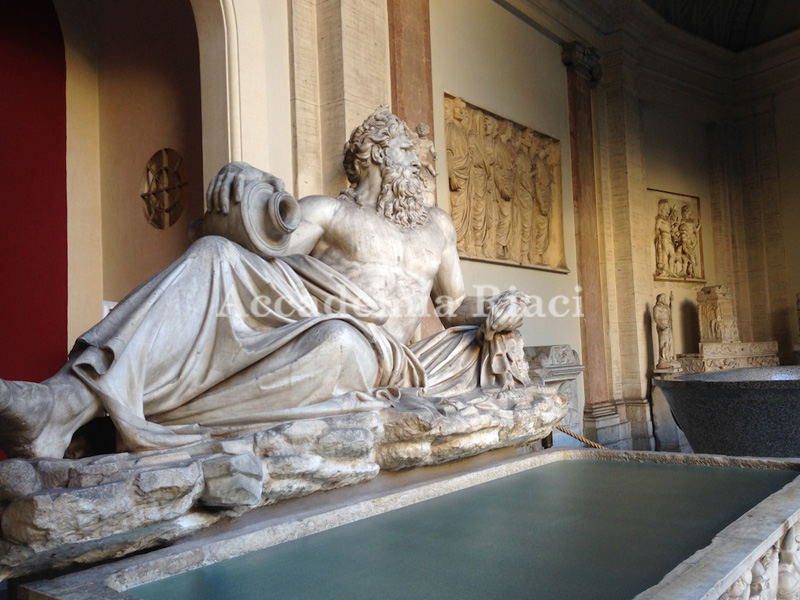 冬休みの思い出から一部ご紹介します。友人とローマに行きました.今回はクリスマス前ということもあり、とても混雑していましたが、ヴァチカン市国になんとか行けました。

I went to Rome with my friend during winter vacation. It was really crowded because it was just before the Christmas, but we somehow managed to visit the Vatican City.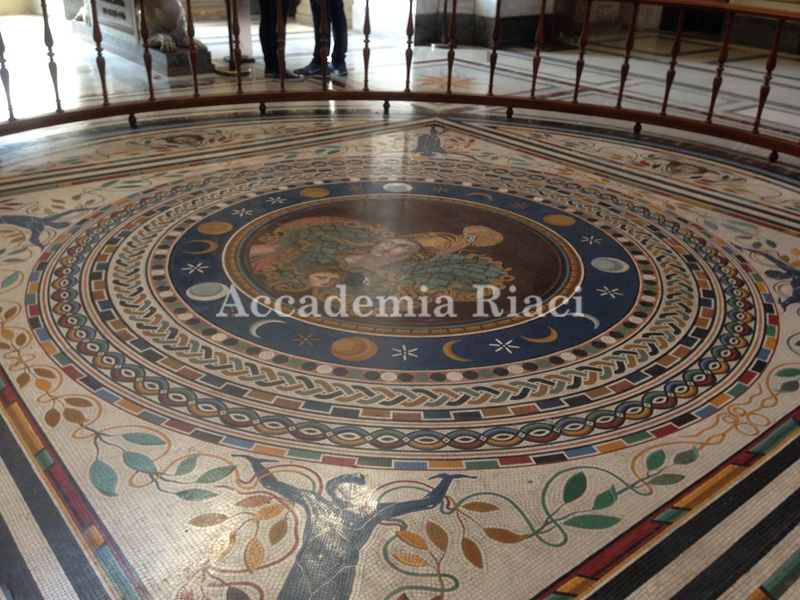 一つ一つの建物だけでなく、床や天井に至る全てが凝っています。いくらでも時間が過ぎてしまいそうです。

Other than buildings themselves, floor and ceiling also had precise artworks.

古代ローマ帝国ということで、無数の歴史的彫刻がありました。こちらはエジプトにゆかりがあったのか???理解するのも大変ですが、とにかく圧巻です。

There were so many sculptures from the ancient Roman Empire time exhibited. This one on the picture had something to do with Egypt, maybe? It's hard to understand what's exhibited, but I found them overwhelming.

こちらは絵なのですが、キャンバスに描かれたものではなく、巨大な布(織り物)です。

This is a drawing on a huge piece of textile, not on a canvas.

地図の間と呼ばれる長い回廊です。100メートルほどの廊下いっぱいに、当時描かれた地図が飾られています。個人的にはここが一番気に入りました。

This is around one hundred meters long hallway called the Hall of Geographical Maps. This place is full of old maps from a long ago. I personally like this place the best.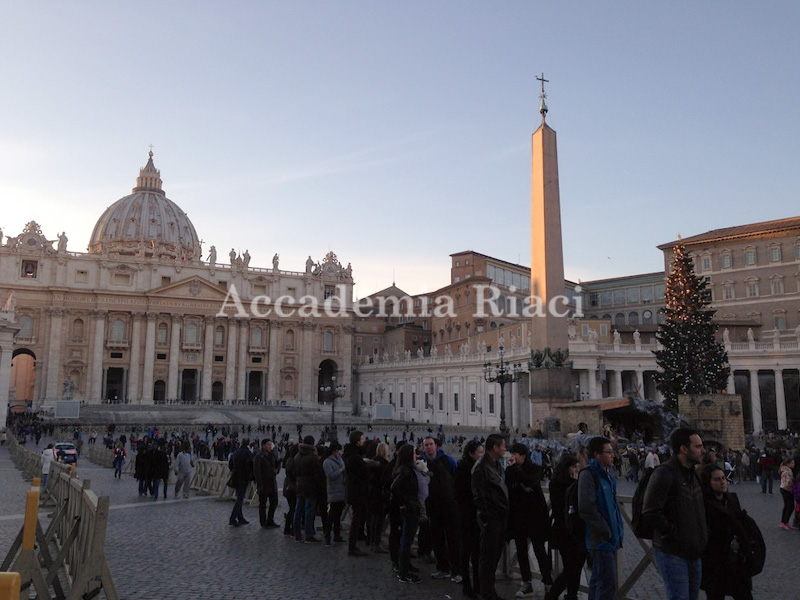 夕方のヴァチカン広場です。クリスマス前という事で、教会の前には長蛇の列が見られました。広場中央にはクリスマスの飾りがあります。キリスト教の方からすればメッカなんだと改めて感じました。

This is the Vatican Plaza in the early evening. Because it was just before Christmas, there were many people queuing up in front of the church. There is a Christmas tree in the middle of the Plaza. I could understand that this place indeed is Mecca for Christian people.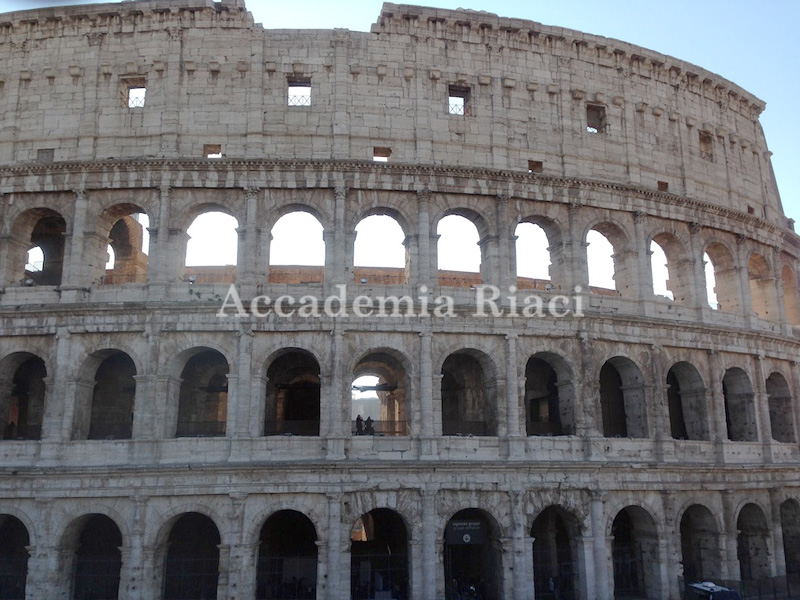 翌日はコロッセオに行きました。正面から見たコロッセオはとてつもない迫力でした。

We visited the Colosseum the next day. The front view was really stunning.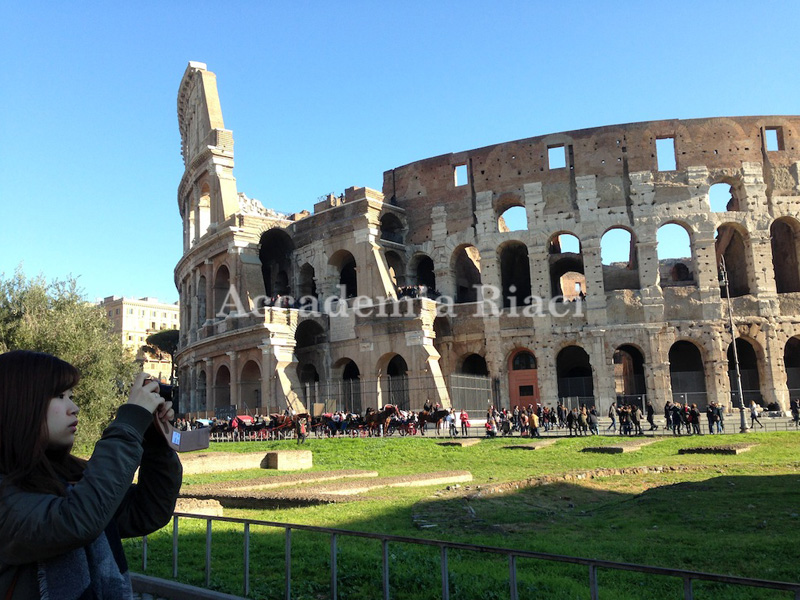 反対側から見たコロッセオです。一部は崩れてしまっていますが、そこが逆に趣があります。
ローマは、ルネッサンスのフィレンツェとはまた全然違う街でした。

And this is the back view of the Colosseum. It's partially ruined, but that adds a nice flavor to this structure. Rome was totally different from Florence, the city of Renaissance.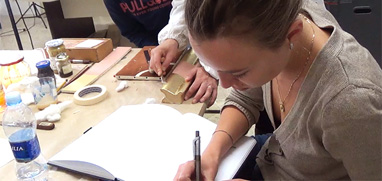 At Accademia Riaci, we are recruiting Course Reporters from our students. The students who are chosen to become Course Reporters are given 10 % of the tuition as their scholarship fee.
The Reporters who have submitted excellent reports will have his or her profile posted on our school website for the next 5 years as an alumnae and will be able to connect with their business chancesafter their graduation.