Accademia Riaci
Student Reports
Read all class reports from our students!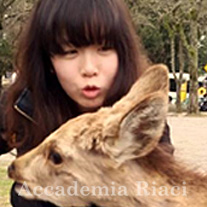 Reporter
Li SHIAU-TING
Nationality: Taiwan
Course: Shoe Making
Program: Atelier Course
Period: Sep. 4, 2017 – Apr. 27, 2018
Shiau-Ting, Li. Shoes designer from Taiwan.
After working in Taiwanese footwear industry for three and a half years, she came to Firenze to study shoes making course, the city which is famous for leather art and shoes.
Although she already has basic aesthetics and sketching technique background from university (B.A.), yet she hopes to extend her shoe-making skills here in Riaci. She believes designer can deliver their thoughts through their works, hoping to keep motivate people with her designs.

李曉婷,來自台灣的鞋類設計師。
在台灣鞋產業工作三年半之後,她決定到皮革之都-佛羅倫斯,學習製鞋技術。
大學主修產品工藝,擁有美學背景、好的品味及繪畫基礎。即便如此,仍期望到莉雅琪延伸自己在實作上的經驗。她相信,設計師能夠透過設計表達想法,希望能持續用創作感動身邊的人。

台湾の靴業界で靴デザイナーとして3年半経験を積んだ後、さらに学びを深めようと革工芸と靴で有名なここフィレンツェへやって来ました。
基本的な審美眼とスケッチ技術は大学(文学士号取得)で学んでいましたが、さらに靴制作の技術を磨くためにリアチ入学を決めました。「デザイナーの想いは、デザインを通して人々に届く」ことを信じ、自分のデザインで人々の心を動かしたいと願っています。
Jan. 26, 2017 | Posted in Reports, Shoemaking , Student Reporter | Tags:Li Shiau-Ting, ShoemakingReporter: Li SHIAU-TING | Course: Shoemaking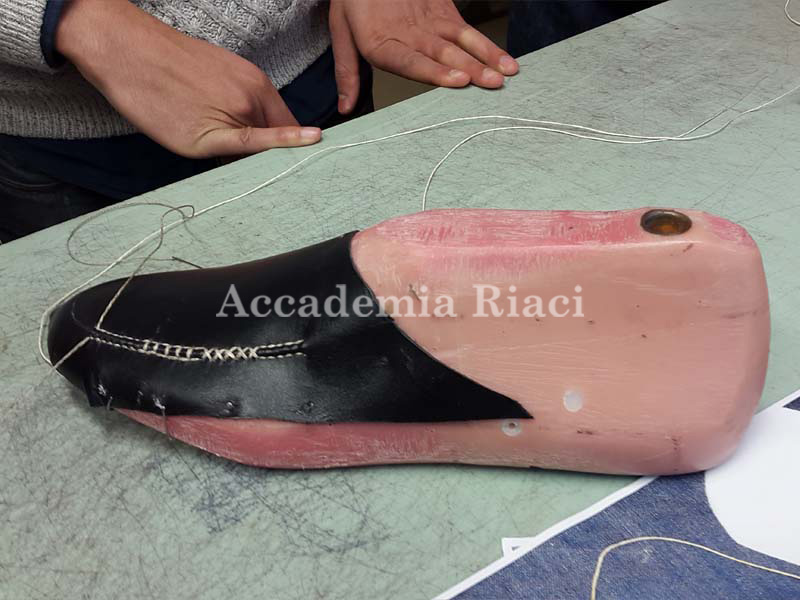 我們繼續下學期的課程,第一堂課我們學製作捏線,以及手縫技巧。上學期完成鞋子的攀幫過程,接著的步驟需將中底與沿條縫起,因此線的製作與手縫的方式很重要,這將影響之後鞋子的牢固度。我們從莫卡辛的裝飾線開始練習起,Angelo說固特異的手縫方式跟莫卡辛的手縫裝飾有一曲同工之妙。圖片是練習用的莫卡辛縫製。

We keep going our course for second semester. At first class, we learned how to make a proper thread as well as technique for welting. First semester, we completed the process of lasting, now we combined welts with insole. Hand stitching for moccasin was really similar to Goodyear welted, so we practiced from moccasin.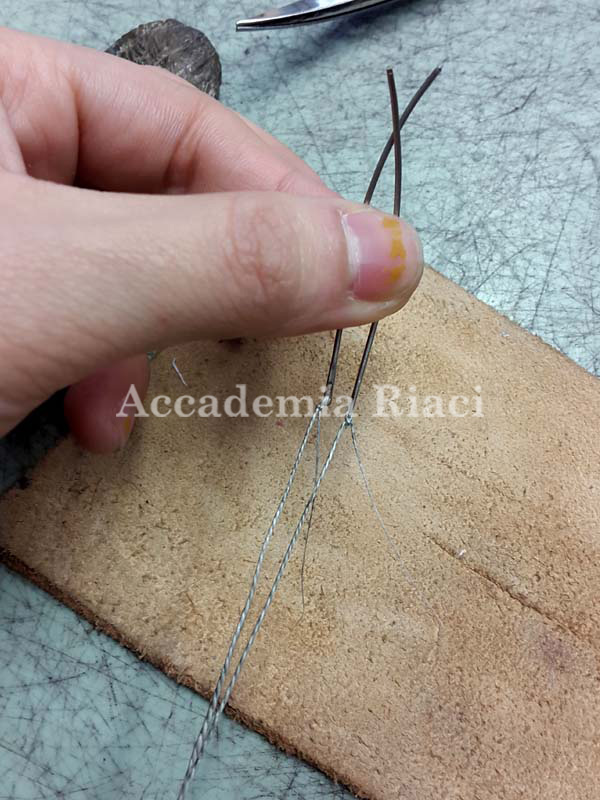 縫莫卡辛使用的針,買來的針需過火軟化及鎚子敲打呈現彎曲狀。

First, the nail for sewing moccasin should be heated and hammered to curve.

我們的助教Bernardo正在教我莫卡辛的縫製細節。「縫製時的手勢,左手在線的內圈,右手在線的外圈。」他說著。

Our assistant Bernardo was helping me with my moccasin hand stitching practice. When stitching moccasin, the position for left hand should always inside the line, on the other hand, right hand should be outside, he said.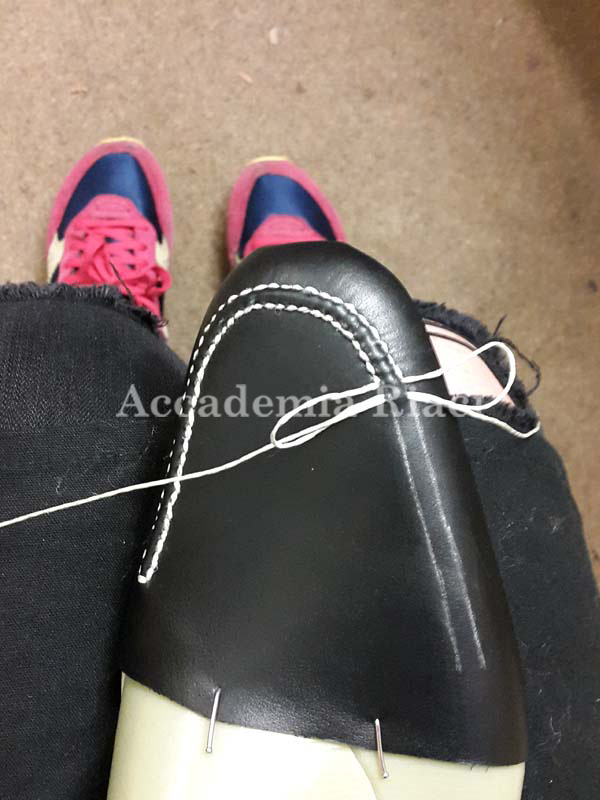 我其實滿享受這個過程,第一次練習也滿上手的,完成後獲得Angelo大大的肯定,心情大好!

To be honest, I really enjoy the process for stitching. Also, I am so happy that prof. Angelo said "BENISSIMO" when I showed him my work.

圖片是我們另一位助教Masa,他正在幫我們分配手縫線使用的樹臘。使用的方法是用高溫融化,接著倒入光滑的紙。

In this picture, our assistant Masa was helping us divided the wax, which was to strengthen threads for Goodyear welted.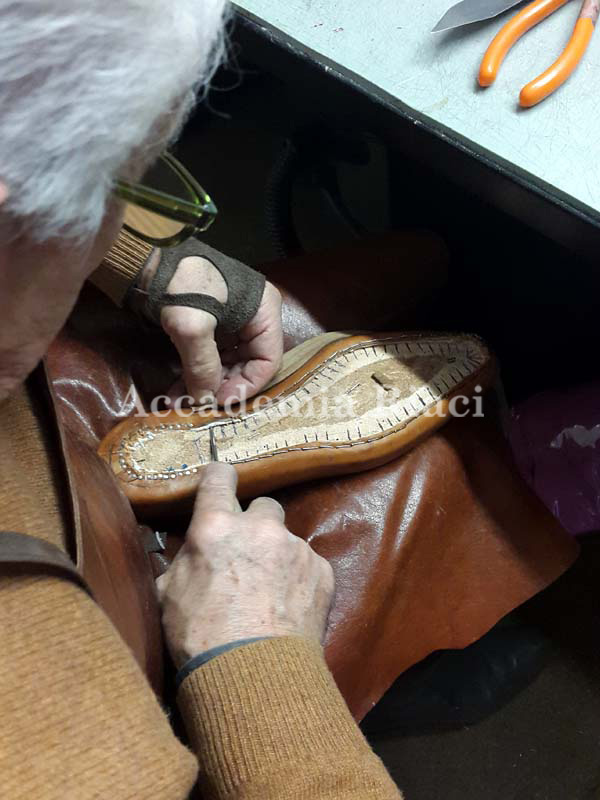 這禮拜開始固特異的重頭戲,實在太太太興奮了! Angelo正在教我們如何將沿條與中底縫起,這考驗著手的細膩度、錐子刺進的皮料的角度、線製作的好壞,每個細節都會影響著一雙鞋的成形。

In the middle of this week, we began to hand stitching our Goodyear shoes. How exciting! In this picture, Prof. Angelo was demonstrating how to stitch welted with insole. While hand stitching, every details need to be focused: the angel for the hole, the quality of your thread…it will affect the shoe when you finished.

沿條縫好後,要用鴨嘴鉗將沿條的皮料打開。之後會在下層黏上大底皮,因此沿條盡量要與大底平行才行。

After finishing hand stitching, the leather needed to be opened by pliers. Another layer will be glued beneath insole, for this reason, the welt should be parallel.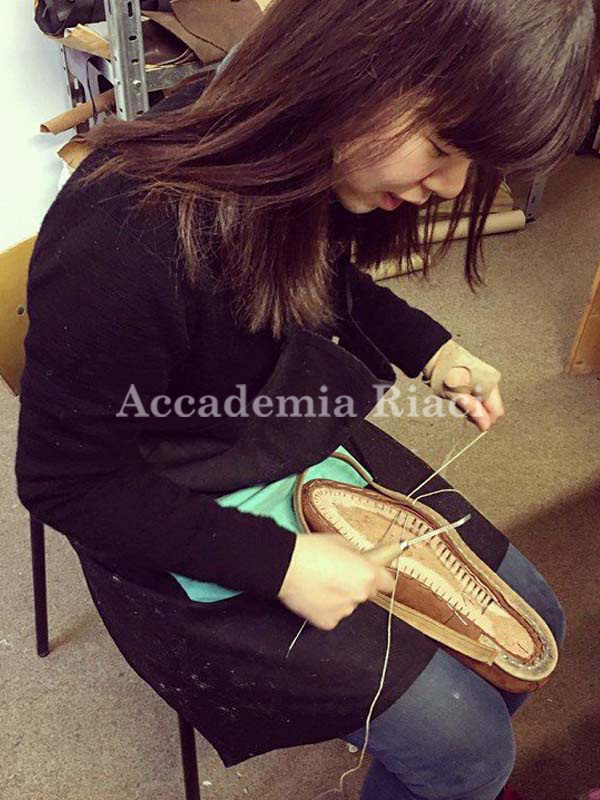 縫製固特異內線的方法是從內腰接合處開始縫起,分界點約落在鞋跟的地方,原因是為了讓不完美的瑕疵留在內側,讓外側保持完整。後跟處用10號的釘子釘起後,接著手縫。圖片是我,第一次手縫固特異帶著興奮又有點複雜,不可置信地我居然真的在縫固特異,這個我在前公司完整企劃後,卻沒有工廠可以完成的計劃,而我,正在用我的雙手實踐著…

The hand stitching should start from internal where welt was being divided. The reason why for that was, to keep external side of completeness. We hammering 10mm long nails into the heel part, after that, we start hand stitching. Photo shot when I was sewing my Goodyear shoes. I felt quite emotional when I seeing this picture. Can't believe I'm doing this right now, a project I arranged for my ex-company but no factory could make it one year ago. Now, I really glad that, with my own hand, I put this into action.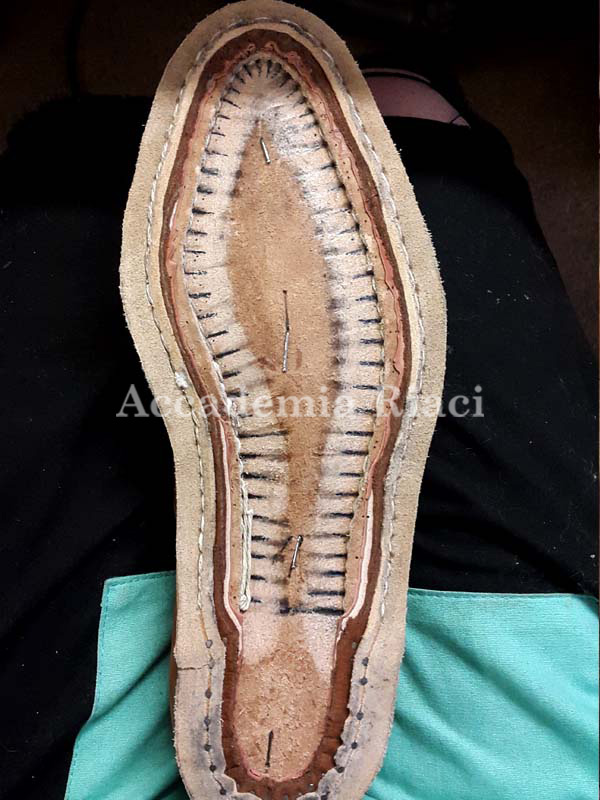 縫好、壓平、割掉中底處多餘的皮料,完成。

Stitching welted, flatten it, cutting leather and then I finished.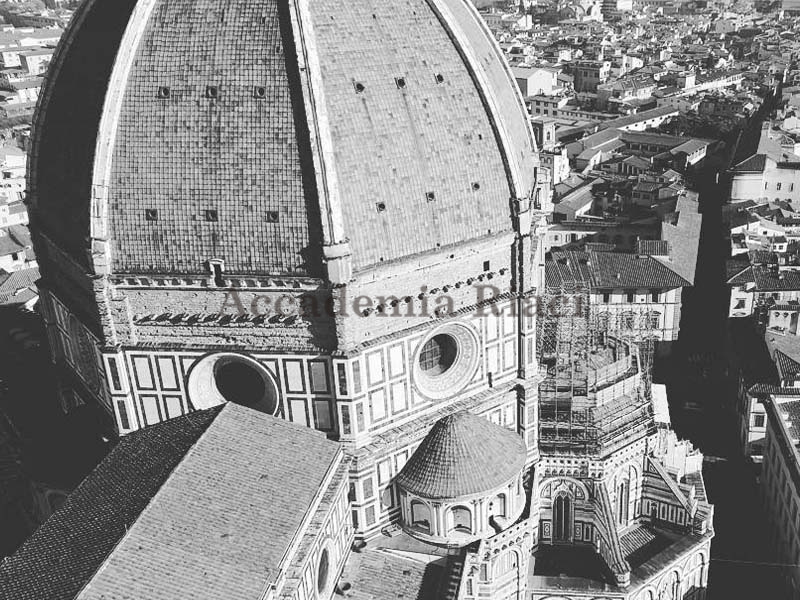 爬上喬托鐘樓,鳥瞰佛羅倫斯城,過了半年仍然驚嘆這個城市的美麗。高處的微風吹過我的髮絲。「未來會更好的吧」-我這樣想著。

When climbing up to the Catterdrale di Santa Maria del Fiore, whole Firenze city was down there, beautifully and spectacularly. The wind blowing my hair when I standing on the top of building, slightly and softly. There will be an amazing future…I believe with all my heart, I told myself.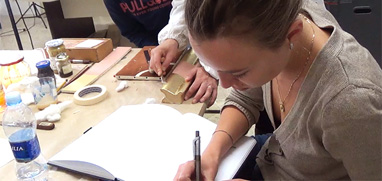 At Accademia Riaci, we are recruiting Course Reporters from our students. The students who are chosen to become Course Reporters are given 10 % of the tuition as their scholarship fee.
The Reporters who have submitted excellent reports will have his or her profile posted on our school website for the next 5 years as an alumnae and will be able to connect with their business chancesafter their graduation.