Accademia Riaci
Student Reports
Read all class reports from our students!
Reporter
Lara Blevi
Nationality: South-African
Course: Shoe Making
Program: One-Year Atelier Course
Period: Sept 5, 2016-April 25, 2017
After Studying a BA degree in Fashion Design in South Africa, Lara decided that she would love to study further and focus on a specific direction in the fashion industry. During her studies, she followed an internship at a company where she was taught how to make and design handbags out of leather and exotic leather skins.

She knew instantly that she would love to study further and learn more about shoes and decided to come to Firenze, Italy, the most famous city to learn more of leather art and shoes! She found Accademia Riaci and knew that the shoe making course that they had to offer was exactly was she was looking for.

Here she wishes to learn the highest level of shoe making techniques and to be able to follow her dream to become a designer with the knowledge of not only fashion, but also the art of shoe and handbag design.

南アフリカでファッションデザインの文学士号を取得後、ファッション業界で目指す方向を定めるためにもっと学びを深めたいと思いました。企業インターンを経験した際には、外国製の皮革を使用したカバン制作とデザインを学びました。

すぐに靴制作を学びたいと思うようになり、靴制作や革工芸を学べる世界で最も有名な都市・フィレンツェ行きを決意。検討の結果、自分が探し求めていた内容の靴制作コースを提供するアカデミアリアチへの入学を決めました。

ここで最高レベルの靴制作技術を身につけ、ファッションのみならず靴やカバンの知識も兼ね備えたデザイナーになることが夢です。
Jan. 23, 2017 | Posted in Reports, Shoemaking , Student Reporter | Tags:Lara Blevi, ShoemakingReporter: Lara Blevi | Course: Shoemaking
On the Monday of the 19th of December I left Florence to travel back home for the holidays. It was so great to be back to South Africa and to see my family and friends again, and of course, the great summer weather that I missed so much!

I spent Christmas with my family and family friends on their wine farm. It was the perfect day surrounded with the best people and best weather. We drove up to the hills of he farm to see the sunset and have some sundowners.

A few days after Christmas my boyfriend and me travelled up the east coast to visit my best friend who has a place in Aniston, a stunning little town next to the coast of the Indian Ocean. We spent a few days there as well as New Years Eve. It was such an amazing few days as I have so many memories there and being by the see and its beautiful nature calms my soul so incredibly.

While in Aniston we also travelled to a town next to the see called Cape Agulhas. This is the most southern point of Africa and where the two oceans, the Atlantic and the Indian Ocean, meet. This is quite a place spectacular to be.

For the rest of the holiday I spent a lot of time with my family and friends and it was very sad to say goodbye when I had to leave again back to Florence on the 15th of Jan. Even though it was sad leaving, I am just as excited to be back in Florence and to continue my course.

12月19日の月曜日、冬休みを地元で過ごすためにフィレンツェを出発。南アフリカでの家族と友達との再会はとても楽しく、大好きな夏の気候も満喫しました。

クリスマスは家族ぐるみで交流のある友人のワイナリーで家族と一緒に過ごしました。素敵な友人といいお天気に恵まれ、最高の1日になりました。丘を車で登り、みんなで美しい夕焼けを堪能しました。

クリスマスの数日後、ボーイフレンドと一緒に東の海岸沿いをドライブし、アニストンにいる私の親友に会いに行きました。アニストンはインド洋に面した海岸の隣にある、小さくも美しい街です。私たちはたくさんの思い出が詰まったその街で、大晦日までの数日を美しい海と自然に癒されながら過ごしました。

アニストンに滞在中、私たちは隣町にあるアガラス岬を訪れました。アフリカ最南端のこの場所は、大西洋とインド洋が交わる壮大なポイントです。

残りの冬休みのほとんどは家族や友達と過ごしました。なので、1月15日にまたフィレンツェに戻る日はとても寂しかったです。でもその後ろ髪を引かれる気持ちと同じくらい、フィレンツェで靴制作に戻りたい気持ちが強かった私です。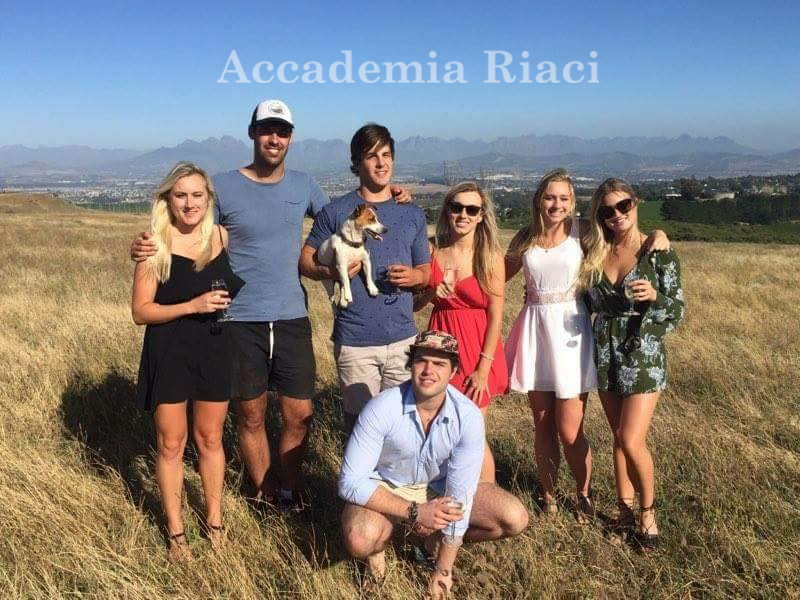 On the beautiful hills of Altydgedagcht wine estate where we spend Christmas day with our Belgian family friends.

美しいAltydgedagchtのワイン農園で。ここで友人のベルギー人一家とクリスマスを過ごしました。

While I was in Florence last year my mom finally opened her gorgeous little art gallery on Muratie Wine Estate nearby Stellenbosch. She specializes in exhibiting talented and well-known South-African and African artists. My boyfriend and I went to visit her during the week and also had lunch at the rustic and vintage restaurant on the wine estate.

私がフィレンツェで勉強している間に母が念願だった小さなアートギャラリーを、ステレンボッシュにほど近いムラティエのワイン農園にオープンしました。著名で才能豊かな南アフリカの芸術家の作品を主に展示しています。今週、ボーイフレンドと一緒にそのギャラリーを訪ねたついでに、その農園にあった素朴で年代を感じさせるレストランでランチをいただきました。

During the summers in South Africa there are so many outdoor festivals and parties. We attended one of my favorite ones called Sexy Groovy Love on the stunning Rheebokskloof Wine Estate. The festival is always so beautifully decorated and the music is fantastic.

南アフリカの夏は屋外でのお祭りやパーティーが盛んです。美しいリーボックスクリーフで行われたSexy Groovy Loveという私のお気に入りのお祭りに参加しました。このお祭りの装飾と音楽はいつも最高です。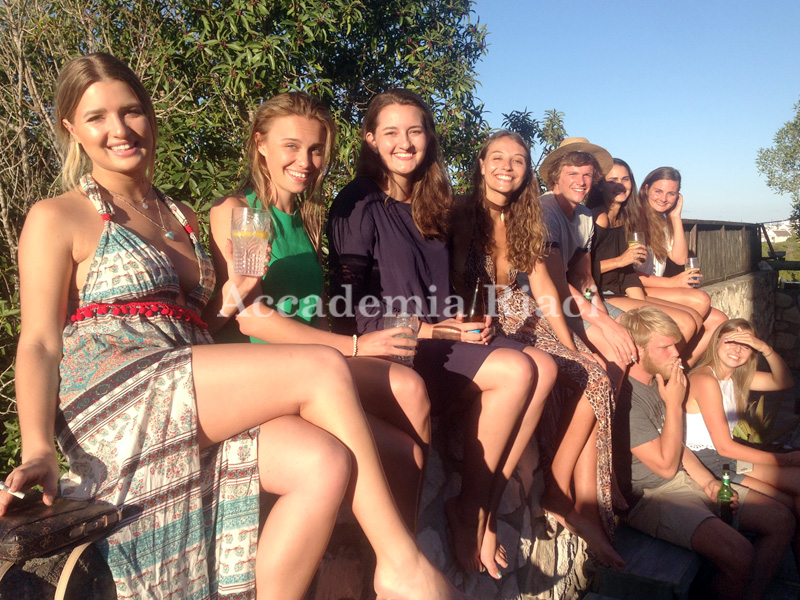 On the last day of the year in Aniston with all my best friends. It was such a perfect day with the most majestic sunset. After sunset and dinner we all headed to the beach where everyone comes together to watch the fireworks and celebrate the New Year together.

大晦日のアニストンにて、私の親友たちとの1枚。夕焼けを見るには最高のお天気でした。夕焼けと夕食を楽しんだ後はビーチに向かい、新年を祝う花火を観に集まった大勢の人たちと一緒にお祝いをしました。

With my gorgeous best friend on her deck in Aniston with the sand dunes in the background.

アニストンに住む美しい親友と。後ろに砂丘が見えます。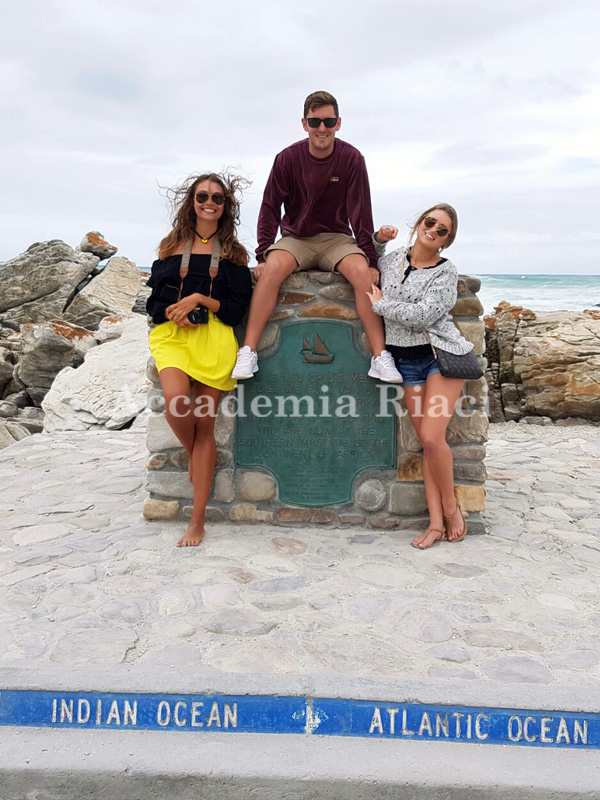 This photo is taken on the most southern point of Africa at Cape Agulhas. Afterwards we also visited the lighthouse and then had the tastiest seafood at a restaurant on the beach nearby.

アフリカ最南端のアガラス岬にて。この後、灯台を見てから近くのビーチにある美味しいレストランでシーフードを堪能しました。

Me, my brother, my best friend and my brother's friend on our way to Blue Peter, one of my favorite restaurants on the see of Bloubergstrand, close to my house. They have the best pizzas and live music.

弟、私の親友、そして弟の友人とブルーピーターという大好きなレストランへ行きました。私の家から近く、最高のピザと音楽が楽しめます。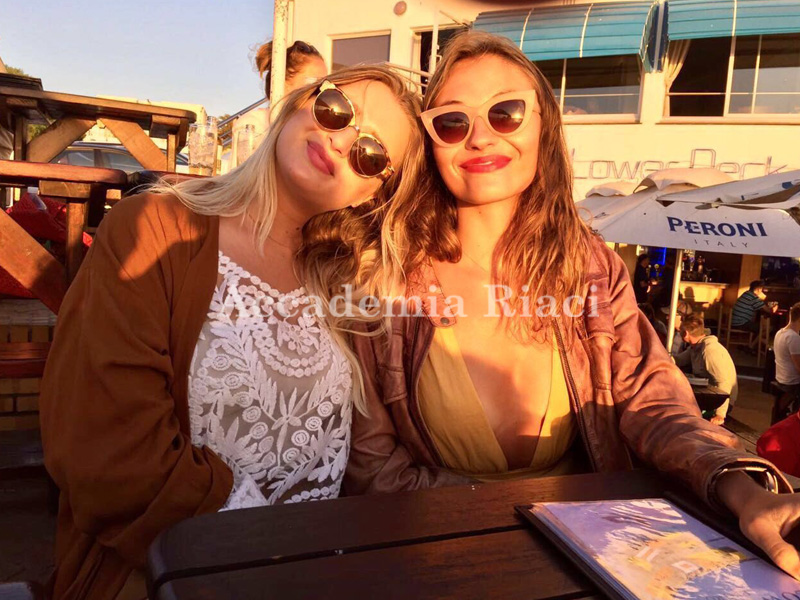 At Blue Peter restaurant watching the sunset.

ブルーピーターで夕焼けを眺めながら。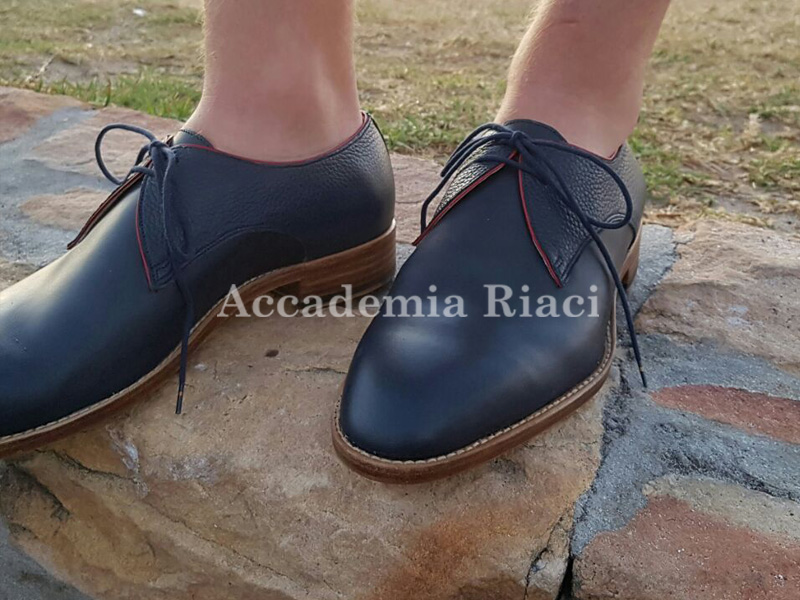 My boyfriend wearing the shoes I made him for Christmas.

私がクリスマスプレゼントとして作った靴を履いているボーイフレンド。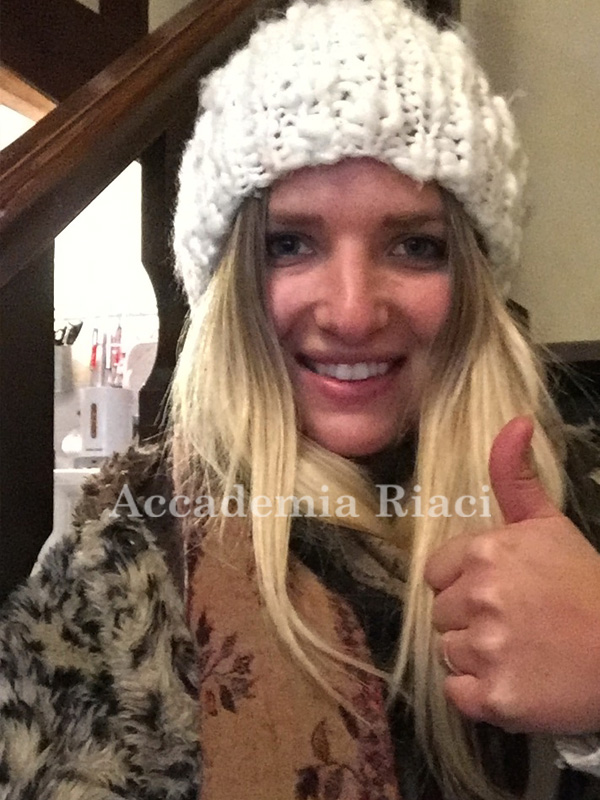 Back in Florence and still getting used to the cold!

フィレンツェ、ただいま!中々寒さに慣れません。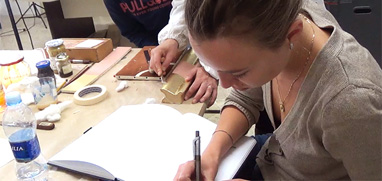 At Accademia Riaci, we are recruiting Course Reporters from our students. The students who are chosen to become Course Reporters are given 10 % of the tuition as their scholarship fee.
The Reporters who have submitted excellent reports will have his or her profile posted on our school website for the next 5 years as an alumnae and will be able to connect with their business chancesafter their graduation.