Accademia Riaci
Student Reports
Read all class reports from our students!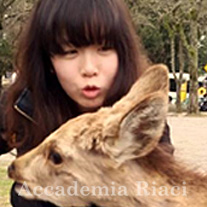 Reporter
Li SHIAU-TING
Nationality: Taiwan
Course: Shoe Making
Program: Atelier Course
Period: Sep. 4, 2017 – Apr. 27, 2018
Shiau-Ting, Li. Shoes designer from Taiwan.
After working in Taiwanese footwear industry for three and a half years, she came to Firenze to study shoes making course, the city which is famous for leather art and shoes.
Although she already has basic aesthetics and sketching technique background from university (B.A.), yet she hopes to extend her shoe-making skills here in Riaci. She believes designer can deliver their thoughts through their works, hoping to keep motivate people with her designs.

李曉婷,來自台灣的鞋類設計師。
在台灣鞋產業工作三年半之後,她決定到皮革之都-佛羅倫斯,學習製鞋技術。
大學主修產品工藝,擁有美學背景、好的品味及繪畫基礎。即便如此,仍期望到莉雅琪延伸自己在實作上的經驗。她相信,設計師能夠透過設計表達想法,希望能持續用創作感動身邊的人。

台湾の靴業界で靴デザイナーとして3年半経験を積んだ後、さらに学びを深めようと革工芸と靴で有名なここフィレンツェへやって来ました。
基本的な審美眼とスケッチ技術は大学(文学士号取得)で学んでいましたが、さらに靴制作の技術を磨くためにリアチ入学を決めました。「デザイナーの想いは、デザインを通して人々に届く」ことを信じ、自分のデザインで人々の心を動かしたいと願っています。
Dec. 15, 2016 | Posted in Reports, Shoemaking , Student Reporter | Tags:Li Shiau-Ting, ShoemakingReporter: Li SHIAU-TING | Course: Shoemaking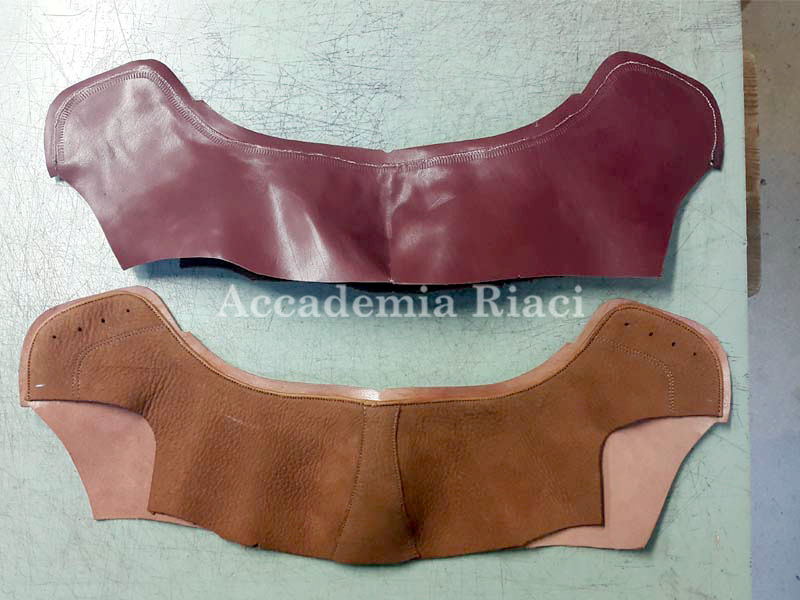 這禮拜我們完成了鞋面,並開始製作中底,於是,我們又進入新的篇章-固特異工法。所謂固特異工法是一種將中底、沿條縫起後,在將大底縫起的一種古老製鞋法,在許多高端的紳士鞋品牌可以看到此種作法,是一種手工成分十分高的技術。
星期一,我繼續將已經車好的鞋面上膠與內裡貼在一起,上面留下要攀幫用的8mm,以及後續會修掉的4mm。接著就能沿著滾條車起來了。

This week, we finished upper and start making insole. At this moment, we entering another new chapter which was Goodyear shoe construction. Goodyear shoe construction is a kind of hand welted that first stitching insole with welt, after that, with outsole.
On Monday, I kept working with my upper. Now, I could glue my upper with lining and then stitching it along folding part.

今週はアッパー部分を終えてグッドイヤー製法の次のステップである中底の作成を始めました。完成した中底とウエルトを一緒に手縫いしたら、その後本底を縫い付けます。 月曜はずっとアッパーを作っていました。アッパーをライニング(裏張り)に貼り付けたら折り返し部分を縫っていきます。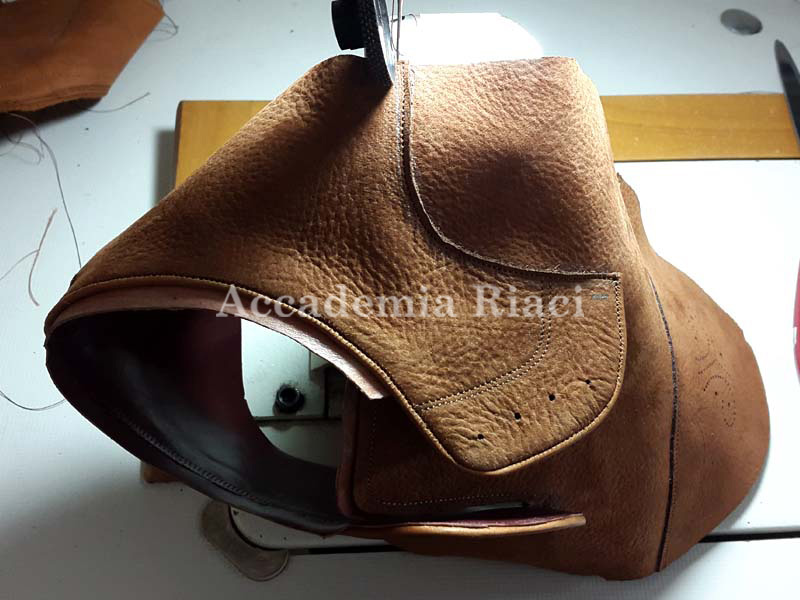 德比鞋在結合鞋面時的步驟較為複雜,在處理完鞋口後,先是將前後片的鞋面結合車起。

The structure for derby shoe is more complicated compare to oxford shoe. After finishing folding, first, stitching back part and toe part of upper together.

ダービー(外羽接着)製法の靴の構造はオックスフォード製法のものよりもっと複雑です。折り返したら後ろ側とつま先のアッパーを縫い付けます。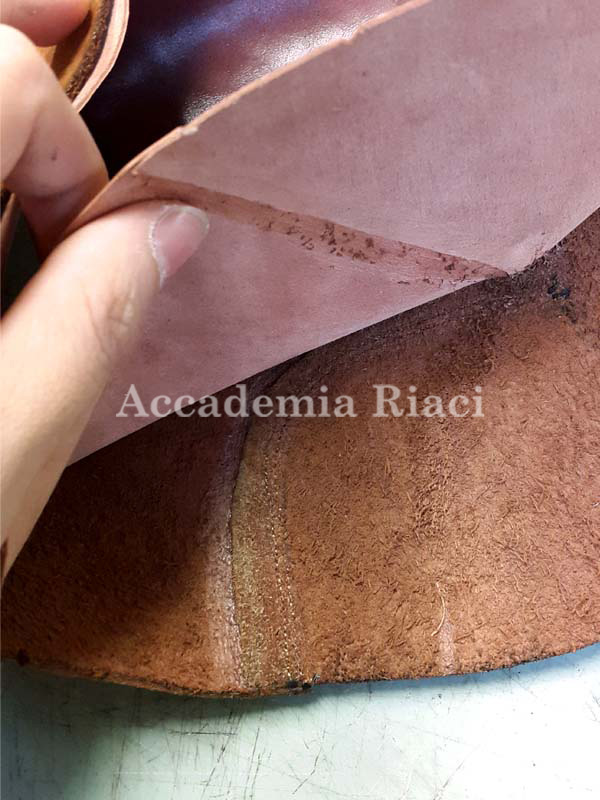 車好後,在單獨把前後片的內裏車起結合。最後的步驟才是將鞋面、內裏車出一個ㄇ字型,也就是所謂的鎖口處(FERMATURA)。

Second, joined the lining together. Last step, stitched upper and lining both to lock shoe vamp. This locking point called FERMATURA.

次にライニングと重ね、最後にアッパーとライニングを靴のつま革に縫い付けます。この留める作業をフェルマトゥーラと言います。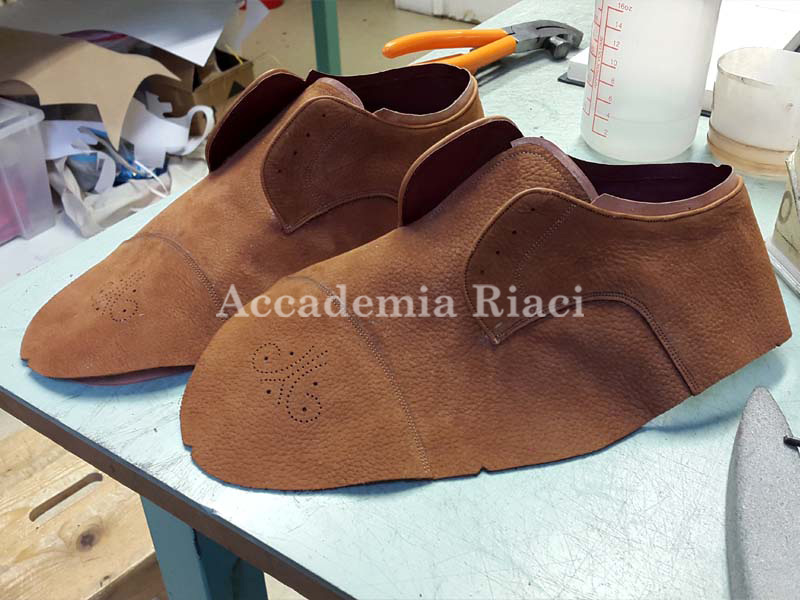 這是我鞋面製作好的樣子,還滿滿意的。

This was my upper for derby shoe. I really fulfilling.

私のダービー製法のアッパーです。満足のいく出来栄えです。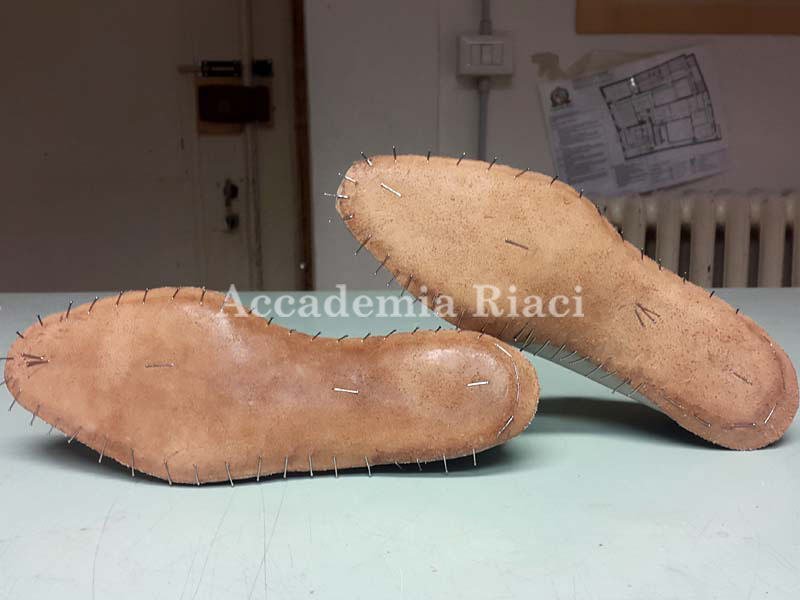 中底製作一開始的步驟跟牛津鞋在製作中底時有點雷同,但選擇跟BLAKE、AGO不同的中底皮。剪出輪廓後、用水沾濕、刮出表面油脂後,就可以開始用釘子定型了。

Leather for making Goodyear shoe's insole was different from Ago and Blake construction, but step was the same. After cutting the outline, wetting with water, skiving to let out oil on surface, it was time to start shaping with nails.

グッドイヤー靴の中底の革はずっと以前から違いますが、作る手順は変わりません。外のラインを切ったら、水でウエルトをつけ、表面に油が出てくるように薄く伸ばします。それから釘で形を作っていきます。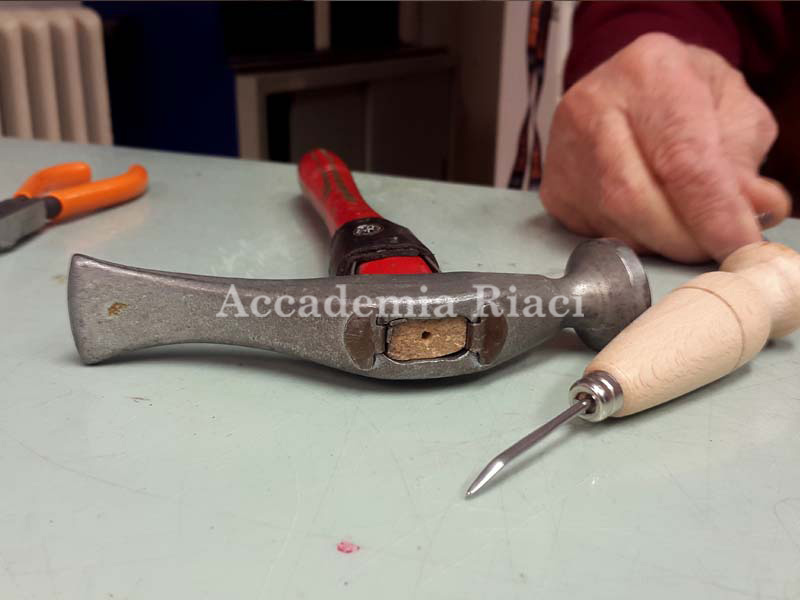 新工具初登場,縫底專用的錐子,沒想到買來還不能馬上用,經過老師的巧手與經驗,它煥然一新。

New tools showing up this week which was punch for welted.

今週は新しい道具として穴を開けるためのキリが登場しました。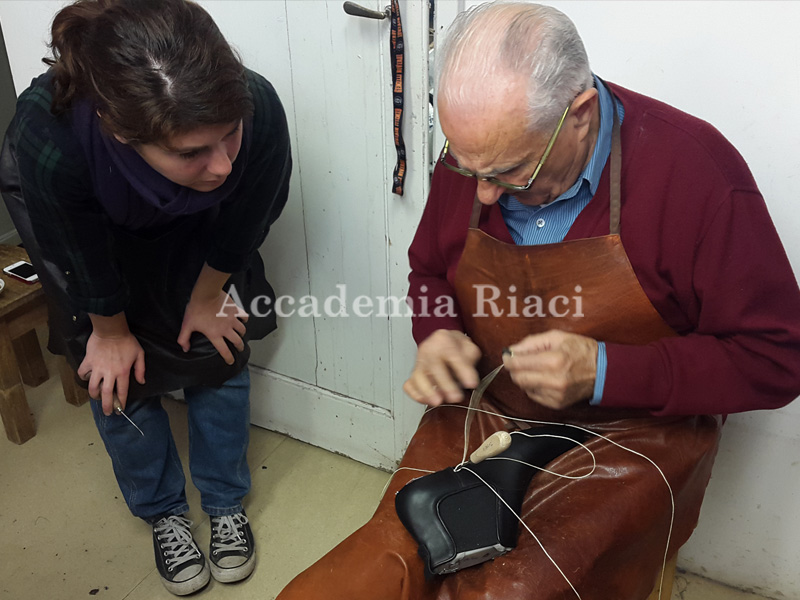 Angelo正在輔導Amy如何將挪威縫得正確漂亮。想到這將會是之後的教學就覺得熱血沸騰啊!

Angelo showing Amy hand stitching for "Norwegian". I'm really looking forward to Amy's work!

アンジェロ先生が、エイミーに手縫いで行うノルベジェーゼ製法の手本を見せています。エイミーの靴の出来栄えが楽しみです。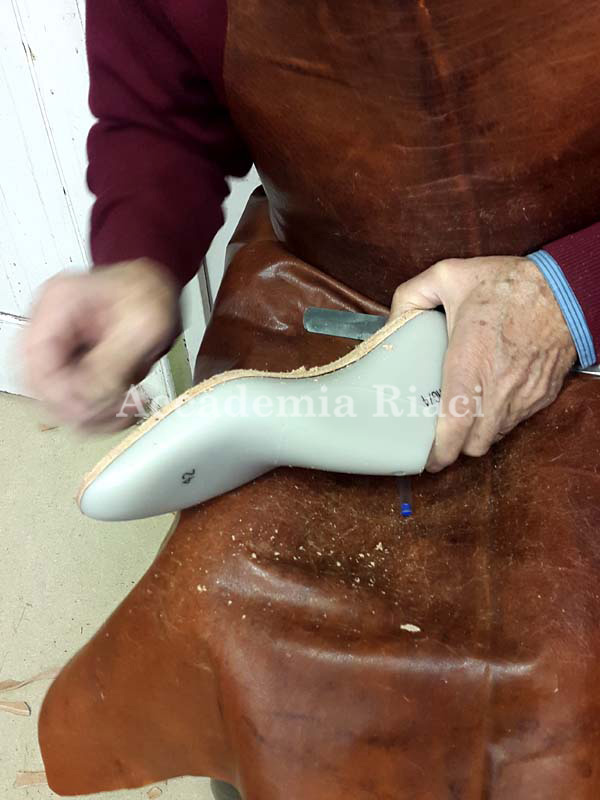 Angelo正在示範製作固特異的中底。在切出形狀後,如果仍是不平順,能夠用玻璃輔助削出理想的角度。

Angelo demonstrating how to use glasses for smoothing the leather as well as angles you wanted.

アンジェロ先生がガラスを使用して革の表面をなめらかにする方法を見せながら、ガラスを持つ角度を教えてくださいました。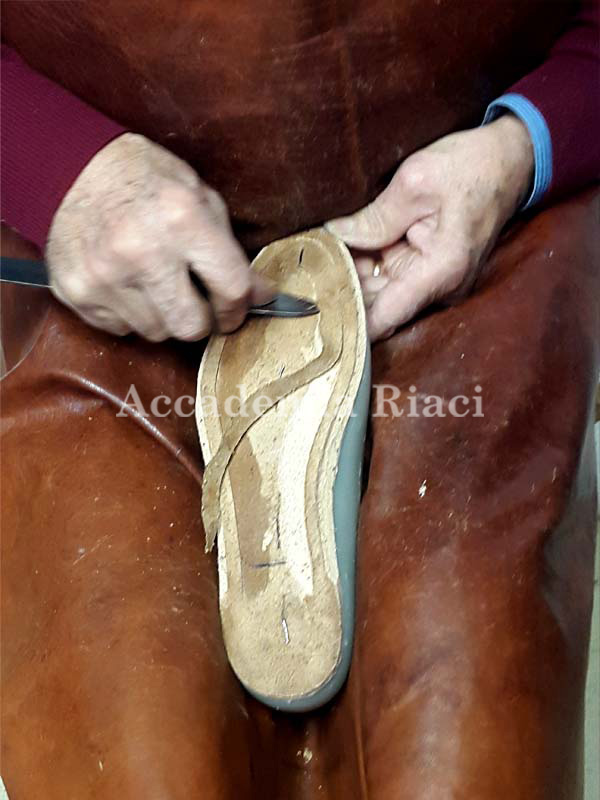 這個步驟是在將多餘的皮料切出,最後只會留下一圈約6~7mm左右的牆,而這個牆就是之後要手縫的邊了。

The purpose of this step was to cut the edge and leave an approximately 6~7mm wall. We left this wall for hand stitching afterwards.

この作業では溝を掘り、6〜7ミリの壁を作ります。のちにこの壁の部分を手縫いします。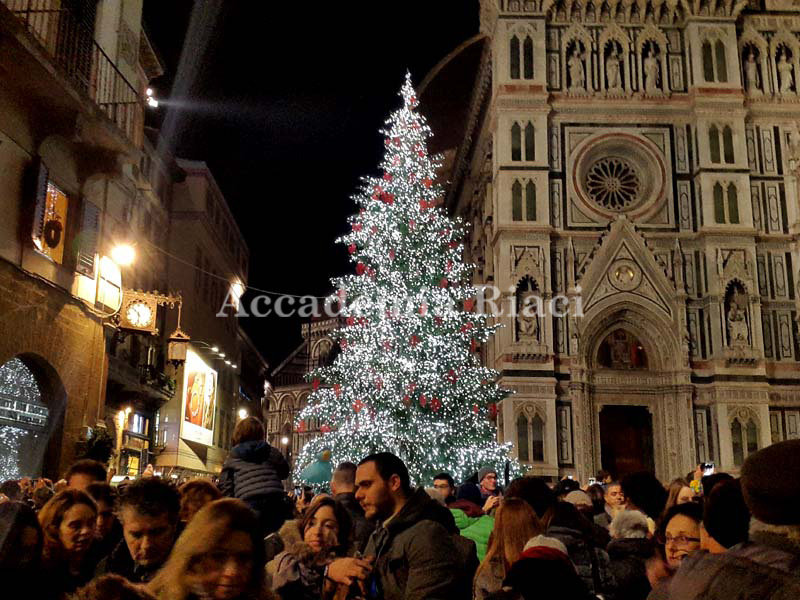 禮拜四是Feast of the Immaculate Conception,這天是義大利的國定假日,來紀念這個具有宗教意義的日子。 也在這天,他們點起了位於DUOMO旁巨大聖誕樹的燈,很幸運的,剛好在點起時我目睹這一刻。好美。

Thursday was the day of Feast of the Immaculate Conception. In Italy they have one day break to celebrate this meaningful day. They lighting the Christmas tree in that day and we were luckily to see this moment. How beautiful.
This is weekly reports, see you next week!

木曜は無原罪懐胎の祝日でした。イタリアは祝日で、この意味深い日をみんなで祝います。この日はクリスマスツリーが点灯され、その瞬間に立ち会えたのはラッキーでした。何て美しいのでしょう。
今週はここまで。また来週!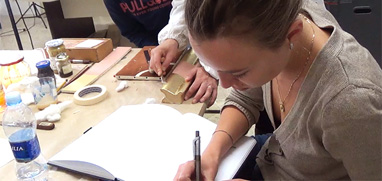 At Accademia Riaci, we are recruiting Course Reporters from our students. The students who are chosen to become Course Reporters are given 10 % of the tuition as their scholarship fee.
The Reporters who have submitted excellent reports will have his or her profile posted on our school website for the next 5 years as an alumnae and will be able to connect with their business chancesafter their graduation.