Accademia Riaci
Students' Blog
Up-to-date report from one of our students!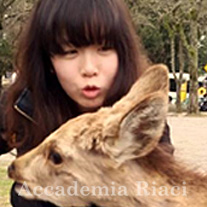 Reporter
Li SHIAU-TING
Nationality: Taiwan
Course: Shoe Making
Program: Atelier Course
Period: Sep. 4, 2017 – Apr. 27, 2018
Shiau-Ting, Li. Shoes designer from Taiwan.
After working in Taiwanese footwear industry for three and a half years, she came to Firenze to study shoes making course, the city which is famous for leather art and shoes.
Although she already has basic aesthetics and sketching technique background from university (B.A.), yet she hopes to extend her shoe-making skills here in Riaci. She believes designer can deliver their thoughts through their works, hoping to keep motivate people with her designs.

李曉婷,來自台灣的鞋類設計師。
在台灣鞋產業工作三年半之後,她決定到皮革之都-佛羅倫斯,學習製鞋技術。
大學主修產品工藝,擁有美學背景、好的品味及繪畫基礎。即便如此,仍期望到莉雅琪延伸自己在實作上的經驗。她相信,設計師能夠透過設計表達想法,希望能持續用創作感動身邊的人。

台湾の靴業界で靴デザイナーとして3年半経験を積んだ後、さらに学びを深めようと革工芸と靴で有名なここフィレンツェへやって来ました。
基本的な審美眼とスケッチ技術は大学(文学士号取得)で学んでいましたが、さらに靴制作の技術を磨くためにリアチ入学を決めました。「デザイナーの想いは、デザインを通して人々に届く」ことを信じ、自分のデザインで人々の心を動かしたいと願っています。
Dec. 06, 2016 | Posted in Blog, Shoemaking , Student Reporter | Tags:Li Shiau-Ting, Shoemaking | Language:



Reporter: Li SHIAU-TING | Course: Shoemaking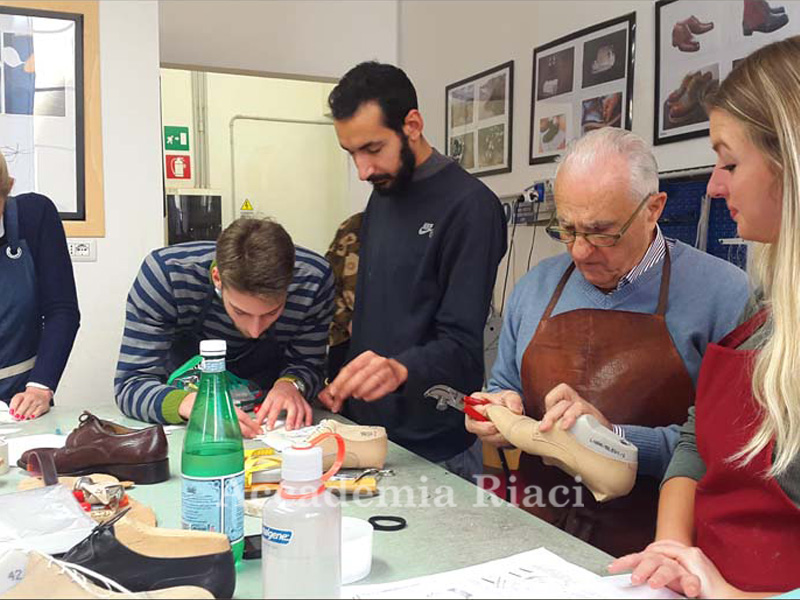 這禮拜在完成鞋面紙板後,我們一樣使用測試用的纖維布進行攀幫,確認有無需要修正版型。於是星期一一大早,在Angelo的指導下,我們又展開熱烈的討論。

After cutting our upper pattern, we lasting with fabric liked usual. In the Monday morning, with Angelo's assistance, we started our busy but very fulfilling week.

アンジェロ先生に手伝っていただきつつ、多忙ながら充実した1週間が始まりました。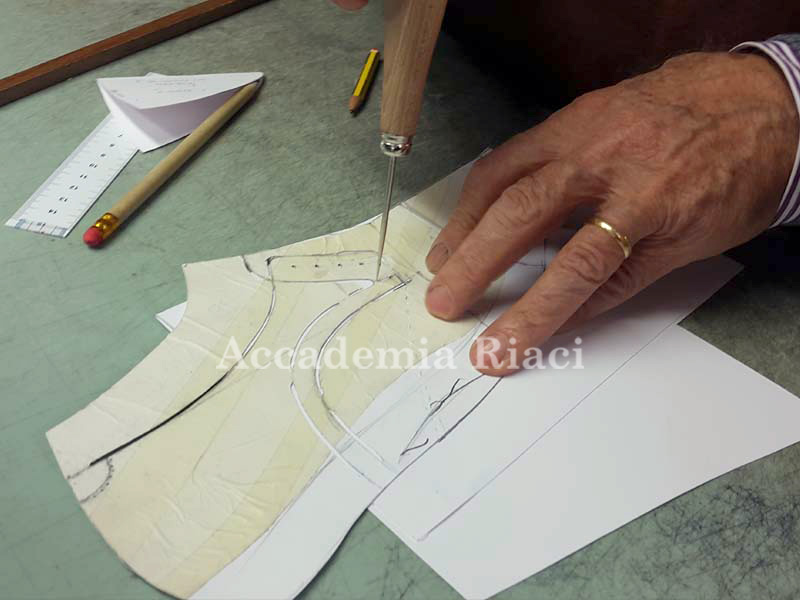 德比內裡版跟鞋面版的製作有著些許相同處,在腳背的地方同樣需要旋轉腳背。

The pattern of lining and upper have similar step, when making pattern of lining, the paper also need to be rotated.

裏貼りの型紙はアッパーの型紙作成手順と同じように紙を回す必要があります。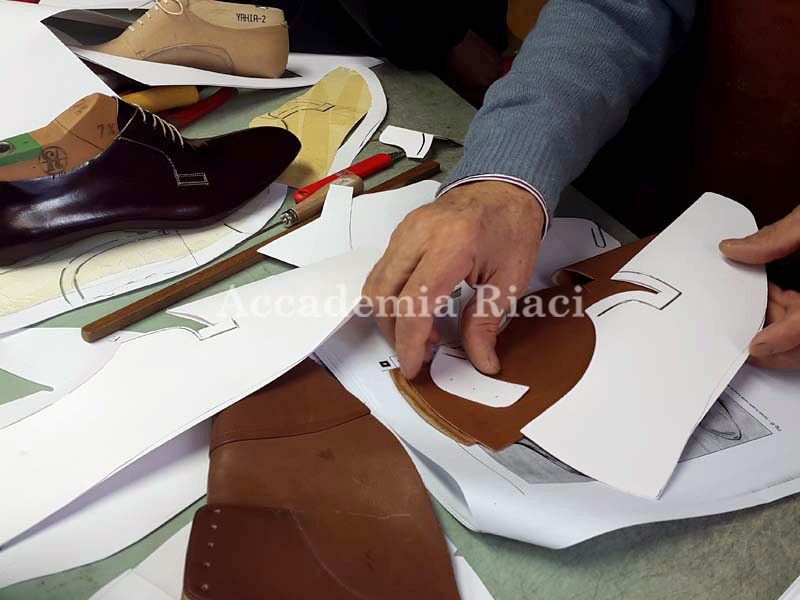 Angelo正在展示不同形式的德比版型,這款版型鞋翼處是分開的裁片,因此有特殊的開法。

In this picture, Angelo was demonstrating different style of derby shoe, which had special pattern.

アンジェロ先生による色々なダービー靴の特殊な型紙の取り方のデモンストレーションです。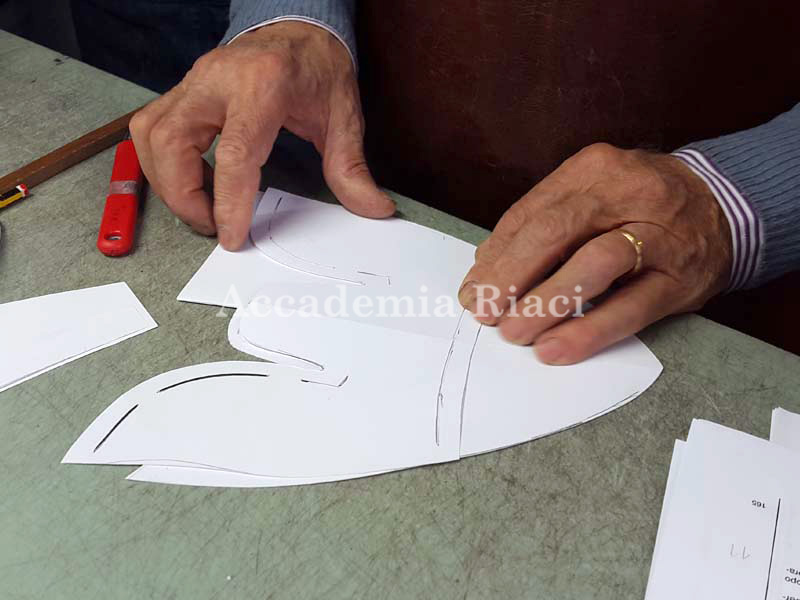 到時候內裡跟鞋面在鞋舌處要組合在一起,因此在開完內裡版之後要確認預留的縫分是足夠的。

After making lining pattern, the pattern should be put together with upper, in order to make sure it had enough space to sew.

裏貼りの型紙を作ったら、アッパーの型紙と重ね合わせて十分縫い代が確保されているか確認すべきです。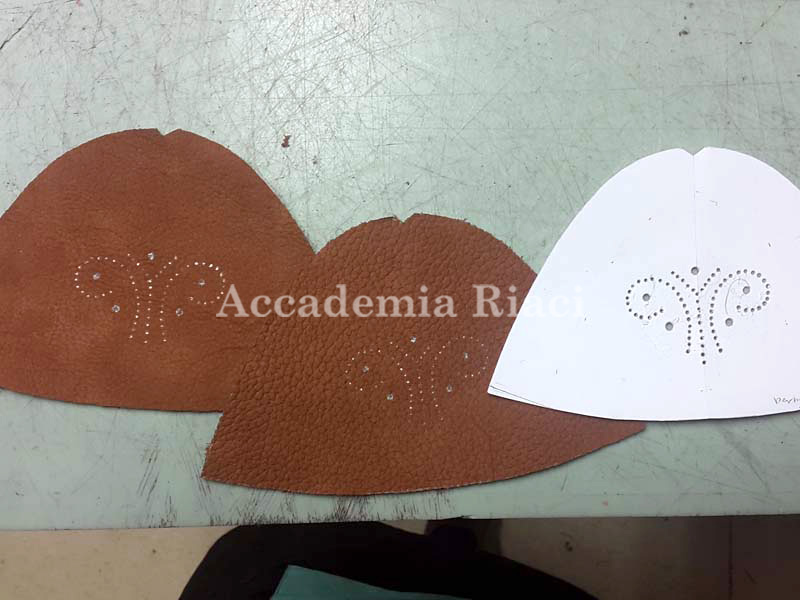 挑選了符合寒冷天氣的牛巴戈皮,這次也嘗試在鞋頭打上雕花,滿可愛的。

I choose Nubuck leather for this derby shoe and also, put some brogue in toe cap. Really cute isn't it?

今回のダービー靴にはヌバック革を選び、トゥキャップ(先飾り革)に穴飾りを施しました。すごく可愛いでしょう?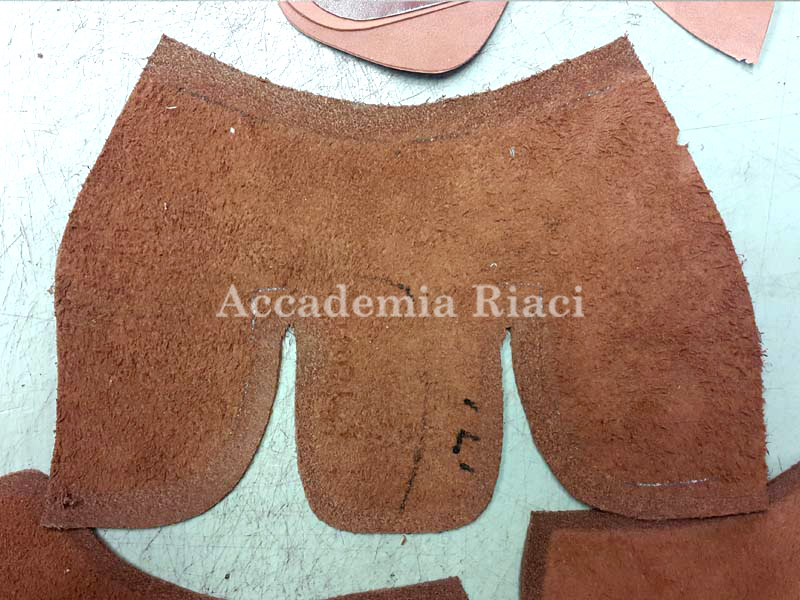 又是漫長的削邊過程,為了讓組合的邊緣能夠漂亮貼合,必須要削到近零。這次在削邊機的輔助下,稍微快了一些。

Long skived process again. The edge needed to be skived almost zero. This time was quicker because we use machine to help a little bit.

また革を漉く長い作業です。端の部分はほぼ厚みがなくなるくらいまで漉かなければなりません。今回は少し機械を使ったので早めに終わりました。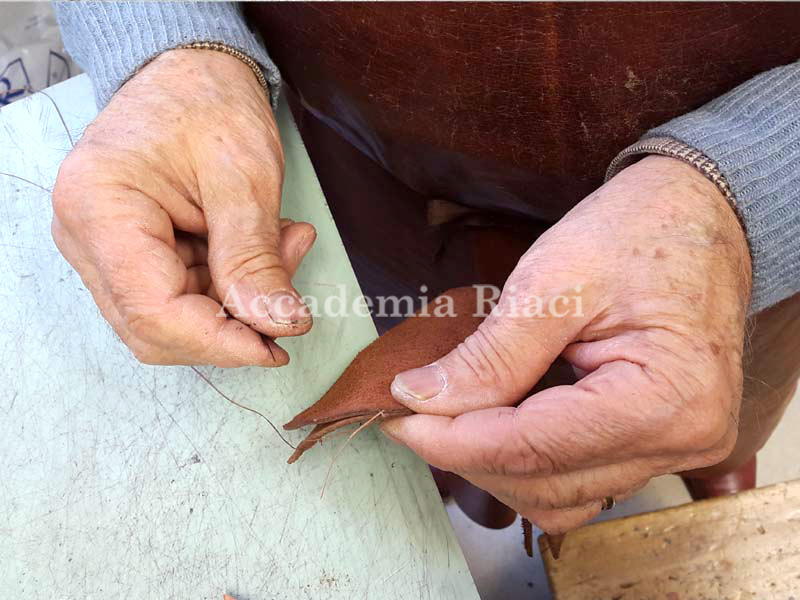 這次後踵的設計是覆蓋一片長條的擋片,為了不讓後面會有凸出的異物感,需使用手縫線上蠟一針一針縫緊屁股處。

In order not to make the back part more flattened, we use wax thread hand stitching two pieces together.

後ろ側をなるべく平らに制作するため、ワックス糸を使って2枚の革を手縫いで合わせます。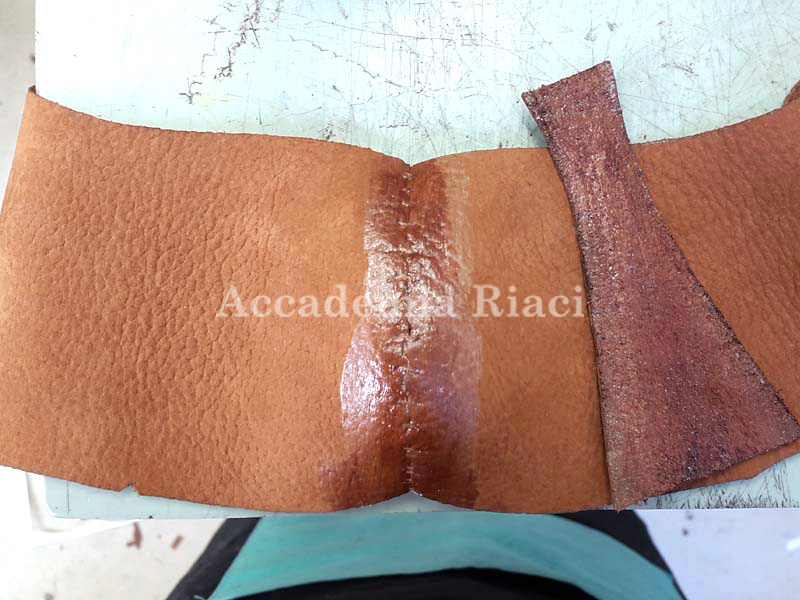 縫緊後稍微用槌子敲一敲,縫線處就像奇蹟似的感覺不出一點縫過的痕跡。在上膠後就可以組合起來了。

Hammered the back part to let wax-thread more stable, after that, we could glue and combine another pieces.

縫い合わせた後ろ側をハンマーで叩いてワックス糸をしっかり馴染ませたら、別の革を貼り付けて合わせます。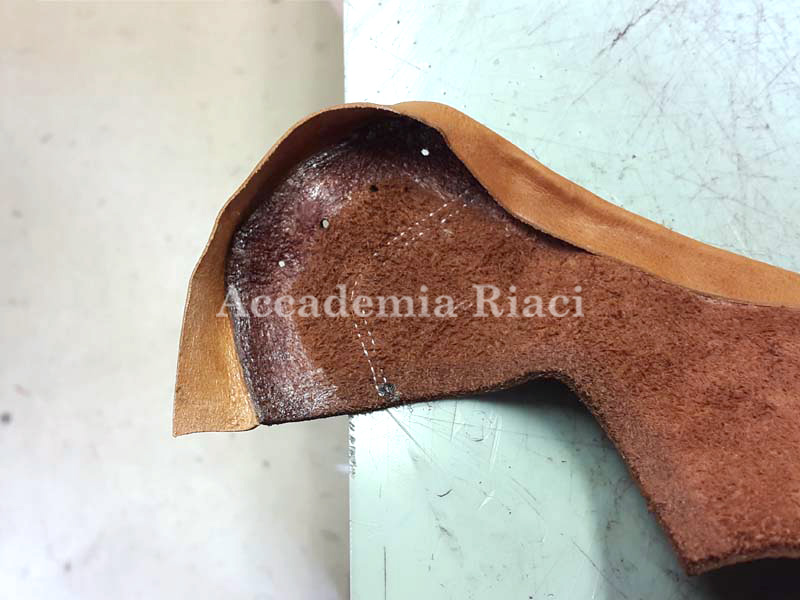 這款在邊的處理上,我挑戰使用Olatula,也就是台灣鞋業所稱的滾邊作法。是將滾條與鞋面車起來之後,上膠,翻過去形成一條圓滾滾的裝飾線。這樣的邊處理作法困難處在於第一道車工無法先上膠固定、且要車的很靠近邊緣處,是一個很挑戰功夫的技法。

This was my first time to challenge Olatula(different method of folding). I remembered the first month when Angelo introducing different folding for us, and he said Olatula is the most difficult one. When doing Olatula, two pieces couldn't glued together, which means, we needed to use our eyes and hand to control two pieces, and that was the reason why difficult. it was challenging but I was satisfied with outcome. It looked gorgeous.

今回、オラトゥーラという違う折り方に初めて挑戦しました。ここで勉強を始めてまだ1ヶ月目の頃、色々な折り方を説明してくださっていたアンジェロ先生が一番難しいと言っていた折り方です。オラトゥーラで折る場合は革を接着剤で貼り合わせることができません。つまり自分の目と手で2枚の革をずれないように合わせなければならず、それが難しいと言われる所以です。確かに難しい挑戦でしたが、仕上がりには満足しました。とてもきれいです。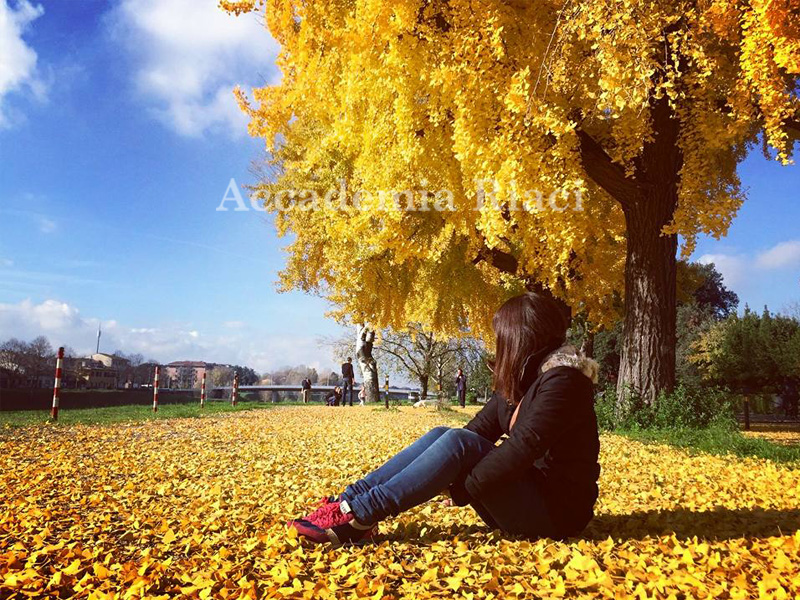 趁著美好的天氣,跟朋友來到阿諾河岸外拍,這邊的景色美得好不真實,鮮黃色的銀杏葉片與湛藍的天空,一點也不像是即將入冬的佛羅倫斯呢。用美景作為這禮拜的結尾,我們下週見囉!

We took this photo near Arno River. How surprised that there were whole sheets of ginkgo tree, with bright yellow leafs falling down the ground. So romantic!
This is weekly reports, see you next week!

この写真はアルノ川の近くで撮りました。辺り一面イチョウの落ち葉で美しい黄色に染まっていてビックリしました。何てロマンチックなんでしょう!
今週のレポートはここまで。ではまた!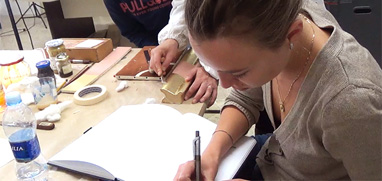 At Accademia Riaci, we are recruiting Course Reporters from our students. The students who are chosen to become Course Reporters are given 10 % of the tuition as their scholarship fee.
The Reporters who have submitted excellent reports will have his or her profile posted on our school website for the next 5 years as an alumnae and will be able to connect with their business chancesafter their graduation.