Accademia Riaci
Student Reports
Read all class reports from our students!
Reporter
Lara Blevi
Nationality: South-African
Course: Shoe Making
Program: One-Year Atelier Course
Period: Sept 5, 2016-April 25, 2017
After Studying a BA degree in Fashion Design in South Africa, Lara decided that she would love to study further and focus on a specific direction in the fashion industry. During her studies, she followed an internship at a company where she was taught how to make and design handbags out of leather and exotic leather skins.

She knew instantly that she would love to study further and learn more about shoes and decided to come to Firenze, Italy, the most famous city to learn more of leather art and shoes! She found Accademia Riaci and knew that the shoe making course that they had to offer was exactly was she was looking for.

Here she wishes to learn the highest level of shoe making techniques and to be able to follow her dream to become a designer with the knowledge of not only fashion, but also the art of shoe and handbag design.

南アフリカでファッションデザインの文学士号を取得後、ファッション業界で目指す方向を定めるためにもっと学びを深めたいと思いました。企業インターンを経験した際には、外国製の皮革を使用したカバン制作とデザインを学びました。

すぐに靴制作を学びたいと思うようになり、靴制作や革工芸を学べる世界で最も有名な都市・フィレンツェ行きを決意。検討の結果、自分が探し求めていた内容の靴制作コースを提供するアカデミアリアチへの入学を決めました。

ここで最高レベルの靴制作技術を身につけ、ファッションのみならず靴やカバンの知識も兼ね備えたデザイナーになることが夢です。
Dec. 05, 2016 | Posted in Reports, Shoemaking , Student Reporter | Tags:Lara Blevi, ShoemakingReporter: Lara Blevi | Course: Shoemaking
This past week we were all super busy finishing up the last details of our shoes and very excited when it was finally finished. We are all so chuffed with our first pair of shoes and pretty surprised with how great they all turned out. Of course, millions of photos were immediately taken and we also discussed that we should plan a photo shoot next week with all the shoes together.

It was also prof Angelo's Birthday on Wednesday and we had great fun and celebrations with cake (that Jo baked of course) and champagne!

今週は靴の仕上げでとても忙しかったので、ようやく完成した靴を見て全員感無量でした。みんなの最初の一足が出来上がったことに喜んだのはもちろん、その出来栄えが思った以上に良かったことに各自驚きました。みんなが山のように写真を撮り出したので、来週みんなで改めて撮影会をする話になりました。

水曜はアンジェロ先生の誕生日だったので、クラスメイトのジョーが焼いてくれたケーキとシャンパンで楽しいお祝いの会を開きました。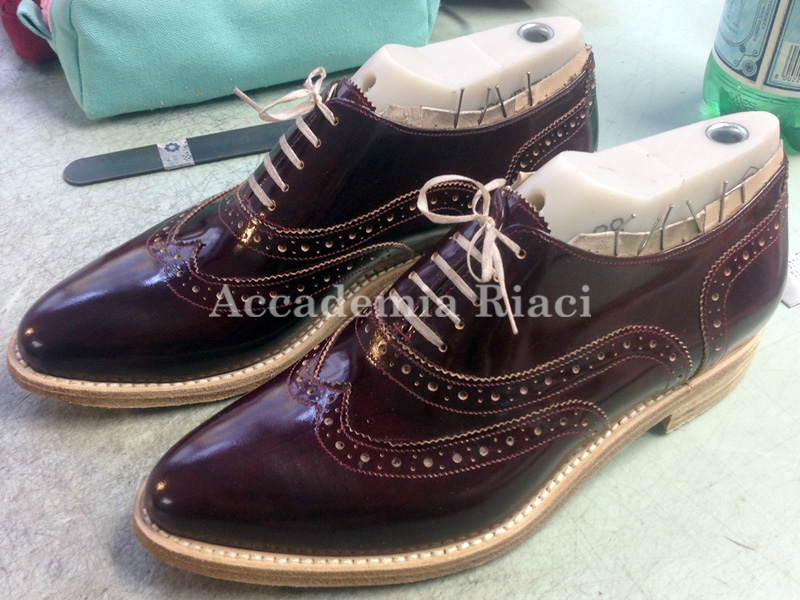 Here you can see the stage just after I finished my sole of the shoe and the construction of the heel. Making the heel for the shoe is quite some process and takes a lot of time as each layer of leather must be cut out, skived, glued, hammered until your arm is literally too tired to carry on, and then again skived with the machine to shape the heel. This process is repeated four times for each shoe.

本底を貼り、かかとをつけた後の私の靴です。かかとの制作は1つずつ切り出した革を漉いて接着し、自分の腕が悲鳴を上げるまで金槌で何度も叩き、さらにそれを機械で漉いて形成するという、気の遠くなるような作業です。それが両足分、2回繰り返されるわけです。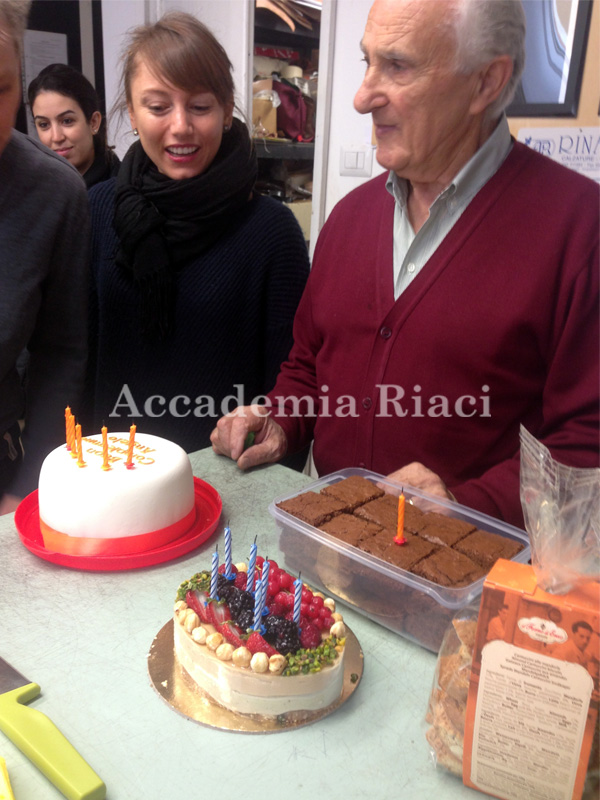 Angelo with his Birthday cakes and brownies (which I made so proudly) on Wednesday morning just after he blew out his candles. We had such a great day, ate way too much cake and found that a little bit of champagne definitely helps with the shoe making!

水曜の朝、バースデーケーキと(私が作った)ブラウニーを前にしたアンジェロ先生。ロウソクの火を吹き消した直後の写真です。少しばかりのシャンパンでみんなその日は靴制作の作業がはかどりました(笑)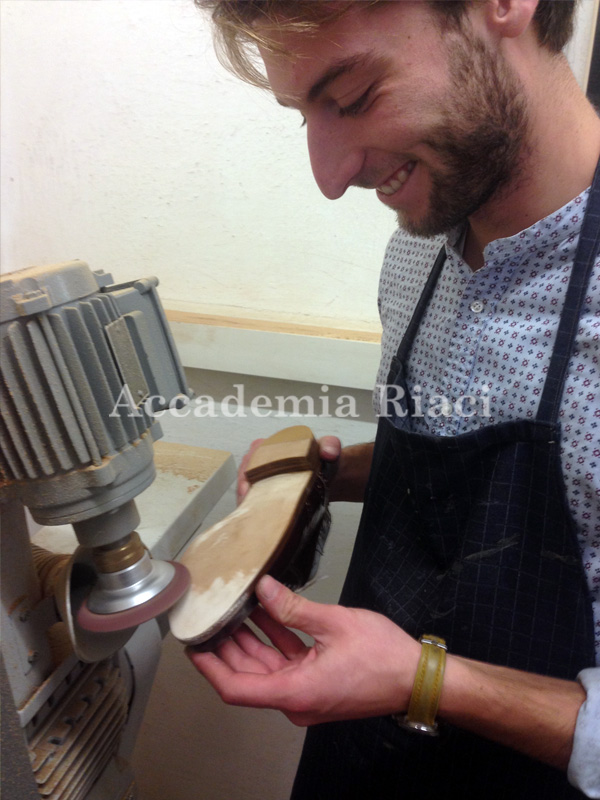 Here Bernardo is showing me how to skive the sole of the shoe to finalize it and then to be painted and polished.

機械を使って本底の漉き方のお手本を見せてくれているベルナルド。この後着色して磨いたら完成です。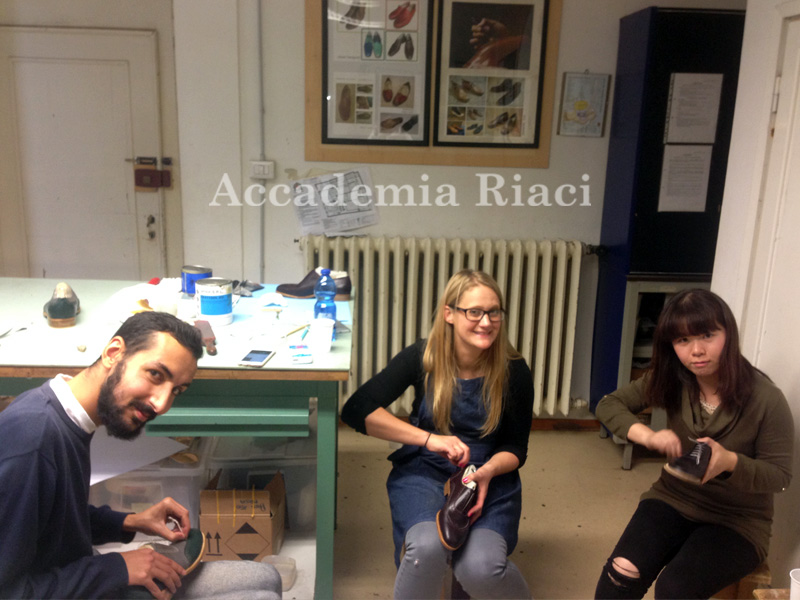 Jo, Joe and Tina sitting together, removing all the last parts of glue off the leather of the shoe before polishing the leather. We were all joking on how you think your shoe is finally almost finished until you realize that you still have to remove the glue from each hole of the decorations on the leather of the shoe with an ear bud. That task probably took as all another two hours!

左からジョー(男性)、ジョー(女性)、そしてティナ。最後の磨き作業の前に靴についている乾いた接着剤を取る作業をしています。これでもう直ぐ終わりだと思ったら、飾り穴に入り込んでいる接着剤を1つずつ綿棒で綺麗にするというあと2時間は掛かる作業が残っていたようで、でもみんなで楽しそうに笑いながら最後の仕上げをしていました。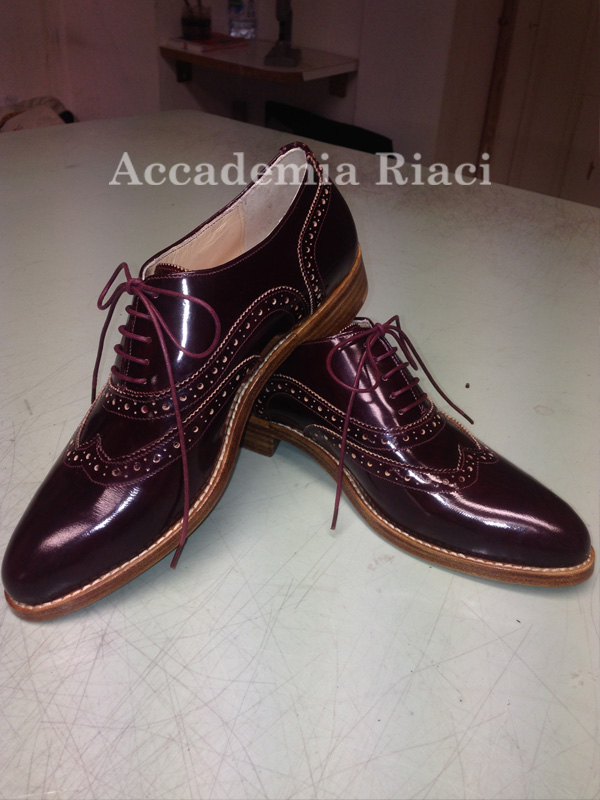 My first pair of shoes finally done and dusted. We all went to a small leather shop close to the school to buy laces and I was so lucky to have found the perfect color.

ピカピカに磨かれた私の最初の1足がようやく完成しました。みんなで学校の近所にある革のお店へ靴紐を買いに行ったのですが、私の靴にピッタリな色が見つかって本当にラッキーでした。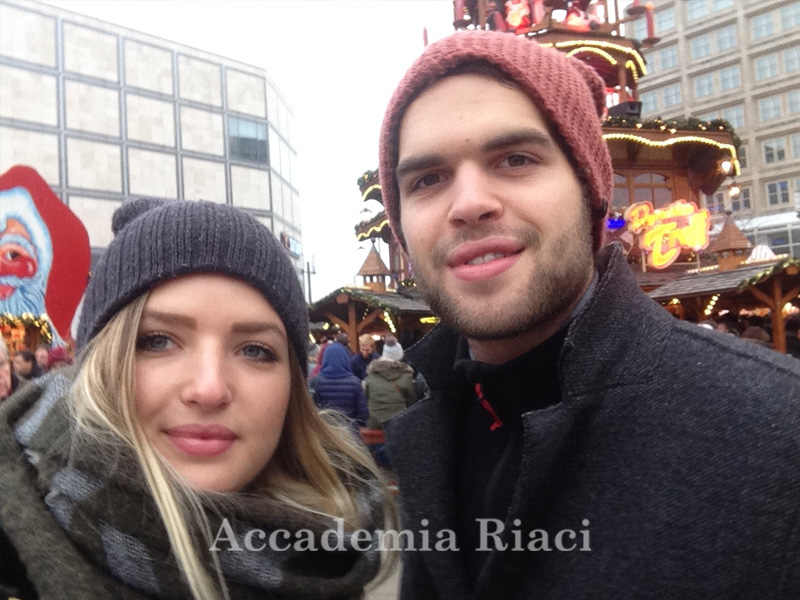 On Friday I travelled to Berlin to visit my brother for his 21st birthday. We had an amazing weekend with lots of gluhwein and fat conversations, as we haven't seen each other in months.

金曜日に弟の21歳の誕生日を祝いに、弟の住むベルリンに遊びに行きました。ホットワインをたくさん飲んで、何ヶ月も会っていなかった間の積もる話をたくさんして、とても楽しい週末を過ごしました。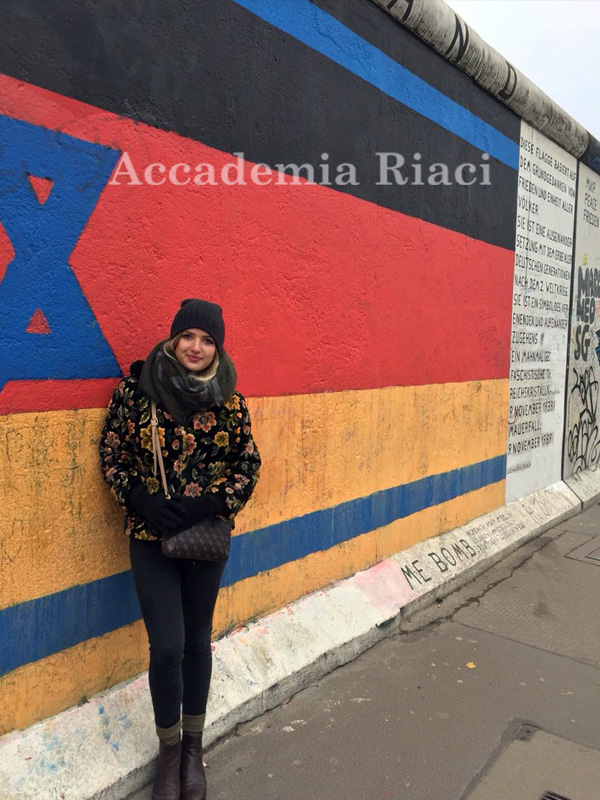 Me standing next to the Berlin wall.

ベルリンの壁の前でパチリ。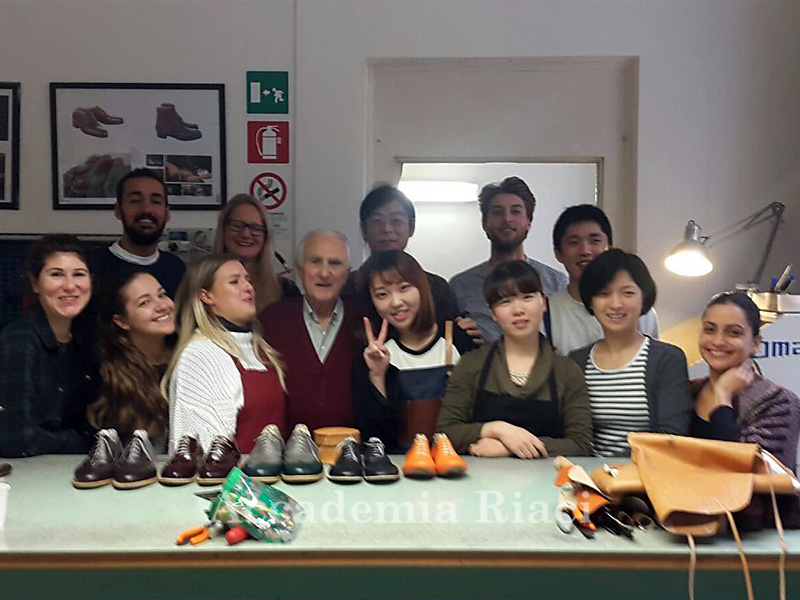 All the Riaci shoe making students together with Bernardo, Masa and of course, Angelo, on his birthday.

アンジェロ先生の誕生日に靴制作コースの学生全員で記念撮影。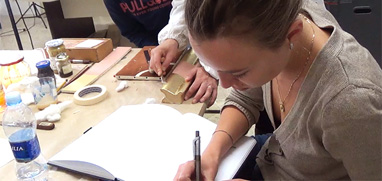 At Accademia Riaci, we are recruiting Course Reporters from our students. The students who are chosen to become Course Reporters are given 10 % of the tuition as their scholarship fee.
The Reporters who have submitted excellent reports will have his or her profile posted on our school website for the next 5 years as an alumnae and will be able to connect with their business chancesafter their graduation.