Accademia Riaci
Student Reports
Read all class reports from our students!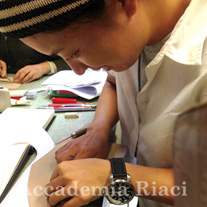 Reporter
Masami ISHIZUKA
Nationality: Japan
Course: Shoe Making
Program: Master Course
Period: Sept. 5,2016-Apr. 28,2017
日本では10年間ほど靴づくりとは関係のないお仕事をしていましたが、趣味としてずっと好きで続けていたのが革細工でした。休日には財布など小物をコツコツ作る毎日でした。そしてそこから派生して、この2年間は神戸にある靴学校に毎週通いました。自分が考えたものが形になっていくことが面白くて、休日は疲れていても靴作りが楽しくて仕方がありませんでした。とても時間がかかる作業ですが、出来上がりだけでなく、出来上がっていく様子がなんとも言えません。
一年ほど前から、思い切ってお仕事を辞め、本場イタリア・フィレンツェに革靴づくりを学びに行くことを決めました。今年の5月より4ヶ月間、語学学校でお世話になりイタリア語で何とか授業を受け始めました。まだまだ分からない事だらけですが、楽しみながら頑張りたいと思っています。

I worked in Japan for about 10 years but my former job had nothing to do with shoe making. I simply liked leather working as a hobby. I used to make small items such as leather wallets on my days off. For this past 2 years, I studied every week at a shoe making school in Kobe, Japan. I totally enjoyed the process of how my idea became actual shoes, so I kept making shoes on weekends even though I was tired from my weekday's work. It takes a long time to make 1 pair of shoes, but I just love the shoe making process itself.
I quit my job 1 year ago and decided to come to Florence to study shoe making. I took Italian lessons for 4 months from this May, and I am now taking shoe making lessons in Italian. There is so much I need to learn now, but I hope to enjoy this learning experience.
Dec. 02, 2016 | Posted in Reports, Shoemaking , Student Reporter | Tags:Masami Ishizuka, ShoemakingReporter: Masami ISHIZUKA | Course: Shoemaking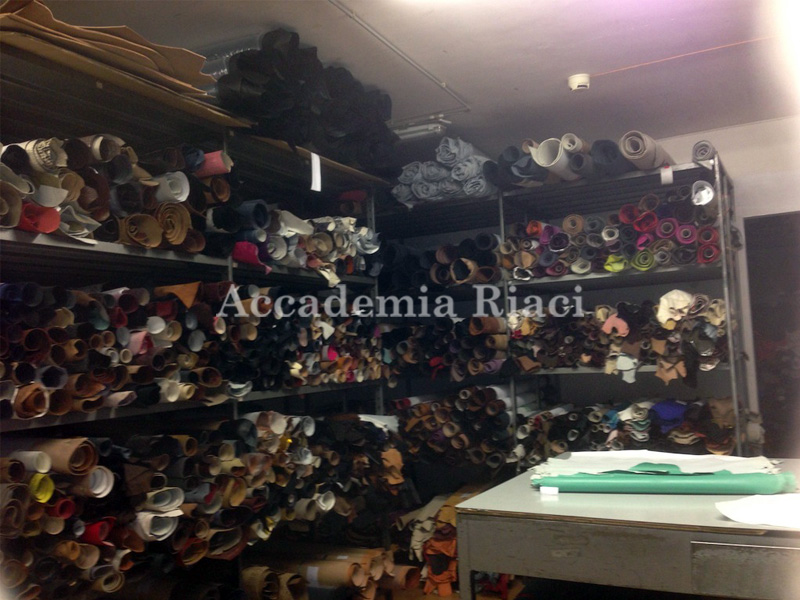 靴作製のための革の購入は生徒自身でお店に行き、直接購入する事になっています。生徒のほとんどは市内近郊にあるここ、ALPELで革を購入しています。イタリア産の革がお得な値段で買えるのでとても有り難いです!!

All students are supposed to go to the leather shop to choose and purchase their own leather for the shoes to make. Most of the students buy leather at this shop, ALPEL. Here, made-in-Italy leathers are sold with reasonable prices.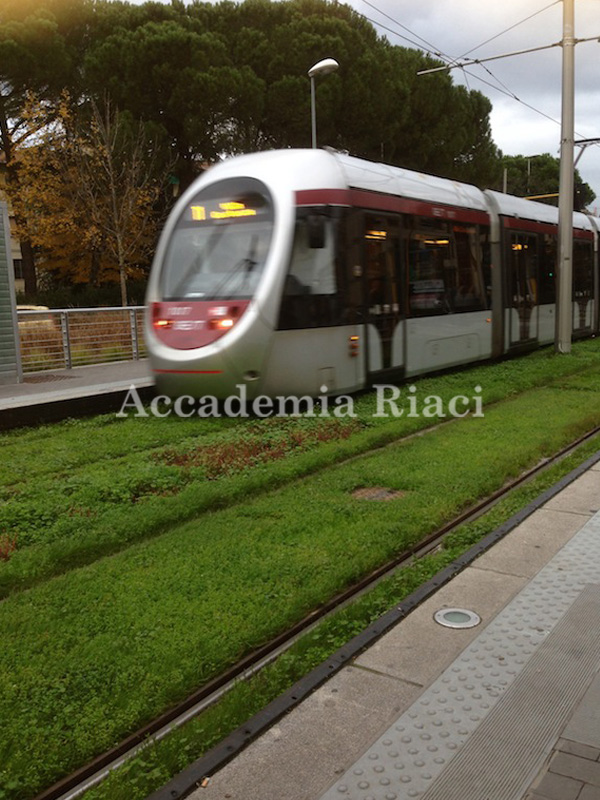 フィレンツェには市内のバスの他にトラムがあり、市民の足となっています。ALPELへはこのトラムで15分のところにある駅で降ります。90分乗り放題で1.2ユーロです。

Besides buses, there are trams in Florence, providing convenient transportations for the residents. It takes 15 minutes by tram to go to the nearest station to ALPEL. For your information, a 90 minutes all-you-can-ride on this tram costs 1.2 Euro.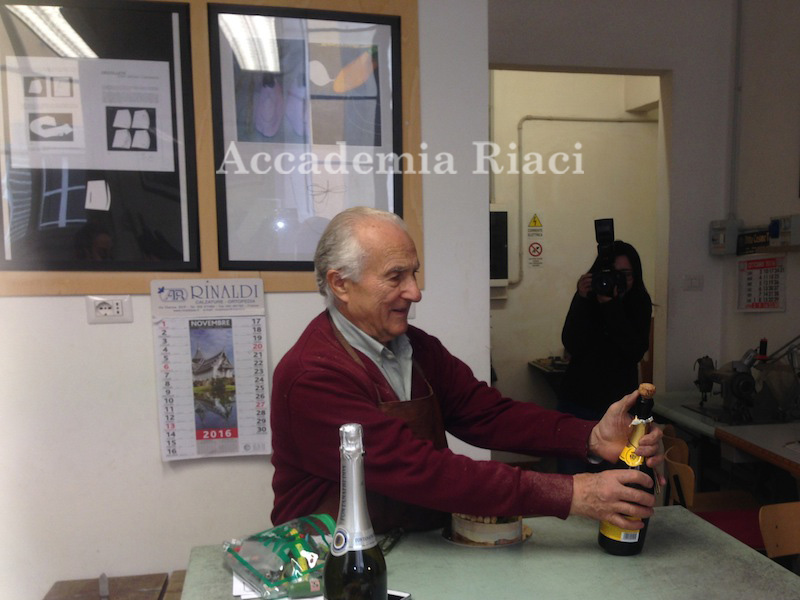 この日は、いつも靴作りを教えて下さるアンジェロ先生の誕生日でした。サプライズでシャンパンやケーキを用意してお祝いしました.お年は公開しない方が良いと思いますが、喜寿は過ぎていらっしゃいます。本当にいつまでもお元気で私たちにご指導頂きたいものです。

Today was Professor Angelo's birthday. We surprised him with a bottle of champagne and a birthday cake. He is a very energetic instructor, and he always will remain the same in the future.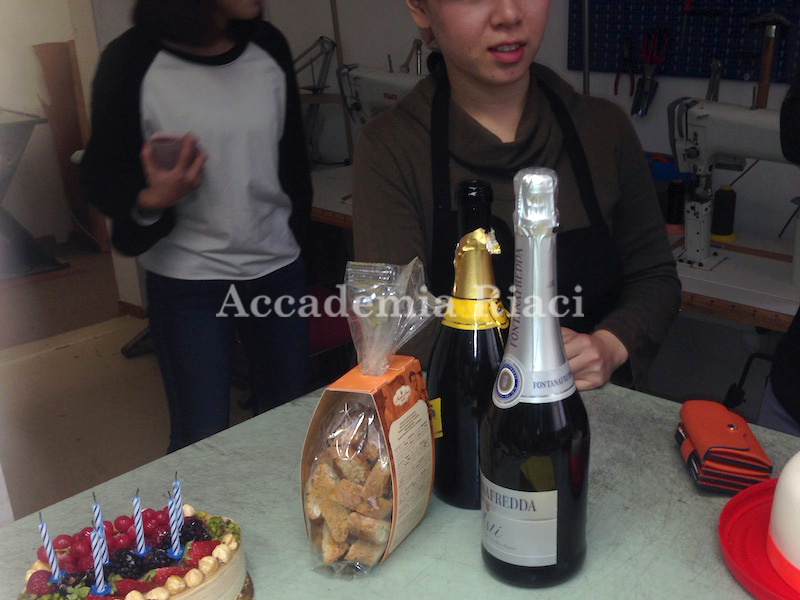 左はジェラートで出来た誕生日ケーキです。右は、いつもケーキを作って来てくれるイギリス出身のJoが作ったものです。どちらもとても美味しかったですし、アンジェロ先生もとても喜んでくれていました。

Left on the table is a gelato birthday cake, and on the right is made by Jo, a student from England. Both of them were very delicious and made Professor Angelo really happy.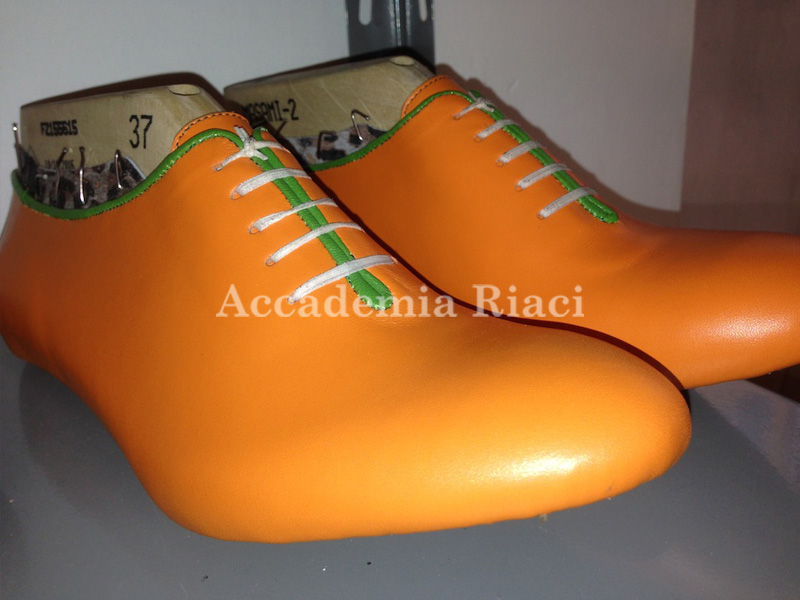 今週の前半でオレンジ色のFrancesinaを大方終えることができました。派手で仕方ないと思っていましたが、いざ作り出すと思ったよりいい感じに思えてきます。

I finished the orange-colored francesina in the first-half of this week. I thought it was too flashy in the beginning, but now I'm in the actual making process it's turning out better than my expectation.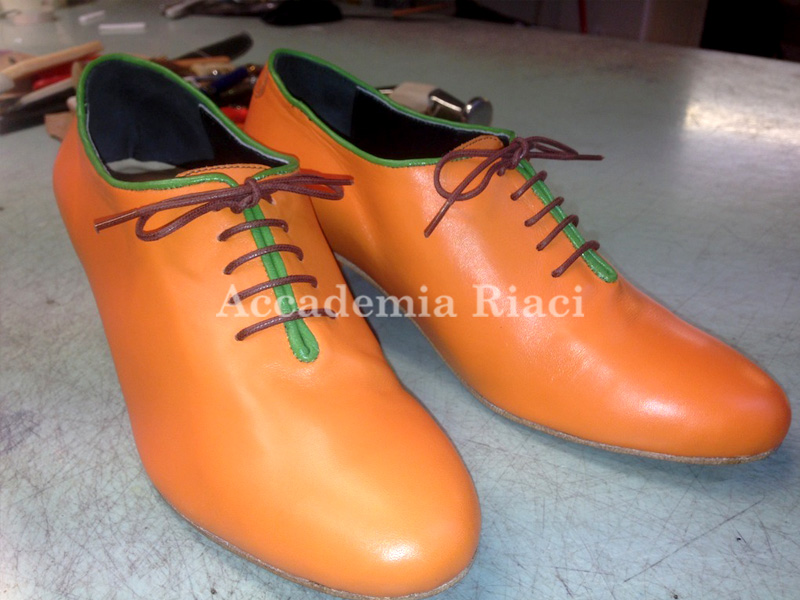 かかとを接着して、靴の周りを整えます。Francesinaは2足目なのでここからは最初よりもテキパキと進みました。完成してみて形や仕上がりはなかなか満足しています。でも、完全にみかんにしか見えません。。。

After adhering the heels, I trimmed around the shoe. Since this is my second pair of francesina, I was more skillful at it. I am quite satisfied with the shape and the finished look.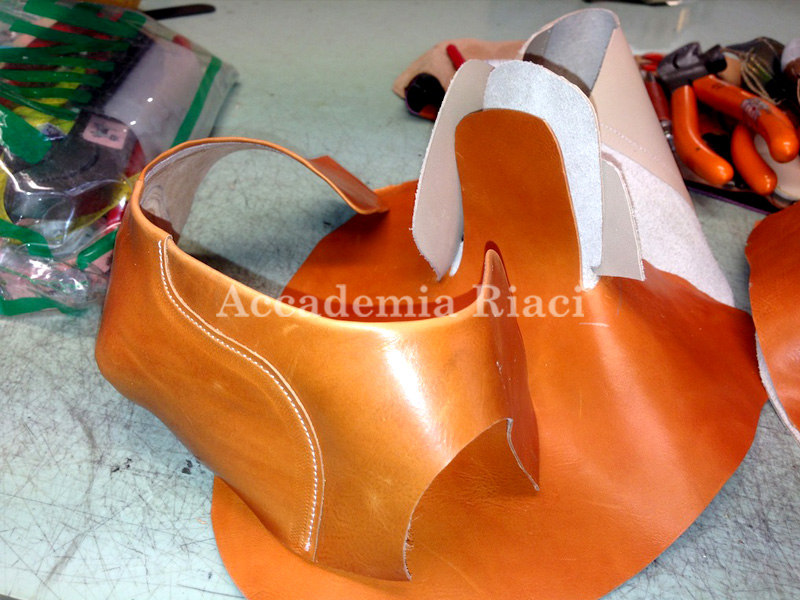 今週の後半は、Derbyという種類の靴に取りかかりました。Derbyは普段とてもよく目にするタイプの靴です。外羽根になったタイプになっていて、かっこいい感じのする靴です。

The second half of this week I started working on Derby shoes. Derby shoes are very commonly seen in our daily life. The blucher gives it a stylish look.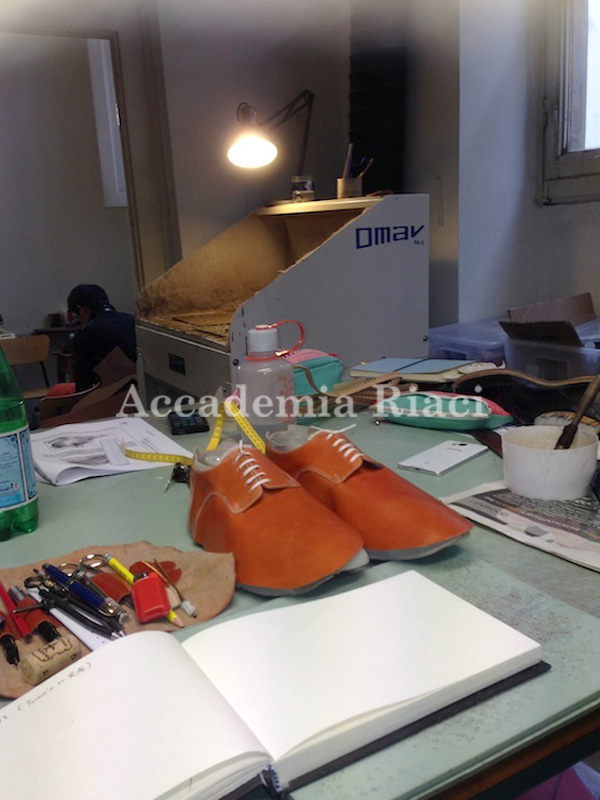 このためにアルペルで購入しておいた革でアッパーを作って行きます。今回は前回と違って落ち着いた茶色にしました。来週はいよいよこれを使って手縫いを習って行きます。

The next step will be the making of the upper with the leather I purchased at ALPEL. This time I chose more subdued brown color. Starting next week, I will be learning hand stitching with this pair of shoes.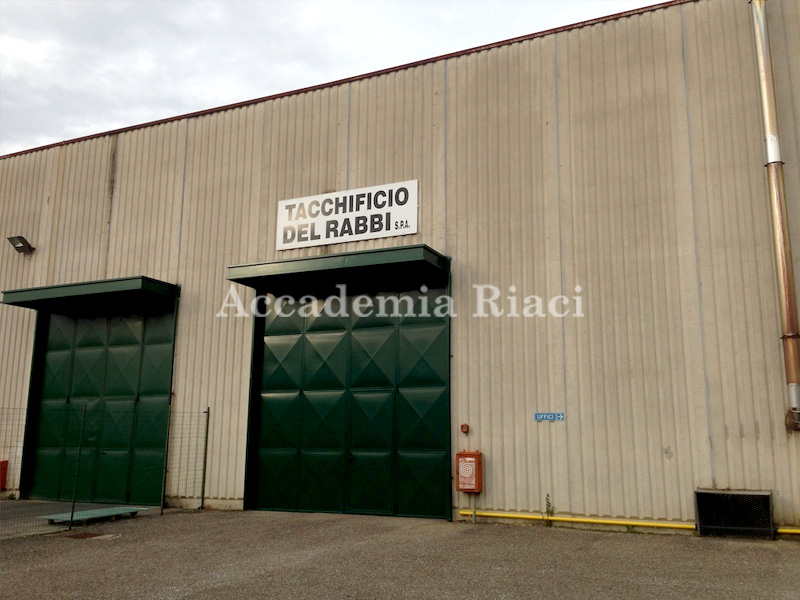 こちらはヒール専門の工場です。学校を通してもらい、注文したヒールを取りに行きます。特に女性もののヒールが高いタイプの靴は、ヒール部分はこういう所で作られたものを使用します。多めに購入しておくと後が安心です。

This is a heel-manufacturing factory. Here we pick up the heels we order through Accademia Riaci. We use high-heels for ladies shoes made in this kind of factories. I usually buy more than necessary for the future uses.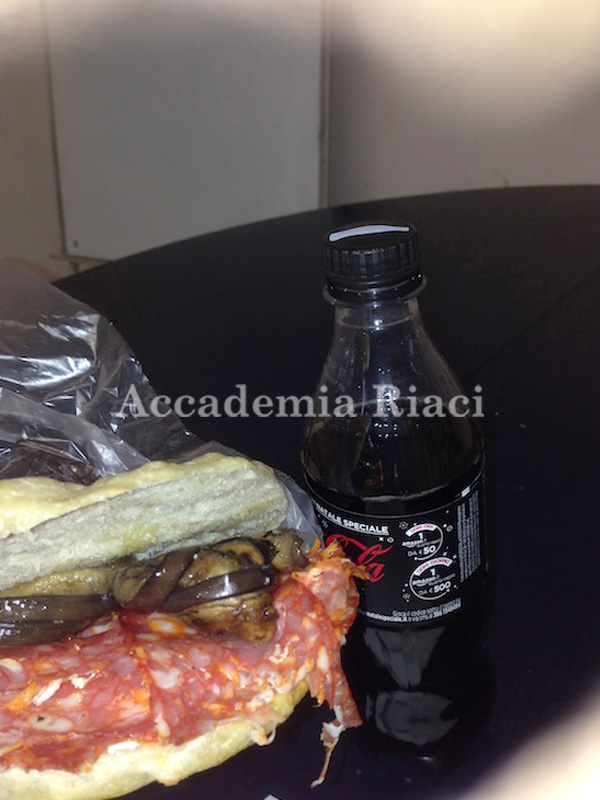 イタリアの昼食と言えばパニーニです。私も時々ランチにパニーニを食べます。味は自分で選びます。今回はクリームチーズベースにピリ辛サラミ、なすびのオリーブオイル炒めをオーダーしました。堅めのパンですが、サンドイッチ感覚で手軽で美味しいですよ。

Panini is a very popular lunch in Italy. I sometimes eat one for lunch myself. You can choose the fixings you like. Today I ordered hot salami and eggplant stir-fried with olive oil on cream cheese. The bread is on a bit hard side, but it's easy to eat and delicious!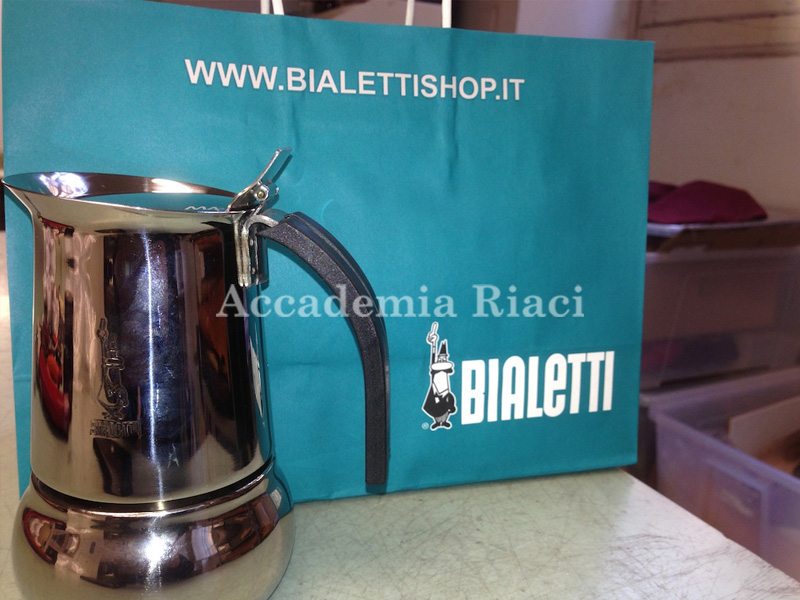 この日はクリスマス前のセールをやっていたので、家庭用エスプレッソの作れる器具を買いました。こちらでも使って、日本でも作って飲みたいと思います。

I bought a home espresso machine at a before-Christmas sale. I will use it here and of course after I go back to Japan, to have a delicious cup of espresso.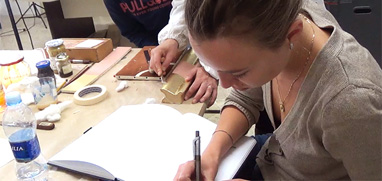 At Accademia Riaci, we are recruiting Course Reporters from our students. The students who are chosen to become Course Reporters are given 10 % of the tuition as their scholarship fee.
The Reporters who have submitted excellent reports will have his or her profile posted on our school website for the next 5 years as an alumnae and will be able to connect with their business chancesafter their graduation.