Accademia Riaci
Student Reports
Read all class reports from our students!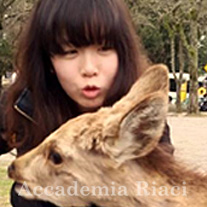 Reporter
Li SHIAU-TING
Nationality: Taiwan
Course: Shoe Making
Program: Atelier Course
Period: Sep. 4, 2017 – Apr. 27, 2018
Shiau-Ting, Li. Shoes designer from Taiwan.
After working in Taiwanese footwear industry for three and a half years, she came to Firenze to study shoes making course, the city which is famous for leather art and shoes.
Although she already has basic aesthetics and sketching technique background from university (B.A.), yet she hopes to extend her shoe-making skills here in Riaci. She believes designer can deliver their thoughts through their works, hoping to keep motivate people with her designs.

李曉婷,來自台灣的鞋類設計師。
在台灣鞋產業工作三年半之後,她決定到皮革之都-佛羅倫斯,學習製鞋技術。
大學主修產品工藝,擁有美學背景、好的品味及繪畫基礎。即便如此,仍期望到莉雅琪延伸自己在實作上的經驗。她相信,設計師能夠透過設計表達想法,希望能持續用創作感動身邊的人。

台湾の靴業界で靴デザイナーとして3年半経験を積んだ後、さらに学びを深めようと革工芸と靴で有名なここフィレンツェへやって来ました。
基本的な審美眼とスケッチ技術は大学(文学士号取得)で学んでいましたが、さらに靴制作の技術を磨くためにリアチ入学を決めました。「デザイナーの想いは、デザインを通して人々に届く」ことを信じ、自分のデザインで人々の心を動かしたいと願っています。
Dec. 02, 2016 | Posted in Reports, Shoemaking , Student Reporter | Tags:Li Shiau-Ting, ShoemakingReporter: Li SHIAU-TING | Course: Shoemaking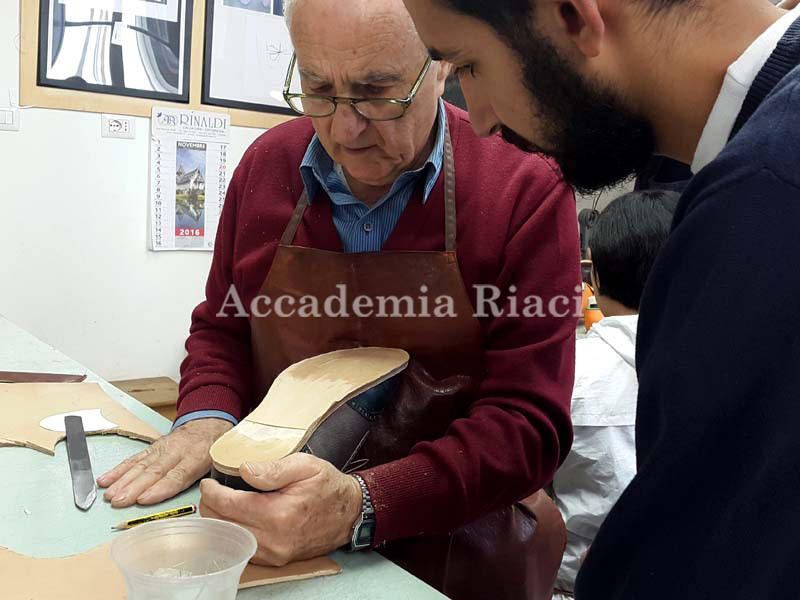 前幾個禮拜著重在鞋面的製作,這禮拜開始製作鞋大底。Angelo正在教Joe黏鞋跟前的前置作業。

Our course focus on making upper couple week ago, in this week, we focus on the method of making outsole. In this picture, Angelo are teaching JOE the skills of skiving outsole.

先週までの2週間はアッパー制作に集中した授業でした。今週から本底を作る授業に移ります。写真はジョーに本底の漉き方をレクチャーしているアンジェロ先生。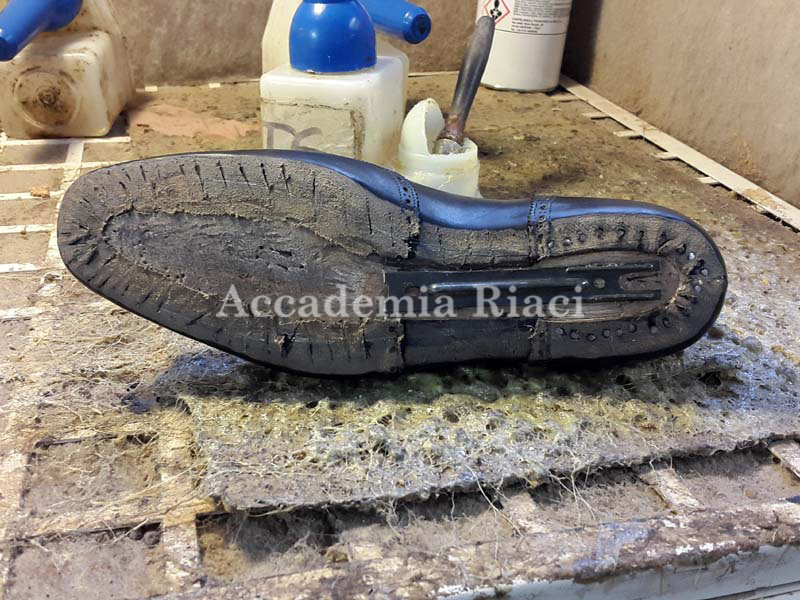 在攀幫完鞋面之後,需將鞋底用機器削平,並置入鐵心。

After lasting upper, the shoe needed to be skived by machine and put on shank.

アッパーの吊り込みが終わったら、機械で靴裏を漉いて底にシャンクを入れます。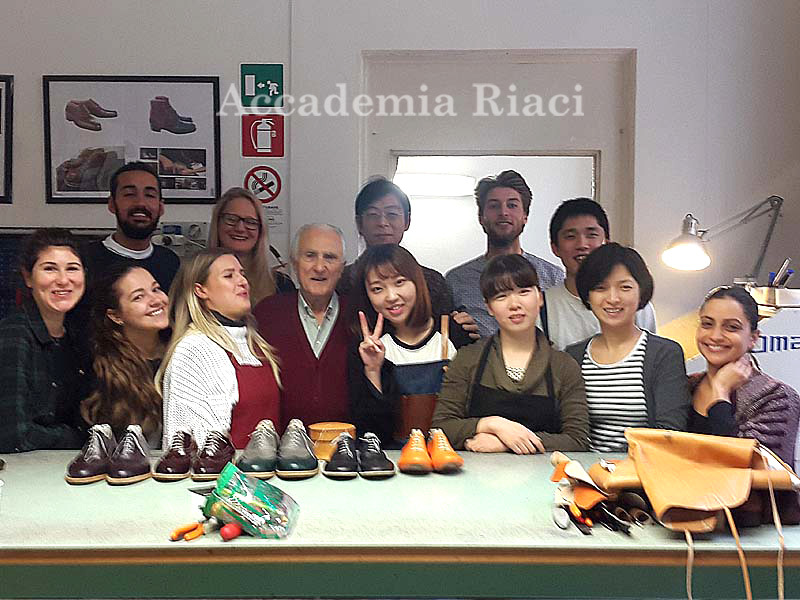 今天是教授Angelo的生日,我們準備蛋糕、香檳配上音樂在教室開心慶祝,Angelo生日快樂!!

Today was Angelo's birthday. We prepared cakes, champagne, music to celebrate. What a happy day! Happy birthday to dear Angelo.

この日はアンジェロ先生の誕生日でした。みんなでケーキとシャンパン、それにBGMを準備してお祝いしました。親愛なるアンジェロ先生、おめでとうございます!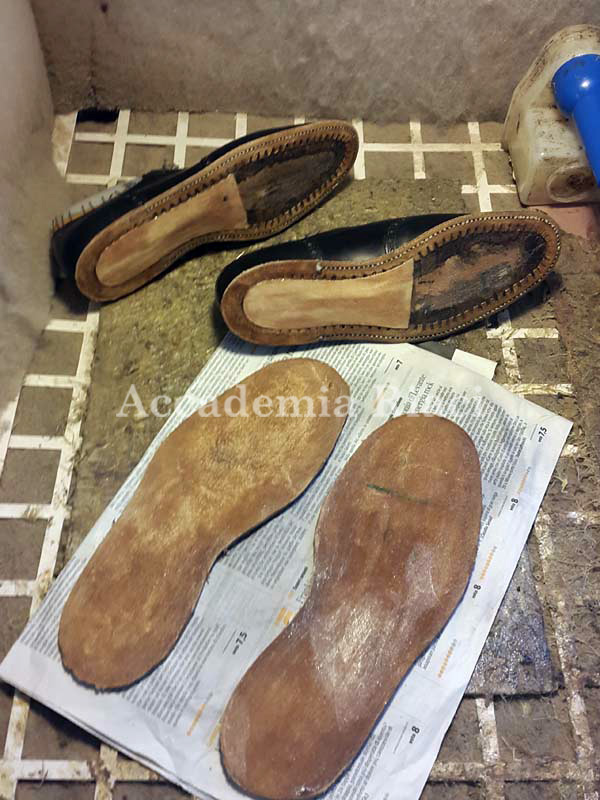 慶祝完後回到現實,繼續手上工作。黏上沿條、裁切一片皮料覆蓋鐵心後,準備將裁切好的大底片黏上。

Back to reality after celebration, keep moving to next step. Put the welted on, cut a slice of leather to cover shank then, preparing for sticking outsole.

お祝いの後は現実に戻って作業を続けました。ウエルトをつけてシャンクを革で覆ったら、本底を貼り付ける準備をします。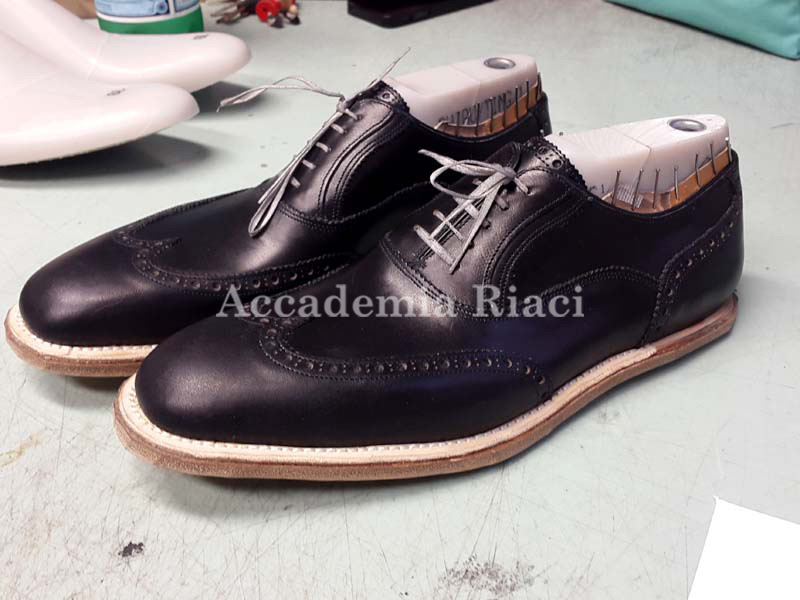 貼上大底後的樣子,看起來很有份量感、立體。

Photo shot after combining outsole. It looked more heavy and solid.

本底をつけた後の私の靴。重厚感と堅牢さが加わりました。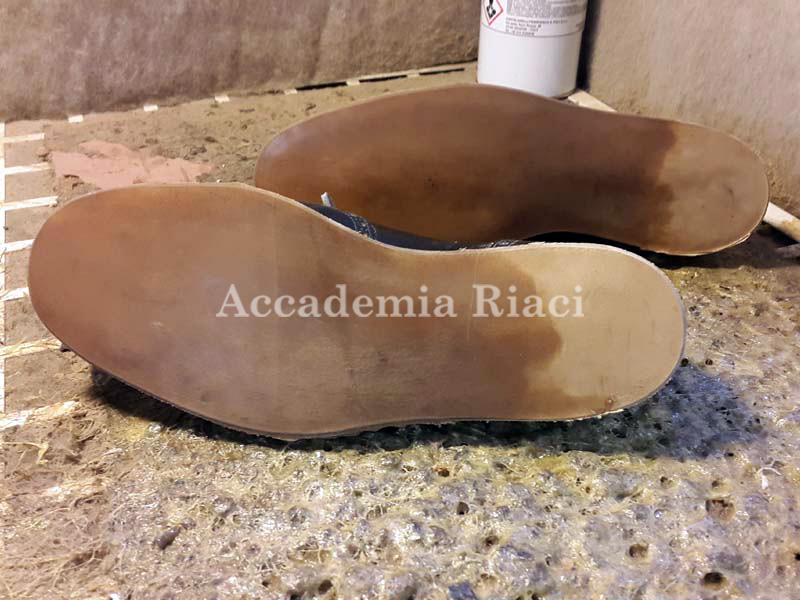 開溝前的前置作業,為了讓皮革保持柔軟,要讓大底的皮革維持在微濕的狀態,才會比較好下刀開溝。

Before cutting groove, the leather should be wet.

溝を掘る前に本底の革を水で濡らさなければなりません。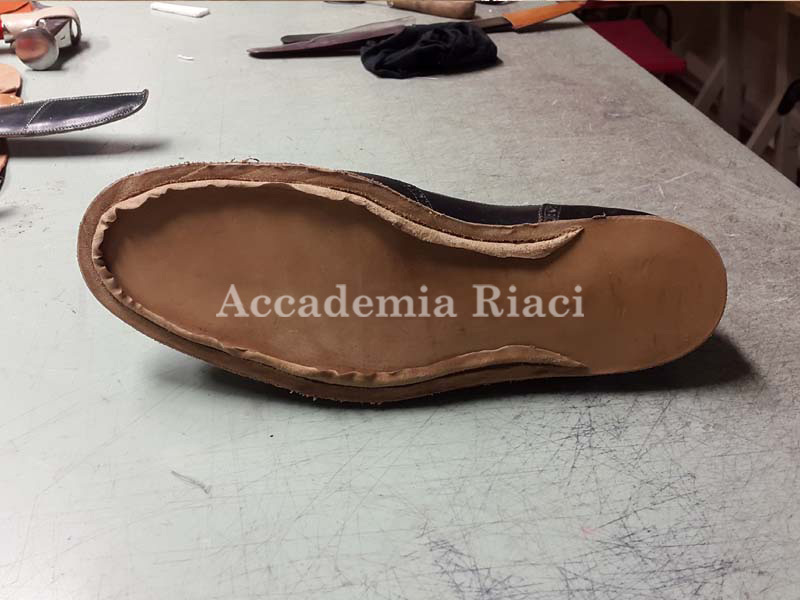 開溝是一項十分專業的技巧,需要長年經驗的累積,才能開出漂亮、乾淨的溝線。每次看教授切鞋底,都會看得出神。他咻的一下,輕輕劃過一圈,就切好了。當教授示範的時候,我一直si si si 個半天表示我了解,但換我切怎麼切就是切不下去。瞬間投以崇拜。希望自己有一天也能這樣運用自如。

To cut a beautiful groove need yearly practice and technical skills. Each time when I watching Angelo cutting grooves, it made me staggered. He did it quickly, beautifully, but for me, it ended up with totally different outcome. Hope one day I could do it as gracefully as he is.

美しい溝を掘るには1年を通しての訓練と高い技術力が必要です。底に溝を掘るアンジェロ先生を見るたび愕然としてしまいます。私のは、早くて美しい先生の作業には遠く及ばない出来栄え。いつか先生のように優美に作業ができるようになりたいです。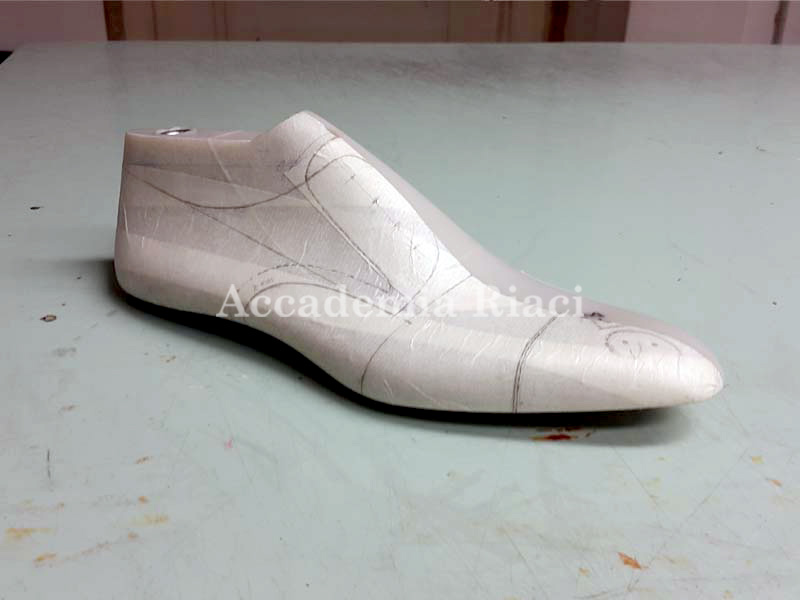 到了星期四,我們開始進行新的版型-Derby Shoe,Derby shoe跟Oxford不同的地方在於Derby有開放的前襟,在腳背的地方有更多的活動空間。Angelo說這款鞋我們將學習如何製作手縫線,在完成手縫線製作後教授會再帶著我完成Oxford囉。

This Thursday, we start from new pattern- Derby shoe. Derby shoe have open vamp compare to Oxford shoe. For this reason, there is more space around instep. Angelo said, we are going to learn how to make special thread for welting, then, I could follow him to keep working my Oxford shoe. Can't wait!

木曜日、私たちは新しいダービー靴の型紙を作り始めました。つま先の部分が開いたダービー靴なので、甲部分が広めに取ってあります。アンジェロ先生曰く、ウエルトを縫い付けるための特別な糸の作り方を学んだら、オックスフォード靴の作業も続けられるとのことでした。その日が待ち遠しいです。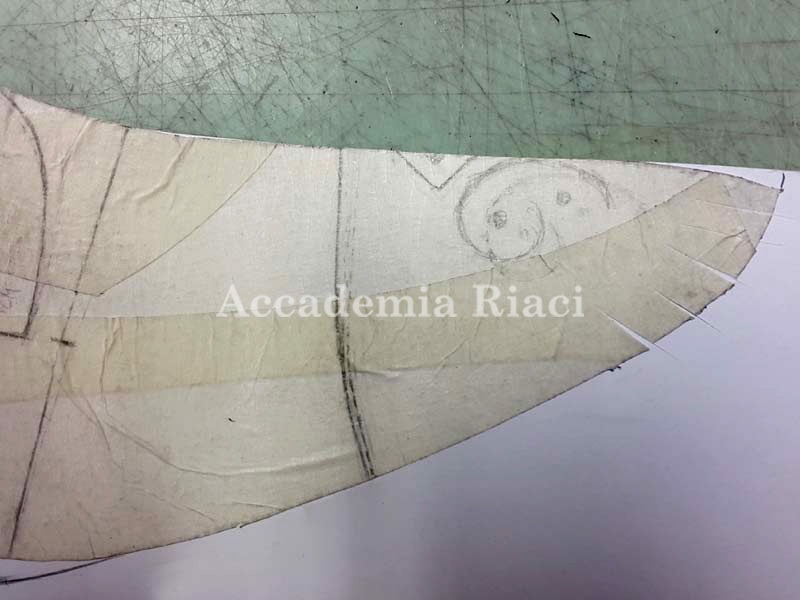 Derby的設計採用比較簡單的線條,也嘗試使用男生的尺寸來練習。

This time, I use simple line with man size 42.

今回は男性サイズの42を、シンプルなデザインで作ります。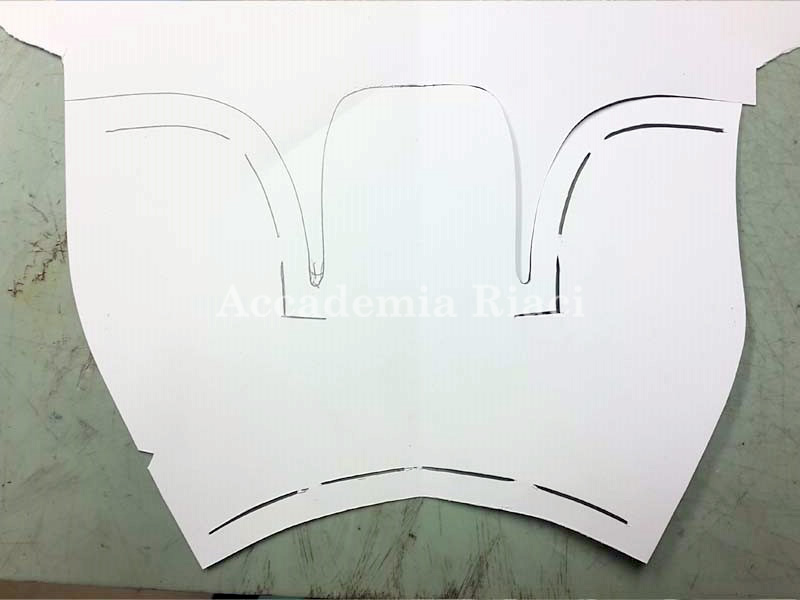 Derby在model的製作跟Oxford有非常大的不同,看似簡單的版子裡面卻大有學問。這是鞋舌處的鞋面裁片,也是最複雜的一片。為了讓之後鞋面貼合楦頭,在開版的時候要旋轉腳背算出最貼合的角度。
以上是這禮拜的報告分享,下週繼續囉!

The model between Derby and Oxford are very different. Though pattern seems simple, there was a profound of knowledge when making it. This is the pattern of tongue. In order to let upper fits last perfectly, the process need rotation to find the right angles.
This is weekly reports, see you next week!

ダービー靴とオックスフォード靴の型紙は全然違います。ダービー靴の型紙は単純に見えますが、作るのに奥深い知識を要します。写真はベロ革の型紙です。アッパーを完璧に木型にフィットさせるためには、型紙を正しい角度に回転させる必要があるのです。
今週のレポートはここまで、また来週!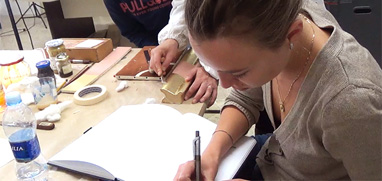 At Accademia Riaci, we are recruiting Course Reporters from our students. The students who are chosen to become Course Reporters are given 10 % of the tuition as their scholarship fee.
The Reporters who have submitted excellent reports will have his or her profile posted on our school website for the next 5 years as an alumnae and will be able to connect with their business chancesafter their graduation.