Accademia Riaci
Student Reports
Read all class reports from our students!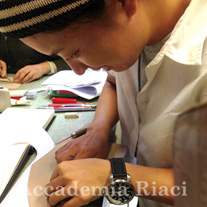 Reporter
Masami ISHIZUKA
Nationality: Japan
Course: Shoe Making
Program: Master Course
Period: Sept. 5,2016-Apr. 28,2017
日本では10年間ほど靴づくりとは関係のないお仕事をしていましたが、趣味としてずっと好きで続けていたのが革細工でした。休日には財布など小物をコツコツ作る毎日でした。そしてそこから派生して、この2年間は神戸にある靴学校に毎週通いました。自分が考えたものが形になっていくことが面白くて、休日は疲れていても靴作りが楽しくて仕方がありませんでした。とても時間がかかる作業ですが、出来上がりだけでなく、出来上がっていく様子がなんとも言えません。
一年ほど前から、思い切ってお仕事を辞め、本場イタリア・フィレンツェに革靴づくりを学びに行くことを決めました。今年の5月より4ヶ月間、語学学校でお世話になりイタリア語で何とか授業を受け始めました。まだまだ分からない事だらけですが、楽しみながら頑張りたいと思っています。

I worked in Japan for about 10 years but my former job had nothing to do with shoe making. I simply liked leather working as a hobby. I used to make small items such as leather wallets on my days off. For this past 2 years, I studied every week at a shoe making school in Kobe, Japan. I totally enjoyed the process of how my idea became actual shoes, so I kept making shoes on weekends even though I was tired from my weekday's work. It takes a long time to make 1 pair of shoes, but I just love the shoe making process itself.
I quit my job 1 year ago and decided to come to Florence to study shoe making. I took Italian lessons for 4 months from this May, and I am now taking shoe making lessons in Italian. There is so much I need to learn now, but I hope to enjoy this learning experience.
Nov. 29, 2016 | Posted in Reports, Shoemaking , Student Reporter | Tags:Masami Ishizuka, ShoemakingReporter: Masami ISHIZUKA | Course: Shoemaking

9月から一緒のコースで靴作製を学んでいるクラスメートとアンジェロ先生です。真ん中の後ろにいるインド出身のジラさんは、2ヶ月の短期コースが今週終了したため、みんなで記念撮影をしました。

These are my classmates since this September and Prof. Angelo. We took this picture together because it was the last day for Chirag, a 2-week short course student from India.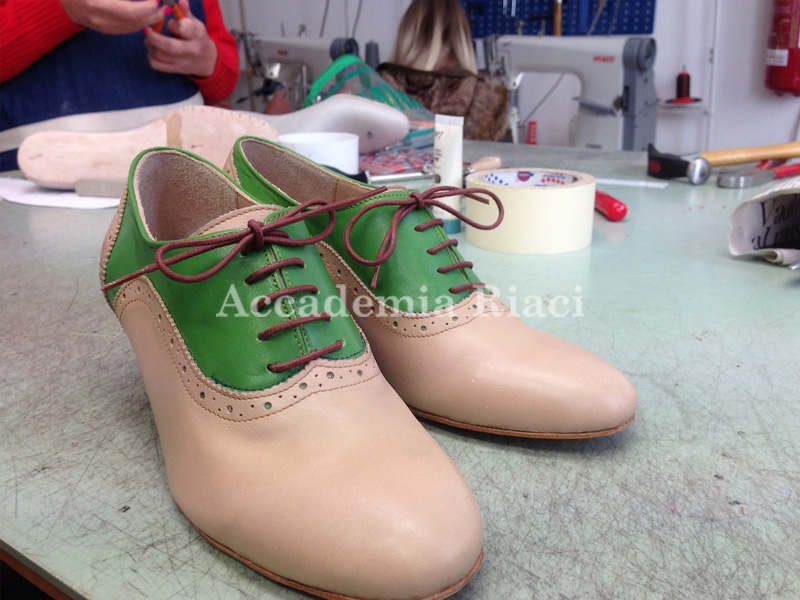 Francesinaの2足目が終了しました!! 今回は黄緑色を取り入れたのと、滑らかな線が特徴の靴にしてみました。かかとが少し高めの、イタリアの35というサイズにしました。

I completed my second pair of francesina. This time I used light-green leather and made the outline of the shoes smoothly curved. I made them in Italian size 35 with heels on a higher side.

この日たまたま履いていた緑のズボンとはいい相性かもしれません。私のサイズがイタリアサイズの35=日本サイズの22.5なので、一応自分用にと考えています。

They went well with the green pants I was wearing on this day. I consider this pair for myself because my foot size is 35.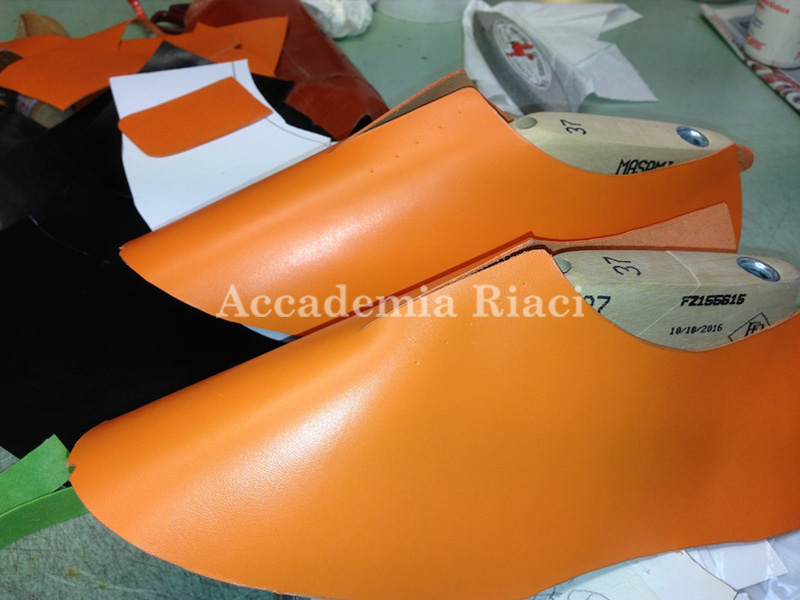 オレンジ色で3足目を作ろうと考えています.クラスメートからは、「目がチカチカする。。。。」と言われてしまいましたが、自分が履くかは別にして気にせず作りたいと思います。

I'm planning to make my third pair of shoes with this orange leather. My classmates thought it was too flashy, but I will make them anyways and decide whether to make them mine or not afterward.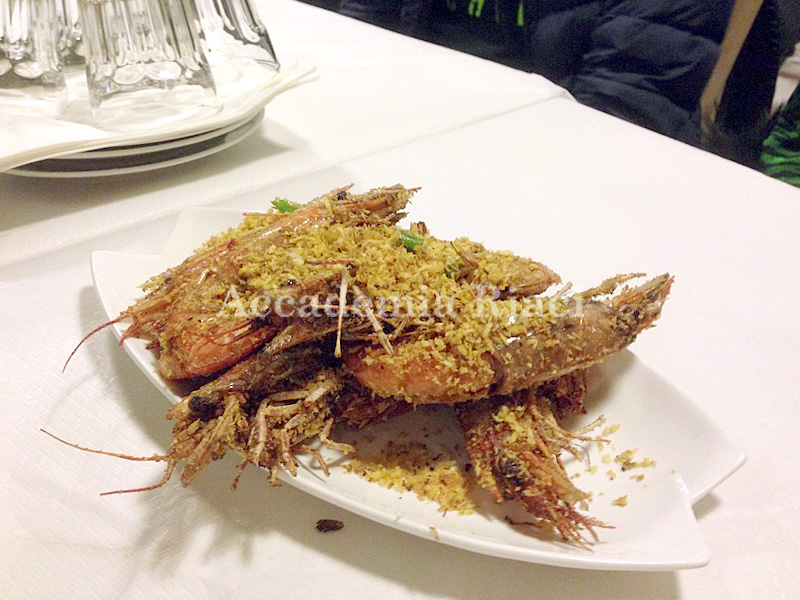 クラスメートとも仲良くなり、たまにご飯に行ったりしています。この日は中華料理屋さんに総勢13という大人数でご飯を食べに行きました。学校から近いピリ辛が売りのお店です。写真の料理はエビの姿揚げです。

I became close with other classmates, so we often eat out together. Today 13 of us went to eat at a spicy Chinese restaurant near our school. This is a dish of deep fried shrimp.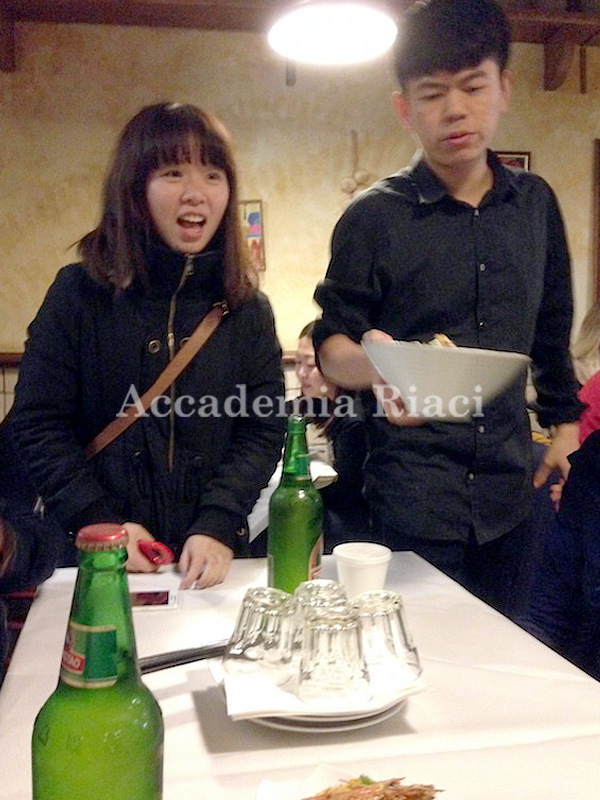 写真の左にいるのが、クラスメートで台湾出身のティナさん。中国語が話せるので、13人分を手際良く注文してくれました。漢字は分かってもメニューを見ただけでは味は分かりませんから、本当に助かりました!!

This girl on the left is one of my classmates, Tina. As she is a native Taiwanese, she was able to place an order for 13 people smoothly. She really was a great help.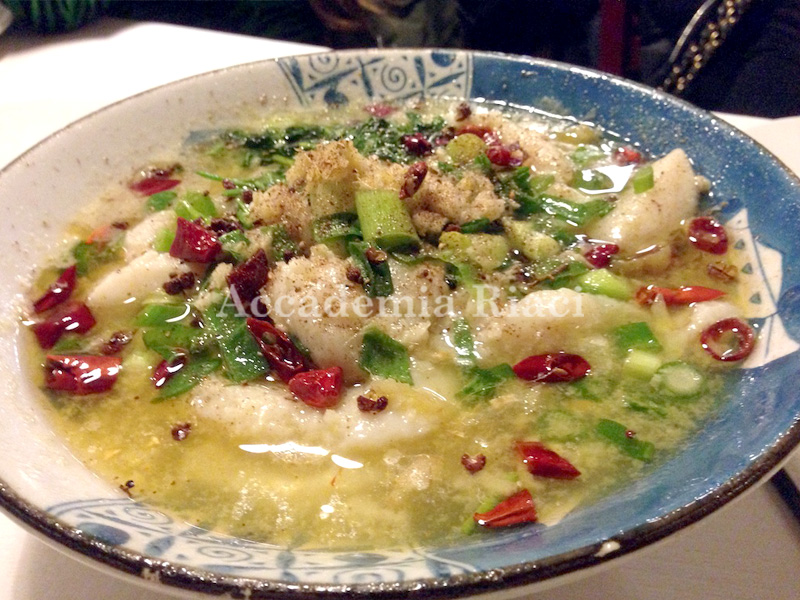 こちらは、魚のすり身が入った野菜一杯のスープです。名前は分かりませんが、唐辛子は食べてみたら激辛でした。。。でも癖になる味です。久々に食べる白いご飯が最高です!!

This is a bowl of vegetable soup with minced fish meat (sorry, cannot recall the exact name.) The red pepper was extremely hot, but its taste was somewhat addictive. And oh, how much I enjoyed the white rice I had missed!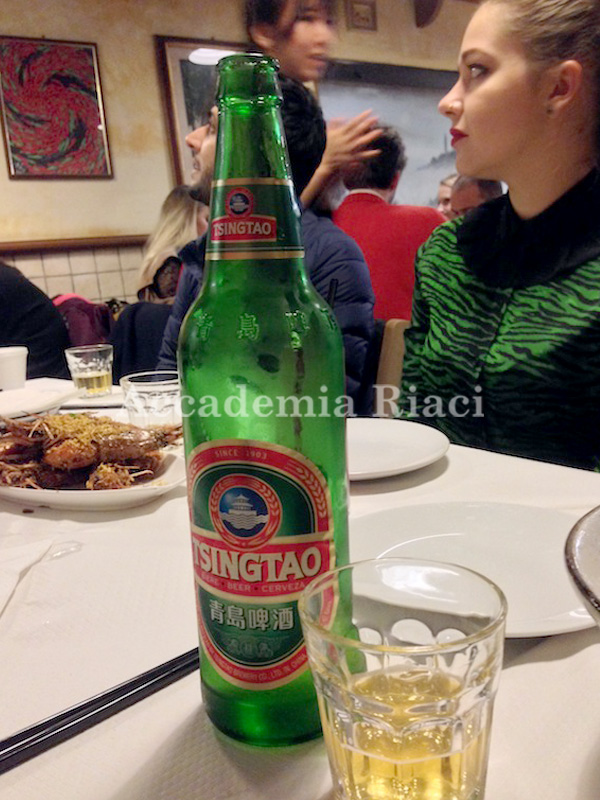 チンタオビールも大瓶が3~4ユーロとお得です。辛いメニューが多いので、みんな良いペースで飲みました。ライトビールで美味しかったです。

A large bottle of Tsingtao beer was reasonably priced around 3-4 Euros. Since many dishes we ate were hot, we drank it fast. It was a wonderful light beer.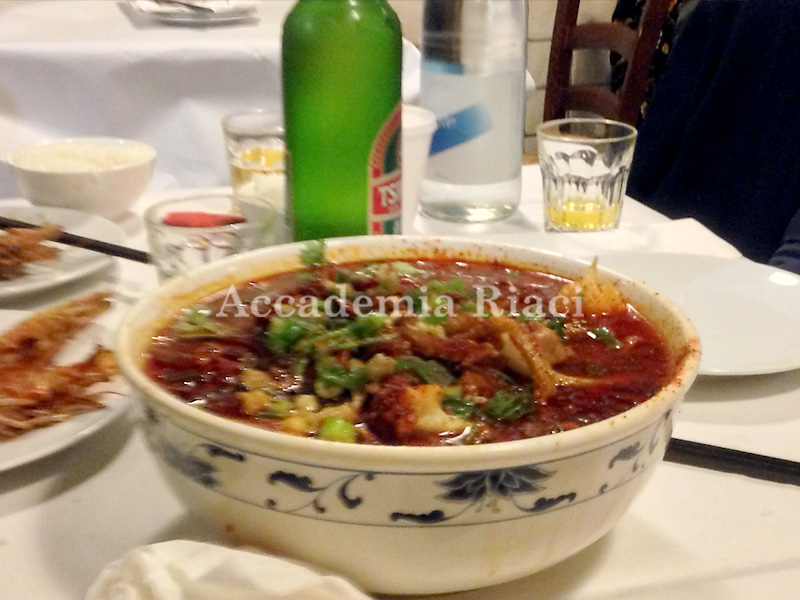 こちらは、見た目から激辛なのがわかる一品です。牛の肝、もつ煮込み激からスープという感じでした。これも名前がわかりませんが、ご飯と合いました。というより、ないと大変です。

You can tell by just looking at this picture that this is an extremely hot soup. It sure was an extremely hot soup with beef intestines (I again forgot the name of this dish.) You definitely need a bowl of rice to survive through this soup.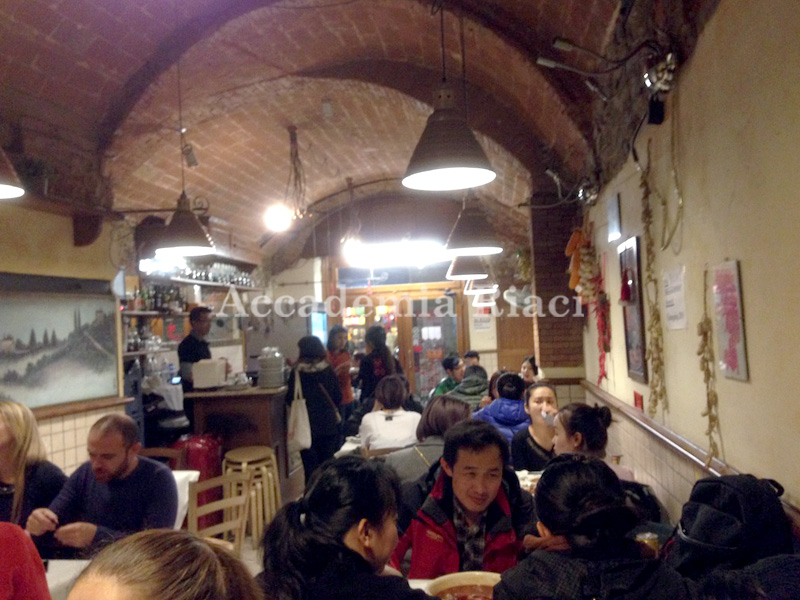 世界のどこに行っても中華料理屋はある。と聞いた事があります。ここフィレンツェでも例外なくそうです。そして、日本人の私にはアジア料理、中華料理というだけで既に懐かしい味に思えます.辛いものも大好きなので、また行きたいと思います。

I've heard that there are Chinese restaurants all over the world, and Florence is no exception. As myself being Japanese, I really enjoy Chinese food which is similar to the Japanese cuisine. Since I love hot food, I'd love to visit this restaurant again.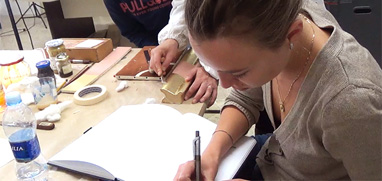 At Accademia Riaci, we are recruiting Course Reporters from our students. The students who are chosen to become Course Reporters are given 10 % of the tuition as their scholarship fee.
The Reporters who have submitted excellent reports will have his or her profile posted on our school website for the next 5 years as an alumnae and will be able to connect with their business chancesafter their graduation.