Accademia Riaci
Student Reports
Read all class reports from our students!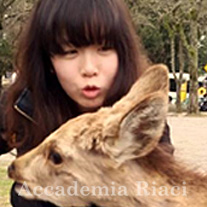 Reporter
Li SHIAU-TING
Nationality: Taiwan
Course: Shoe Making
Program: Atelier Course
Period: Sep. 4, 2017 – Apr. 27, 2018
Shiau-Ting, Li. Shoes designer from Taiwan.
After working in Taiwanese footwear industry for three and a half years, she came to Firenze to study shoes making course, the city which is famous for leather art and shoes.
Although she already has basic aesthetics and sketching technique background from university (B.A.), yet she hopes to extend her shoe-making skills here in Riaci. She believes designer can deliver their thoughts through their works, hoping to keep motivate people with her designs.

李曉婷,來自台灣的鞋類設計師。
在台灣鞋產業工作三年半之後,她決定到皮革之都-佛羅倫斯,學習製鞋技術。
大學主修產品工藝,擁有美學背景、好的品味及繪畫基礎。即便如此,仍期望到莉雅琪延伸自己在實作上的經驗。她相信,設計師能夠透過設計表達想法,希望能持續用創作感動身邊的人。

台湾の靴業界で靴デザイナーとして3年半経験を積んだ後、さらに学びを深めようと革工芸と靴で有名なここフィレンツェへやって来ました。
基本的な審美眼とスケッチ技術は大学(文学士号取得)で学んでいましたが、さらに靴制作の技術を磨くためにリアチ入学を決めました。「デザイナーの想いは、デザインを通して人々に届く」ことを信じ、自分のデザインで人々の心を動かしたいと願っています。
Nov. 29, 2016 | Posted in Reports, Shoemaking , Student Reporter | Tags:Li Shiau-Ting, ShoemakingReporter: Li SHIAU-TING | Course: Shoemaking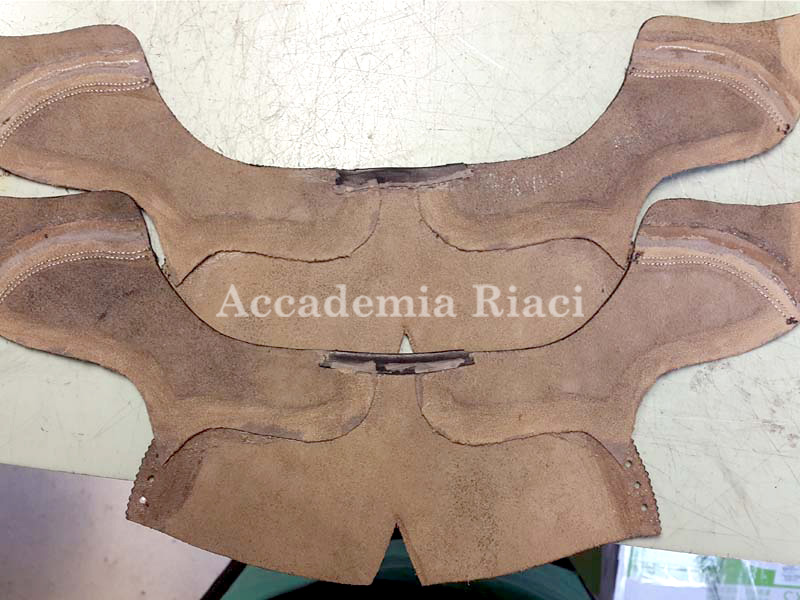 上禮拜完成裁片後,星期一我開始組合裁片。由於這雙鞋的設計比較複雜,為了不讓重疊處太厚,重疊的地方要再削薄一些。

Last week after preparing all the pieces, Monday I start from combining pieces together. In case not to let leather became too thick, I skived more in which was overlapped.

先週までに作った全てのパーツを組み合わせる作業を月曜から始めました。重なる部分はよく漉いて、厚みが出過ぎないようにします。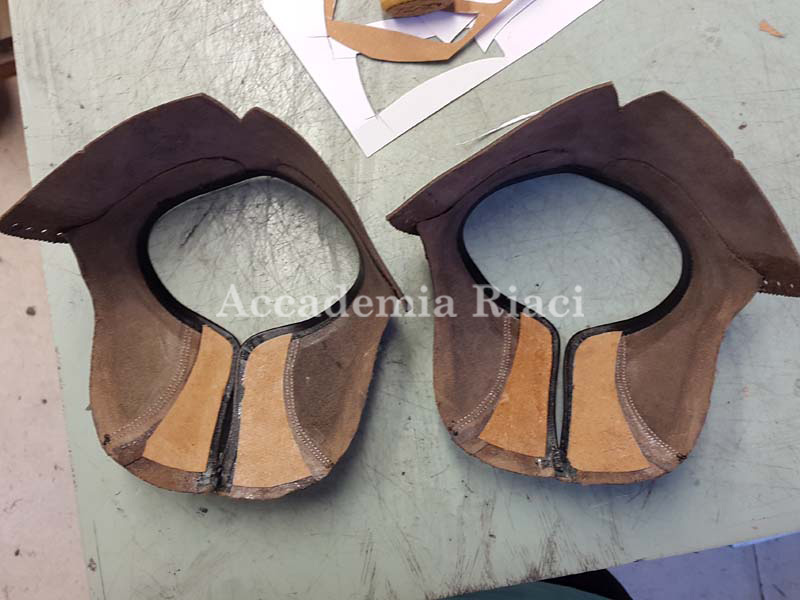 這張照片是鞋面的前半部,在製作好邊緣、手縫固定腳背處後,需再鞋眼處加上稱為SABA的補強片。

This is the front of my shoe upper. After putting "velatula", stitching middle part with hand, we put SABA to make shoe upper stronger.

私のアッパーの前部分です。真ん中を手縫いしたら、補強材を入れてアッパーの強度を上げます。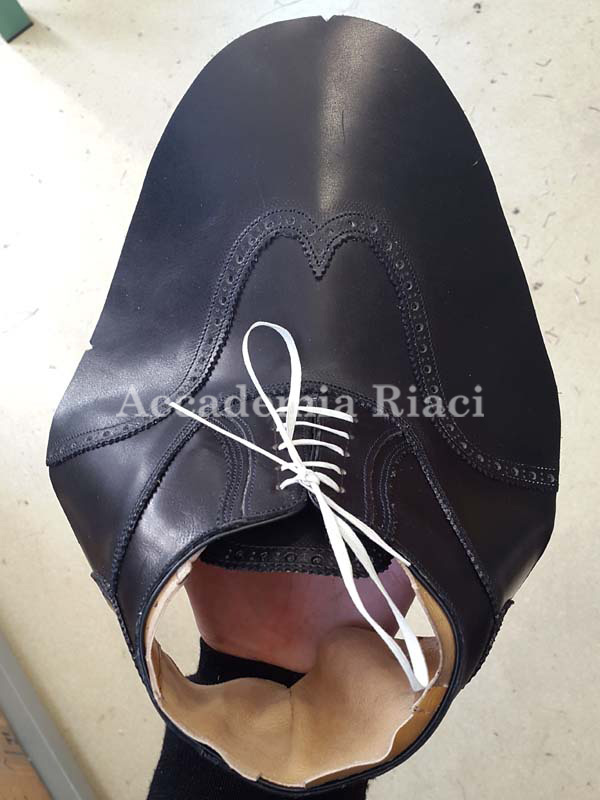 我的鞋面終於完成啦! 這是右腳的鞋面。

This is my right one of shoe uppers. Now, I could start putting my counter and then lasting my shoe.

私の右足のアッパーです。ここまで来たらあとはカウンターを入れて吊り込みを始められます。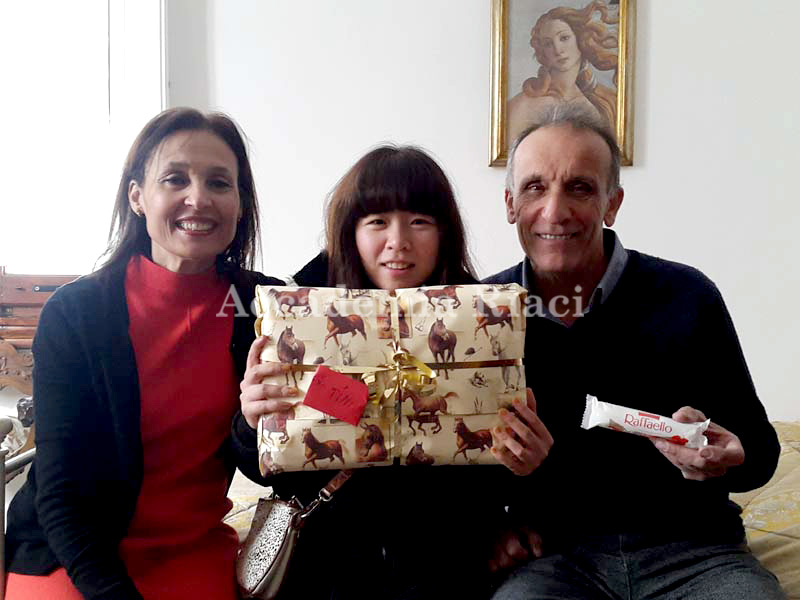 對了,這禮拜我搬新家了,房東是非常親切的義大利媽媽,新居落成他們幫我搬家,還準備了禮物給我,實在太窩心了!

By the way, I moved to new accommodation this week, my landlord is a very friendly Italian mother. At the first day I arrived, they even prepared a gift for celebration, so sweet.

話は変わりますが、私は今週新しいアパートに移りました。新しい大家さんはフレンドリーなイタリア人マンマです。初日にわざわざ引っ越し祝いをくださったほど優しい方です。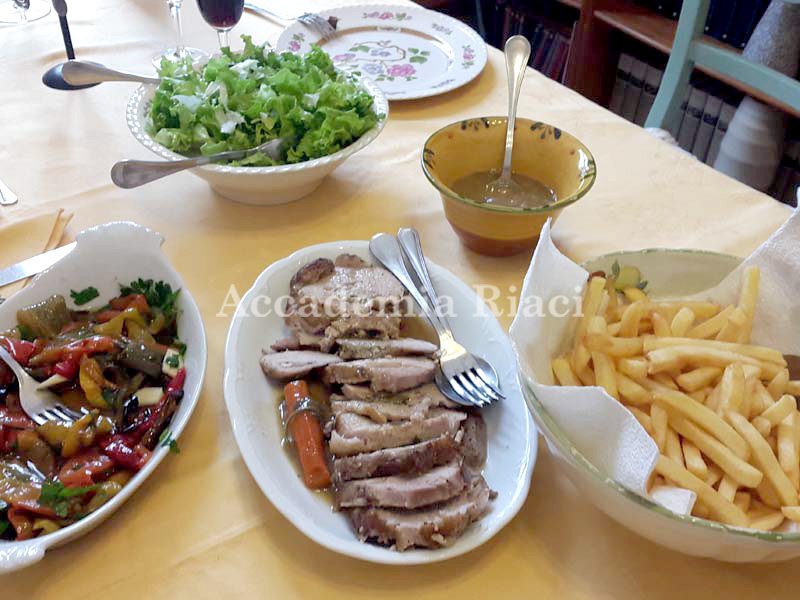 體驗豐盛的義大利家常菜,房東媽媽說,假日是義大利人的重要日子,家人聚在一起分享食物、分享生活。

We ate typical Italian food for lunch. My landlord said: Weekend are very important days, we usually get together sharing foods and life joy.

イタリアの典型的なランチメニュー。大家さんは「みんなで一緒にご飯を食べて楽しい時間を共にする。週末は大事な時間です」と言っていました。

繼續牛津鞋的製作,在楦頭上用手切出中底形狀後,就可以拔下釘子用機器削平順了。

Keep working my oxford shoe, cutting shape for insole, putting down nails, skiving with machine.

オックスフォード靴の作業を続けます。中底の形を切り抜き、釘を打ち、機械で漉きます。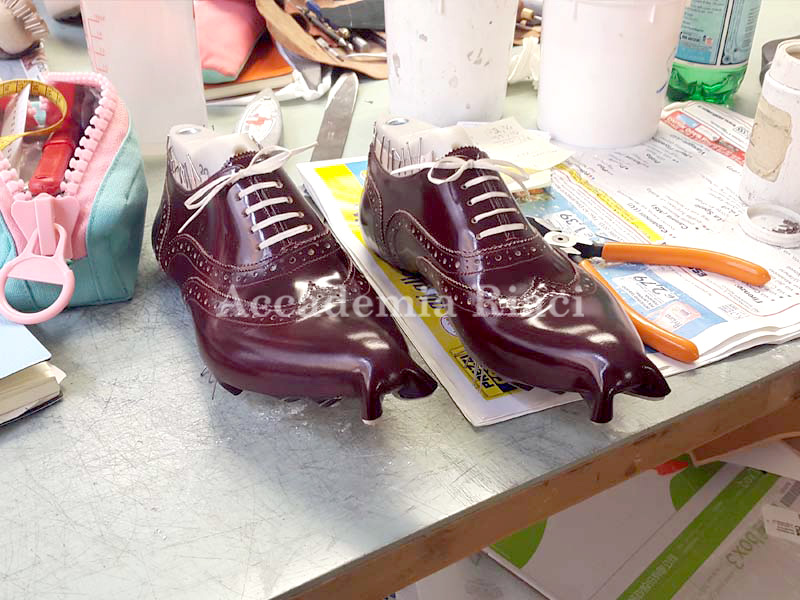 這是同學LARA的牛津鞋,她使用亮面的紅色皮料,看起來很時尚呢。

Photo shot of LARA's work. She used shining red leather, looks fashion.

ララの靴です。光沢のある赤い革を使った、ファッショナブルな靴です。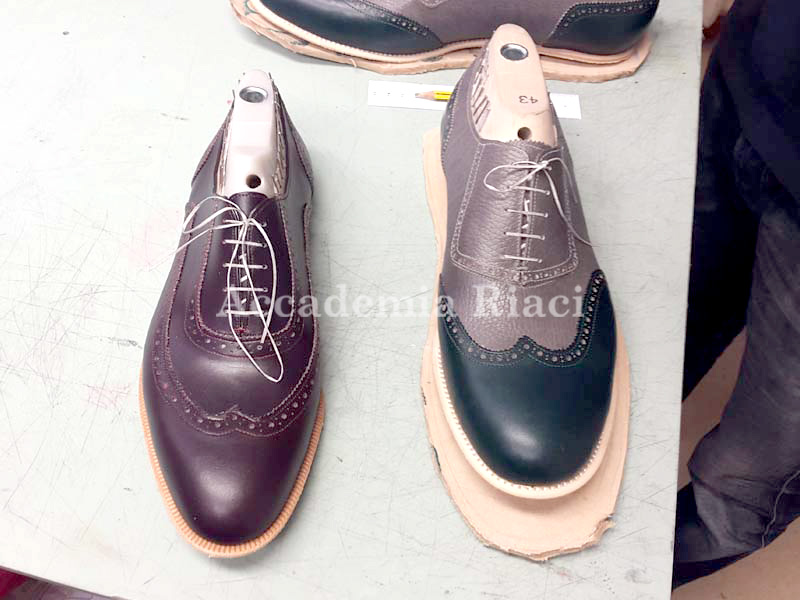 這是同學JOAN和JOE的作品,我開玩笑的說:大家都在進行瘋狂的設計!

This is JOAN and JOE's works. Everyone was making crazy design, I said.

ジョアンとジョーの靴です。みんなデザインがすごい!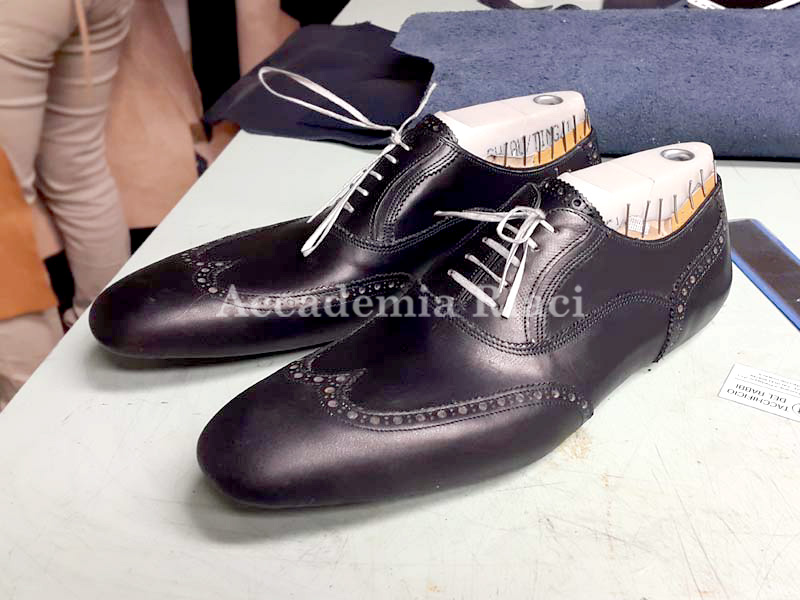 這是我的牛津鞋,選用霧光的黑色皮料、深藍色的車縫線。第一雙使用比較低調的色彩,下次會考慮使用更大膽的配色! 投入很多時間,只希望能趕緊穿上它。

This is my work. I choose matt finished leather with deep blue line. Next time I will think about using brighter color in this shoe.

私の靴。つや消しの革に深い青のラインを選びました。次の靴はもっと明るい色を使おうかと考えています。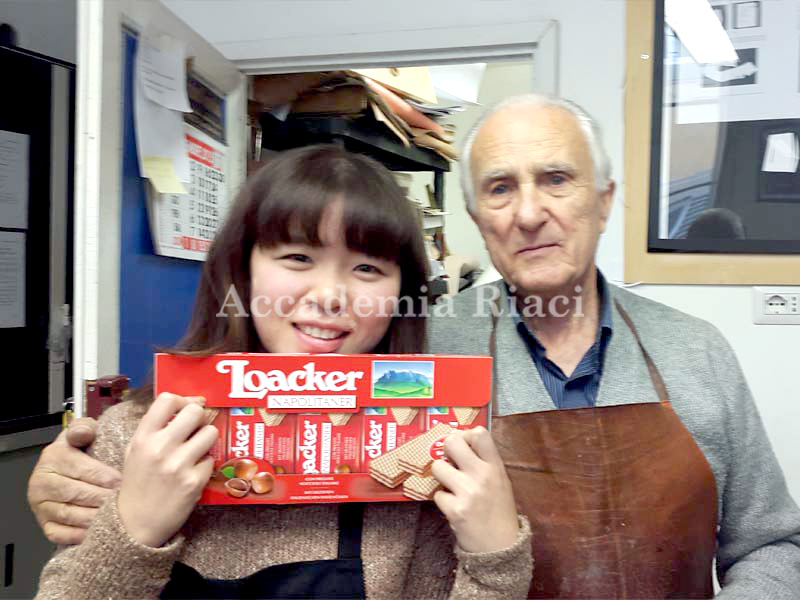 星期四是我的生日,一向低調的我沒有告訴任何人我的生日,沒想到還是被同學發現了,哈哈! 老師得知我的生日後,神秘的從小房間拿出餅乾送我,我興奮得跟老師合照。我的同學們、Angelo,你們太可愛了。

Thursday is my birthday. I kept secret and didn't tell my classmate but, they found it out! I was so surprised. When my teacher Angelo knew that 17th November was my birthday, he secretly took a box of cookie from his room for me. How sweet it was!

木曜は私の誕生日でした。みんなには黙っていたのですが、なぜかバレていてビックリしました。こっそりチョコレートをプレゼントしてくださったアンジェロ先生と。なんて優しい先生でしょう!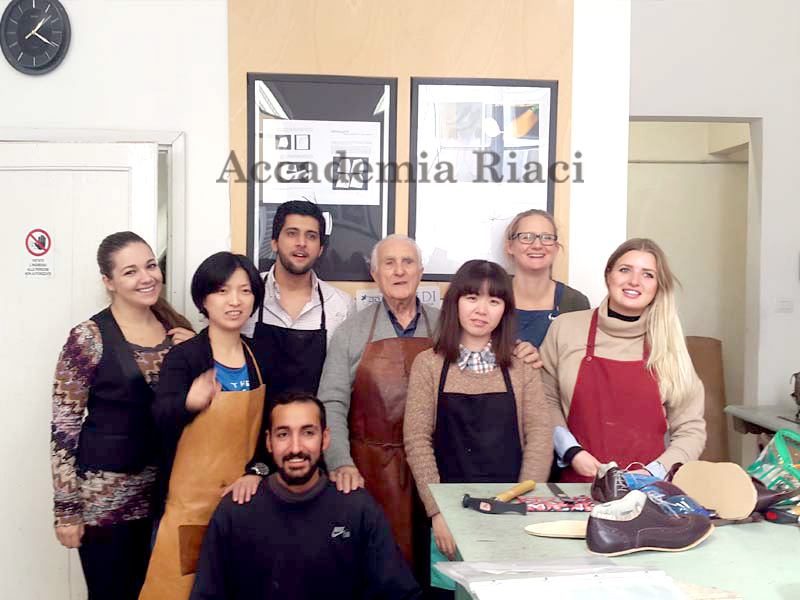 今天是來自印度的Chirag最後一天上課,難得有機會大家終於聚在一起合照了,我想我會想念一起的時光,有緣再見了。
以上是這禮拜的報告分享,下週見!

Today was Chirag final day for class. We had our first group-photo shot in the morning. I am going to miss the time together.
This is weekly reports, see you next week!

この日はクラスメイトのチラグの最終日でした。記念にクラスで初めての集合写真を撮りました。寂しくなりますね。
今週のレポートはここまで。また来週!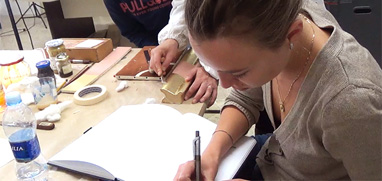 At Accademia Riaci, we are recruiting Course Reporters from our students. The students who are chosen to become Course Reporters are given 10 % of the tuition as their scholarship fee.
The Reporters who have submitted excellent reports will have his or her profile posted on our school website for the next 5 years as an alumnae and will be able to connect with their business chancesafter their graduation.