Accademia Riaci
Student Reports
Read all class reports from our students!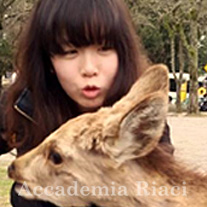 Reporter
Li SHIAU-TING
Nationality: Taiwan
Course: Shoe Making
Program: Atelier Course
Period: Sep. 4, 2017 – Apr. 27, 2018
Shiau-Ting, Li. Shoes designer from Taiwan.
After working in Taiwanese footwear industry for three and a half years, she came to Firenze to study shoes making course, the city which is famous for leather art and shoes.
Although she already has basic aesthetics and sketching technique background from university (B.A.), yet she hopes to extend her shoe-making skills here in Riaci. She believes designer can deliver their thoughts through their works, hoping to keep motivate people with her designs.

李曉婷,來自台灣的鞋類設計師。
在台灣鞋產業工作三年半之後,她決定到皮革之都-佛羅倫斯,學習製鞋技術。
大學主修產品工藝,擁有美學背景、好的品味及繪畫基礎。即便如此,仍期望到莉雅琪延伸自己在實作上的經驗。她相信,設計師能夠透過設計表達想法,希望能持續用創作感動身邊的人。

台湾の靴業界で靴デザイナーとして3年半経験を積んだ後、さらに学びを深めようと革工芸と靴で有名なここフィレンツェへやって来ました。
基本的な審美眼とスケッチ技術は大学(文学士号取得)で学んでいましたが、さらに靴制作の技術を磨くためにリアチ入学を決めました。「デザイナーの想いは、デザインを通して人々に届く」ことを信じ、自分のデザインで人々の心を動かしたいと願っています。
Mar. 13, 2018 | Posted in Reports, Shoemaking , Student Reporter | Tags:Li Shiau-Ting, ShoemakingReporter: Li SHIAU-TING | Course: Shoemaking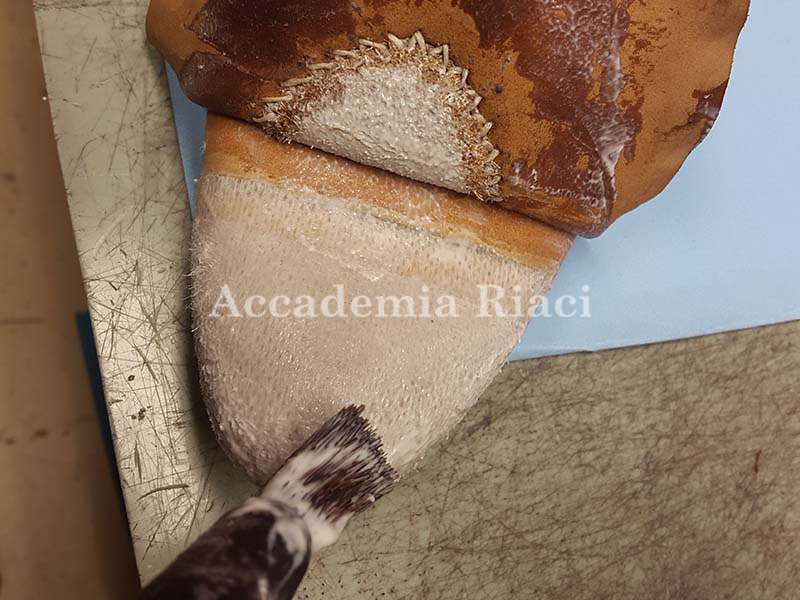 這禮拜繼續我的樂福鞋攀幫作業。由於我使用兩片手縫接合,在塗膠的時候不能塗太多,以免溢膠。"只需塗港寶、內裏以及U型裁片的內側"-教授說著。

In this week, I kept working on my Loafer Idea shoes with lasting process. When putting vegetable glue, we should took more care of not to glue too much on the upper. "Only need to put on the counter, lining and the inner one of U-tip" – Prof. Angelo said.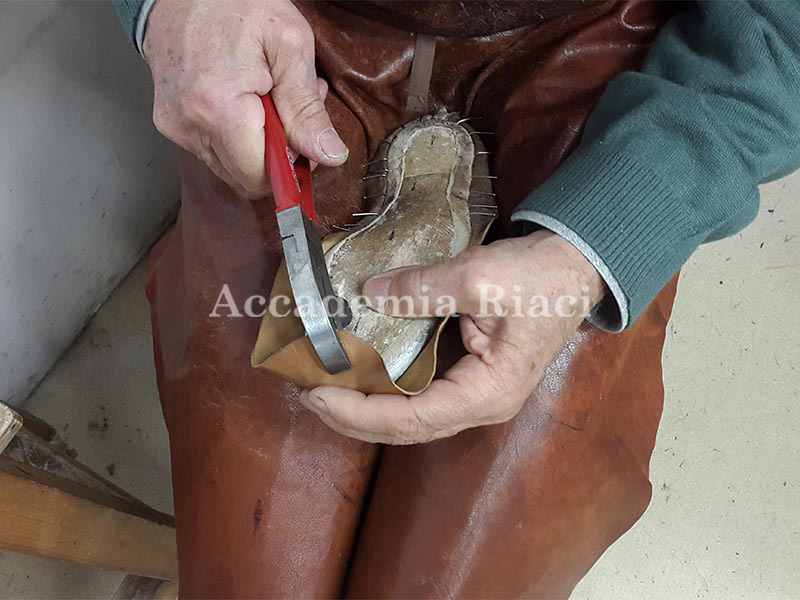 接著就要開始攀幫了! Idea的攀幫作法跟以往的結構很不一樣,鞋頭的部分也必須要保持鞋面打開,並用特殊的軟金屬固定住。

And then, we start lasting upper! The way of doing Idea lasting is very different from other constructions. The upper should kept opened with nails for the upcoming process.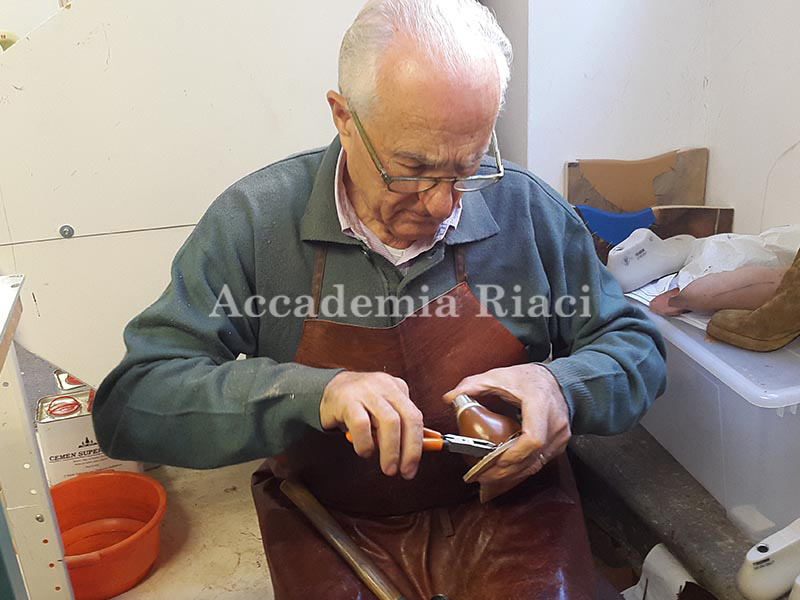 精采的部分來了,在黏上大底皮的時候,要先留住原先釘在裡面的釘子,然後再拔出,照片裡Angelo正在示範拔釘的技巧。(我露出驚訝的臉,原來釘子是拔得出來的)

The most exciting part was coming! When gluing outsole, nails need to remain on the last until we put on the sole. Insight picture, Prof. Angelo was showing this method and technique. (I was surprised)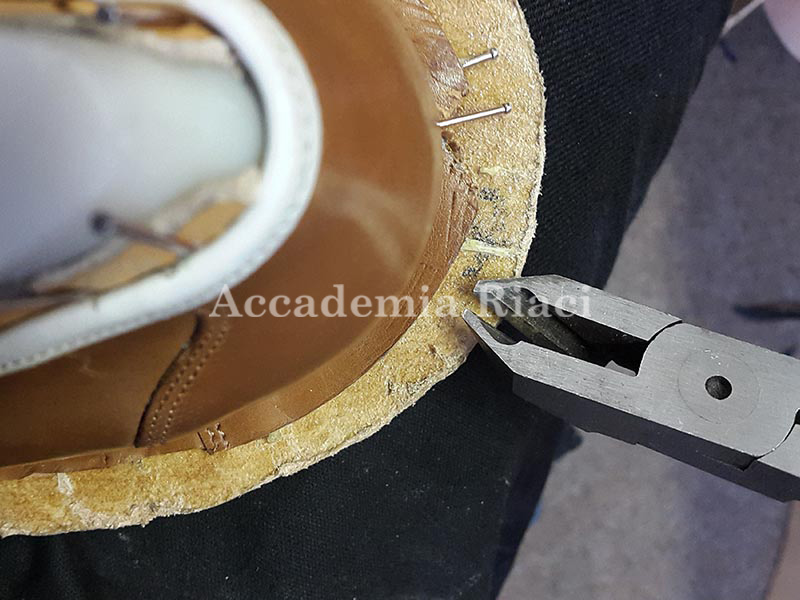 換我來試試了,釘子被夾在兩層中間,要拔還真是費了點功夫呢…要在兩層還沒被黏死前拔出,分秒都在競爭阿。

Now, it was my turn. To take away the nail in the middle took me a lot of effort for doing it…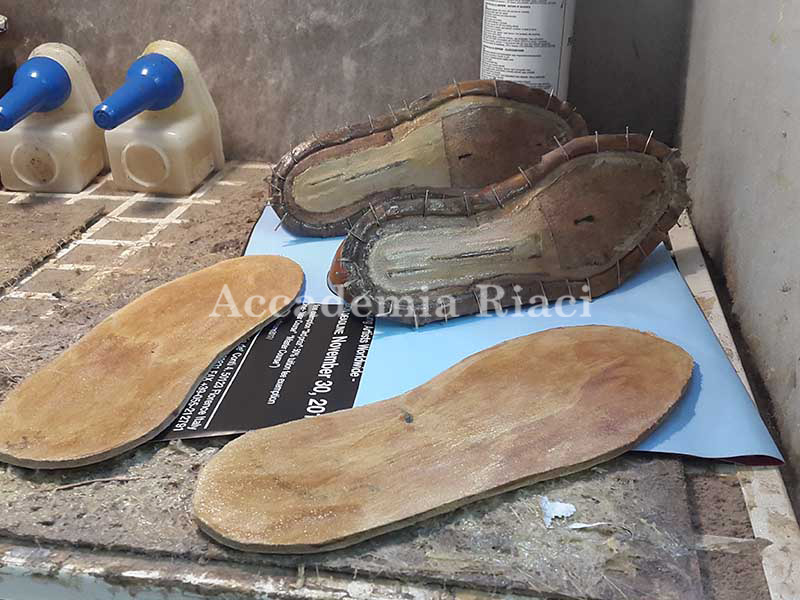 黏合前的樣子,看到剛剛那些拔出的釘子們了嗎?

Photo shot after I took away all nails. I made it!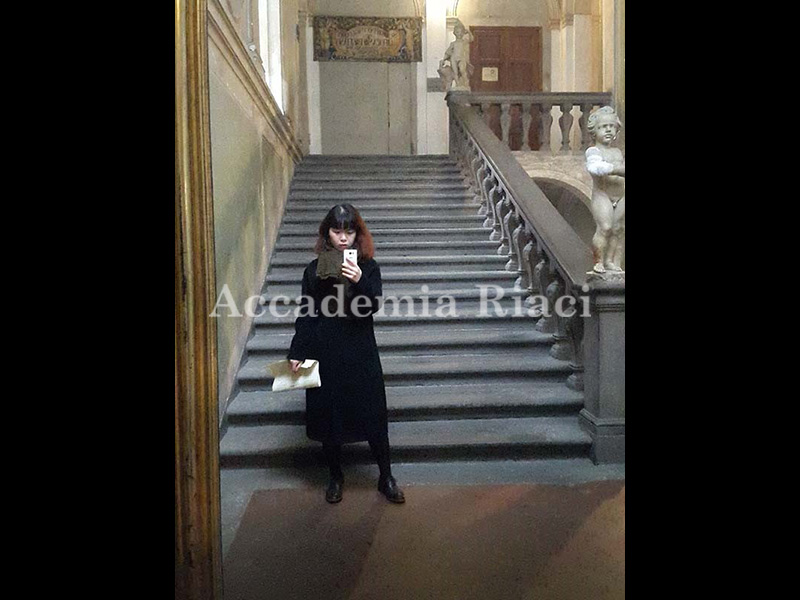 趁著假日天氣好,來參觀展覽11 spaces及穿梭在古建築裡冒險。

Walking around the city and saw the exhibition – 11 spaces.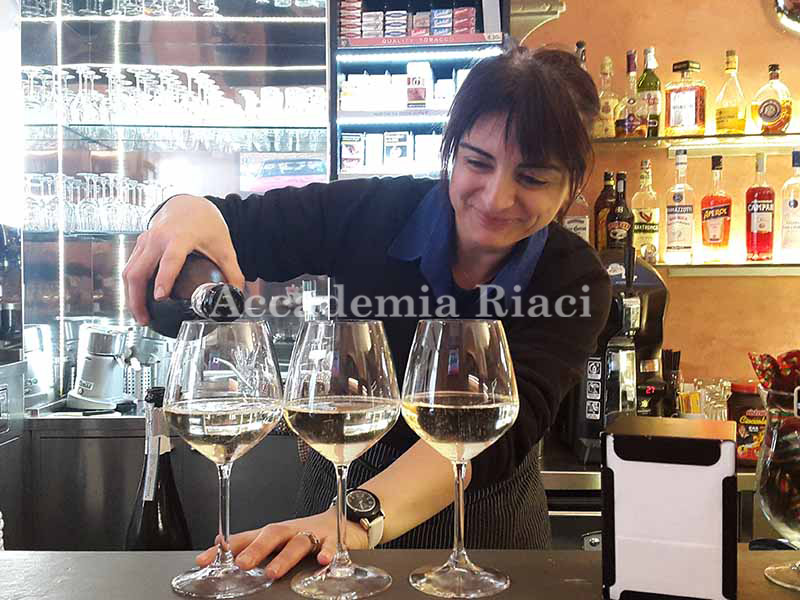 十一月十七號是我的生日。一項低調的我,如往常沒有特別跟大家提起生日。但,驚喜的是…大家都記得,我好感動! 圖片裡可愛的barbarla正在幫我們倒perseco,當時的我完全不知道,這免費招待的香檳也將是驚喜的一部分 ((笑

17th November was my birthday and my classmates prepared a surprise for me. I'm so so happy and appreciate. And even prosecco was part of the surprise for free! Oh god, you guys are so sweet.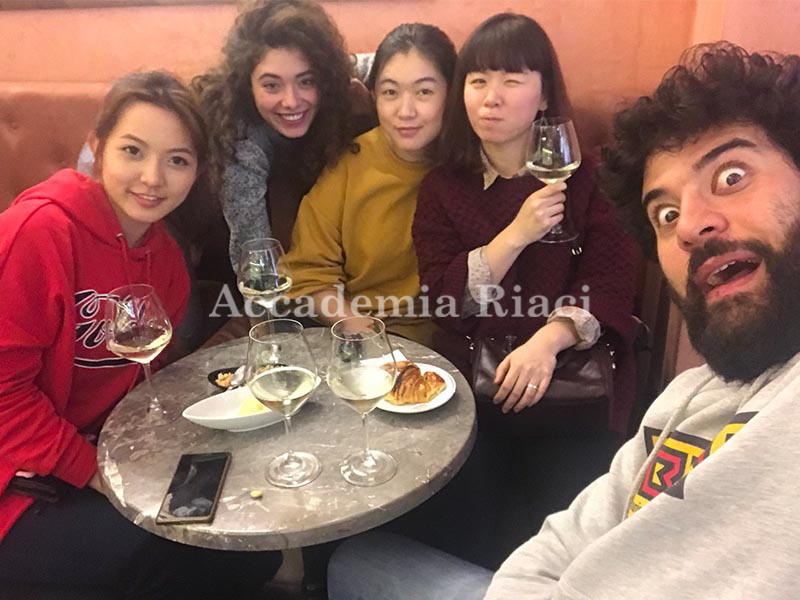 謝謝你們,我覺得很幸福 ☺ ☺

Thank you all, I felt more than happier.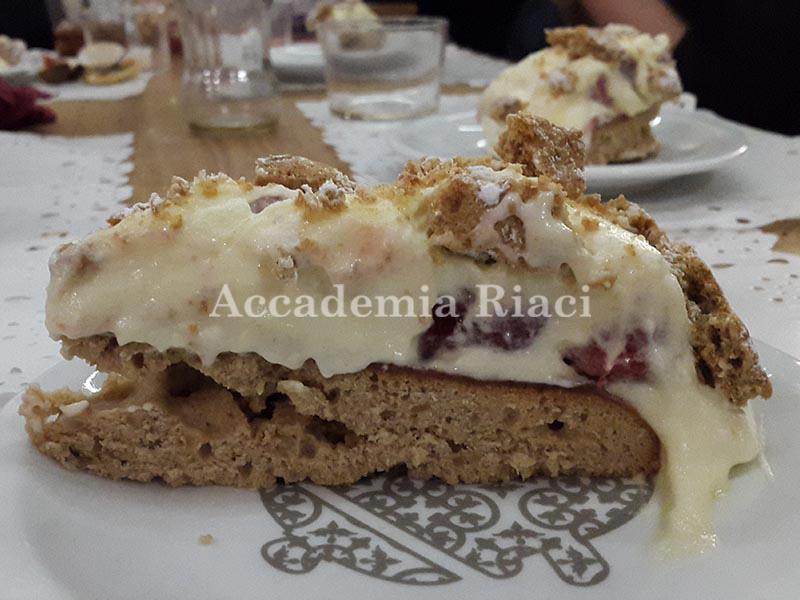 Yushih製作的起司慕斯蛋糕,超好吃!

Cheese cake from our classmate Yushih, super delicious!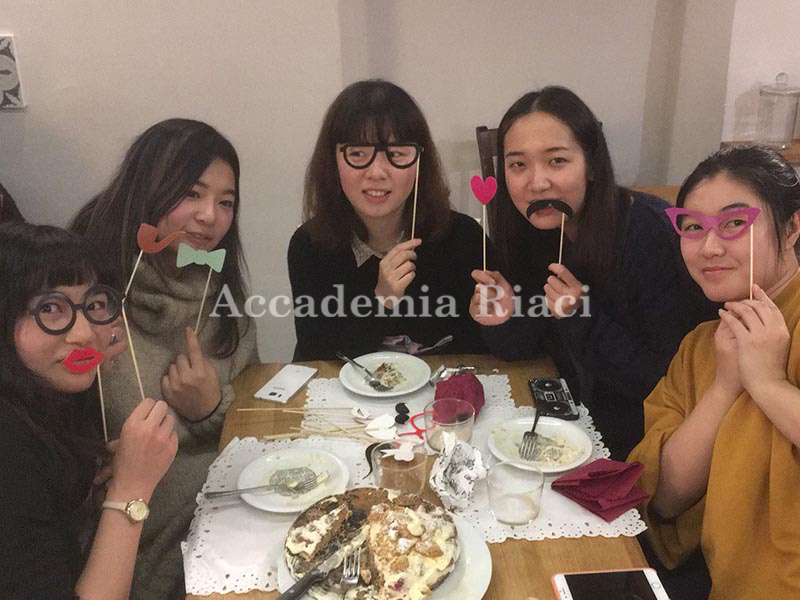 晚上我們相約在西班牙TAPAS餐廳小聚,28歲生日快樂,新的一年要更加充實快樂! 這禮拜報告先到這裡囉,我們下禮拜見~

Hi, 28 years old. Best wishes for my friends and upcoming journey in my life. This is weekly report, see you next week~ (photo shot when we have little celebration at TAPAS restaurant)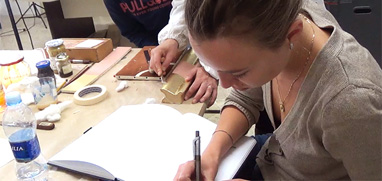 At Accademia Riaci, we are recruiting Course Reporters from our students. The students who are chosen to become Course Reporters are given 10 % of the tuition as their scholarship fee.
The Reporters who have submitted excellent reports will have his or her profile posted on our school website for the next 5 years as an alumnae and will be able to connect with their business chancesafter their graduation.