Accademia Riaci
Students' Blog
Up-to-date report from one of our students!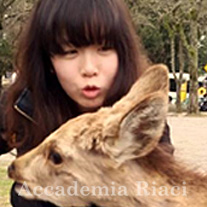 Reporter
Li SHIAU-TING
Nationality: Taiwan
Course: Shoe Making
Program: Atelier Course
Period: Sep. 4, 2017 – Apr. 27, 2018
Shiau-Ting, Li. Shoes designer from Taiwan.
After working in Taiwanese footwear industry for three and a half years, she came to Firenze to study shoes making course, the city which is famous for leather art and shoes.
Although she already has basic aesthetics and sketching technique background from university (B.A.), yet she hopes to extend her shoe-making skills here in Riaci. She believes designer can deliver their thoughts through their works, hoping to keep motivate people with her designs.

李曉婷,來自台灣的鞋類設計師。
在台灣鞋產業工作三年半之後,她決定到皮革之都-佛羅倫斯,學習製鞋技術。
大學主修產品工藝,擁有美學背景、好的品味及繪畫基礎。即便如此,仍期望到莉雅琪延伸自己在實作上的經驗。她相信,設計師能夠透過設計表達想法,希望能持續用創作感動身邊的人。

台湾の靴業界で靴デザイナーとして3年半経験を積んだ後、さらに学びを深めようと革工芸と靴で有名なここフィレンツェへやって来ました。
基本的な審美眼とスケッチ技術は大学(文学士号取得)で学んでいましたが、さらに靴制作の技術を磨くためにリアチ入学を決めました。「デザイナーの想いは、デザインを通して人々に届く」ことを信じ、自分のデザインで人々の心を動かしたいと願っています。
Nov. 02, 2017 | Posted in Blog, Shoemaking , Student Reporter | Tags:Li Shiau-Ting, Shoemaking | Language:



Reporter: Li SHIAU-TING | Course: Shoemaking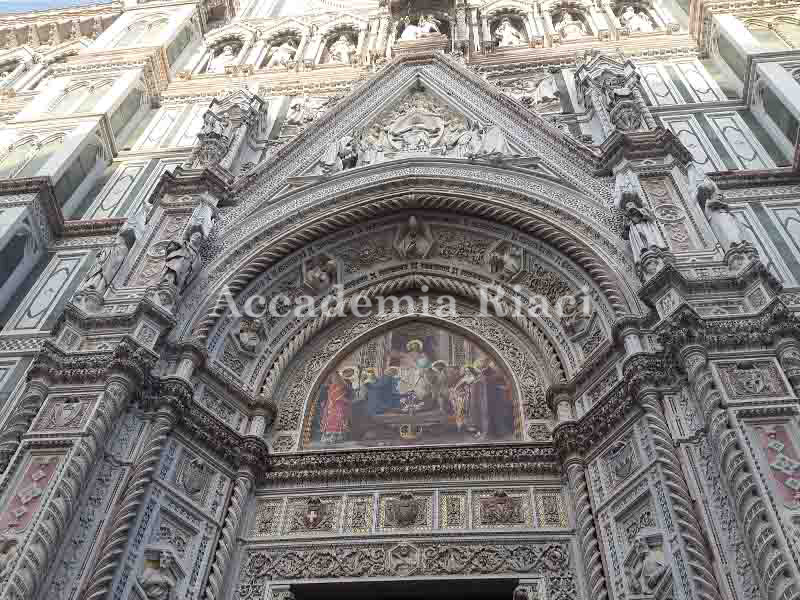 依舊是熟悉的Duomo教堂、陽光普照的義大利。準備展開第二年的旅程,莉雅琪我回來了!

Hi Duomo and lovely Italy. Ready to start my second journey, Riaci, here I am!

こんにちは、ドゥオモと素敵なイタリア。2回めの旅をスタートする準備は万全。私はリアチにいます!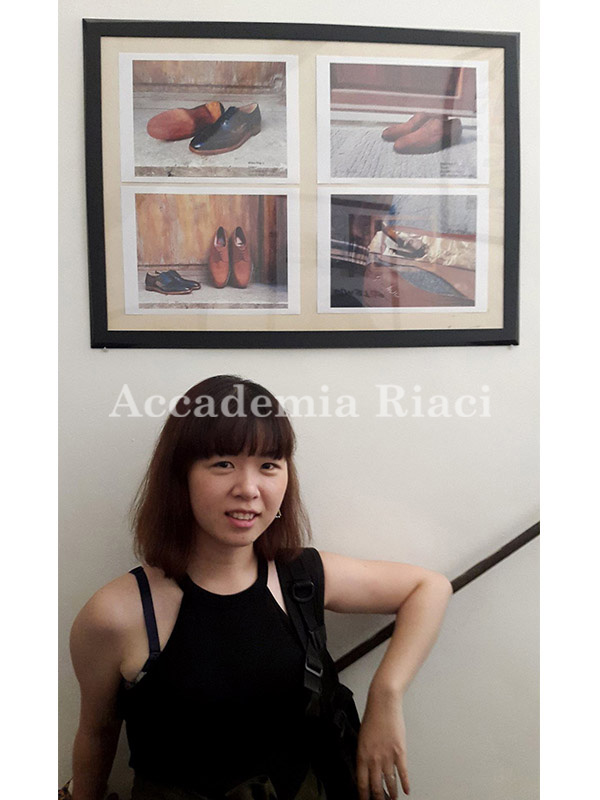 回到學校第一件事:跟我的寶寶們合照。這是我去年的系列作品,很高興他們被掛在牆上。

First thing to do when I back to Italy: photo shooting with my babies. I'm so happy my works was hanging on the wall.

イタリアに戻ったらする事:私のベイビーたちと写真撮影。私の作品が壁に掛っているのは、とてもハッピー。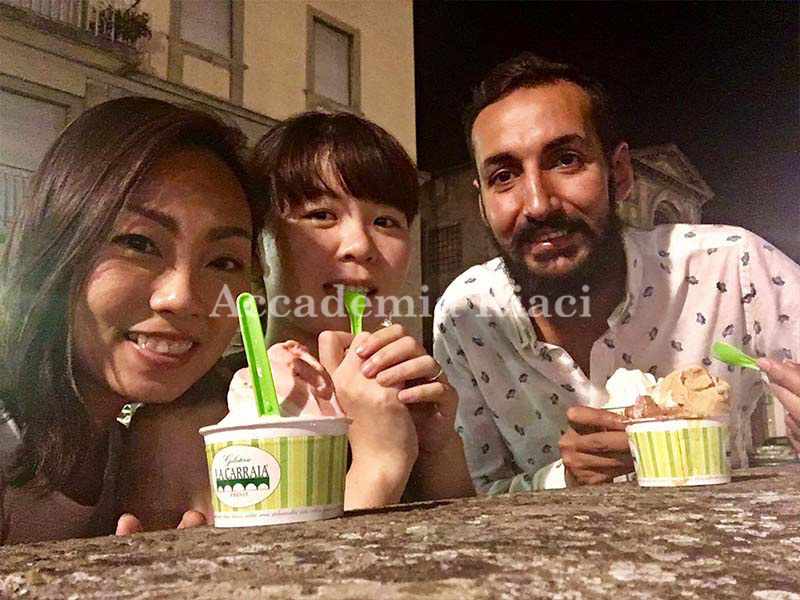 想了好久的義式冰淇淋,還是跟記憶中的一樣好吃!最棒的是,能夠跟好朋友一起分享。(是好久不見的Joe & Jacqueline)

Gelato that I been missing for so long! It's still as delicious as I remember. What really wonderful is, share with friends! (eating gelato with Joe & Jacqueline)

長い間ジェラートが恋しかった!覚えている通りとても美味しいです。本当に素晴らしいのは、それを友達とシェアできる事!(JoeとJacquelineとジェラートを食べています)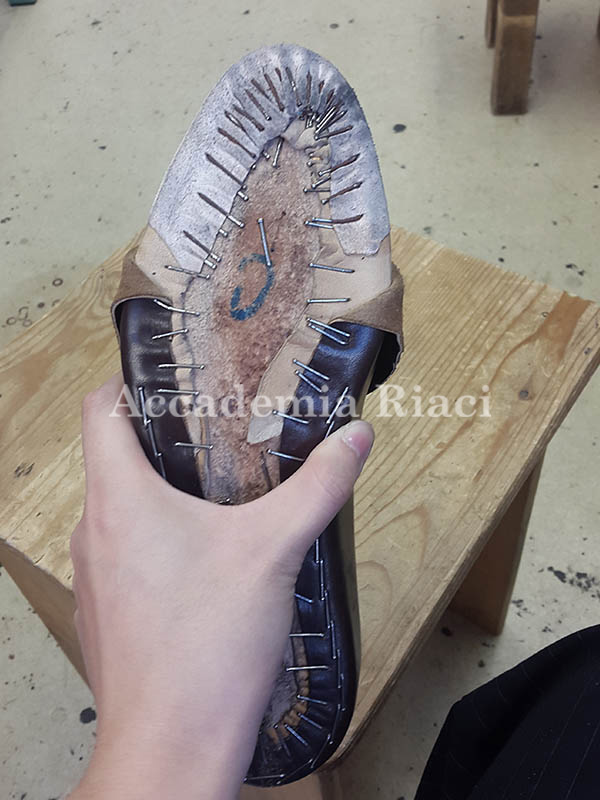 還記得之前跟大家分享的全片式德比鞋嗎? 在上學年製作到一半的半成品,開學後緊接著把接下來的攀幫步驟完成,希望趕在下禮拜教授回來時開始手縫沿條。

Do you still remember the whole-cut derby shoe that I shared with you before? What I had done in half way. I start with this shoe for the first day, hoping that I could start hand stitching next week.

前に作り始めたホールカットダービーシューズ覚えてる?途中まで作ったもの。初日はこの靴から始めました。来週には縫い始める事ができるといいけど。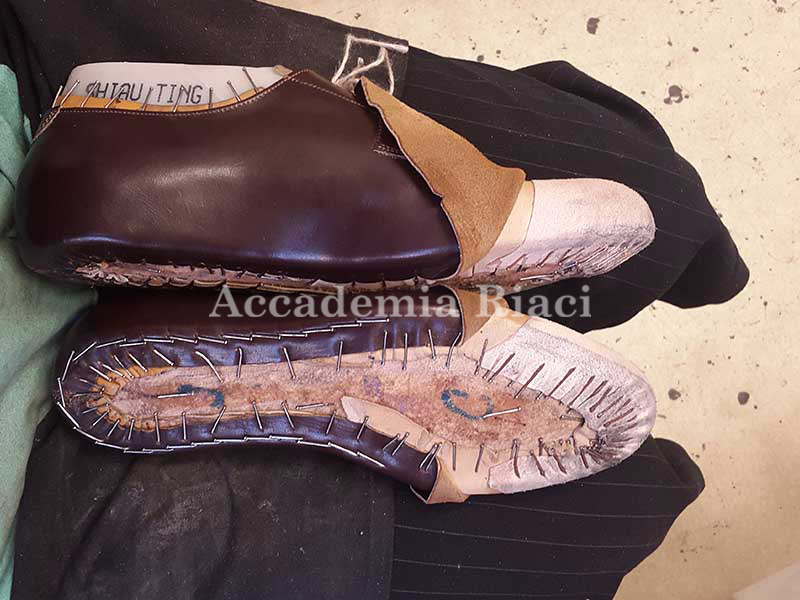 這是攀幫完皮港寶的樣子,接著就要繼續進入鞋面的攀幫程序了! (好多的釘子阿…)

This is how it looks after lasting the toe-counter. Now, it's time for the upper lasting process! (so many nails…)

つま先のカウンターを作った後はこうなりました。さて、これからアッパー部分の制作に入ります!(釘がいっぱい…)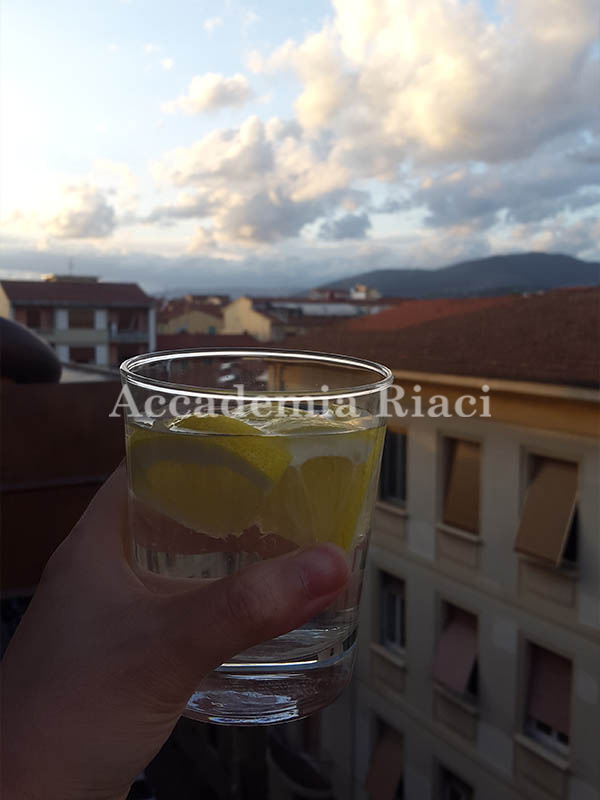 來到義大利除了學製鞋,也學著享受生活。在接近夕陽的午後,用一杯黃檸檬氣泡飲來消除一天的疲累。

Not only for learning shoemaking, but also learn how to enjoy life. A cup of lemon soda to get rid of all the tiredness.

靴制作を学ぶだけではなく、人生の楽しみ方も学びます。疲れを取り除くレモンソーダ。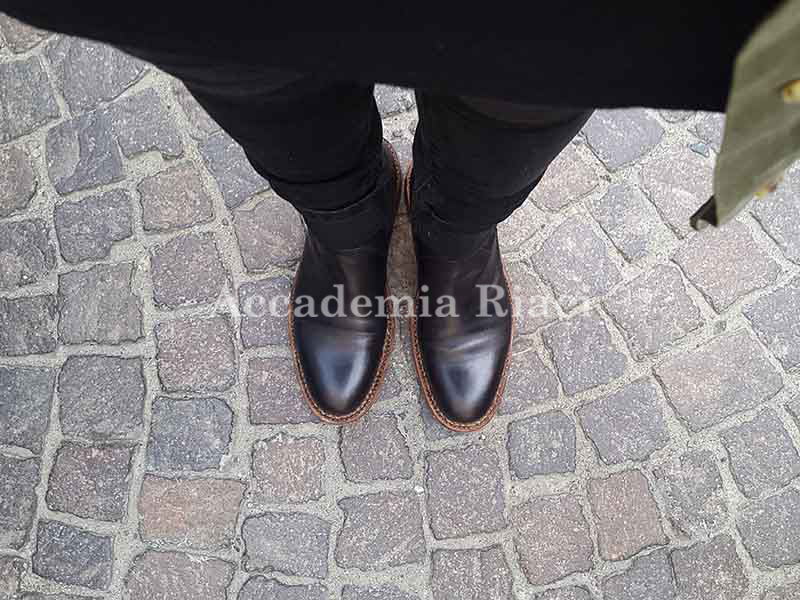 對自己作品的一點小小堅持,盡量讓自己能夠試到第一批製作的鞋子,感受不同結構的差異及舒適性。這雙是上個學年最後製作好的雀爾喜挪威縫靴,剛好迎接接下來的入秋。

Little insistence for my works that I been tried to wear my shoe to feel different constructions and comfort. This is Chelsea Norwegian boot that I finished in last semester, just right for the upcoming autumn.

自分の靴を履いてみました。これは前の学期に作ったチェルシーノルウィージャンブーツです。これからの秋の季節にピッタリ。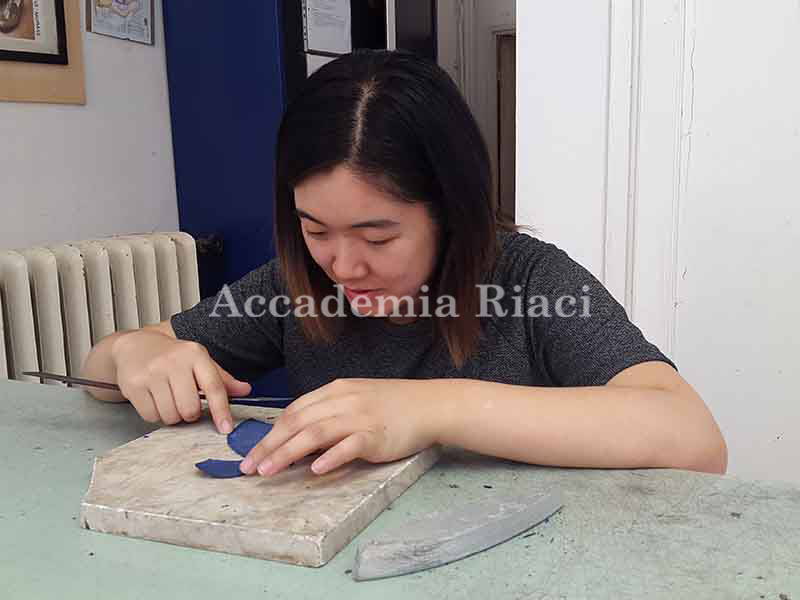 新的學期也加入了一些新成員,這是Monica,拍攝她正在練習削邊及用刀的樣子。

New Semester we join some new members. This is Monica, who was doing skiving practice right now.

新しい学期が始まって、新しいメンバーが加わりました。彼女はモニカ。スカイヴィングの練習をしています。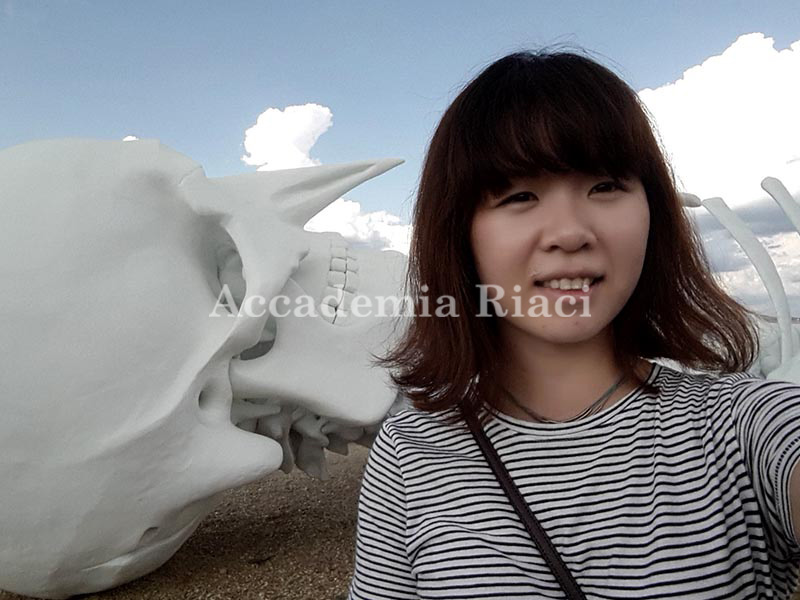 你一定很好奇我後面怎麼躺了一個巨大的怪獸。這是最近在佛羅倫斯很有名的一個裝置藝術-Ytalia。

You might curious what's that laying down behind me? What a big monster! Yeah, it is a quite popular art called "Ytalia" here in Firenze these days.

私の後ろに横たわっているのが何か気になるでしょ?なんて大きなモンスター!これはここ数日フィレンツェでハマってる、「Ytalia」と呼ばれているアート作品です。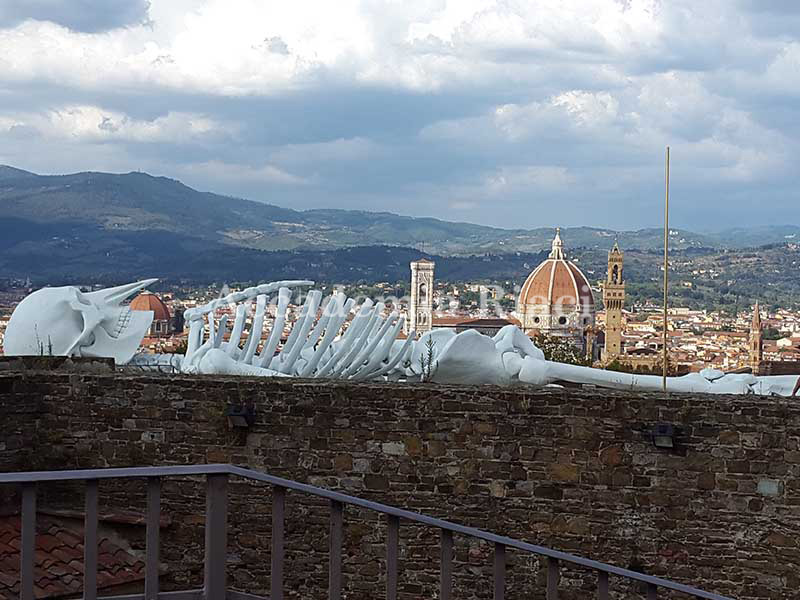 這個藝術品位於Forte Belvedere,半山腰的位置能鳥瞰整個佛羅倫斯城。很美對吧? (笑)

This sculpture is located at Forte Belvedere, in the middle of hill that could see the whole Firenze city. Really gorgeous isn't it? (smiling)

この作品は、フィレンツェが見渡せる丘の上にあるForte Belvedereにあります。すごくゴージャスでしょ?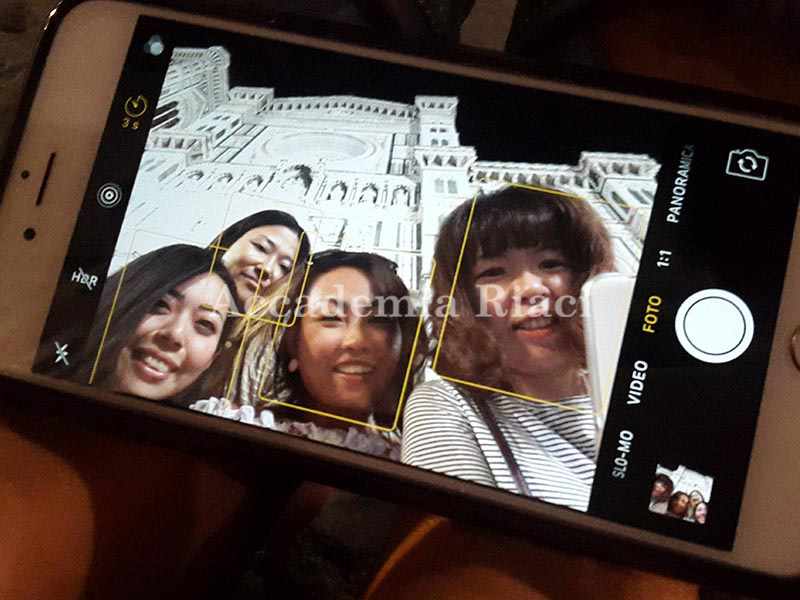 給Jacqueline的再會趴踢,沒想到她要回去澳門半年,好捨不得…會想念妳的,我們在這裡等妳!

Time fly so quickly…Our dear Jacqueline are going back to her country. We held a farewell party for her, will miss her so much. Take care and we will waiting here in Firenze.

時が経つのは早い…私達のJacquelineが国に帰ってしまいました。送別会をしましたが、寂しくなります。気をつけて、私たちはフィレンツェで待ってるよ。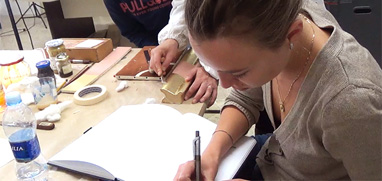 At Accademia Riaci, we are recruiting Course Reporters from our students. The students who are chosen to become Course Reporters are given 10 % of the tuition as their scholarship fee.
The Reporters who have submitted excellent reports will have his or her profile posted on our school website for the next 5 years as an alumnae and will be able to connect with their business chancesafter their graduation.