Accademia Riaci
Lesson Report
Up-to-date report from one of our students!
Reporter
Morita
Nationality: Japan
Course: Shoe Making
Assistant
Jul. 01, 2014 | Posted in Blog, Shoemaking , Lesson Reporter | Tags:Morita, Shoemaking | Language:


Reporter: Morita | Course: Shoemaking
パンプス接着製法、外羽接着製法、グッドイヤー製法1 3.2.2014
・For the attaching technique of open-laced shoes, we
 attach the welt adjusting it to the outer perimeter of the shoe
・We curve the welt to fit the curves and for this reason the internal side is jagged

・While checking the how the outer face looks like, we attach the welt around the leather
・Next, we apply the metallic shank
We align the shank to the curve of the back of the shoe and adjust the degree of curvature ・Then, we attach also the cork

・We apply a 4mm-thick sole leather
After applying the leather, we roughly cut out the parts in excess, then with a grinder we polish the shoe
・外羽の接着製法では靴の外周に合わせて貼り付けのウエルトを取り付けます。
・ウエルトはカーブに合わせて曲げられるように内側がギザギザになっています。
・外側から見える状態を確認しながら靴の周囲に貼り付けていきます。
・周囲にウエルトを貼り付け後、金属のシャンクを貼り付けます。
シャンクは靴の裏側の曲線に合わせて曲がり具合を調整します。
・シャンクを貼り付けた後、靴の裏側にコルクを貼り付けます。
・コルクを整形して厚さ4mm程度の底革を貼り付けます。
底革を貼り付けたら周囲を大まかに切り取り、その後グラインダーを使い整形します。
・When we perform Goodyear' stitching technique, we apply pine resin on the sewing thread, to increase its strength and durability.
・Before sewing the welt, we absolutely have to wet it to make it soft
・We stick a needle 
from the internal side of the shoe, make holes and thread
・We pull sewing thread strongly inside, while pull it outside more softly

・We keep about 7mm of margin when sewing
Since the sewing margin might vary depending on the leather we use, it's important to adjust it
 while proceeding with the work.
・This second-year student has become used to this type of task and proceed smoothly (photos at the bottom, right)
・グッドイヤー製法では縫い糸に松脂を付けて強度を高めて腐りにくくします。
・靴の周囲に縫い付けるウエルトは縫いを始める前には必ず濡らして柔らかくしておきます。
・靴の内側より針を刺して穴を開け、その穴に内側と外側から糸を通します。
・縫い糸は内側に強く引き、外側の引きは少し弱く引きます。
・縫いの間隔はおよそ7mm程度で縫いを進めます。
縫いの間隔は使う革によって強度が異なるので状態を見ながら間隔は調整します。
・2年目の学生さんは同じ作業でも手馴れた調子で進めていきます。(最下右)
・The first picture on the left is the production of a Chanel-style shoe: the student is making the belt for the heel
・The student is creating a temporary shoe made by fabric

・After making the provisional shoe, we fine-tune all details, and proceed with the creation of the actual leather shoe
・The turned-back part is first thinned out with a knife.
・踵部分がベルトになっているシャネルを作製。
・まずは型紙に合わせて布地の仮靴をつくります。
・仮靴を作った後、細部の微調整を行い革を使用して作っていきます。
・折り返しの部分などはナイフを使い薄く漉いてから折り返しを行います。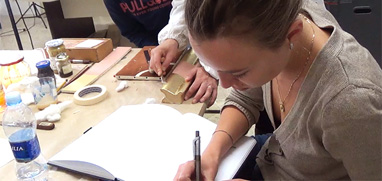 At Accademia Riaci, we are recruiting Course Reporters from our students. The students who are chosen to become Course Reporters are given 10 % of the tuition as their scholarship fee.
The Reporters who have submitted excellent reports will have his or her profile posted on our school website for the next 5 years as an alumnae and will be able to connect with their business chancesafter their graduation.