Accademia Riaci
Students' Blog
Up-to-date report from one of our students!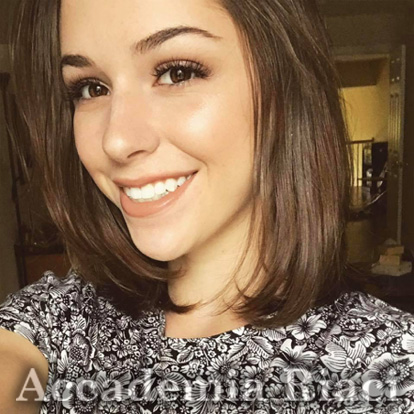 Reporter
Kristin FIORVANTI
Nationality: American
Course: Painting and Drawing
Program: One-Year Course
Period: Jan. 14, 2019 - Jul. 26, 2019
Art has always been an immense passion and influence in my life. From a young age, drawing, coloring, and painting would help me express myself and feel free. I grew up pursuing an education like my peers --graduating high school in the U.S. and moving on to college. I knew all along that there was something bigger waiting for me.
I never dreamt I could pursue my passion professionally, but after being given this opportunity at Accademia Riaci in beautiful Italy, it seems more than possible. With the help of a few well-known professionals in Florence, I can continue to learn and blossom as an artist.
May. 17, 2019 | Posted in Blog, Painting and Drawing , Student Reporter | Tags:Kristin Fiorvanti, Painting and Drawing | Language:


Reporter: Kristin FIORVANTI | Course: Painting and Drawing
A Sick Week
This week was very long for me. I had a great start on Friday; it was a full day of education and art, and the weekend was very relaxed. Once Monday came along, I began to feel ill (again), this time with different symptoms. I didn't note it in my last class report because I went to the doctor and started to feel better. After that brief recovery, unfortunately, I had to visit the hospital on Tuesday night to get some help. They did a few tests and I had caught the flu. The doctor expressed that it was very important that I stay home and rest while taking the new medicines she'd prescribed so that I can make a full recovery. So, I missed a few classes this week, and even though I felt pretty terrible, I did my best to be positive about it all. The staff at school have been very helpful and understanding throughout this process.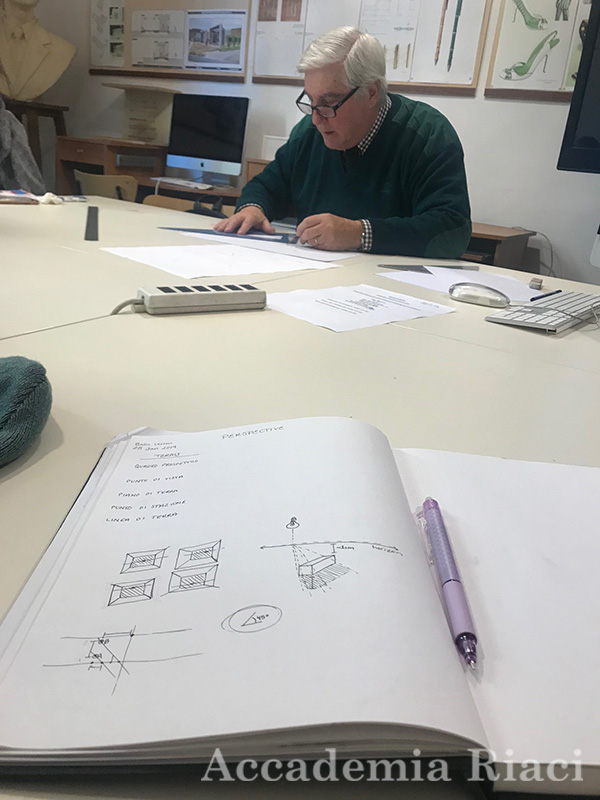 During our Basic Lesson this week, we began a discussion about perspective. Perspective drawing is especially useful in design. It's also used prominently in historical paintings, and can be handy when figuring out a point-of-view and the shadows within a picture space.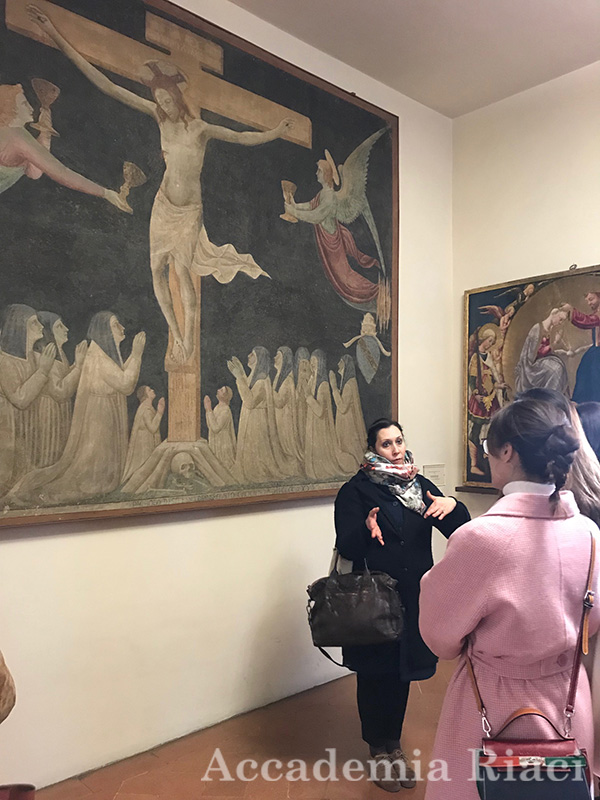 That day, we went on to our Art Visit to Cenacolo di Sant'Apollinia, which was a church in historical Florence. There were several gothic/renaissance style paintings inside. We had discussions about their symbolism and the various ancient techniques that painters used during that time. For example, real gold leaf was applied, often to highlight halos or appointed saints, using a glue made of rabbit bones.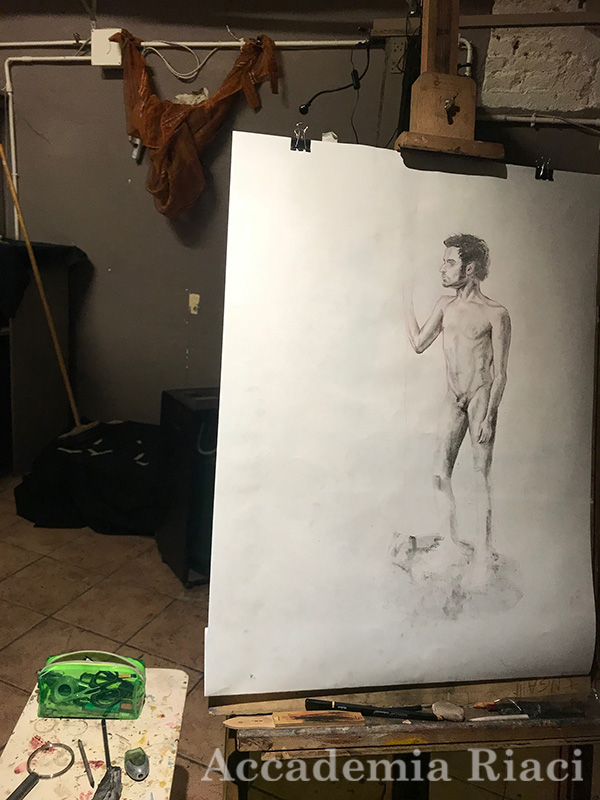 Friday evening, I was invited to an art workshop with a live model. It was held by an instructor and was open to the public. For two hours, six artists came together and drew the model.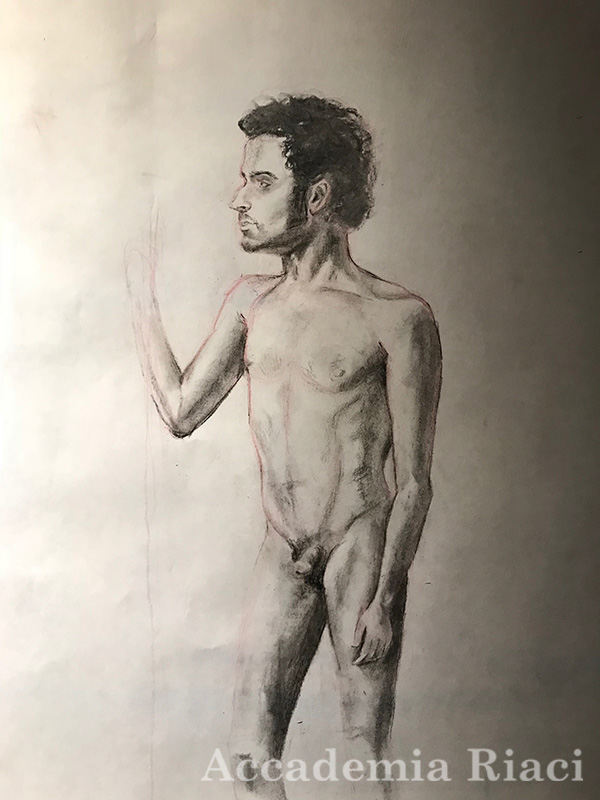 It was interesting to see other artists' drawing styles during the breaks. I could learn a lot from their preferred techniques. In the end, I was very surprised at my ability to get the proportions of the man correct. I had never previously studied anatomy or seriously attempted to draw a full body before. It was also a lot of fun! I didn't feel as awkward as I thought I might, and it was a neat experience to add to my belt.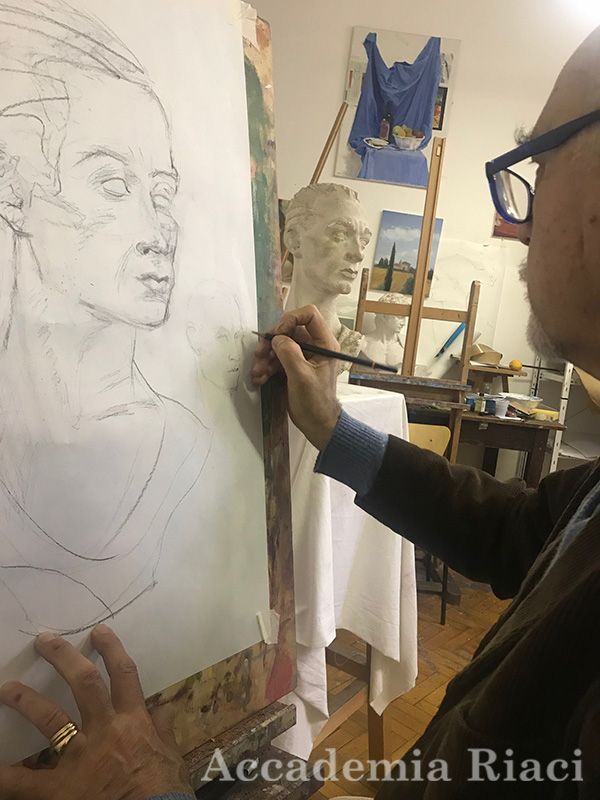 On Monday, I went to drawing class with Prof. Berti. We are still working on portraits. I was so exhausted that day because I had been up all night with a cough, but Prof. Berti didn't give up on me. He noticed I wasn't feeling well, and offered more assistance. I really appreciated his patience with me that day.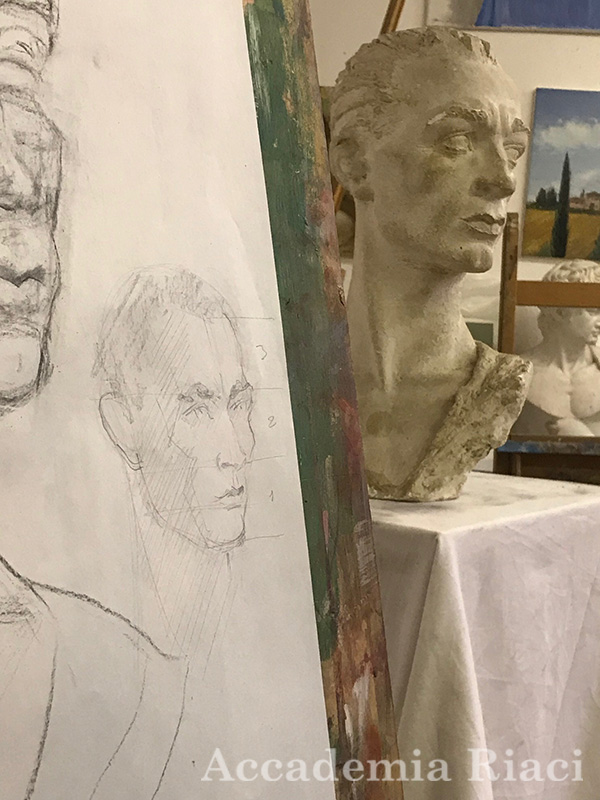 We revisited some perspective with a bust in the classroom. He showed me another handy trick for the proportions of a face. While every face is different and unique to each person, generally, there are a few universal rules that can be applied to achieve the look of any face on paper. One of those is as follows:
The distance between the hairline and the brow bone
=
The distance between the brow bone and the end of the nose
=
The distance between the end of the nose to the tip of the chin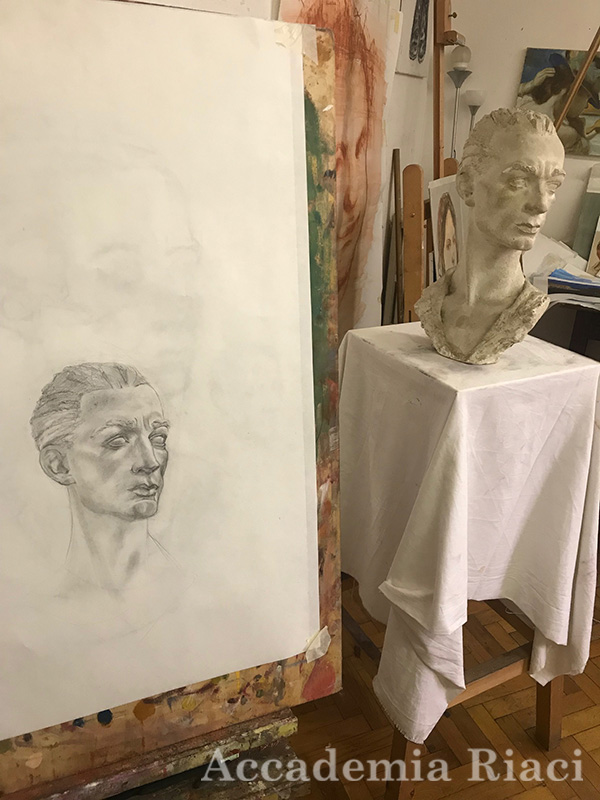 After some advice from Prof. Berti, and several tries at drawing the bust, I finally finished a smaller portrait. Even after a coffee break, it took a lot of energy out of me. I knew I was getting sick again after this class. I immediately went home to take medicine and rest, but because the medicine was an antibiotic, it was making my flu symptoms worse (at this point I didn't know I had the flu). So the next day, I felt awful, and went to the hospital. I've spent the remainder of this week resting, as the doctor advised, but I'm still very disappointed that I've missed a few of my classes, and I will miss the Art Visit tomorrow.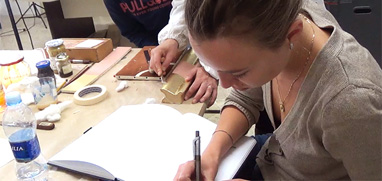 At Accademia Riaci, we are recruiting Course Reporters from our students. The students who are chosen to become Course Reporters are given 10 % of the tuition as their scholarship fee.
The Reporters who have submitted excellent reports will have his or her profile posted on our school website for the next 5 years as an alumnae and will be able to connect with their business chancesafter their graduation.