Accademia Riaci
Student Reports
Read all class reports from our students!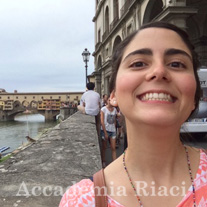 Reporter
Marian De la Madrid Fernandez
Nationality: Mexican
Course: Painting and Drawing
Program: Master Course
Period: Sept. 7, 2015 - Apr. 22, 2016
I'm Marian and I studied Business Administration. Since I was a child I liked to paint and draw, and during my degree I realized my dream. I decided to come to Italy because it is known as the cradle of art. For me it 's a big opportunity to be in Italy and to study painting and Drawing.
Mi nombre es Marian y yo estudié Administración de empresas. Durante mi carrera me di cuenta que me gustaba mucho la pintura y el dibujo, gracias a las clases extracurriculares que llevé y decidí ser artista. Desde que soy niña me gusta mucho pintar y dibujar y solía hacerlo con mayor frecuencia. Para mi estar estudiando ahora en Italia es una gran oportunidad pues es mejor estudiar en el país donde es considerado la cuna del arte.
Nov. 10, 2015 | Posted in Reports, Painting and Drawing , Student Reporter | Tags:Marian De la Madrid Fernandez, Painting and DrawingReporter: Marian De la Madrid Fernandez | Course: Painting and Drawing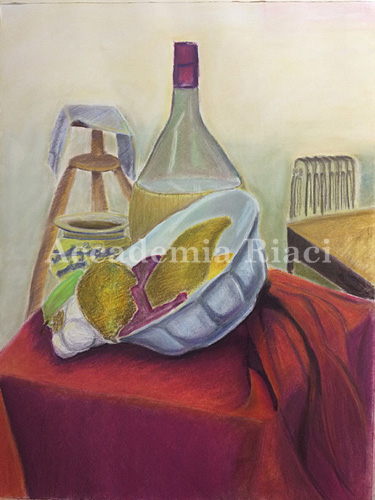 Finally Pastel
This week I finished the pastel drawing that took me longer time than I'd expected. It took me so long because I worked details and also my color palette had a few colors, so I concentrated on making the color as precise as possible. I learned how to make the color, and how to appreciate it more. In the end I was glad about my work and the professor too, even that it took so long.

Finalmente Pastel
Esta semana se terminó el dibujo a pastel en el que se estuvo trabajando por semanas, llevo bastante tiempo realizar este dibujo pues todo el tiempo lo realicé a detalladamente, además de que mi paleta de colores era de pocos pasteles, trabajé en obtener el color lo más preciso posible lo que me llevo tiempo y pude aprender una apreciación mayor del color. Al final tanto el profesor como yo concordamos en que el trabajo estuvo muy bien realizado a pesar del tiempo que se llevó.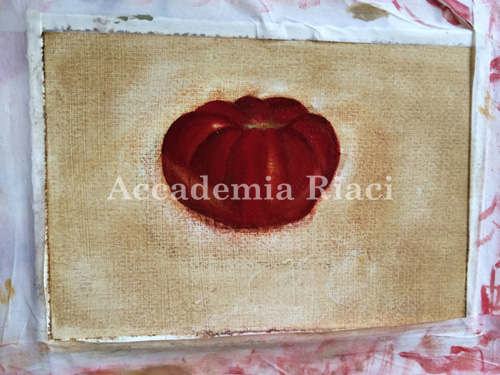 Tomato for eternity
Finally we finished the tomato painting. We made a good job with that painting, we could get the glazed we wanted to appreciate the colors and we also could mix the darkest colors with the brightest in order to make the appearance of more volume. Making this painting was really exciting because we had to work on getting the colors, on making the glazed and the volume so that it required a lot of ability and development.

Un tomate eterno
Finalmente se concluyó la pintura del tomate, logrando obtener un buen trabajo donde se puede apreciar un acabado brillante que se logra con la técnica de glaseado además de que se logró una mezcla entre los tonos oscuros y claros haciendo que se vean unificados los que hace que la pintura obtenga volumen. Realizar esta pintura fue muy entretenido pues lograr el volumen, el color y el glaseado al mismo tiempo requiere de un gran desarrollo de habilidad.

Comparing tomatoes
For observing the completed work we put the original tomato beside the painting tomato and we could appreciate the real work. This little activity was hard because you have to get the correct light to capture the real colors on the painting. I had to take many pictures to get the best; the photo below shows the best one with a nature light but the position of the original tomato from where it was painting is different.

Comparando tomate
Para ver el trabajo obtenido, tomamos fotos del tomate original que sirvió como modelo y del tomate pintado, fue una actividad algo difícil ya que capturar la luz exacta y cálida que realce los verdaderos colores y sea capturado requiere de muchas tomas, la foto de abajo muestra la mejor foto tomada con una luz natural, sin embargo la posición original de donde fue pintado el tomate tuvo que ser cambiada.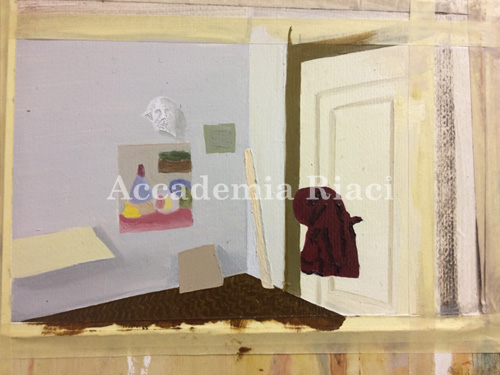 Making a funny corner
The last week we had the homework to paint a corner; I chose a corner from the classroom so I painted as Van Gogh style. At the beginning it was difficult and we had to correct the mistakes and as well we had to see what was wrong on the paint. So once we found what was wrong, it was easier because the trick was to get the oil dry and to unify the color with another in common.

Corrigiendo la esquina
Como tarea, la semana pasada se dejó pintar una esquina, yo escogí una esquina del salón para pintarla al estilo Van Gogh, sin embargo al principio fue más difícil de lo que parecía. Puesto los errores cometidos, se dejó como tarea para esta semana que se mejorara la pintura realizada con las correcciones que nosotros mismos tuvimos que encontrar en nuestras propias pinturas. Al realizar la corrección, logre darme cuenta que realmente la técnica si es sencilla solo es cuestión de dejar que el óleo seque y unificar los colores con unos solo.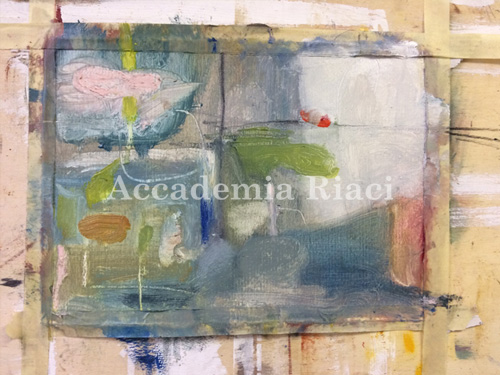 Paint in others painting
This week in the painting class we did a fun exercise; except the fear of ruining the painting and exchange the paintings among us. This time I had to change Julia's painting; at the beginning I found in myself the scare of ruining it because it wasn't my painting, but I realized it because she was doing the same on mine, too. At the end we discovered that we made it better than ruining the painting.

Pintemos con alguien más
Esta semana en la clase de pintura realizamos un ejercicio muy divertido para comenzar a perder el miedo a arruinar y cambiar nuestras propias pinturas, por lo que en esta ocasión me tocó hacer cambios en la pintura de Julia una compañera de Nueva York. Al principio pude notar un poco de miedo puesto que no quería ser grosera con su trabajo, sin embargo ella estaba realizando lo mismo con la mía una vez que comenzamos nos dimos cuenta que estábamos aportando más que arruinando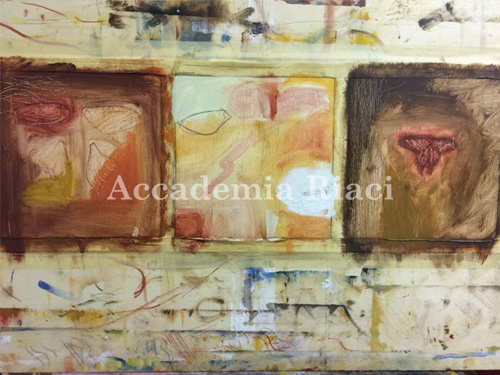 Am I ruinning my project?
As every week I had the review project from the master course, however this week we did a different feedback, we had an activity. The painting that Julia exchanged with me was my project, that taught me that my painting was already ruined. I also noticed that I was so scared of following my intuition and making big changes and I stopped doing what the painting was telling me.

¿Arruinando mí Proyecto?
Como cada semana hubo revisión del proyecto en la clase de maestría, sin embargo esta vez se realizó una dinámica muy diferente. Fue en esta pintura en la que Julia mi compañera tuvo que hacer cambio y arruinar la pintura, sin embargo esta vez aprendí que ya estaba arruinada y que para mejorar algo a veces se tiene que arruinar más. También pude notar el miedo que tengo de seguir mi instinto y pintar, de solo pintar lo que realmente la pintura me está diciendo que haga.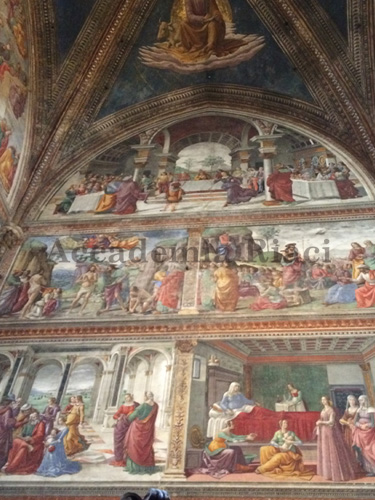 Meeting the fresco again
This week for the art visit, we went to Santa Maria Novella, inside the church we could appreciate that several frescos are really beautiful. We'd already seen some other frescos in other art visits but this time it was different. I watched the frescos all over the church even in the columns, and when I was watching them I remembered that a fresco from the prehistory in Mexico; in some of the old ruins in Mexico, you can appreciate frescos on the wall and that make the art history even more interesting.

Reconociendo el fresco
Esta semana en la visita de arte fuimos a Santa María Novella, la iglesia, dentro de esta iglesia pudimos apreciar algunos frescos realmente hermosos. Ya habíamos contemplado otros frescos en alguna de las otras visitas de arte que habíamos tenido, solo que esta vez fue muy diferente. Mientras observaba detenidamente las pinturas de fresco que están en la pared y en algunas columnas, vino a mí el recuerdo de los frescos realizados en la prehistoria, en una de las ruinas de México se puede contemplar este tipo de pinturas ancestrales haciendo aún más interesante la historia del arte.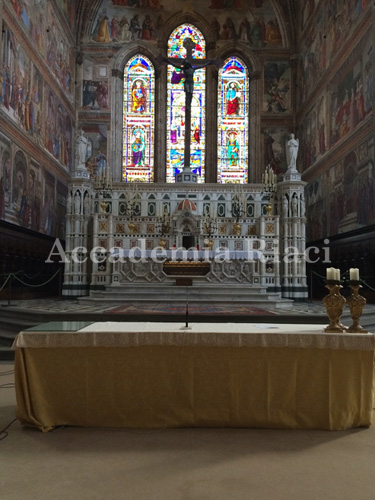 A religious discover
The photo below shows the fresco on the walls, but also shows a window with color crystals that makes a painting and is a part of the frescos. Frescos always tell stories about their times and that is why I started remembering the frescos in Mexico. They also tell stories and you can find them in the ruins. I found this so interesting because I felt how the world unifies through art.

Un descubrimiento religioso
En la foto debajo se puede observar en la parte detrás, el fresco en las paredes de los lados y al fondo se puede apreciar un ventanal con cristales de colores que forman una pintura o en este caso parte de la historia que se narra en los frescos pudiendo notar como los frescos narran historias dentro de las iglesias. Volviendo al tema de México, los frescos o pinturas que se hacían en las paredes también contaban historias y eran puestas en los templos de los indígenas.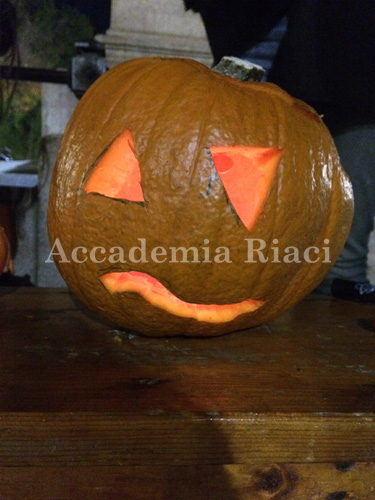 Pumpkin face
The last weekend we celebrated Halloween, an American tradition, however this tradition it comes from the north of Europe. Some of classmate made a reunion to make pumpkin face and it was so fun because they could make the face as they wanted and creativity as possible.

Haciendo calabazas
El fin de semana se celebró Halloween, que es una tradición americana que cada vez cobra más vida en todo el mundo, sin embargo esta tradición realmente comenzó en el continente Europeo. Con motivo de esta tradición nos reunimos algunos compañeros de la escuela para hacer calabazas al estilo americano lo cual es una labor muy divertida ya que uno puede diseñar la cara de la calabaza como mejor le parezca a uno y ser lo más creativo que se desee.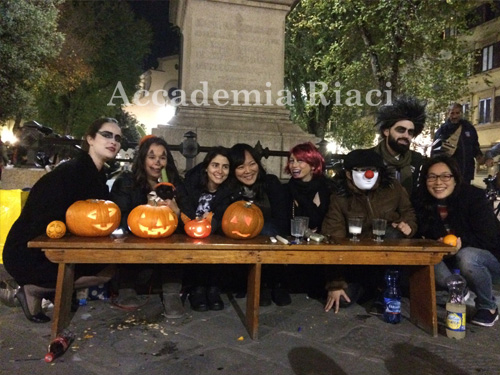 Happy Halloween
We went to Santo Spirito and spent the night doing pumpkin, hiding candies, painting our own face and eating pizza. It was a fun night with my classmates and also a night full of creativity to make a Halloween different and special even that it's from the other side of the world.

Un Halloween especial
La noche de Halloween, estuvimos en la plaza de Santo Spirito y pasamos una noche muy agradable con los compañeros de la escuela, además de hacer calabazas también estuvimos escondiendo dulce, pintando la cara para hacer algunos disfraces y comiendo pizza, lo que hizo que fuera una noche especial en las calles de Florencia.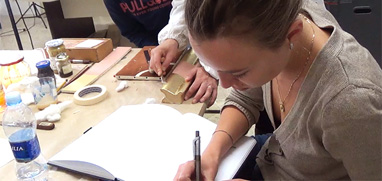 At Accademia Riaci, we are recruiting Course Reporters from our students. The students who are chosen to become Course Reporters are given 10 % of the tuition as their scholarship fee.
The Reporters who have submitted excellent reports will have his or her profile posted on our school website for the next 5 years as an alumnae and will be able to connect with their business chancesafter their graduation.