Accademia Riaci
Student Reports
Read all class reports from our students!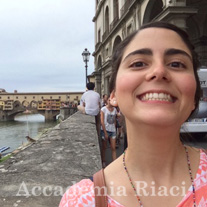 Reporter
Marian De la Madrid Fernandez
Nationality: Mexican
Course: Painting and Drawing
Program: Master Course
Period: Sept. 7, 2015 - Apr. 22, 2016
I'm Marian and I studied Business Administration. Since I was a child I liked to paint and draw, and during my degree I realized my dream. I decided to come to Italy because it is known as the cradle of art. For me it 's a big opportunity to be in Italy and to study painting and Drawing.
Mi nombre es Marian y yo estudié Administración de empresas. Durante mi carrera me di cuenta que me gustaba mucho la pintura y el dibujo, gracias a las clases extracurriculares que llevé y decidí ser artista. Desde que soy niña me gusta mucho pintar y dibujar y solía hacerlo con mayor frecuencia. Para mi estar estudiando ahora en Italia es una gran oportunidad pues es mejor estudiar en el país donde es considerado la cuna del arte.
Nov. 04, 2015 | Posted in Reports, Painting and Drawing , Student Reporter | Tags:Marian De la Madrid Fernandez, Painting and DrawingReporter: Marian De la Madrid Fernandez | Course: Painting and Drawing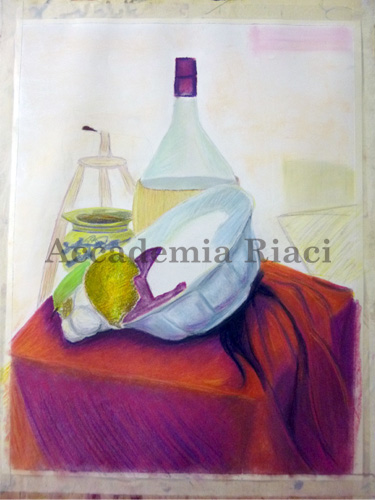 Soft Pastels
In drawing class we continued the pastels technique this week. This technique can be used as fast as you want or it can be used slowly; it depends on the result of the color and precision that you want. This is how my drawing looks like even that it's not finished yet. Photo: 01 JPG.

Pasteles suaves
En la clase de dibujo continuamos esta semana con la técnica de los pasteles ya que es una técnica que puede ser utilizada de una manera más rápido o de una manera con más tiempo dependiendo de la manera en la que se esté trabajando el pastel. Este es el avance del dibujo que he estado haciendo tomando mi tiempo en ser más precisa con el acabado. Foto:01 JPG.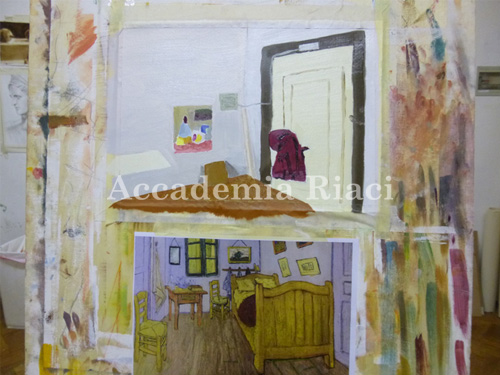 Van Gogh Style
In painting class we did a painting of a corner trying to imitate Van Gogh style in order to learn different brush trucks, to get them with different size of a brush, to make the painting stronger, and to match the color with another color in common by changing the color for some places

Al estilo Van Gogh
Para la clase de pintura estuvimos trabajando en pintar una esquina de algún lugar al estilo Van Gogh para encontrar la técnica que se puede lograr con los diferentes tamaños de pinceles además de la fuerza para lograr diferentes acabados. También el poder jugar con los colores para obtener una armonía en todo el cuadro y que todos los colores sean unificados con uno solo.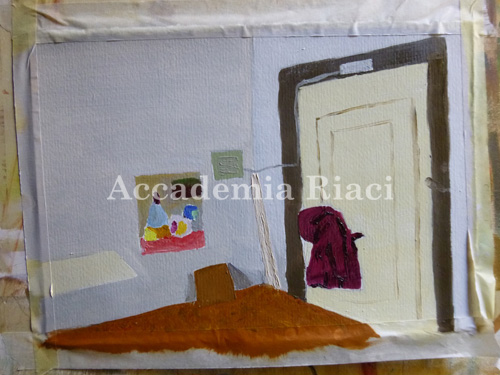 A corner from the classroom
This Van Gogh style is more difficult than it seems. At first you must have the correct drawing and the correct composition. We tried many way to do it and at the end it was fun because we discovered that we can create a new world based on what you are watching and you can put your own style.

Una esquina del salón
Esta técnica de tratar de pintar al estilo Van Gogh resulto ser más difícil de lo que podría parecer pues se debe de tener la composición correcta y el dibujo primeramente correcto. Estuvimos probando muchas maneras de realizarla y al final resulto ser divertido, se acordó volver a realizar la pintura con las correcciones vistan es clase. En la foto se puede ver la pintura de la esquina que pinté alterando un poco los colores y experimentando con ellos.

Keep growing little tomato
We postponed the painting of the tomato but this week we took it again with the glassed technique. We worked on the lighter parts so that it could have more volume and shape, however this technique takes time because the media has to be really dry so you can keep adding glass.

Continuemos con un lindo tomate
Puesto que habíamos dejado un poco la pintura del tomate, esta semana la retomamos para continuar con la técnica del glaseado ahora tratando de aclarar más las partes luminosas y darle más forma sin embargo es una técnica que requiere tiempo pues a pesar de que el medio hace que la pintura seque más rápido, se debe de dejar a que seque completamente antes de volver a colocar el glaseado y es por ellos que lleva tiempo.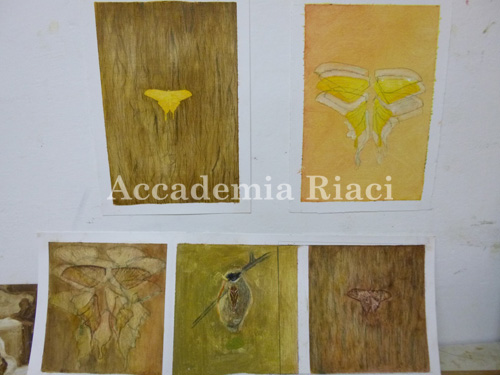 Continue with Project 1
The review of the project wasn't good at all this week. The feedback wasn't working from last week because I've got any idea; what to do, anyway I presented what I worked this week. I had the feedback to make it better and some extra exercises to improve the images.

Sigue el proyecto uno
En la revisión del proyecto esta semana, no fue una retroalimentación del todo bueno puesto que se he tenido problemas con el desarrollo del proyecto en sí. Aun así se presentó lo que trabaje esta semana y teniendo de nuevo los puntos a mejorar para conseguir imágenes todavía mejores y que estas sean de una calidad mayor.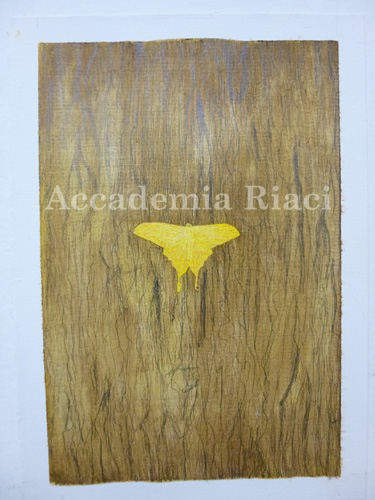 The fly of a butterfly
The photo below shows one of the images of the project. It's a reproduction of one of the originals. I took the inspiration of this project based on the phase: "the fly of a butterfly can cause a hurricane in the other size of the world", and there is a coincidence that I've worked on this project for weeks and the last weekend a hurricane happened in Mexico, where I come from.

El aleteo de una mariposa
En la foto de abajo se muestra una de las imágenes del proyecto, es la reproducción de una de las imágenes originales, sin embargo se comenzó a trabajar en imágenes por separadas. La frase que inspira este proyecto es que el aleteo de una mariposa puede causar un huracán del otro lado del mundo y curiosamente la semana pasada se presentó un huracán en México de donde yo soy.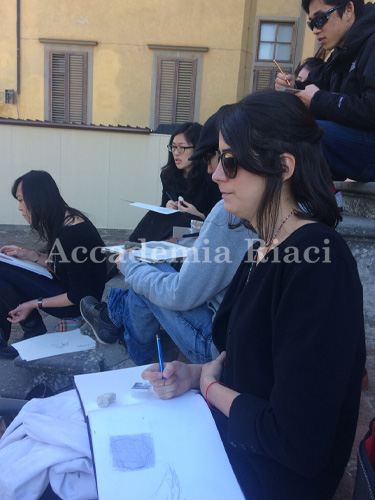 We are drawing
As usual, this week we had the stage visit. On Saturday we went to Palazzo Pitti and Boboli gardens where we learned new drawing techniques and did some drawings around the gardens, and we had an activity that consisted on enjoying the gardens and the peace of that place.

Dibujando andábamos
Como cada mes, esta semana toco la visita artística aun lugar para ahí pasar todo el sábado y aprender algo nuevo. Esta vez fuimos al Palazzo Pitti y a los Jardines Boboli donde estuvimos aprendiendo nuevas técnicas de dibujo y realizando algunos de ellos por los jardines, además de una actividad que constaba en ir por los jardines y contemplar lo que esa tardes nos regalaba.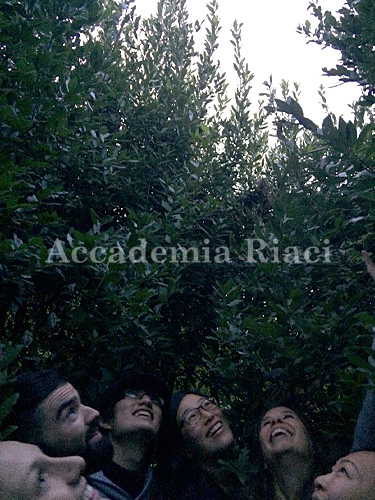 The secret garden exist
After doing the activity on Saturday, we met again to show what we did and how we felt about doing it. It was a nice afternoon, the weather was sunny and warm so we spent a great day. When we left the gardens we found a little secret place between bushes, it was a little place where you can hide in and it was a beautiful place in the nature.

El jardín secreto existe
Después de realizar la actividad nos volvimos a reunir para ver lo que habíamos logrado ya que la actividad era individual. Realmente pasamos una tarde muy agradable pues el clima estuvo muy a gusto. Al final cuando ya nos íbamos encontramos un rincón entre un arbusto donde cabíamos todos y se sintió como la historia del jardín secreto pues era un lugar realmente hermoso entre la naturaleza.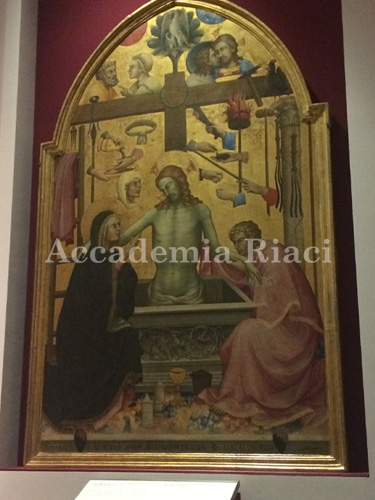 Contemporary art and renascent
This week we went to the Academy museum where the David is, we could appreciate different painting beside the David, however what caught my eye was one particular painting of the Renaissance age, it shows some images like some of contemporary paintings we have now, and that means the Renaissance is one of the most important ages in the art and affects us.

Arte Contemporáneo en el renacimiento
Esta semana fuimos de visita a la Galería de la Academia donde se encuentra el David, pudimos apreciar diferentes pinturas además de apreciar el David, sin embargo me llamo la atención como una de las pinturas de la época del renacimiento muestra una tendencia al arte contemporáneo actual, dejando más en claro la gran influencia que en la actualidad sigue teniendo el renacimiento como inspiración y punto de partida para lo que es el arte en la actualidad o el arte contemporáneo.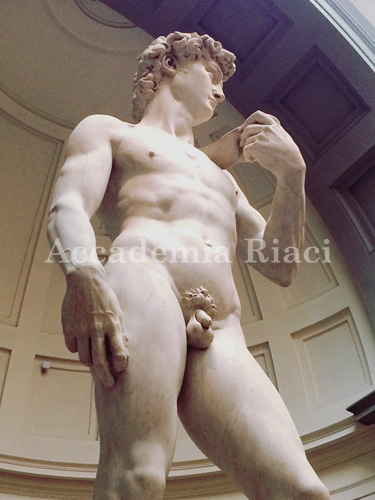 The David
The David is one of the most famous sculptures around the world and it is really astonish. It is made of marble and it was made just in 3 years. You can appreciate the details on the hands, and the back. What I liked even more was the story of love and good that the David shows and how arts at that age was.

El David
El David es una de las esculturas más famosas del mundo y es realmente una escultura sorprendente, ya que está hecha de mármol y lo más sorprendente es que fue realizada en 3 años, sin dejar de mencionar los detalles tan reales que esta escultura presenta sobre todo en las manos, se pueden ver la venas claramente. Lo más maravillo de esta escultura es la historia de amor y de Dios que expresa realmente como todo en arte de esa época.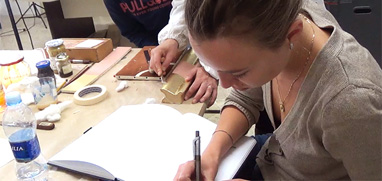 At Accademia Riaci, we are recruiting Course Reporters from our students. The students who are chosen to become Course Reporters are given 10 % of the tuition as their scholarship fee.
The Reporters who have submitted excellent reports will have his or her profile posted on our school website for the next 5 years as an alumnae and will be able to connect with their business chancesafter their graduation.