Accademia Riaci
Student Reports
Read all class reports from our students!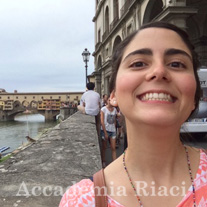 Reporter
Marian De la Madrid Fernandez
Nationality: Mexican
Course: Painting and Drawing
Program: Master Course
Period: Sept. 7, 2015 - Apr. 22, 2016
I'm Marian and I studied Business Administration. Since I was a child I liked to paint and draw, and during my degree I realized my dream. I decided to come to Italy because it is known as the cradle of art. For me it 's a big opportunity to be in Italy and to study painting and Drawing.
Mi nombre es Marian y yo estudié Administración de empresas. Durante mi carrera me di cuenta que me gustaba mucho la pintura y el dibujo, gracias a las clases extracurriculares que llevé y decidí ser artista. Desde que soy niña me gusta mucho pintar y dibujar y solía hacerlo con mayor frecuencia. Para mi estar estudiando ahora en Italia es una gran oportunidad pues es mejor estudiar en el país donde es considerado la cuna del arte.
Mar. 28, 2016 | Posted in Reports, Painting and Drawing , Student Reporter | Tags:Marian De la Madrid Fernandez, Painting and DrawingReporter: Marian De la Madrid Fernandez | Course: Painting and Drawing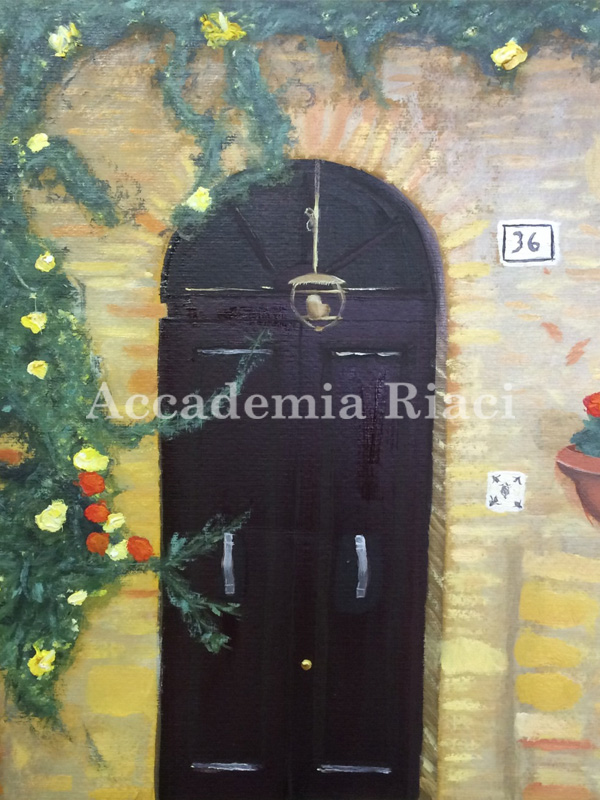 The Door
This week I finished the painting of the door that I was working on for weeks. This painting was a great learning; at first I started very fast and with the time I continued more slowly for the details. Also I think that this painting taught me more about my brushstroke and how to express myself on it.

La puerta
Esta semana terminé la pintura de la puerta en la que había estado trabajando algunas semanas atrás. Esta pintura fue un gran aprendizaje pues primeramente comencé la pintura rápidamente y después se fue haciendo más detallada, además de que descubrí que cada vez sale más de mí en la pintura.

The door of the dreams
This week we finished the painting that we had worked on for weeks and started a new one. I chose another door because I found interesting to paint what I look around the city. I am thinking to make a series of door from Italy.

La puerta de ensueño
En la semana al terminar la pintura que estuvimos haciendo por semanas comenzamos una nueva pintura en esta ocasión decidí otra puerta para crear como una serie de diferentes puertas de la toscana como símbolo de lo que veo a mi alrededor.

Learning from my classmates.
I have two classmates very talented, I always watch them how they paint and how they inspired peace and they have always focus on the paintings. They are also learning new techniques as me, and I can learn from their mistakes also because they let me help them and watch what they are doing wrong. I think that having classmates is the best on improving ones work.

Aprender de mis compañeras
En mi clase tengo dos compañeras muy talentosas, siempre que las veo pintar me inspiran esa tranquilidad con la que se concentran y realizan su trabajo. A pesar de que igual que yo, ellas están aprendiendo, yo aprendo mucho de ella ya que no solo es la manera en la que trabajan si no también la forma en la que se equivocan y me permiten hacer la observación.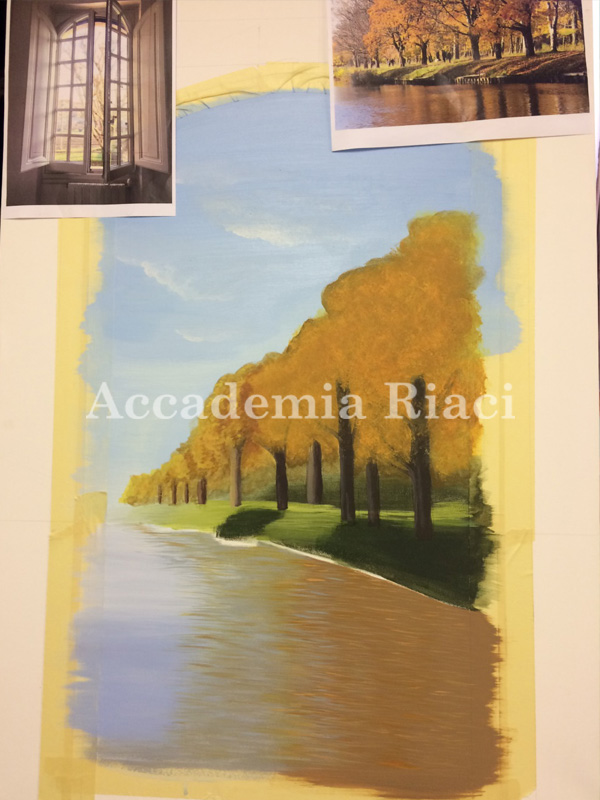 Every time more real
The painting at Tromple l'oeil class is getting better. Even that the painting is hard and it has to be very specific, I have been doing a good job to make it more real and therefore it can trick the mind which is the objective of the painting.

Cada vez más real
En la clase de Trompe l'oeil cada vez se va avanzando más sobre la pintura para engañar al ojo, a pesar de que es una pintura que requiere bastante tiempo y es algo difícil pues se debe de tener la angulación perfecta, se va a buen tiempo, ya que también hay que mencionar que se empezó a medio semestre.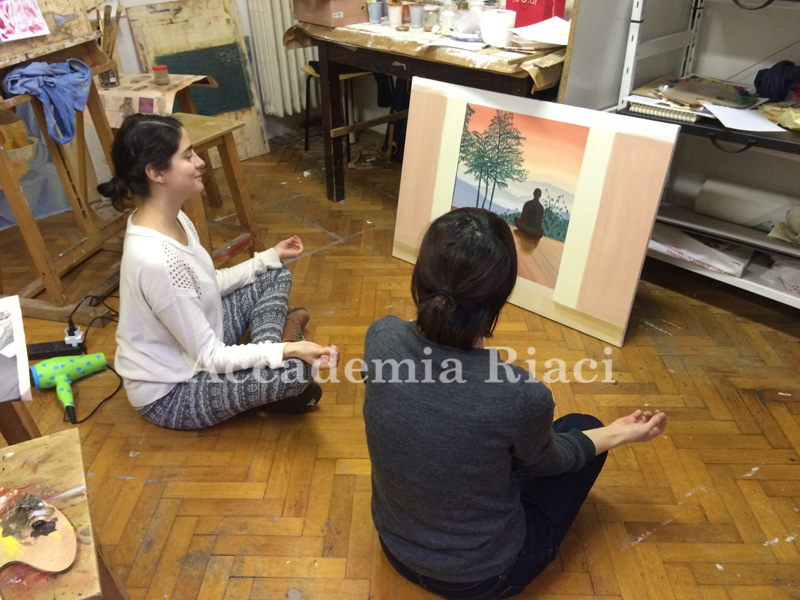 The meaning of the painting.
The artist always wants to transmit something in the painting. This is why the painter is always watching at something and makes it be more specific, so that the painting can be as real as the painter wants. The painting of a classmate shows exactly this, you can watch the painting and you can feel the peace and serenity of it.

El reflejo de la pintura
El objetivo del artista siempre es trasmitir con la pintura lo que se está creando. Para lograr esto se requiere siempre de estar observando el objeto a pintar para así representarlo más específicamente. La pintura de mi compañera logra eso, ya que al ver la pintura uno puede sentir esa tranquilidad y te invita a mantener una mente calmada y relajada.

Street art
Florence is known for its art everywhere, you can find the typical madonista who is the painter that paints a Madonna on the ground with pastels but also you can find a symbol on the wall from a Florentine artist as the photo shows.

Arte callejera
Florencia es conocida por su arte en todos lados, incluso puedes encontrar arte en la calle, ya sea las conocidas mandonistas que son los artistas que pintan con pasteles el retrato de alguna madona, o puedes encontrar también el símbolo de algún otro artista por las calles, incluso se puede encontrar algo de escultura como la foto a bajo lo muestra.

History art
Besides the art that is done in the present moment, Florence is known for the art of the history, great artists from the medieval and renascence times when the most famous master pieces were made. You can find great pieces all around Florence.

Historia del arte
Florencia además de su arte que se realiza en el presente está llena por supuesto de su historia del arte, pues por todos lados se encuentra el arte del tiempo del renacimiento y sus grandes obras. En la Piazza de la signoria uno puede contemplar las diferentes esculturas. Siempre que voy hay me gusta admirar esas esculturas detalladamente.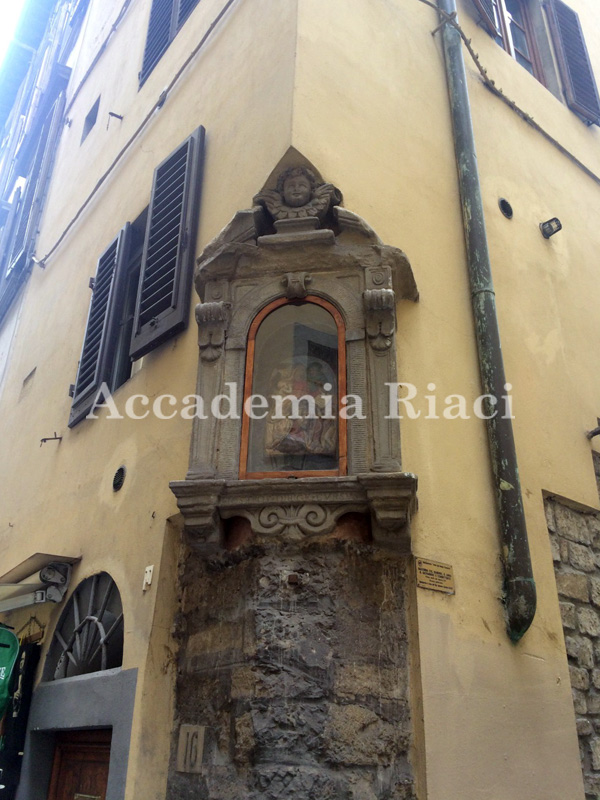 Madonna everywhere
Something that is very typical from Florence is the Madonna everywhere. You can easily find one around the corner because in those times this was a reminder that there is always someone watching over you. Now I pay more attention on this so I always see one.

Madona en todos lados
Algo que también se puede encontrar en las calles de Florencia son las Madonas por todos lados. En el tiempo de la edad media y el renacimiento esto era más común pues era un recordatorio para la gente de que había alguien que te estaba cuidando desde otra parte. Ahora que soy consciente de esto es más fácil encontrar una Madona en cada esquina y siempre se ve una.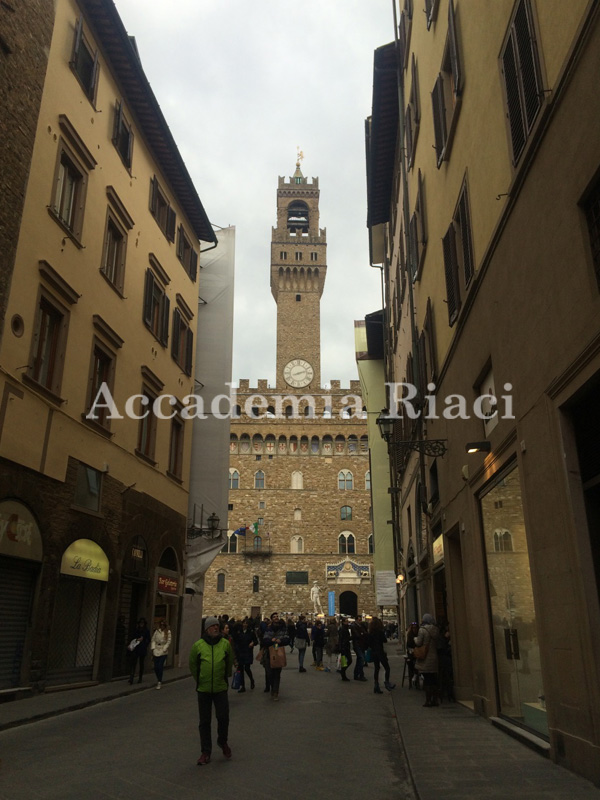 Palazzo Vechio
The photo shows the tower of the Palazzo Vecchio. This tower is my favorite in the city because it reminds me the fairy tales like the typical one, that the princess lays on. Florence is full of this kind of stories because it is one of the cities that keep some of the medieval buildings.

Palazzo Vechio
La foto de abajo muestra la torre del Palazzo Vechio. Esta torre en lo personal es mi favorita pues me recuerda a las historias de los cuentos de hadas, como la típica torre de la princesa. Toda Florencia está llena de historias como la de los cuentas de hagas, esto es porque fue una gran ciudad en la edad media y estas historias se remontan a ese tiempo. Es una gran oportunidad poder admirar algunos de los pocos castillos medievales que quedan en el mundo.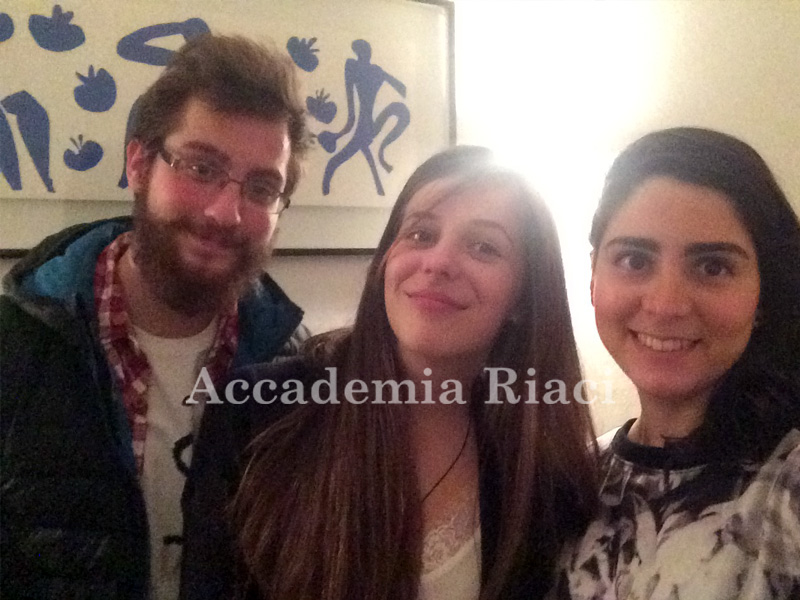 Good company
In my time here in Florence I have meet people from around the world and I have lived with people from different parts of the world. The photo shows my new roommate and her boyfriend , both from Poland. I love to meet people from different cultures and cities around the world.

Buena compañía
En todo este tiempo que tengo viviendo en Florencia he tenido diferentes compañeros de casa. La foto de abajo muestra una nueva compañera de casa que es de Polonia, su novia que también está en la foto vino de vista el fin de semana. Para mi es una gran experiencia conocer personas de todas partes del mundo y conocer sobre sus culturas por lo que tener compañeros de casa de diferentes lugares es una de las cosas que más aprecio de esta experiencia que me tocó vivir en Florencia.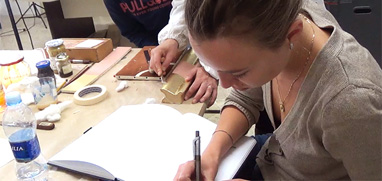 At Accademia Riaci, we are recruiting Course Reporters from our students. The students who are chosen to become Course Reporters are given 10 % of the tuition as their scholarship fee.
The Reporters who have submitted excellent reports will have his or her profile posted on our school website for the next 5 years as an alumnae and will be able to connect with their business chancesafter their graduation.