Accademia Riaci
Student Reports
Read all class reports from our students!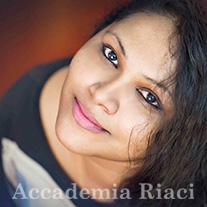 Reporter
Sharon Palihawadana
Nationality: Sri Lankan
Course: Painting and Drawing
Program: Master Coures
Period: Sep. 4, 2017 – Apr. 28, 2018
She went through with a working experience as a foot ware and fashion designer in capacity of holding a special (B.A) degree of Art & Design with academic learning in one of the best university in Sri Lanka. During last four years she has exposed and inspired with several global trends, techniques, methods which related to shoe industry.
Since her childhood it is one for her dreams to be pursuing her masters in art and design. She applied to the international art and design competition 2017 and obtained second place in category of professional in art painting and drawing section.

スリランカでも最高の大学のうちのひとつで学び、アートとデザインの学位を得た能力を使い、靴とファッションデザインの仕事を経験しました。ここ4年間、靴産業に関わるグローバルなトレンドや、技術の中におり、それらにインスパイアされてきました。子供の頃からアートとデザインを職人から学ぶ事が夢でした。国際アート&デザインコンペティション2017に応募し、絵画とドローイング部門で第2位に入賞をしました。
Oct. 17, 2018 | Posted in Reports, Painting and Drawing , Student Reporter | Tags:Sharon Palihawadana, Painting and DrawingReporter: Sharon Palihawadana | Course: Painting and Drawing
On Monday lesson I start my experimental study on egg tempera technique, I select my inspiration as Madonna del Magnificat which belongs to Sandro Botticelli in Renaissance period. Once I finish the sketching of the painting I use semi- transparent paper to trace the drawing. I place it over the drawing and focus to get the all the lines from the drawing in to tracing paper.

Once finishing the tracing I use pin to make whole all over the line which I have traced according to the drawing. It will take long time and definitely you need patient to do it slowly.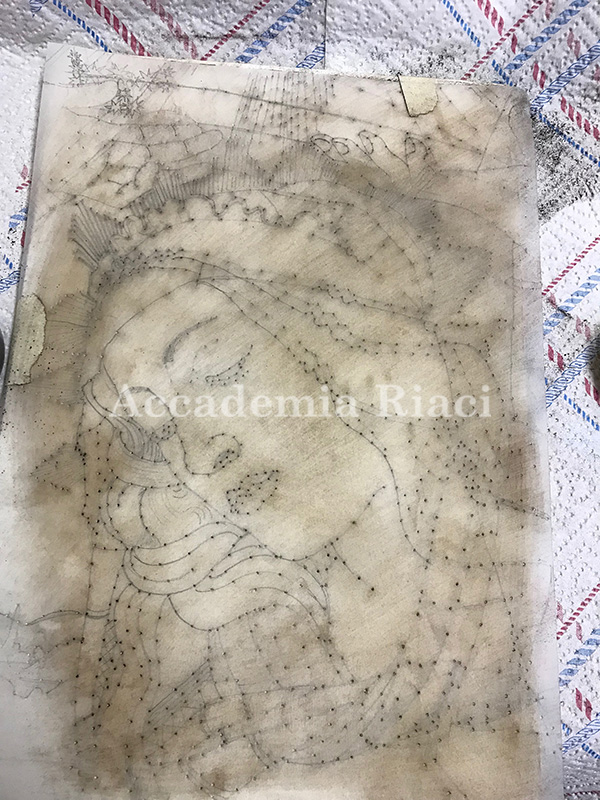 Then I use Terra D' Ombra to transfer my sketch in to wooden plate which I have already prepared with the Gesso. I apply powder of Terra D' Ombra with the help of paint brush and carefully rub with the small pressure. Then peel off the tapes and take tracing paper away.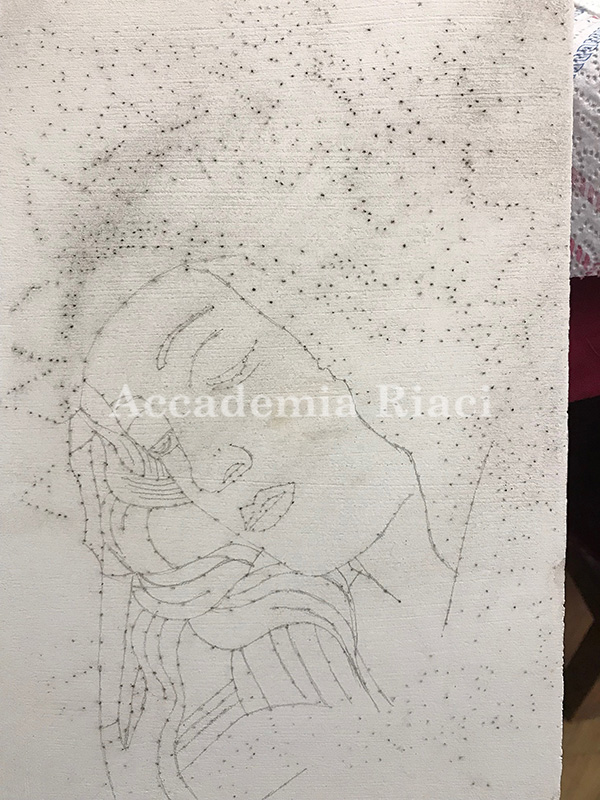 Finally I go over the wholes and connect them with the pencil so there are more define.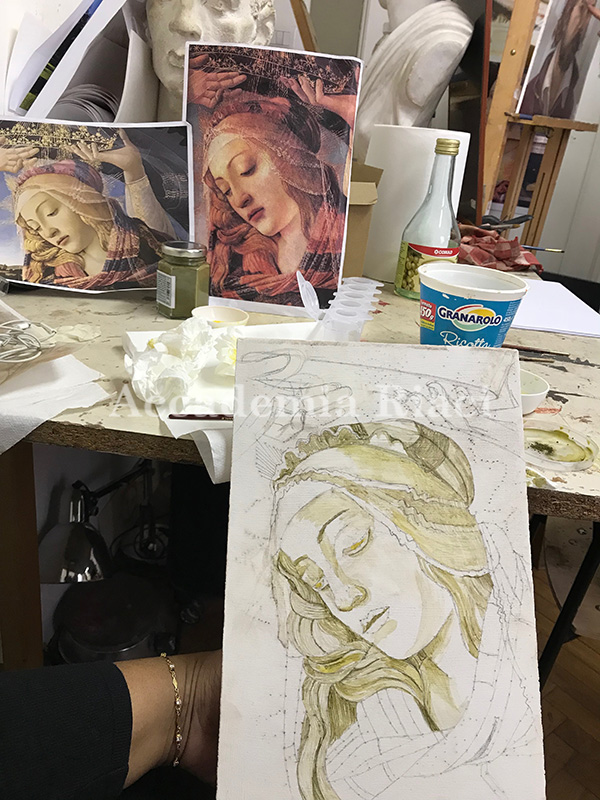 As according to the egg tempera technique I use earth green to define values of my painting. Establishing correct value and color more import so I use support of the original painting to identify the right path. Slowly slowly brush out smoothly tonal value of the painting and define the contours of the face, hand and clothing.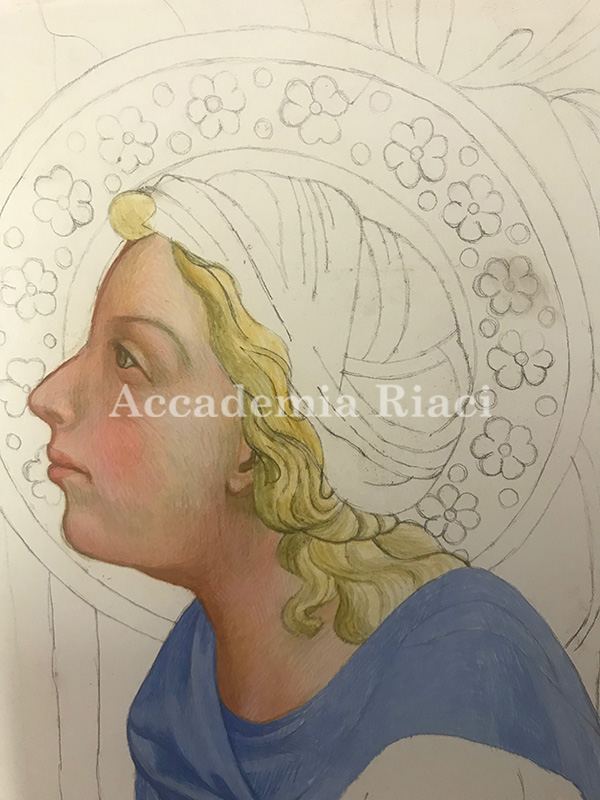 Close up of my friend Hiromi's tempera painting. Really surprised about how she good at using this medium.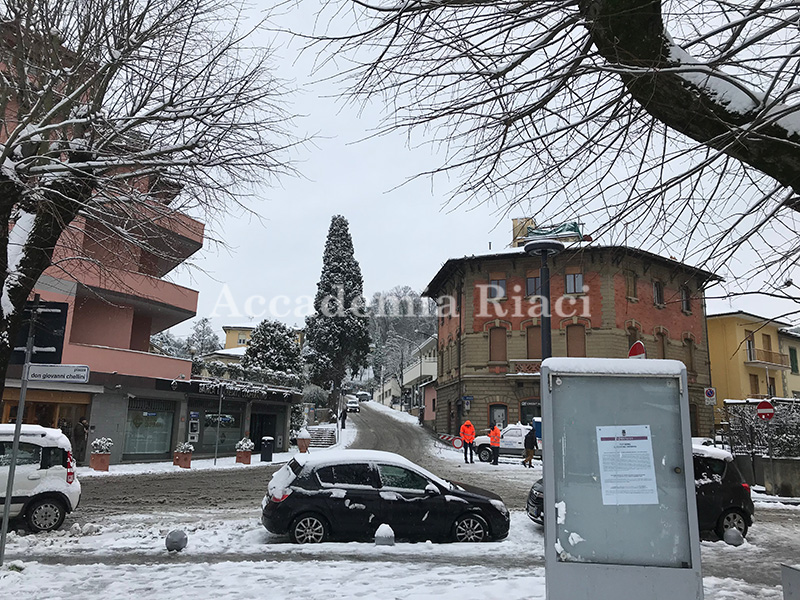 It doesn't snow often in Florence, but when it does the city in white is worth seeing.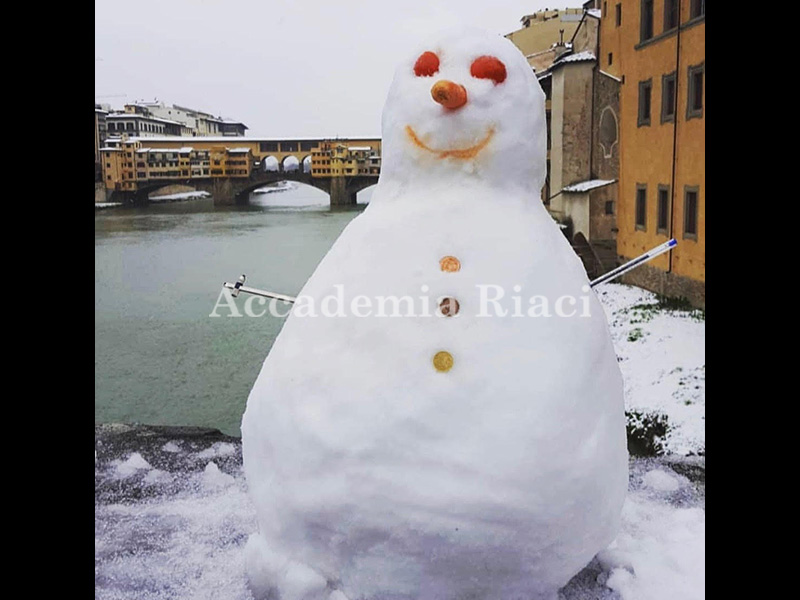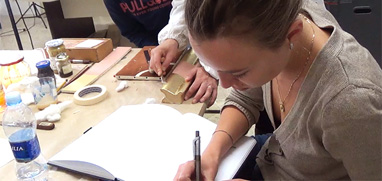 At Accademia Riaci, we are recruiting Course Reporters from our students. The students who are chosen to become Course Reporters are given 10 % of the tuition as their scholarship fee.
The Reporters who have submitted excellent reports will have his or her profile posted on our school website for the next 5 years as an alumnae and will be able to connect with their business chancesafter their graduation.