Accademia Riaci
Students' Blog
Up-to-date report from one of our students!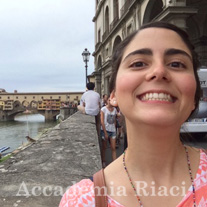 Reporter
Marian De la Madrid Fernandez
Nationality: Mexican
Course: Painting and Drawing
Program: Master Course
Period: Sept. 7, 2015 - Apr. 22, 2016
I'm Marian and I studied Business Administration. Since I was a child I liked to paint and draw, and during my degree I realized my dream. I decided to come to Italy because it is known as the cradle of art. For me it 's a big opportunity to be in Italy and to study painting and Drawing.
Mi nombre es Marian y yo estudié Administración de empresas. Durante mi carrera me di cuenta que me gustaba mucho la pintura y el dibujo, gracias a las clases extracurriculares que llevé y decidí ser artista. Desde que soy niña me gusta mucho pintar y dibujar y solía hacerlo con mayor frecuencia. Para mi estar estudiando ahora en Italia es una gran oportunidad pues es mejor estudiar en el país donde es considerado la cuna del arte.
Feb. 05, 2016 | Posted in Blog, Painting and Drawing , Student Reporter | Tags:Marian De la Madrid Fernandez, Painting and Drawing | Language:



Reporter: Marian De la Madrid Fernandez | Course: Painting and Drawing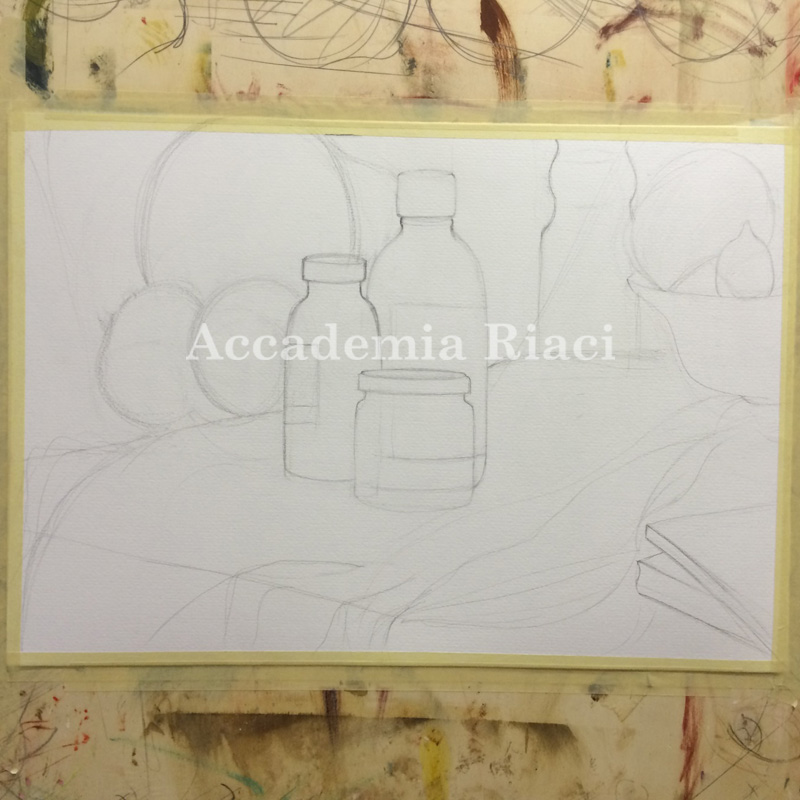 Portfolio
This week we have the class about the portfolio that we have to hand by the end of the course. It needs between 30 and 45 pictures of which we are doing the entire course, and it needs also a text of explanations about the techniques that we used and how was the final.

Portafolio
Esta semana hablamos de la entrega del portfolio. Éste tiene que ser entregado a finales del curso y debe contener entre 30 a 45 fotografías documentadas a lo largo del año, donde se explique cada uno de los trabajos que se estuvieron realizando como las técnicas y el resultado final.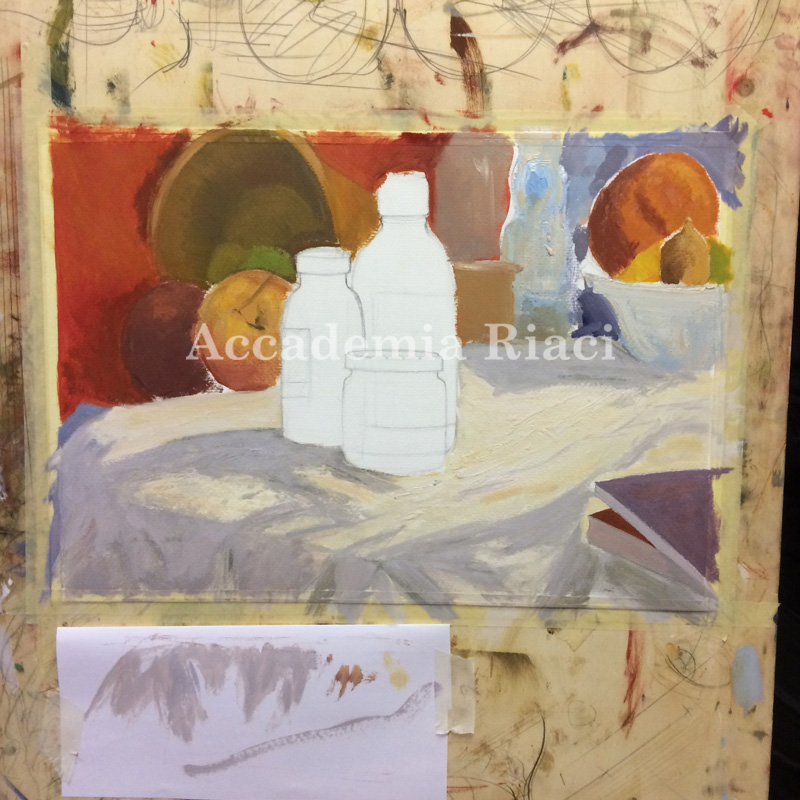 Study of color
This week we started a new composition; we had to get the same color of what we were watching, and also we had to make the color to match with one simple color that could be found in all the colors.

Estudio de color
Esta semana empezamos una composición nueva para realizar un estudio de color donde lo que estuvimos haciendo fue lograr el mismo color y armonizar todo el cuadro con un solo color para que este se vea en armonía.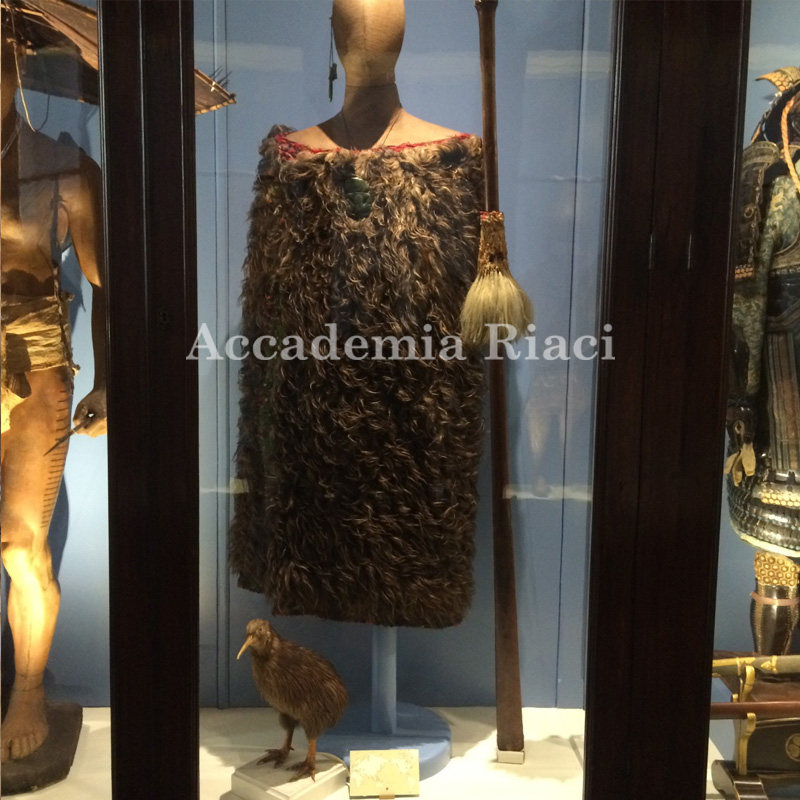 Travel to time
This week for the art visit we went to the archeologic museum where we could appreciate the life of the old man, how to live in all over the world. From the south to the north. This museum is very interesting.

Viaje en el tiempo
Esta semana en la visita de arte fuimos al museo de arqueología donde estuvimos observando el hombre antiguo y su forma de vivir en las diferentes partes del mundo, puedes ver desde la parte sur del mundo, y la parte norte, es un museo verdaderamente interesante.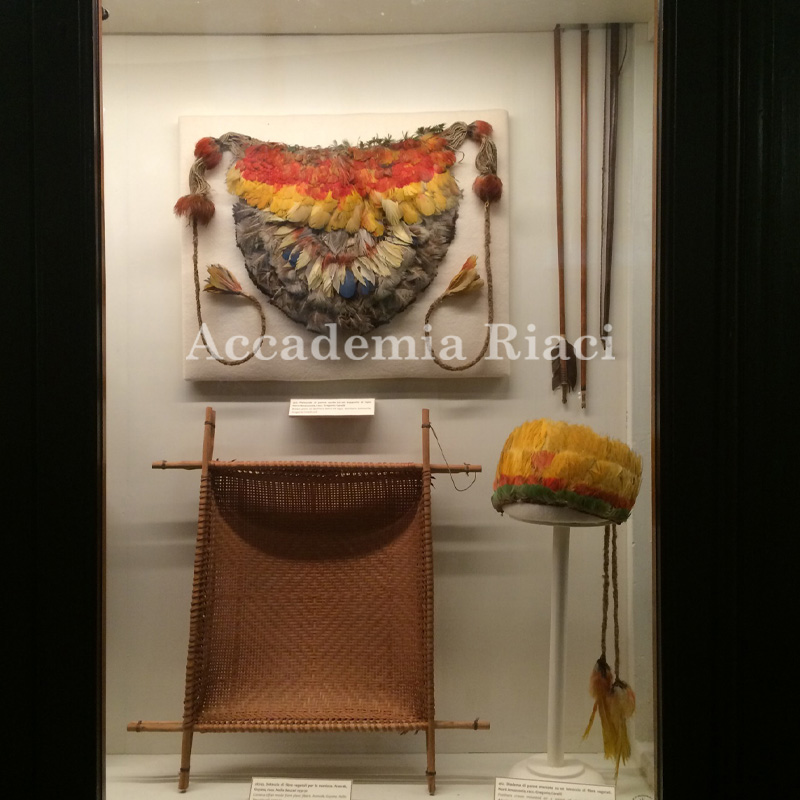 South America
The Museum has an exhibition about how the man used to dress, used to live and used to hunt. The photo shows how the man from South America used to dress and decorate their accessories, how the used to try to imitate the colors and the beauty of the animal they used to see. All the accessories have feathers from the birds of that part of the world.

Sudamérica
El museo tiene una exposición desde la manera de vestir del hombre antiguo y la manera de vivir, la manera en la que casaban y como construían sus casa. La foto de abajo muestra una de las costumbres del hombre antiguo de Sudamérica, como fabricaban sus accesorios con plumas tratando de imitar la belleza de los animales de esta región sobre todo las aves.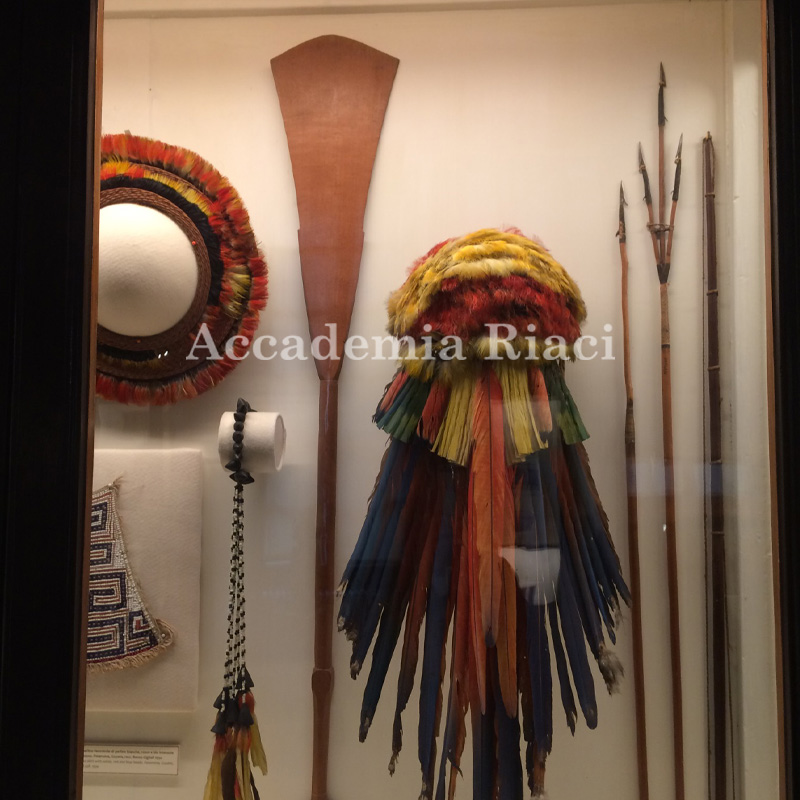 South America 2
Even that is the same part of the world, South America is a big territory and has many different cultures. However we can find the same influence about the expression and the way they decorated their accessories, how they also tried to represent the beauty.

Sudamérica 2
A pesar de que estamos hablando de la misma parte del mundo, Sudamérica es un territorio bastante amplio. Lo que podemos encontrar en ese territorio es la similitud entre una población y otra por la búsqueda de la belleza a través de la imitación de aves y animales. Y de igual manera podemos encontrar accesorio diferentes pero con la misma intención de color y armonía.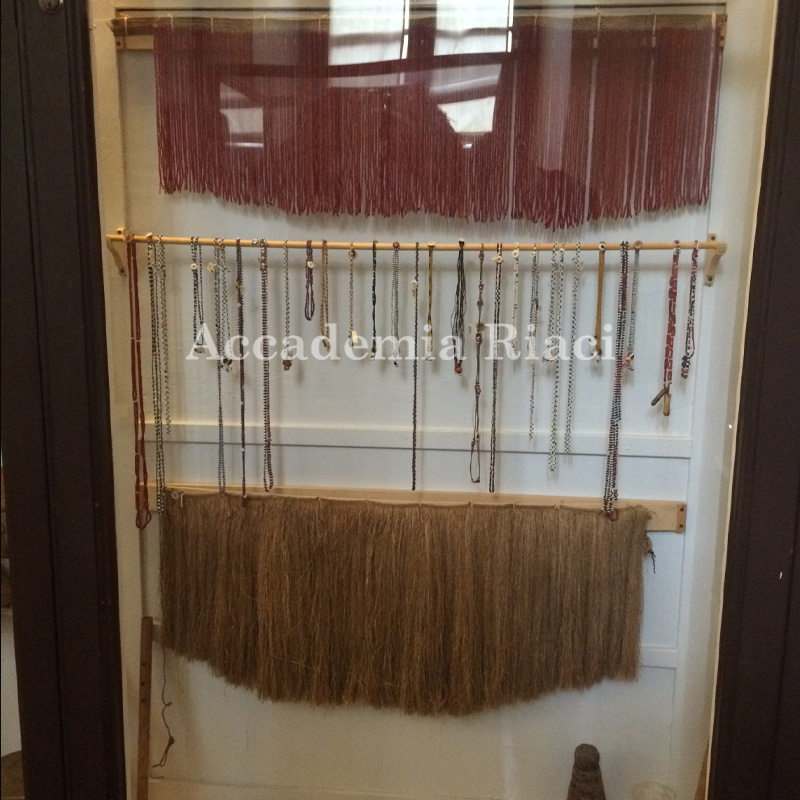 Accessories all over the world
The photo shows the accessories from other part of the world. We can see how they also tried to interpreter the beauty and put it on some one. This kind of accessories reminds me one from the Mexico that they still using this kind of material.

Accesorios por todo el mundo
La foto de abajo muestra los accesorios que se usaban en otra parte del mundo, a pesar de la distancia entre continentes, se vuelve a descubrir esa búsqueda de la belleza y la interpretación a través de objetos que el hombre antiguo usaba para sentir esa belleza. Este tipo de accesorios me recuerdan a los accesorios de una de las culturas étnicas de México que en la actualidad siguen realizando con ese mismo material.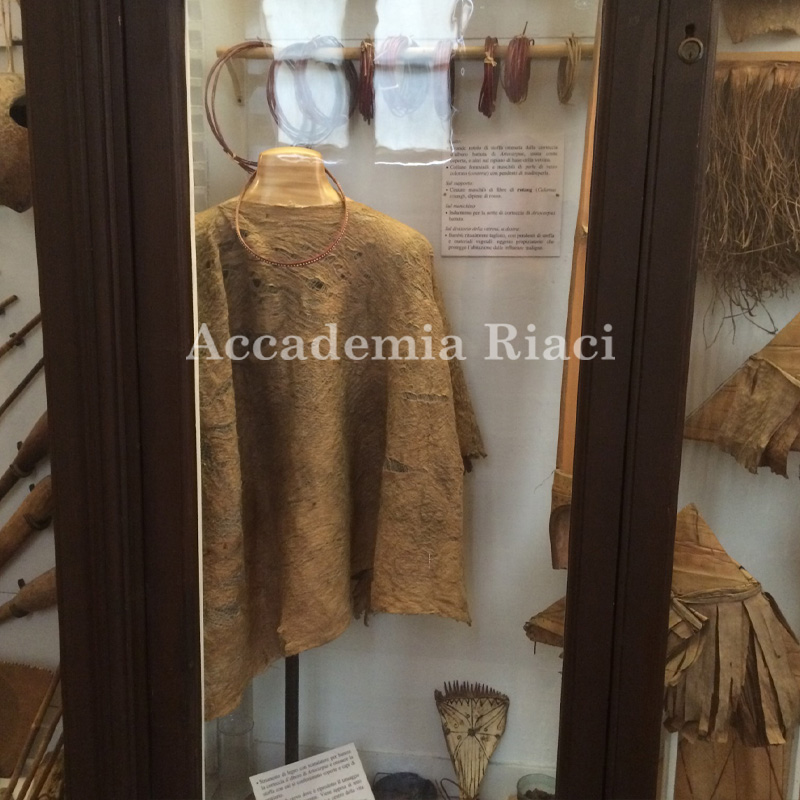 The conditions
The museum shows different types of life from different countries around the world. It shows how they used to dress for the conditions of that part of the world and how men used to live. The photo shows one of the dresses that they used to make with different material from that region.

La necesidad de la condición
El museo muestra la mayor parte alrededor del mundo por lo que se puede apreciar un estilo de vida de lados opuestos del mundo. Como las condiciones de cada región llevaban al hombre antiguo a cubrir la necesidad de esta condición. Podemos encontrar en la parte norte del mundo la necesidad de cubrir el cuerpo por el clima frio, o como en otra parte del mundo la condición del clima permitía usar solo un poco de ropa fabricado con material 100% natural de lo que se tenía en esa región.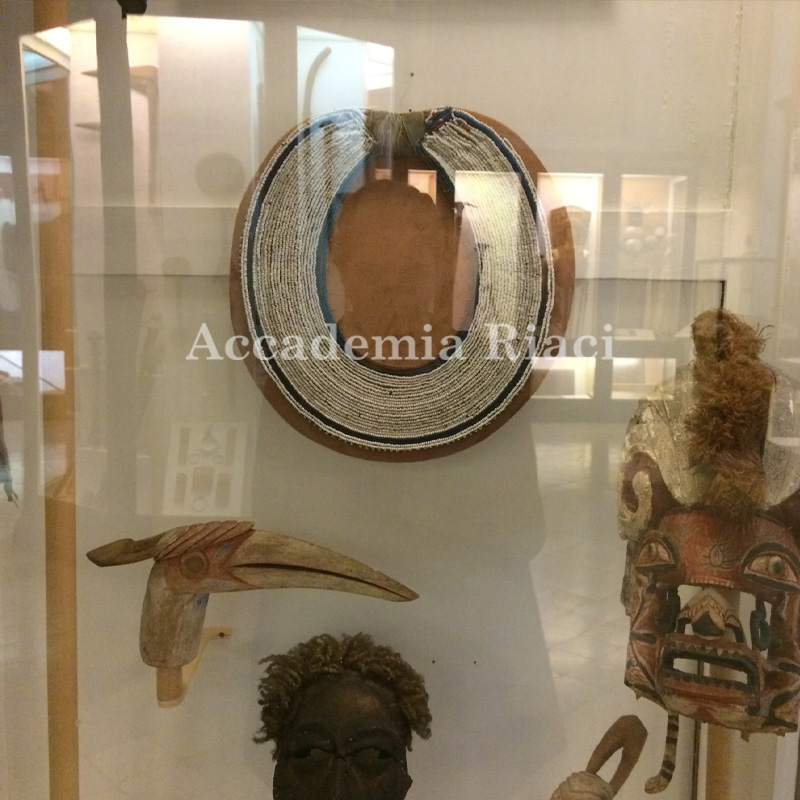 The pursuit of beauty
We can find in the different cultures how they used to try to find the beauty. Men used to make the accessories so beautiful. They called my attention, because today we still try to find the beauty through different technics or way to feel beauty. This is because men feel beauty, peace, love, and confidence, and this is why men look for beauty. They were looking for real love.

Búsqueda de la belleza
Lo que pude darme cuenta con la vista de este museo es como el hombre desde los tiempos antiguos ha sentido la necesidad por encontrar la belleza. En todas las culturas se puede ver como se interpretaba, como se decoraba y como se hacía énfasis a lo bello. Se usaban accesorios muy llamativos coloridos o muy cargados para realzar y hacer esto un más majestuoso, que es algo que podemos seguir encontrando en la actualidad, esta parte de hacer algo lo más bello y admirar la belleza de algo o alguien a través de diferentes formas.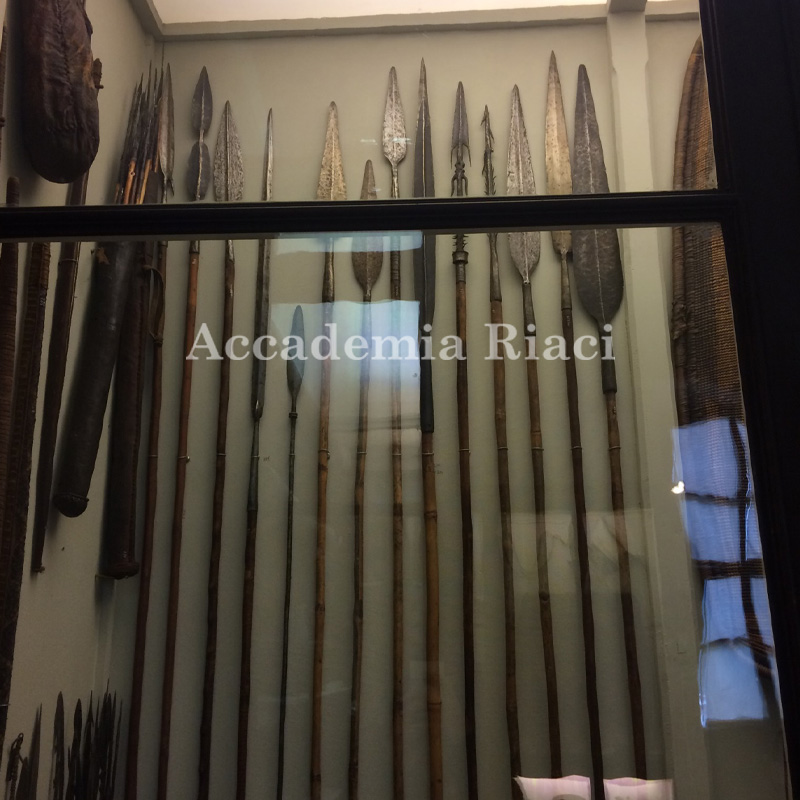 Weapons
Even in the weapons we can find this beauty. They used to decorate everything and make it more pretty. Also we can appreciate how the developed their weapons with wood and the shape of a feather trying to imitate again the animal that they used to see.

Armas
Dentro de toda la exhibición de puede contemplar también la manera en la que el hombre antiguo se defendía antes de descubrir la pólvora. Antes ellos fabricaban sus propias armas con lo que encontraran, la mayoría de estas eran lanzas o flechas fabricadas con madera y en alguna ocasiones con metales. Se pueden encontrar estas armas incluso también decoradas y hermosamente realizadas.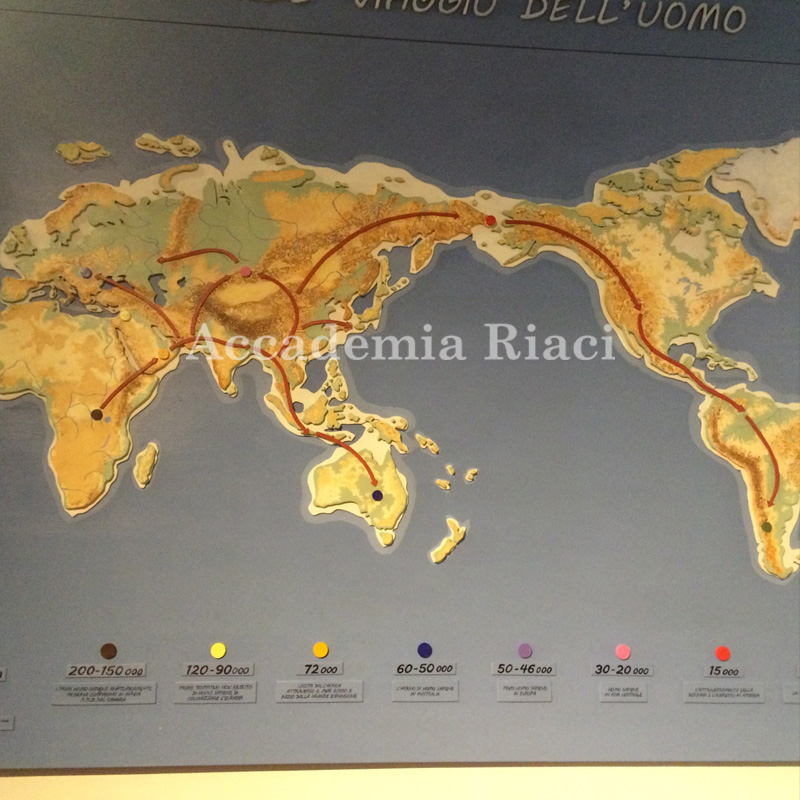 Bering Strait
The photo shows the path that men did from the old Africa to the Bering Strait until the end of America. Also we can see how they arrived to other parts of the world and started living there, and this is how the men could go all over the world.

Estrecho de Bering
La foto de abajo muestra el recorrido del mundo antiguo por el estrecho de Bering, como desde el África antigua se fue desplazando hacia las diferentes partes del mundo y quedándose en alguna de las partes que más de agradaban hasta llegar al fin del mundo que fue la parte más baja de América.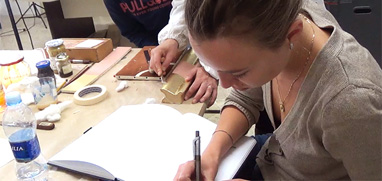 At Accademia Riaci, we are recruiting Course Reporters from our students. The students who are chosen to become Course Reporters are given 10 % of the tuition as their scholarship fee.
The Reporters who have submitted excellent reports will have his or her profile posted on our school website for the next 5 years as an alumnae and will be able to connect with their business chancesafter their graduation.