Accademia Riaci
Student Reports
Read all class reports from our students!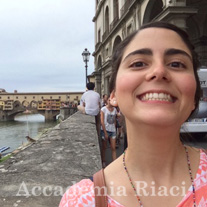 Reporter
Marian De la Madrid Fernandez
Nationality: Mexican
Course: Painting and Drawing
Program: Master Course
Period: Sept. 7, 2015 - Apr. 22, 2016
I'm Marian and I studied Business Administration. Since I was a child I liked to paint and draw, and during my degree I realized my dream. I decided to come to Italy because it is known as the cradle of art. For me it 's a big opportunity to be in Italy and to study painting and Drawing.
Mi nombre es Marian y yo estudié Administración de empresas. Durante mi carrera me di cuenta que me gustaba mucho la pintura y el dibujo, gracias a las clases extracurriculares que llevé y decidí ser artista. Desde que soy niña me gusta mucho pintar y dibujar y solía hacerlo con mayor frecuencia. Para mi estar estudiando ahora en Italia es una gran oportunidad pues es mejor estudiar en el país donde es considerado la cuna del arte.
Jan. 29, 2016 | Posted in Reports, Painting and Drawing , Student Reporter | Tags:Marian De la Madrid Fernandez, Painting and DrawingReporter: Marian De la Madrid Fernandez | Course: Painting and Drawing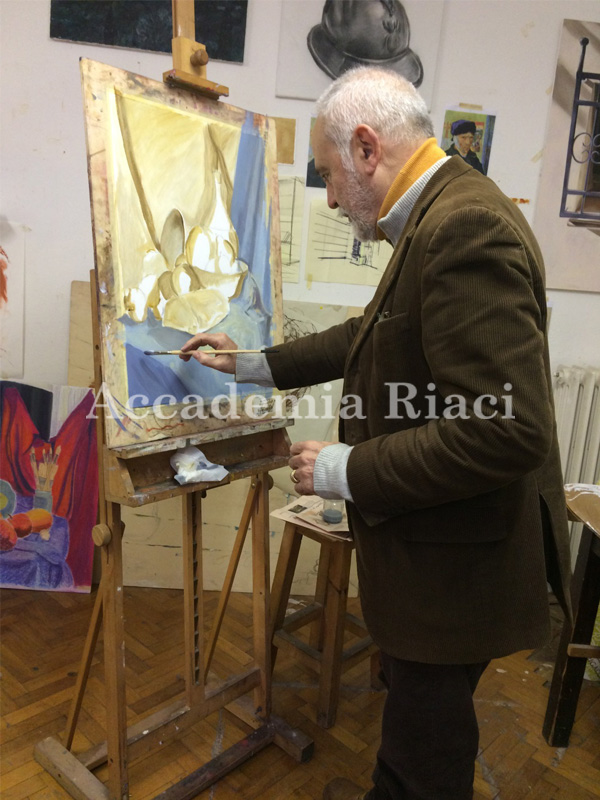 Brush Stroke
This week we continued the oil painting of the fruit composition that we'd started last week. The main idea of the painting was to learn the different kind of brush-stroke that you can do with different brushes, and also with different press of the hand. They can be thin or thick, long or short, depending on the painter's concept.

Pinceladas
Esta semana continuamos con la pintura a oleo donde pintamos una composición de frutas. Principalmente el ejercicio fue para aprender las diferentes maneras de crear pinceladas y la diferente pinceladas que se pueden lograr con la pintura al óleo. Pueden ser delgadas, gruesas, en forma de mancha y también depende del pincel que uno utilice.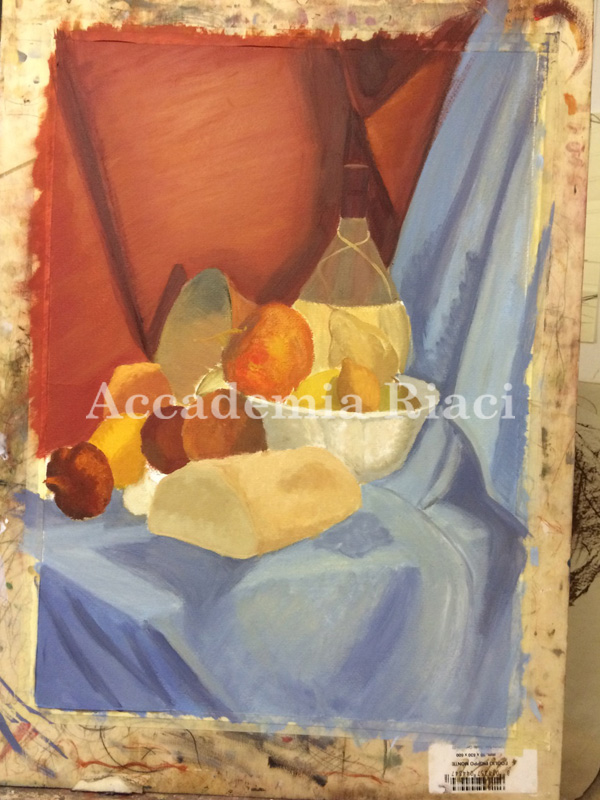 Timing
You can do a painting in one hour or 1 month depending on how fast you want to paint, how specific and detailed you want the painting. Nowadays most of the artists do the painting as fast as they can, because sometimes it is more appreciated the speed of painting and the perfection at the same time.

Tiempo deseado
Respecto a la pintura al óleo, uno puede realizar una pintura en el tiempo deseado esto también está relacionado al tipo de pinceladas que se realicen. Uno puede un trazo simple o muy detallado.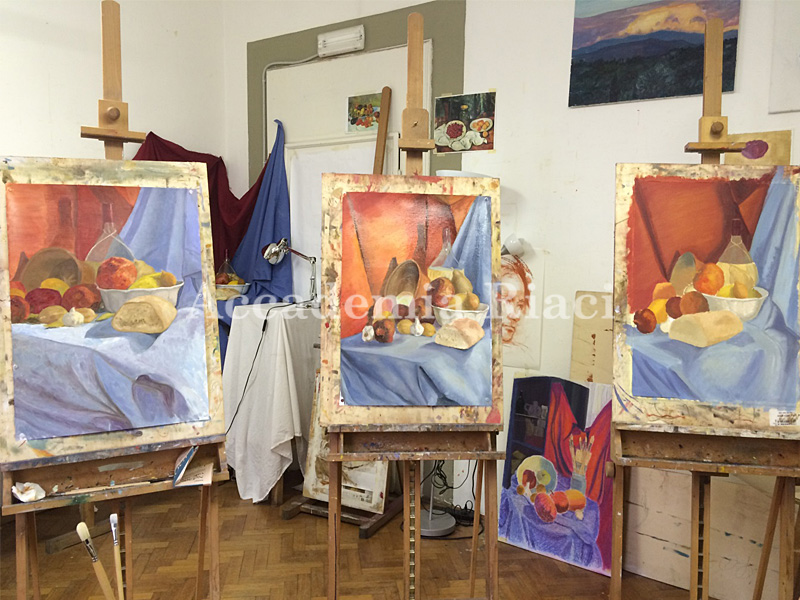 Individual style
The photo shows the tree different works in the classroom. You can see what style of painting we have. It is the same composition but looking from different points in the classroom and with different technique even though everyone painted with oil.

Estilo Individual
En la foto de abajo se pueden observar las 3 pinturas de cada una que hemos estado realizando, se puede observar como cada una de nosotras las estudiantes tenemos un estilo completamente diferente, es la misma composición, observada desde un punto del salón diferente y con una técnica completamente diferente entre si apresar de que las tres son realizadas con óleo.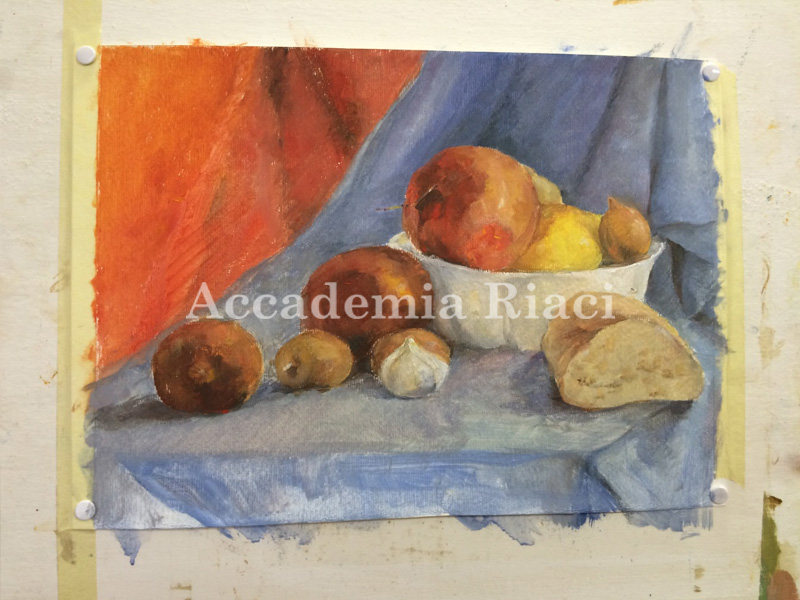 Restore
The photo shows the work of one student who learns the restore course. Her style is more precisely because in restore you have to use the same color, the same brush-stroke and the same precision, and you have to copy the work that has already been done by someone else.

Restauro
La foto de abajo muestra la pintura de una compañera que está en el curso de restauro. El estilo que ella utiliza es completamente diferente de igual manera. Sin embargo en esta ocasión se puede observar un trabajo mucho más detallado puesto que en el caso de restauro uno tiene que conseguir exactamente el mismo color, el mismo estilo y ser preciso al momento de realizar el trabajo.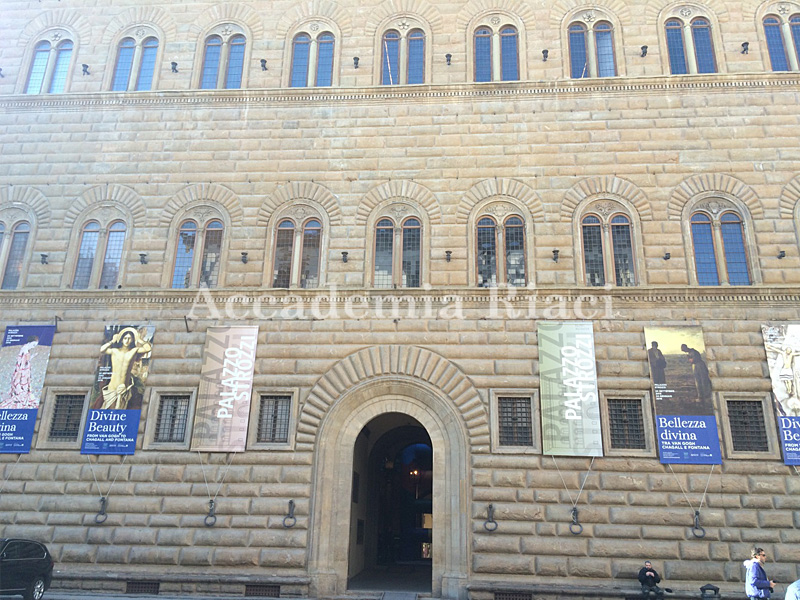 Palazzo Strozzi
For the art visit we went to Palazzo Strozzi to see the exhibition. This palace is one of the most beautiful buildings in Florence, it is of the renaissance age and its big size is considered as one of the most important architectures of Florence. The palace was built for Filippo Strozzi, one of the richest persons in Florence, an enemy of Medici family. This building has as history as beauty in it.

Palazzo Strozzi
En la visita de arte de esta semana fuimos a ver la obra que se encuentra en el Palazzo Strozzi. Este palacio es uno de los más bellos de Florencia que se remonta en la época de Renacimiento. Su gran tamaño es considerado una de las arquitecturas más importantes de Florencia, iniciado por Filippo Strozzi un mercader de la clase alta y enemigo de la familia Medici. Este Palazzo tiene tanta historia y belleza juntas.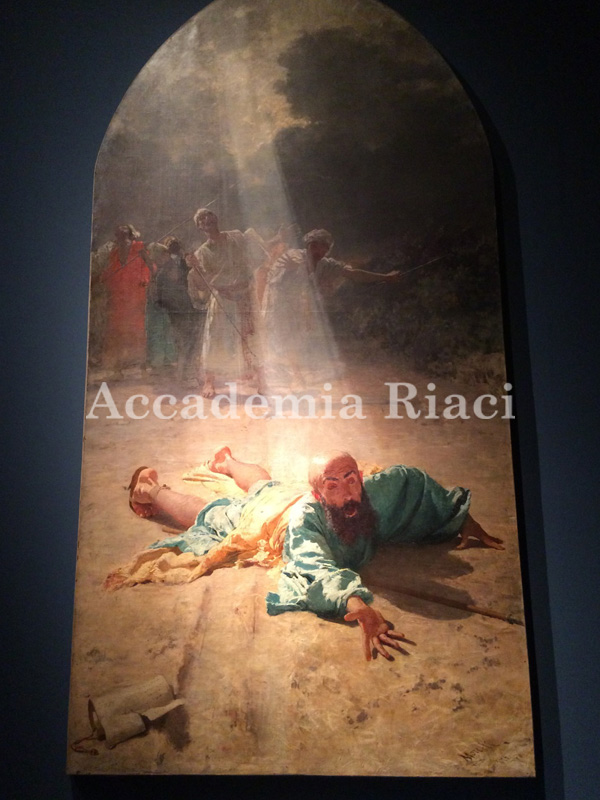 Modern Art
The exhibition in the Palazzo Strozzi is about Modern art. This work is the crucifixion and annunciation of Madonna in this modern technique. You can see how the modern art has developed through years until the contemporary art of today.

Arte Moderno
La exhibición que se encuentra en el Palazzo Strozzi, es sobre el arte moderno, como en el tema de la crucifixión y todo lo religioso al estilo moderno. Es una exhibición impresionante puede se puede ver el avance del arte desde los inicios hasta llegar a lo que es en la actualidad el arte contemporáneo.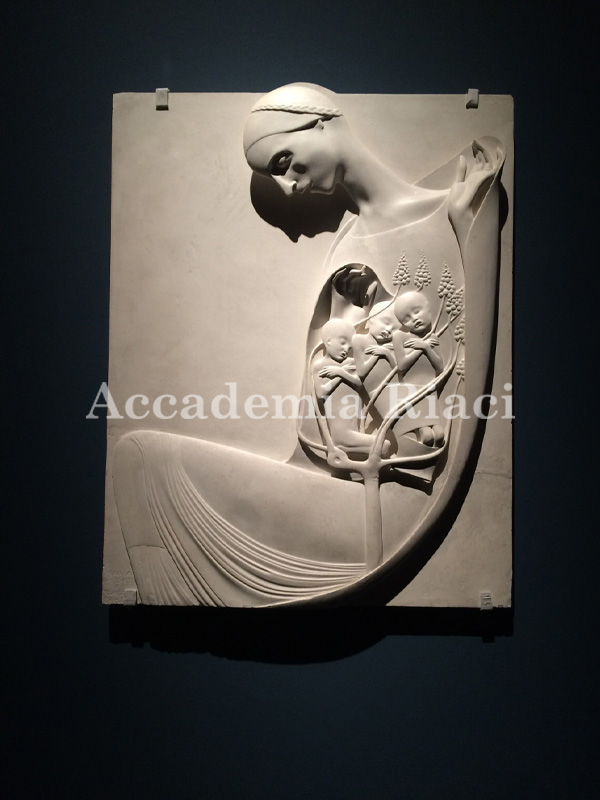 Bellezza Divina
Belleza divina is the name of the exhibition; this is referred to the religious moment of the crucifixion. The exhibition has also sculptures with the same topic so you can enjoy no just painting, also other kind of art work.

Belleza Divina
Belleza divina es el nombre de la exhibición, esto porque hace referencia a la religión en el momento de la crucifixión y la anunciación de María. En la exhibición se pueden contemplar no solo pinturas si no también esculturas con diferentes temas.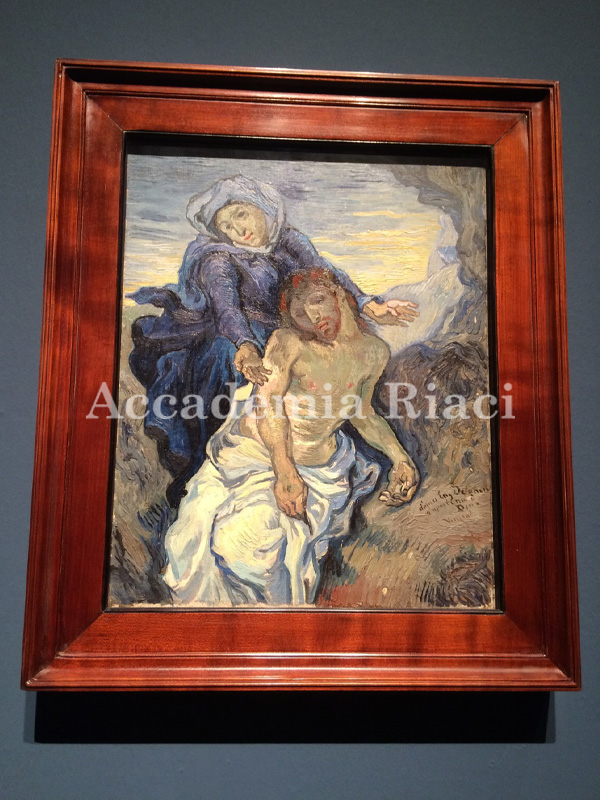 Van Gogh
You can appreciate one of the pieces of Van Gogh, the only one that he did about Jesus. Watching and appreciating the work of Van Gogh with your own eyes is so much different than just seeing it by pictures. You can even feel the touch of the brush-strokes and how he dominated the color, and you can also imagine how he worked this piece. This is one more prove of how to fall in love with Van Gogh.

Van Gogh
Se puede apreciar una de las obras de Vincent Van Gogh, la única que el artista tiene sobre Jesús. Observar y apreciar las obras de Van Gogh es completamente diferente que verlo en fotos. Se puede ver cada detalle de la pincelada y el color que se puede incluso sentir tan real e imaginar la manera en la que realizo el trabajo. Es una manera de enamorarte más de Van Gogh.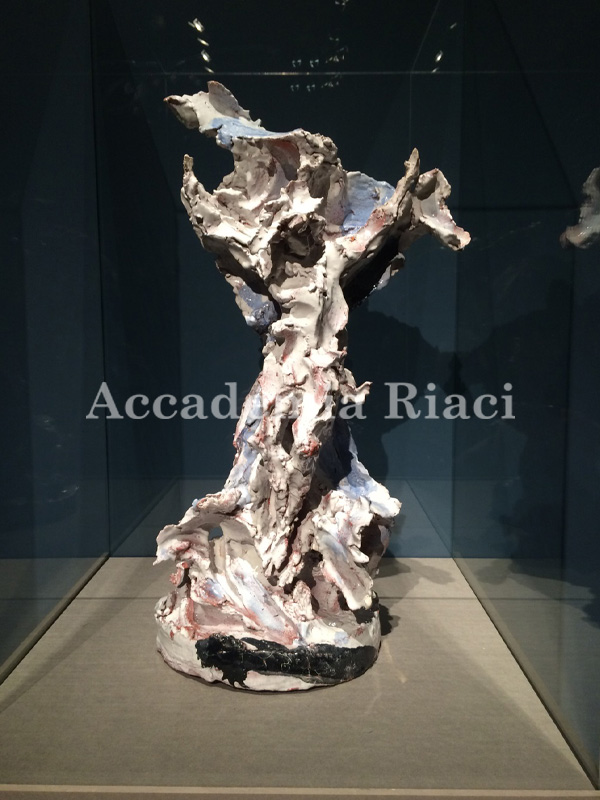 Crucifixion of ceramic
The exhibition has many pieces no just painting, also has a pretty sculpture of ceramic. This photo shows one of the pieces that represent the crucifixion. This particular piece has a lot of talent because you can find easily the crucifixion in the piece but it doesn't express it apparently. This piece is of modern art but you can see the influence of the contemporary art.

Crucifixión en cerámica
La exhibición cuenta con más obras no solo de pintura sino también de cerámica lo que la hace a mi parecer aún más interesante pues plasmar a través de la cerámica un acontecimiento con lo que es la crucifixión y de una manera más moderna requiere real talento. Las piezas que se encuentran ahí son catalogadas como arte modernos sin embargo se puede encontrar fácilmente la influencia que se comienza a tener de lo que es el arte contemporáneo en la cerámica.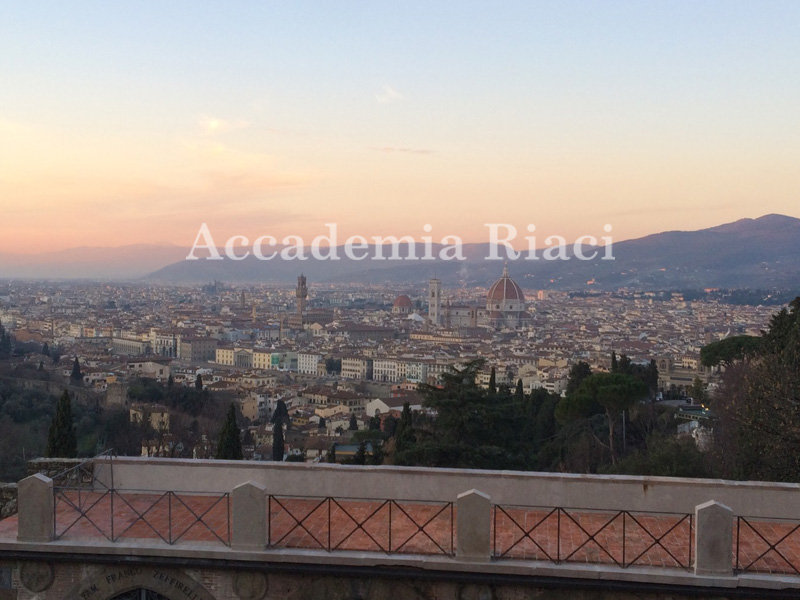 Sunset in Florence
Sometime in the afternoon before sunset, I like to go to Piazzale Michelangelo to see the city and the sunset. It is my favorite place in Florence because you can see the Duomo, the Ponte Vecchio and all the city around. I think that is one of the most amaizing places to see the magic of Florence.

Un atardecer en Florencia
Algunas veces por las tardes me gusta ir al Piazzale Michelagelo y contemplar el atardecer. Es una de las mejores vistas que tiene la ciudad pues se puede observar el Domo completamente y el Ponte Vecchio, lo cual en lo personal lo hace aún más hermoso pues se pueden ver las dos bellezas de la ciudad junto con los colores del atardecer que son siempre hermosos.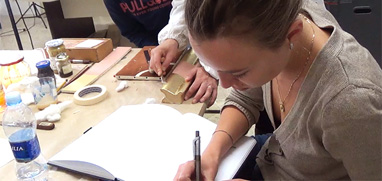 At Accademia Riaci, we are recruiting Course Reporters from our students. The students who are chosen to become Course Reporters are given 10 % of the tuition as their scholarship fee.
The Reporters who have submitted excellent reports will have his or her profile posted on our school website for the next 5 years as an alumnae and will be able to connect with their business chancesafter their graduation.