Accademia Riaci
Lesson Reports
Read all class reports from our students!
Reporter
Morita
Nationality: Japan
Course: Shoe Making
Assistant
Jul. 01, 2014 | Posted in Reports, Shoemaking , Lesson Reporter | Tags:Morita, ShoemakingReporter: Morita | Course: Shoemaking
外羽接着製法、グッドイヤー製法、パンプス接着製法 30.1.2014
・In the case of Goodyear stitching, since we perform blind stitch, we use the leather for the toe box.

・After having attached it, lasted it and adjust the shape, we further polish the shoe with a rasp.
・グッドイヤー製法の場合では掬い縫いを行うので先芯には革を使用します。 
・貼り付け後に全体を吊りこんで形を整え、さらに木やすりを使って整形します。
・After the chain stitch, we attach the shank.

・As for Norwegian-style stitching, we keep the upper in place, add an intermediate sole and perform the second sewing.
・チェーンステッチ後にシャンクを貼り付けます。
・ノルベジェーゼ製法ではtomaiaは残したままにし、この後に中間底を貼り付け2回目の縫いを行います。
・
We always put a reinforcement in the internal side of the "eyestay", that is the part connected with the strings (photo on the left).

・In case we wish to add some garnish on the facing etc., the whole part will need to be sewn by hand, and for this reason it's a very time-consuming task (central photo)
.
・As the way to remove the paper patter varies greatly according to the shoe model, when students explore a new model they constantly check with the instructor on how to proceed
・紐で結ぶ部分には内側に補強を必ず入れます。(写真左)
・羽などに飾りを入れる場合、その全てが手作業となるので非常に時間が掛かります。(写真中)
・型紙の取り方はモデルによって大きく異なることもあるので、新しいモデルを行う場合は先生に確認を取りながら作業を進めていきます。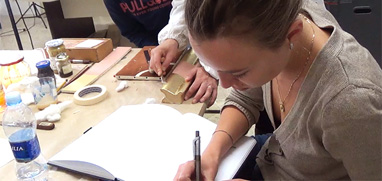 At Accademia Riaci, we are recruiting Course Reporters from our students. The students who are chosen to become Course Reporters are given 10 % of the tuition as their scholarship fee.
The Reporters who have submitted excellent reports will have his or her profile posted on our school website for the next 5 years as an alumnae and will be able to connect with their business chancesafter their graduation.