Accademia Riaci
Lesson Report
Up-to-date report from one of our students!
Reporter
Morita
Nationality: Japan
Course: Shoe Making
Assistant
Jul. 01, 2014 | Posted in Blog, Shoemaking , Lesson Reporter | Tags:Morita, Shoemaking | Language:


Reporter: Morita | Course: Shoemaking
外羽接着製法、グッドイヤー製法、パンプス接着製法5 29.1.2014
・After the lasting, we remove all nails and attach the sole leather
・When we use the adhesion process, we use a 3mm-thick leather for the sole
・吊り込み後、全ての釘を抜いてソールの革を貼り付けます。
・接着製法の場合はソールに3mm程度の硬い革を貼り付けます。
・This student is attending the 2nd year of shoemaking, and is now making a Norwegian-stitching style shoe
・When we perform this kind of chain stitch, let's pay attention that the thread doesn't tangle up
・The stitch length is set to 5-6mm. It's very difficult to stitch straight, without deviations
・Around the heel and toe part the stitch tends easily to widen so it's important to pay attention.
・2年目の生徒さんはノルベジェーゼ製法の靴を制作中。
・チェーンの様な縫いを行うため作業中は糸が絡まない様に注意します。
・チェーンの縫い目は5~6mmの間隔で、曲がりが無いように縫うので非常に難しいです。
・つま先や踵部分は縫い目が広くなり易いので注意が必要です。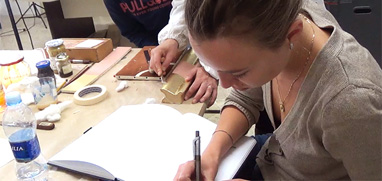 At Accademia Riaci, we are recruiting Course Reporters from our students. The students who are chosen to become Course Reporters are given 10 % of the tuition as their scholarship fee.
The Reporters who have submitted excellent reports will have his or her profile posted on our school website for the next 5 years as an alumnae and will be able to connect with their business chancesafter their graduation.