Accademia Riaci
Lesson Report
Up-to-date report from one of our students!
Reporter
Morita
Nationality: Japan
Course: Shoe Making
Assistant
Jun. 30, 2014 | Posted in Blog, Shoemaking , Lesson Reporter | Tags:Morita, Shoemaking | Language:


Reporter: Morita | Course: Shoemaking
外羽接着製法、グッドイヤー製法、パンプス接着製法1 20/1/2014
・Compared to the closed-laced shoe, the open-laced one is composed by more parts, so let's pay particular attention during the cutting
 process
・As for the other types of shoe, we thinly skim the overlapped leather
・Also in the belt model, we put a reinforcement in the internal part where there is the clasp
・内羽に比べてパーツ数が多いので裁断間違いの無いように注意が必要です。
・他のモデルと同じように各パーツの重なり合う部分薄く漉いておきます。
・ベルトのモデルでも金具が掛かる部分には内側に補強を入れます。
・This 2nd-year student is making a "Tirolese" stitching style of shoe
・We sew a thin type of leather on the shoe side, then attach the sole and sew it
・With a special needle called "Regina" we punch holes and through the thread we sew the welt to the sole
・The distance between the holes has to be just of few millimeters so it's a task that requires some time
・2年目の生徒さんはティロレーゼ製法の靴を制作しています。
・細い革を靴の横に縫いつけその後に底を貼りあわせて縫い付けます。
・レジナと言う針で穴を開けてそこに糸を通して靴の底とウエルトを縫い付けていきます。
・穴は数ミリ間隔で開けるので時間のかかる作業です。
・As for the pumps, we reinforce the opening part applying a tape to limit the leather natural stretching process.

・We sew together the internal and eternal part and proceed with the lasting
・Finally, we check whether the lasting correspond to our initial image of the shoe.
・パンプスでは履き口部分に補強テープを貼り付け履き口が伸びない様にします。
・内側の革と外側の革を縫い合わせ、木型に載せて釣り込みを行います。
・軽く釣り込みを行いイメージに合っているかを確認します。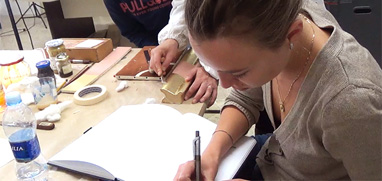 At Accademia Riaci, we are recruiting Course Reporters from our students. The students who are chosen to become Course Reporters are given 10 % of the tuition as their scholarship fee.
The Reporters who have submitted excellent reports will have his or her profile posted on our school website for the next 5 years as an alumnae and will be able to connect with their business chancesafter their graduation.